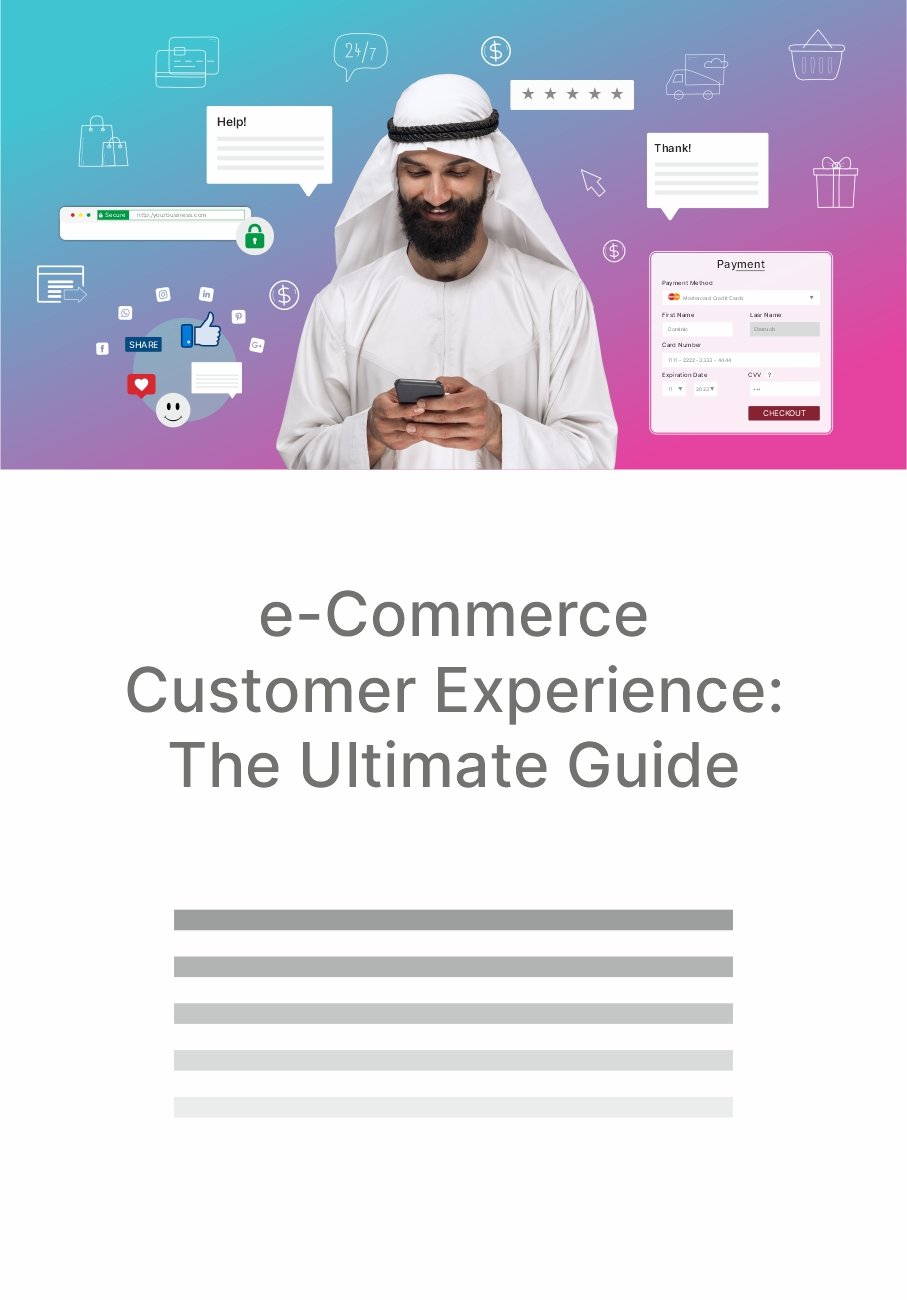 Get The Print Version
Download a PDF version for easier offline reading and sharing with coworkers
A notable person, Vince Lombardi, said, "It takes months to find a customer. It takes seconds to lose one." Well, this is one of the best things any e-commerce company can look up to. But sadly, many companies fail to understand this and inculcate it in their employees.
And we humans have such a low attention span that even for a second, if the content or products don't interest us, we lose the urge to even have a glimpse of that content or even that product on any e-commerce platform. And do you know? that "73.9% of global website traffic in Q2 2021 was generated through mobile devices" (Statista).
But it all depends entirely upon how a customer perceives the brands and how he takes part in them; hence, customer experiences come into the picture, and everything depends upon that. The better the customer experience, the higher the customer retention rate.
Just bombarding customers with products and services on your e-commerce website is not hygienic in the long run. Companies need to connect with their customers harmoniously; their customer experience in the e-commerce industry should be top-notch without compromising products and services.
Customers make good or bad impressions based on the experiences and services they get throughout the purchase process. It gives a clear idea of how good the company is. This might seem a little overwhelming for you, and you might wonder how to cope with such a difficult industry and competition worldwide. Worry not; we have got you covered with our user-friendly guide for the e-commerce customer experience.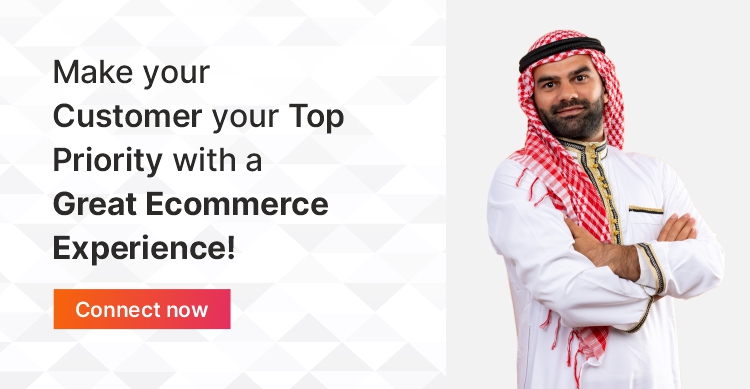 What is the e-commerce experience?
Let's take the scenario of you being a customer scrolling through a new website to buy your desired product. But you failed to place an order because of their irrelevant payment process or any other hindrance, which made the purchasing process tiresome and your whole experience bad.
What does it show? What do you understand from this? That customer experience in e-commerce depends on everything from a customer scrolling through your website to placing an order to getting delivered to their doorstep smoothly. Everything has to be considered as a customer experience
The easy navigation, recommendation, or any other little thing or feature smooths the checkout process and improves the customer experience. This experience can build perceptions, gain loyalty, and turn customers into brand advocates.
Things to keep in mind for outstanding customer experience
User-friendly website and navigation
Your e-commerce website or store is the face of your company. Its design, navigation, creative layout, number of filters, search bar—basically every small to big element in it can make or break your customer's journey in your company. It should be so easy to navigate your website that even a kid or elderly person can understand where to purchase anything.
Improved customer experience
Almost every kind of information is available on the website, and it's so obvious that now customers expect every company to offer them a customized and unique experience that stands out from other companies.
The solution to this problem or requirement is that companies start using their customer data to personalize and improve the customer experience through product recommendations, new launches, or, in fact, by sending curated and customized emails based on their preferences or past purchases.
Emails can be about new offers, products, upcoming plans for them, etc. That way, customers will feel important, and e-commerce companies will help them make relevant purchases.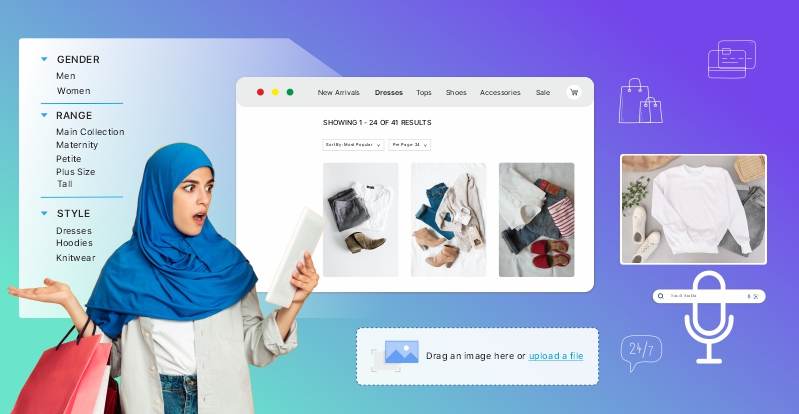 Swift checkout process
Everything comes down to one point: whether the customer made the purchase or not. And that's where the checkout process has to be taken care of because all is well if the end is well. The checkout process has to be hassle-free with easy checkout options, minimal distractions, and transparent and relevant pricing, which reduces the stress and burden of other unnecessary add-ons on payment.
If all of this is on point, the conversion rate is definitely happening. In the end, always remember that the average cart abandonment rate across industries is about 69.23%.
Responsible and responsive customer support
Customer support is what keeps the e-commerce company going and makes sure that no customer goes unanswered. It has been found that 82% of customers expect an immediate response from brands when they have a question.
Companies can start incorporating chatbots or personal assistants in the form of humans, which makes customers feel that they are actually heard and that their queries or problems are answered promptly. They should know that, if needed, the company will assign human agents to help them with their responsibilities.
Mobile-optimised solution
Sometimes, it feels like the world revolves around mobile phones, as everything can be accessed on any smartphone. And we humans trust our phones like friends in need. Basically, it is attached to us like a body part; henceforth, companies need to make sure that their websites are not just responsive but optimized, too. And especially for mobile, to provide an engaging and intuitive experience.
Strategies for enhancing e-commerce customer experience
Analyse Your Data
Assign some data analysts to the data you have collected from customer purchases and other preferences, queries, or even feedback. So, a deep scan helps understand customers' major points and patterns and what is similar across every sort of purchase or preference.
Then, start building the types of strategies across various departments based on their functions. This will help customers in the long run as you'll provide them with a relevant and enjoyable experience, directly connecting with them and indirectly boosting your numbers.
Omnichannel Experience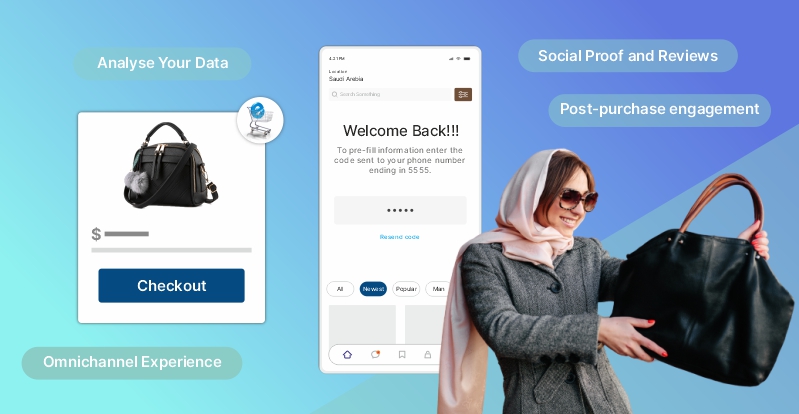 Transition is not just between reels or social media content but also for customers transitioning between online and offline channels for buying or selling. Make sure your brick-and-mortar stores and online platforms go hand in hand and offer a holistic experience. It has been stated by Harvard Business Review that "companies with strong omnichannel customer engagement strategies retain, on average, 89% of their customers".
Social Proof and Reviews
One needs to start accepting the fact that social proof and images matter a lot these days. Customer reviews and ratings give a sense of trust and push customers to make a purchase. It makes them believe in the credibility of the company. There are so many ways to show reviews in the form of videos, testimonials, written testimonials, and ratings on different platforms; basically, let customers only speak for you for their own good.
Post-purchase engagement
Generally, it has been observed that companies don't bother enough after the customer has made a purchase and forget about their customer's queries or further needs. Companies need to understand that the company-customer relationship doesn't end at the checkout.
To build up a better customer experience in e-commerce and relationships, start implementing post-purchase engagement strategies, for example, order tracking, personal follow-up emails or calls, and loyalty programs like brand loyalty programs and marketing campaigns to keep your customers hooked on your brand and study shows 64% -65% of consumers track their orders' delivery status.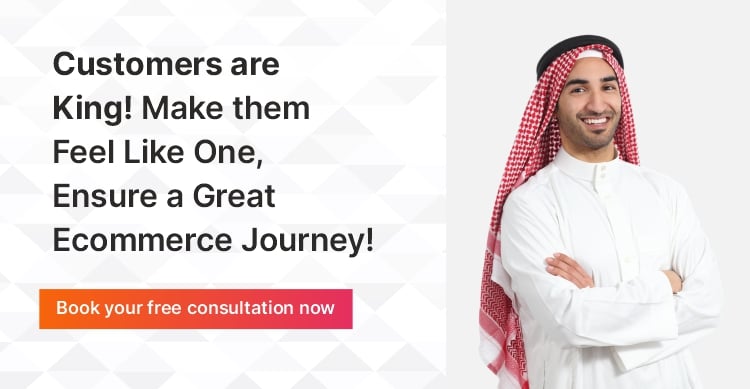 Case studies: Unique, Exceptional E-commerce Customer Experiences
There are several case studies where we can study how companies tackle the issue of customer experience.
Souq.com
Souq.com, a company based in Dubai, United Arab Emirates, was known as the largest online retail and marketplace platform in the Middle East. It was later acquired by Amazon and rebranded as Amazon. Sa. and Souq.com was the most visited eCommerce platform in the Middle East and North Africa (MENA) region in 2020.
The major problem for Souq.com was providing customers with a seamless and user-friendly e-commerce shopping journey across different kinds of products, cultures, and languages in the Gulf countries.
Souq.com found a solution for this and started rigorously investing in a localised experience for their customers. Now, their website is available in both languages, i.e., Arabic and English, removing the language barrier and celebrating the diversity of the region.
Moreover, the company saw that there was a rise in mobile usage in that region, so henceforth, they developed a user-friendly mobile app that made shopping easy, engaging, and convenient.
Now, coming to their payment option earlier, they had a rigid payment method, so they introduced variations and different options to customers in the form of cash on delivery, e-wallets, credit cards, etc. and it worked in their favour. Customers loved the flexibility of payment.
There were logistics issues, too, which caused major delays in delivery. To address the logistics issues, Souq.com introduced a smart service called Fulfillment by Souq (FBS), which reduced the manpower load for the sellers and opened a gate to their products in Souq's fulfilment centres. This service makes sure that there is always a faster delivery with reliability and safety.
Now, the results were glowing like a star when Souq.com's approach spread the word that they are customer-centric, which led to a rise in their growth in Gulf countries. They became a go-to platform for online shopping.
Their commitment to localizing experiences, mobile optimization, and flexible payment methods gave a helping hand to Souq.com to build credibility and trust among Gulf countries and their customers. The cherry on top was when Amazon took over the acquisition of Souq.com to become Amazon. sa, their reputation was boosted, and they became the leading e-commerce platform in the region.
Noon.com – Defining Customer Engagement
Noon.com is an e-commerce platform headquartered in Riyadh, Saudi Arabia, aiming to level up the online shopping experience in the Gulf region. And their (Gross Merchandise Volume) exceeded $1 billion in its first year of operation, as stated by Arabian Business.
They face major problems or issues in terms of differentiating themselves in a competitive market and delivering an exceptional customer experience in the e-commerce industry that goes with the preferences and needs of Gulf consumers.
So, what was the solution they found? They understood very well where they were lagging and where they needed to focus precisely, and based on that, they came up with the following:
Noon.com is focused on delivering an error-free end-to-end experience. Which makes a customer's shopping experience smooth, and it was done by an easy-to-navigate website design. Quick delivery and responsive customer service that regularly looked after customer queries and issues.
Noon.com understood the power of content, so they started working on engaging and relevant content in the form of product videos, descriptions, reviews, and guides. All of this helped greatly in assisting customers to make well-informed purchase decisions.
The platform smartly contacted and collaborated with local retailers and brands to offer different kinds of products to their customers based on their needs and regular demands. This diverse range of products helped accommodate the cultural nuances of Gulf customers.
Noon.com came forward with a loyalty campaign called Noon VIP for their loyal customers, which is similar to Amazon Prime. They offered various kinds of benefits through this service, like free delivery, early access to sales, and customized offers to their regular shoppers.
Now the results were mindblowing, Noon.com gave a new definition to user experience in Gulf countries, and locally sourced content helped drastically. This made sure that they were established as trustworthy e-commerce go-to places. With the Noon VIP campaign announcement, they gained customer loyalty and boosted repeat purchases.
Through partnerships and a commitment to delivering quality service, Noon.com has beautifully competed with global market forces while staying committed to the Gulf market's regular demands and needs.
These case studies are the best examples and benchmarks for the best customer experience, which is why it is so important for eCommerce companies to be successful in Gulf nations. Companies like Souq.com (Amazon. sa) and Noon.com have wonderfully shined and proved themselves worthy by focusing solely on their customer experiences through mobile optimization, relatable content, and strategic partnerships.
As the Gulf Coast continues to grow, examples like this will give a worthy insight into how businesses can create meaningful connections with their customers and boost loyalty in this region.
Measuring and upgrading the eCommerce customer experience analysis
These are some metrics by which you can measure your customer experience.
Customer Satisfaction (CSAT): measure overall satisfaction with each transaction.
Net Promoter Score (NPS): Measure customer loyalty and chances to recommend.
Customer Retention Rate: Research how effectively you're retaining customers.
Besides that, regularly collect feedback, check the pain points, and keep on implementing ideas for improvements in the customer experience. Hubspot research says that A 5% increase in customer retention can lead to a 25% to 95% increase in profits.
The future of e-commerce customer experience
The introduction of virtual reality has changed how people will shop in the future. On top of that, AI algorithms have been helping companies derive accurate recommendations, and voice commands assist in purchasing or searching effortlessly.
The future of e-commerce seems so bright and beautiful that we are sure the industry will keep on delivering better customer experiences.
Conclusion
Lastly, remember that every interaction in your e-commerce store is an example for future generations to look for the best and deliver the best customer experience. Be it any industry ecommerce, real estate, tech, health, lifestyle, etc.—in each and every industry, customer experience matters; without that, no company can survive in the market. For more information, consult with an expert and boost your customer experience effectively.
Let your customers know that your company still believes in the ideology of "customer is king", and you'll think of them like that forever; there's nothing degrading about it. Let every purchase and every interaction be worthy for customers, and they will keep coming back to you for more and more.