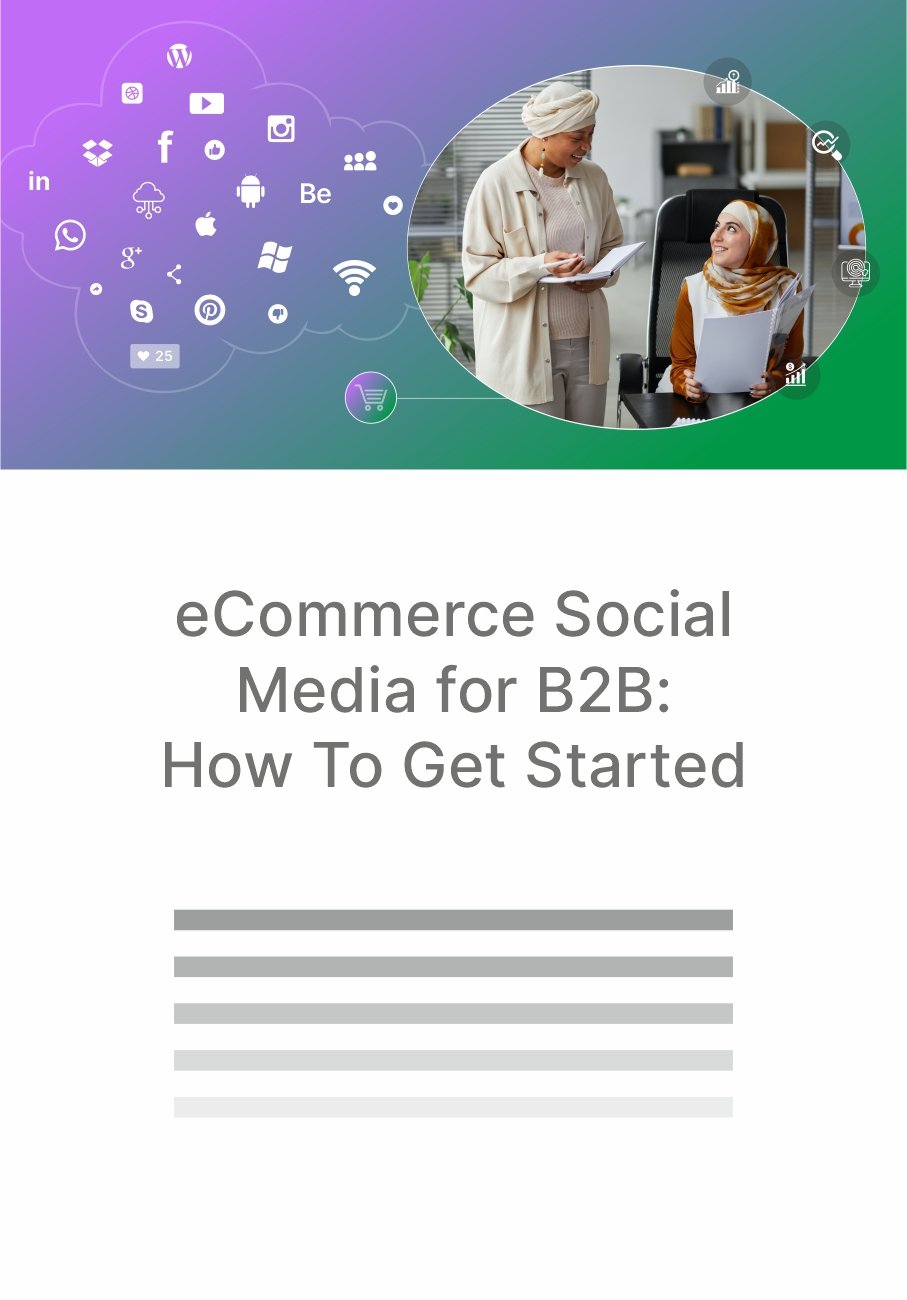 Get The Print Version
Download a PDF version for easier offline reading and sharing with coworkers
Social media collaboration in B2B eCommerce is a smart move for growing your business. Nowadays, most individuals are using social media for their day-to-day affairs. If your business can sell its product on the social media platform, it can reach a large number of customers simultaneously.
Due to the convenient approach, the use of social media practice is rapidly growing, and most of the businesses are doing b2b branding on social media.
Based on recent research done by Gartner, "more than 46% of B2B buyers use social media to understand new solutions, and 40% for comparing the pricing and features before consuming it."
Therefore, enforcing social media is the major need for growing your b2b eCommerce by reaching the maximum number of the target audience cost-effectively. Building a standard strategy is very useful to ensure you are using the full potential of social media to grow your business.
Social media can be used in various manners starting from reaching the target market, generating leads, selling potential products and delivering a more personalised experience. Everything can be done using the right social media approach for b2b business.
In this article, we will explore how social media is changing b2b eCommerce along with a step-by-step implementation process to enforce this exclusive tool in your business for making sure profit enrichment.
How social media is changing B2B eCommerce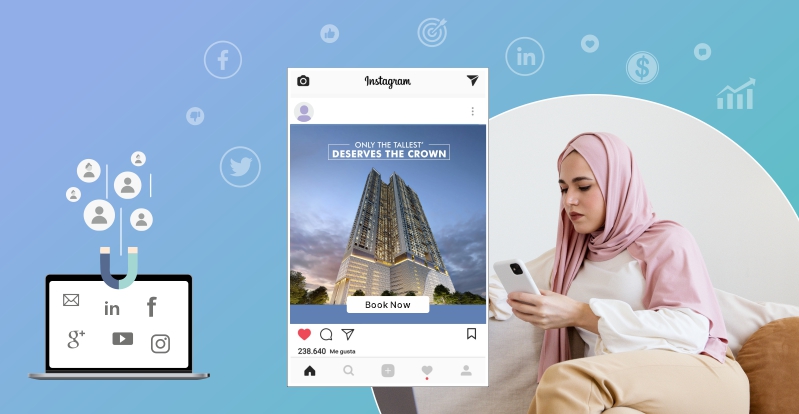 Social media greatly impacts b2b eCommerce, as most businesses consider this platform for analyzing the social media trends for b2b eCommerce and understanding the product benefits.
Therefore, considering this platform can be a great option for transforming the b2b eCommerce business. Let's find out the key features of social media that can grow your B2B business like never before.
Boost brand awareness
Creating brand awareness is the key requirement of many businesses. With the growing technology, businesses and customer experiences are changing rapidly. To cope with this changing environment, locating the right approach is important.
Using social media platforms is found to be a great platform for boosting brand awareness among a large audience.
According to recent research, it's found that 89% of social media users prefer to get information about their favoured brands on their preferred social media, which can be Twitter, Facebook, LinkedIn, Instagram or WhatsApp.
This study found that most users learned about the current brand from these platforms and were satisfied with the process. They were even found to prefer customer support service along with the social media marketplace for better communication.
Apprise target audience
Social media platforms are a great source for sharing trending knowledge among a large audience. Most individuals are considering different social media platforms like Facebook, LinkedIn, Instagram and many more for getting and understanding product information appropriately.
These platforms consist of trendy and informative resources that are helpful for businesses to get the right information in a minimal time. Therefore, it's important to build a B2B social media presence for targeting customers.
It's also useful to make them understand different brands' benefits and drawbacks with the supported research and great information exposure.
For example, In b2b social media has a great impact as it can be used for sharing product updates, the staging process, and unique features to provide the right information to the end-users for better understanding, also helpful for future promotions.
Support in lead generation
Lead generation is the backbone of any business and the most difficult process to conduct, specifically for the b2b business; this process is generally done with email campaigns, cold calling, or driving some events.
But all these processes are found to be costly and need a lot of time. This process can be simplified by enforcing social media platforms, as it has great potential for appropriately connecting a large number of individuals in a leaser time.
For example, b2b lead generation on social media channels like Linkedin can conduct in-depth research on the prospect's profiles to give them more customised messages to increase their engagement.
Besides, choosing social media to post various kinds of content can be a significant solution to reach the target audience and nourish them with the preferred resources. This can be done using videos, infographics, blogs and related images for better conversion.
Conducting social media advertising is also a beneficial practice for reaching a maximum number of customers in a cost-effective manner. Facebook, Twitter, or LinkedIn media platforms can be used to conduct this process for generating leads with minimal effort and lower cost.
Thus, by effectively using social media, businesses can simplify their lead-generation processes effectively.
Boost conversion
In b2b eCommerce, maintaining a healthy relationship with the client is a prime aspect. This process can be done by using social media platforms effectively.
With the help of distinct social media channels, businesses can build relations with probable clients and prospects by connecting and interacting with them via comments or personalised messages to help them grow their relations with them.
It's eventually useful for building trust and resulting in a higher conversion of customers. Besides, with the help of media channels, businesses can share relevant content with the lead prospects to help make them engaged with the product and services.
Following this process is also helpful for increasing conversions and nurturing the lead-generation process in a better manner.
Customer support
Based on recent research, more than 35% of customers preferred to get customer support through social media instead of mail or phone calls. This research has also found that they believe connecting with the business for support is more convenient through their regular social media messaging apps.
Hence, choosing social media channels for customer support can greatly improve their experience and simplify the support system. Social media support can be provided instantly, which helps to build customer delight and grow brand loyalty in the long run. Also, they can use social media analytics for B2B success.
Besides, businesses can connect with customers on their social media comments about product or service queries or complaints, helping them improve the client experience and build strong relationships for future business growth.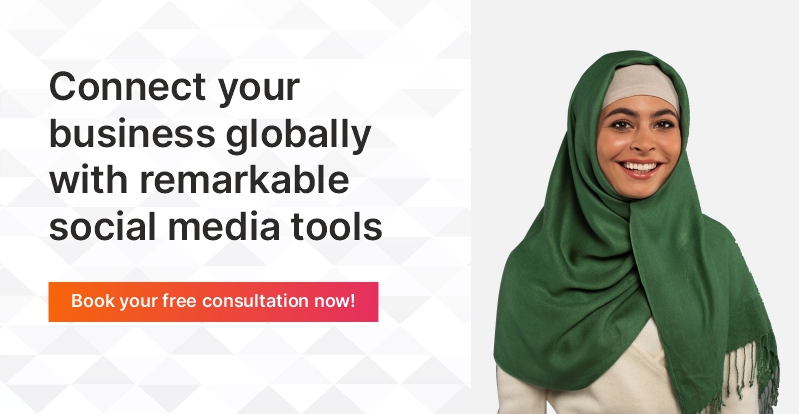 eCommerce Social Media Strategies for B2B Business
Social media is now spreading everywhere; therefore, taking advantage of this platform can be a smart move in the competitive business world. Many of us still consider b2b business boring, but with time this segment has set a higher bar for their expectation.
It's important to develop an effective b2b social media strategy that gives results and grows the business towards success to meet their growing expectation. Let's look at some major strategies to give your business a new lookout.
Paid social media promotion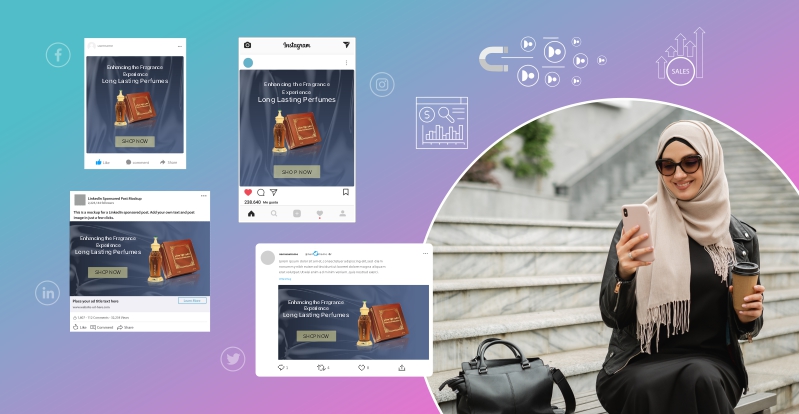 Social media is a significant medium for advertising your distinctive products and services. Specifically for b2b eCommerce, it's considered a perfect option. Various social media channels are available that can be a great option for paid social media promotion.
LinkedIn, Facebook, Instagram, Twitter and YouTube are the most common among them. Let's explore the best social media campaign partner for a great promotion.
Linkedin
Recent research has stated that 95% of b2b marketers are considering LinkedIn for organic promotion, and 76% found it a great source for paid social media promotions and has confirmed a successful outcome. LinkedIn has various options for paid media promotions, including sponsored mail and posts.
PPC click and text ads make them a great choice for b2b customers to reach their target audience by specifying locations, domains and specialties to get higher success rates at an affordable cost. That's helped this channel to get 80% of b2b leads among all the other platforms.
Facebook and Instagram
This platform is a habitable source of promotion for the b2b eCommerce business. Businesses can promote the same ads simultaneously to both platforms, helping them reach a large target audience.
Research done by Hubspot has found that 79% of b2b marketers use Facebook, and 60% use Instagram for their product and service promotion. Both platforms have the option of paid ads to promote the b2b eCommerce effectively at a lower cost.
Twitter
Twitter is a commonly used platform like LinkedIn for b2b social media marketing. According to a recent study, it's been found that 60% of b2b businesses are considering Twitter for conducting their social media promotions.
The core benefit of this forum is that it has various options for conducting paid promotions; it also gives you the option of real-time transmission for a better client experience, helping to build trust and conversion. In the Twitter channel, businesses also get the option to share the ads through hashtags to reach the maximum audience.
Youtube
Youtube is considered a great platform for b2b eCommerce for their paid social media ad options. They have various features for boosting the conversion rate for b2b eCommerce; a few are bumper ads, display ads, TrueView ads and much more.
These options help this platform to reach a large audience with an impressive experience to ensure a better experience and boost b2b sales with social media.
Make an effective content plan
Once you are convinced of the power of social media for eCommerce b2b business, start creating a content plan to make this tool impact your business positively. This plan needs to be conducted with careful consideration by identifying and aligning with the business objective.
Based on the business goal, you can research the target market and can make audience personas to reach your customer in a better manner. A buyer's persona will help you to get the most potential customers from social media by filtering their locations, profiles and specific fields.
With social media, the business can engage with the customers and lead effortlessly with remarkable quality content, resulting in higher satisfaction. To make sure the content is engaging and relevant, a content plan or calendar creation is important.
It will consist of different posts such as videos, images, posters, infographics and lots more for different social media channels, segregated by weekly days. This plan must be created by considering the past post visibilities, engagement and trends to deliver more aligned content to boost the customer experience.
Conducting an advance plan by coordinating with a team of social media proficient can help to boost the outcome.
Maintain consistency
Maintaining consistency in eCommerce social media marketing strategy is a key aspect. The content published should be regular to reach the maximum audience and customer engagement. This is also applicable for the content tone and style consistency to make sure your target audience is getting the exact insights based on their requirements.
Consistency can be maintained in social media eCommerce platform by focusing on few but best media channels and aligning with their standard for growing better outcomes.
Social media content calendar can also be helpful for an option to be consistent in social media marketing, as with this structured approach, you will never miss your daily, weekly or monthly social media publishing target will help to grow more engagement and, finally, higher conversion and sales.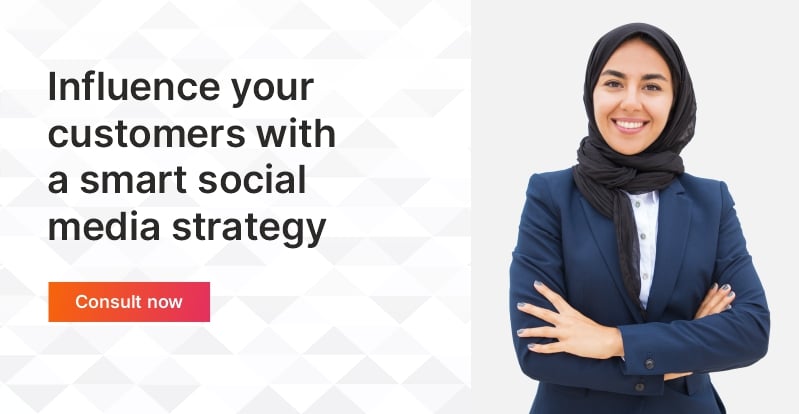 Step to Implement Social Media in b2b eCommerce
Implementing a social media strategy for eCommerce b2b can be a game-changer. Hence, choosing this strategy is necessary in today's business world. Let's explore the step-by-step guide to adopt this robust approach in your b2b eCommerce business.
Choose the right platform
Before implementing social media marketing for b2b eCommerce, it's important to identify and choose the right media channels. This process can be done by analysing the customer engagement and preference of different social media channels and choosing the best that aligns with your business needs.
There are different social media platforms available that are proficient for conducting media marketing for b2b customers. For example, Linkedin and Twitter are found to be the most useful platforms while conducting b2b social media marketing.
Connect with third-party experts
Once you are ready with the right platform, now it's time to implement it in an appropriate manner. But many of the businesses lack experts and knowledge. Therefore choosing a proficient third-party social media marketing agency can be a great option to adopt this approach in your business for better outcomes.
Choose the right industry experts and get the most out of social media marketing for level-up b2b eCommerce.
Create content plan
After consulting and getting the right information about social media marketing tips, it's time to create an impressive and structured content plan. It will help to get a clear idea about the content publishing, tone, style and trends to make sure the business is reaching the right end-users in minimal time and effort.
Identify your resources
To get a successful outcome, you need to be precise with the use of resources, as this is the core factor that will connect the target user. The resources used can be sharing of relevant content like whitepaper, blog, infographic, eBook and many more to the customer.
Besides, other resources like images, videos, and trendy events need to be taken care of to strive in the competitive world. The resource selection needs to be done by considering the end-users requirements and preferences for better reach and conversion.
Monitor and Implement
Once your social media marketing is started, now it's time to monitor the results. It can be done by measuring the engagement, views and reactions of the customers. This process needs to be done in various media channels to understand the outcome from each, which will help to choose and implement the right platform in future.
Final word
Social media is transforming b2b eCommerce, starting from b2b lead generation on social media to ensure great conversion. Everything can be possible with this advanced approach. Based on a recent report, it's found that more than half of the businesses are choosing social media marketing for growing new partnerships in three years.
Hence, it can be understood that this approach is booming in the market of b2b and has a great future. Reports state b2b customers believe more in social media than B2B for growing their business; therefore, moving with this strategy is the key necessity to make sure you never miss anything.
Selecting a suitable tool and consulting with the professionals can be a great option to implement this process. Start using social media marketing for your online store and reach the new business height for your b2b eCommerce.