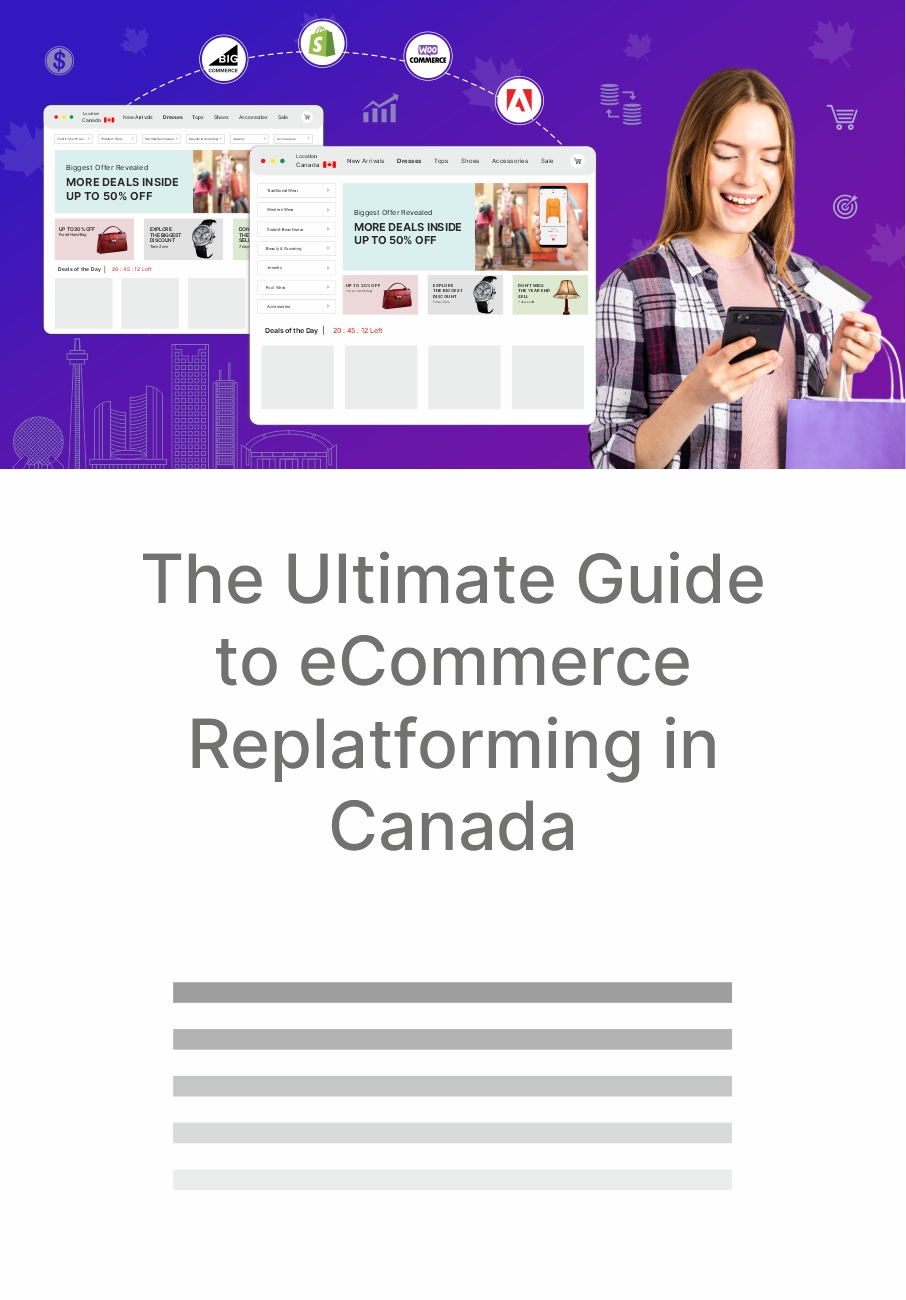 Get The Print Version
Download a PDF version for easier offline reading and sharing with coworkers
The need for replatforming is highly increasing with the growing time. This term is simply helpful for upgrading your eCommerce business by migrating it to a new platform. Now the question arises of which platform the migration is needed to be done.
In the Canadian eCommerce market, many options are available for replatforming. From the crowd of many, finding the best platform is a difficult task. Today, we will discuss the different options for replatforming your business in the Canadian region.
Besides we will also help you to get a structured guide to meet your specific business needs. We will also allow you to find the best platform for migrating your existing business for better outcomes.
Signs to uplift your business platform
Before doing replatforming for your business, most leaders have second thoughts on the requirements. Therefore, it's important to find out if you really need replatforming for your business? Let's find the answer below:
Decline in customer experience
With the time and technical shift, customer expectation has significantly turned. To meet their expectation, the traditional system might not be sufficient. Therefore, making the decision to replatforming is important to meet their actual expectation.
To get a better understanding, analyze your customer requirements and expectations. Understand the frontend and backend needs and whether they align with their requirements. If there is any gap, choose to replatforming for providing custom features.
It includes smart searching, easy checkout, personalized recommendations, multiple marketplace options, scalability, and more to ensure better outcomes.
Limitation on Integration
Integration is a major need for any eCommerce business; It helps to simplify the process by reducing its complexity. This process can be done by integrating data for different channels to improve brand visibility and simplify the process.
However, in a conventional eCommerce, the business lacks integration capabilities. Therefore, connecting with a refined platform is a core necessity. It will help connect your business process easily to ensure better performance, customer experience, and sales maximization.
Lack of customization
Nowadays, customers demand a customized eCommerce experience. To make it possible, migration is the core need. With the help of replatforming, the business can easily customize its eCommerce website. It will effectively drive better customer experience by aligning with the customer's requirements.
It includes custom templates, pricing, product designs, and much more to connect your customer with your product. With the help of custom recommendations and design ability, the buyer's satisfaction can be enhanced, which will drive better conversion.
Complex systems
The new-age customers have limitless expectations; few of them are access to multiple devices, better user experience, good graphics and image quality, simple navigation, and lots more.
In traditional eCommerce, these processes are difficult due to complex systems. Eventually, it's impacting the consumer experience and, finally, the sales ratio. It's important to connect with a modern system to reduce these possibilities. It will help simplify the eCommerce process to improve your customer experience and retention.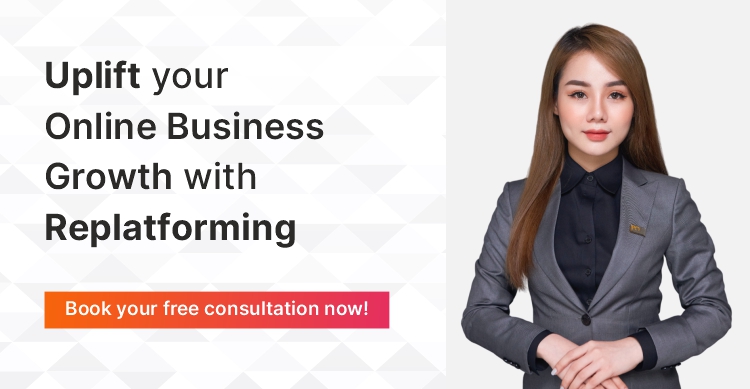 Best platforms for replatforming your eCommerce business in Canada
Replatforming your eCommerce business is associated with various benefits. Based on a recent study, the need for platform migration will grow by $7.4 billion by the end of 2023.
It can completely transform and improve your business process to drive a positive sales ratio. However, most of the brands get confused with the platform selection for b2b eCommerce replatforming. To make your job simple, we have identified the key players in the replatforming market. Let's have a look below:
Magento
While replatforming; we can't miss the importance of Magento. This platform can help to simplify the eCommerce business process effectively. Magento comes with various features and benefits; we have identified a few of the key features mentioned below:
Highly Customizable
Magento is associated with multiple ready-to-use custom-friendly templates that help to make your website design simpler than ever. It helps provide the user with a more personalized experience for better outcomes. They also have various extensions that can effortlessly improve your business process.
Mobile Optimization
In an eCommerce business, seamless mobile optimization is the key necessity. Magento makes it possible by developing a mobile-friendly store. They use HTML 5, which is the best for improving mobile optimization and is an eCommerce business's core necessity.
Multi-store Capabilities
Magento is helpful for developing multi-store for the eCommerce business, which is the foremost need for any retail company. With the help of this platform, you can customize the content, price, and other category structures based on unique requirements.
SEO optimization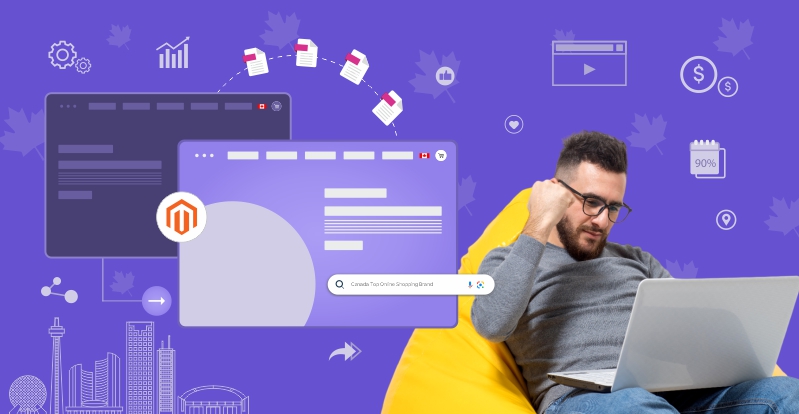 Magento can optimize your business using an appropriate Search Engine Optimization strategy. It will eventually help grow the website traffic, which is useful for sales growth. These features of Magento are beneficial for boosting the marketing revaluation to ensure better outcomes. Eventually, it's helpful for improving the online business towards the betterment.
Shopify
Shopify is another platform that can be helpful for replatforming your eCommerce business. It's come up with an open-source facility and a monthly subscription plan. This is a Software as a Service (SaaS) based platform that ensures faster web support.
Shopify has various features that can improve your conventional eCommerce business. A few of them are identified below:
Complete package
You will get complete end-to-end features for developing your eCommerce website with Shopify. It's associated with marketing tools, payment platforms, hosting, and lots more under a single roof, which helps to complete your development process faster and more securely to ensure higher profit.
Easy interface
Shopify offers a simple interface that helps businesses design their websites effortlessly. With them, designing the eCommerce website is as simple as drag-and-drop various features based on the requirements. The brands can simply add products, new categories, pricing, discounts, and many more in a better manner.
Higher security
Shopify uses high-level security upgrades to protect your eCommerce website from threats. Securing your eCommerce business is the major aspect, and Shopify helps to make it possible.
WooCommerce
WooCommerce is the best application for small online stores. This platform is open-sourced and can used with WordPress. It has many benefits for the eCommerce business and can transform the entire website with its amazing features.
The platform is associated with multiple benefits, a few of them are:
Budget-friendly
WooCommerce is a budget-friendly platform for performing your eCommerce business. It's a free and open-sourced platform that anyone can easily use to develop their online store. With their budget-friendly nature, any company can use their service without any second thoughts.
Custom friendly
This platform has come up with highly customized features. It has various plugins that are helpful for designing a customized website for the online business. It has a variety of themes that can make your eCommerce business look more impressive than before. If you don't like the pre-build templates, then you can customize them based on your requirements.
Flexible payment options
This platform accepts a lot of payment gateways that can be helpful for eCommerce businesses. They accept 140 region-specific getaways. It includes the major credit and debit cards, online banking, PayPal, WooPayments, Stripe, Square, Deposits, and many more to make your buyer journey much simpler than before.
Adobe Commerce
It is a version of Magento that consists of various unique features to make your business look much better and more effective. This is not open-sourced like Magento; it is a premium platform that offers highly impressive features for improving the buyer's journey. Adobe Commerce is a self-hosted platform that has multiple features, a few of which are mentioned below:
Flexible platform
Adobe Commerce comes up with flexible features that are associated with custom and code-based features. It helps the business improve its customer experience by launching a highly flexible platform to ensure higher conversions.
Cloud optimization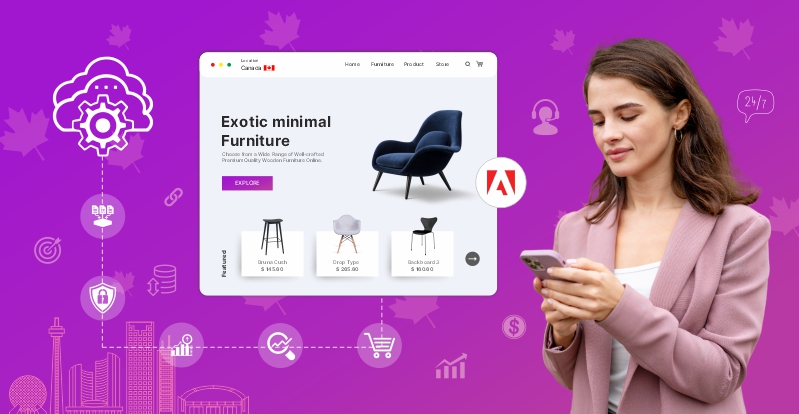 This platform is helpful for providing an omnichannel experience to the customer by making the website multiple-device friendly. It is a foremost feature for the eCommerce business, as it helps them to connect with the customers from any device. Besides, it's helpful for increasing the customer satisfaction. They also have multiple extensions that can help to make this possible.
Simplify Operations
Adobe efficiently simplifies the order and payment process for the eCommerce business. It can effortlessly manage the entire process and let you sit back and ensure a highly-performed eCommerce website.
Easy data management
This platform is useful for maintaining the data with ease The exporting and importing of data is simple with the help of this platform. Besides, it's useful for running the migrating data from different departments in a simple manner to maintain better transparency.
Smart features
Adobe Commerce is helpful in providing smart features, including AI-based tools for enhancing the customer experience towards excellence. This platform helps you get highly operated features rich with personalized recommendations and lots more to make your eCommerce website run smoothly.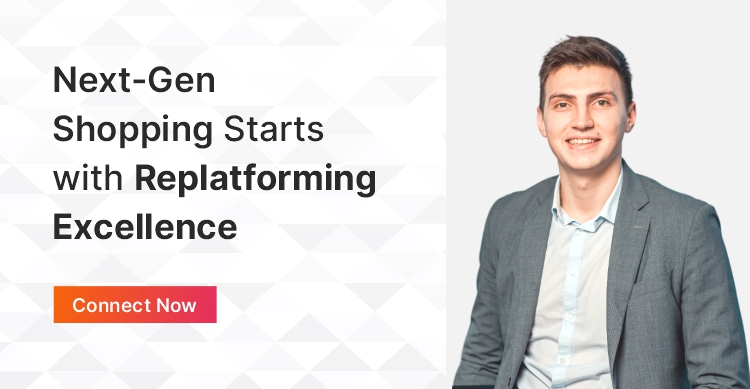 Simplify your eCommerce business with Replatforming
Migrating your eCommerce business to another modern platform has many importance. However, most of the time, individuals face issues with migrating their platform to the new one. Therefore, we have identified a few steps that might be helpful for conducting the replatforming eCommerce process.
Identify the right platform
Before implementing the eCommerce replatforming approach, it's important to identify the right platform. In the eCommerce industry, a lot of platforms are available. Selecting the right one among them is a difficult task. Choose the best platform according to your business needs.
Re-check your need
Once you have selected the right platform, it's time to re-check your business needs and act according to the demand. It will help you to identify the platform with similar features to make your job much easier.
Connect with an expert
After selecting the platform, look for an expert to help you conduct the process easily. Look for an eCommerce replatforming agency that can be useful for growing your business process effectively. Identify their key features and if they can be beneficial for your business goals to ensure a great outcome.
Assign a team
Assign a team with good knowledge of replatforming and a professional. it will help them to connect with the business goal. You need to make sure the team is clear about your business goal and is able to analyze the progress.
Monitor your progress
Once the implementation process has started, it's time to monitor and look for the progress. Check on errors and look for suggestions to improve the process.
Upgrade and uplift
After the implementation look for some updates to stay up with the trends, it will be helpful for improving the business performance and finally will help to grow the sales by boosting customer experience.
eCommerce leader who chooses replatforming
Replatforming is the most suitable way to improve your eCommerce business process. Many leaders have already chosen to replatforming their businesses and have received better outcomes. Take a look at their successful journey below:
Nike
Nike is a popular sportswear brand that makes sure their customers get the best quality products. This brand was looking for a flexible platform for simplifying its regular campaign targeting. Which was not possible to conduct with a conventional platform.
Therefore, they chose to re-platform to Magneto. It helps them to integrate with some digital technologies, such as AR and VR, for better customizations, flexibility, and, finally, useful for growing customer engagement. Nike has found replatforming as the best choice to meet their business goal and set standards for the other brands.
Hello Fresh
Hello Fresh, is a meal-kit company that helps customers to get high-quality food and recipes for different meals. This company was looking for a better strategy to connect with their consumers than when the concept of a subscription plan for meals came to their plan. With the help of Shopify, the implementation of a subscription plan has been done in Hello Fresh.
This platform helps to offer some rich subscription integrations that are also helpful for conducting easy checkout, higher traffic, and lots more to satisfy their customers with their unique plans. Hence, connecting with Shopify for replatforming has been a great decision for this company.
Let's wrap it up
To keep up with the new-age eCommerce business, replatforming is the best option. It helps your online business stay updated and connect with its customers effortlessly. This platform has various benefits that can completely transform your online business process towards betterment.
Many providers are available in the market, such as Magento, Adobe Commerce, Shopify, WooCommerce, and many more. Choose your provider wisely and drive positive sales growth. The future for replatforming is highly positive and growing, as it's the best way to meet your customer's expectations in the modern age.
Connect with a replatforming professional to make wise decisions and flourish your eCommerce business towards success.