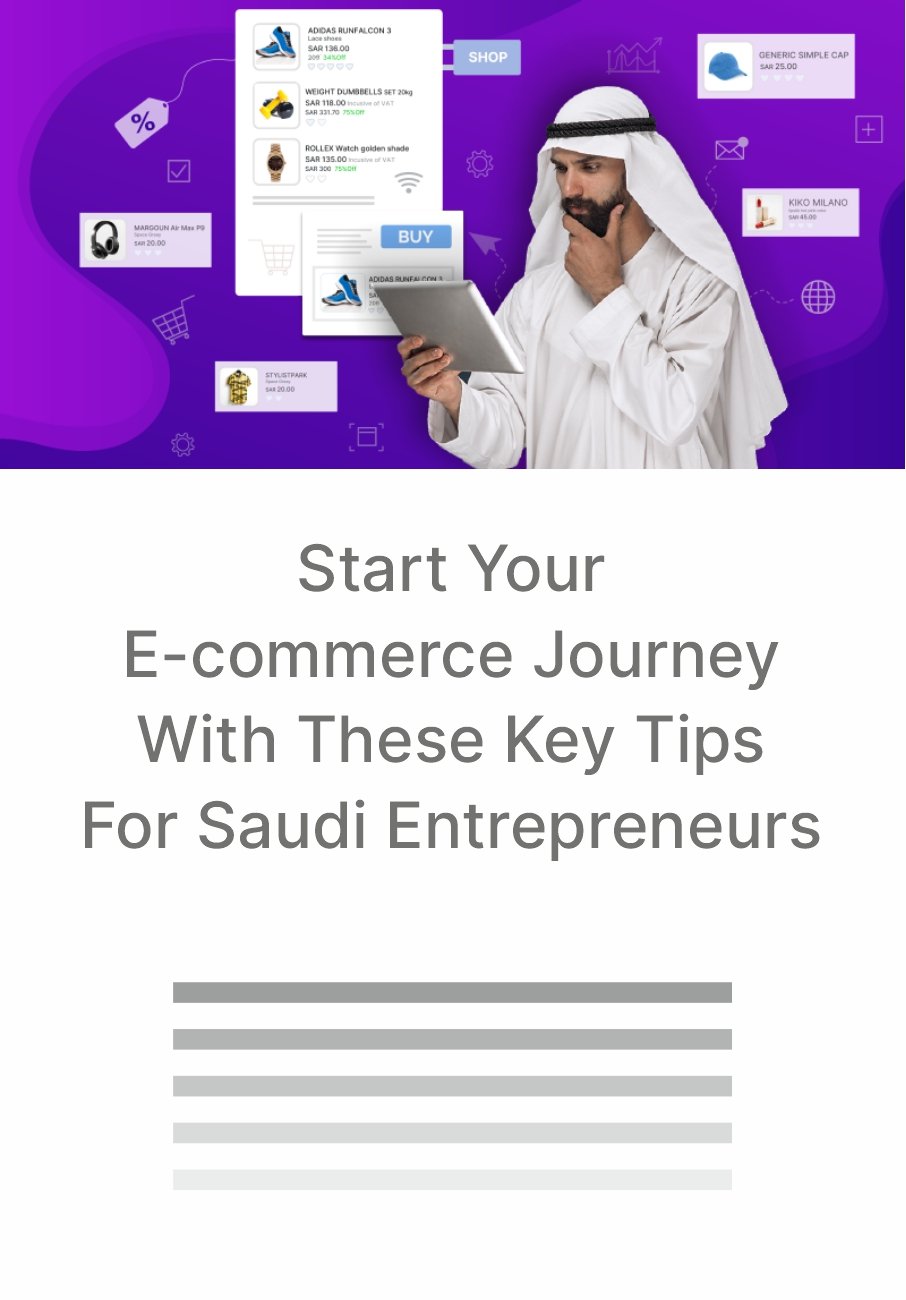 Get The Print Version
Download a PDF version for easier offline reading and sharing with coworkers
In the heart of Arabian Nights, the seed of the E-commerce business is making its place. And the world is seeing exponential growth in the e-commerce industry, especially after the pandemic.
People have drastically shifted from traditional brick-and-mortar to online and digital shopping. The COVID-19 pandemic gave a new vision to consumer behavior, and there's no going back from it.
Entrepreneurs worldwide understood the need for new business models, and that's where Saudi e-commerce growth occurred. And it has been growing more than ever. Saudi Arabia, known for its rich traditions and culture, has started to accept and welcome the future of the e-commerce industry with open arms.
The latest data says Saudi Arabia's internet penetration rate stood at 99.0 percent of the total population at the start of 2023. As per Statista, the population share with internet access has continuously increased over the past years.
With the growing youth population, the Saudi e-commerce market has become a top spot for online businesses. But that's not all in the story. Challenges, success stories, data and statistics, and other factors exist.
Entrepreneurs in Saudi need to focus on every essential aspect of their e-commerce store smoothly. As the e-commerce industry is rapidly growing, so is the competition.
Saudi Arabia's eCommerce market has seen a remarkable boom in 2022. As stated by Mordor Data Intelligence,
The Saudi e-commerce market was valued at USD 10.6 billion in the previous year and is set to reach USD 23.8 billion, registering a CAGR of 15.01% during the forecast period.
This e-commerce growth is a green light for online shopping platforms, digital payment solutions, and the government's initiatives to boost the digital economy in Saudi. Platforms like Noon and Souq ( Now known as Amazon. sa) are getting all the limelight in households of Saudi.
It is a live example of Saudi consumers. They are turning to various online channels for their shopping requirements.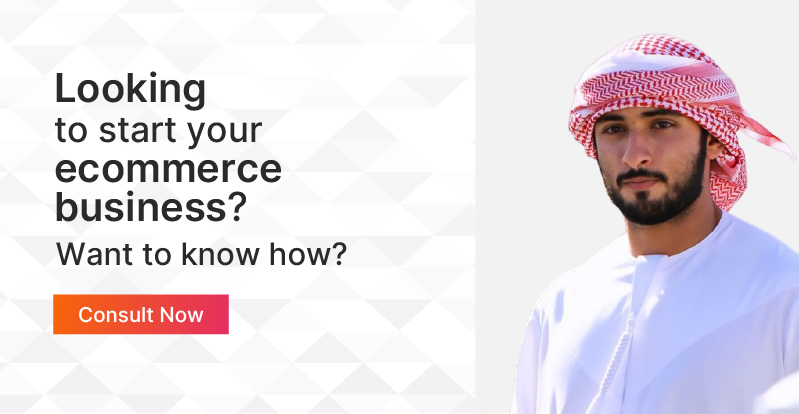 Challenges & Opportunities for Entrepreneurs in the E-commerce Sector
In the hustling e-commerce industry, it's evident that entrepreneurs face challenges like stiff competition and a growing need for efficient supply chain management. But tips and tricks can overcome these challenges, and brands can look for the door of opportunities.
Here are some challenges and opportunities that you can come across.
Challenges
Regulatory Hurdles
In Saudi Arabia, entrepreneurs must follow various laws and regulations, including taxation and consumer protection policies, which can be challenging to interpret and adhere to. Every nation has its own set of rules and regulations which every citizen of that nation has to follow.
Some rules can be rigid and hard to follow, but without following or adhering to them, it might lead to chaos in your business. It's ideal you strictly adhere to those rules for the smooth functioning of your e-commerce business in Saudi Arabia.
Payment Security
Building trust in online transactions is crucial. You ensure that your e-commerce business can secure payment systems and data privacy. It is one of the daunting challenges. Many entrepreneurs' brands invest mainly in tight cybersecurity measures to protect customer data and financial transactions.
Logistics and Infrastructure
A well-organized and managed logistics and a reliable supply chain are essential for successful eCommerce operations. Entrepreneurs face challenges in setting up smooth and easy delivery systems. This problem generally happens in remote areas where infrastructure is underdeveloped and accessibility is low.
Cultural Sensitivity
Understanding and respecting cultural differences is essential in Saudi Arabia. Entrepreneurs must align their marketing strategies and product offerings with local customers and traditions of Saudi Arabia.
Opportunities
Adapting to Digital Transformation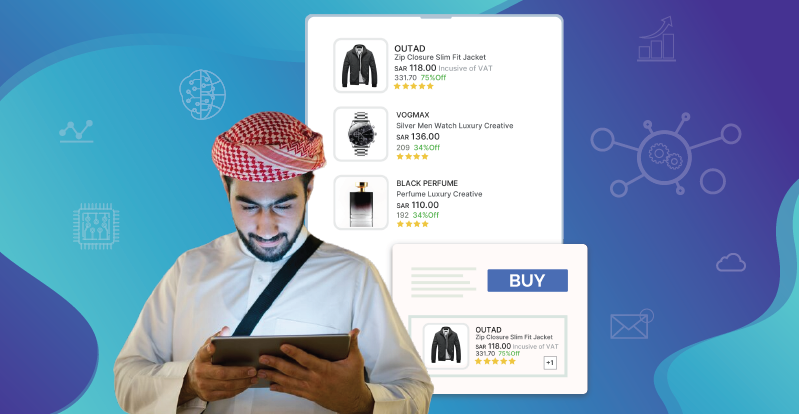 Saudi consumers are rapidly shifting to online shopping. It has become a significant opportunity for entrepreneurs to expand their business to online platforms. Consumers have started using smartphones massively. On top of that, internet accessibility has also increased, pushing e-commerce businesses to cater to their needs.
Growing Middle Class
There is growth in the middle-class population in Saudi Arabia who have higher disposable incomes, which leads to a rise in the purchasing power of consumers. Entrepreneurs can now enter the e-commerce industry by offering quality and in-demand products with custom shopping experiences.
As purchasing power increases, so do the demand and supply. Hence, it's an ample opportunity for entrepreneurs in Saudi to start or ace their e-commerce business on various platforms with the help of social media marketing and other vital factors.
E-commerce Platforms
Various ecommerce platforms, like Souq.com (now Amazon. sa) and Noon, provide entrepreneurs with ready-to-use online marketplaces. These platforms offer opportunities for startups to reach a broader audience without the burden of building an entire e-commerce system from scratch.
The significant platforms even provide e-commerce tips and tricks to grow your business. In fact, during sale time, sellers get insights about increasing consumer demands.
Diversification of Products
Entrepreneurs can explore various niches, for example, fashion, electronics, automobiles, and gourmet products. These industries serve the diverse interests of the Saudi consumer base.
Hence, your brand must diversify in various sectors. Moreover, it should adjust and adapt as per market trends or demands. This way, your brand will have a loyal customer following and goodwill in the market.
Government Support
The government has been supportive and welcoming of the initiatives in building entrepreneurship in Saudi Arabia and technological advancement. Entrepreneurs can use government schemes, grants, and incentives to promote e-commerce startups. This way, you'll also support government schemes and get benefits on a large scale.
Challenges exist in every business, but the growing e-commerce industry in Saudi Arabia offers endless opportunities to Saudi Entrepreneurs.
By staying informed, using available resources, and accepting the beauty of innovations, entrepreneurs can build their online businesses successfully. This will help in the digital economy of the Kingdom of Saudi.
Steps to Start and Grow an E-commerce Business in Saudi Arabia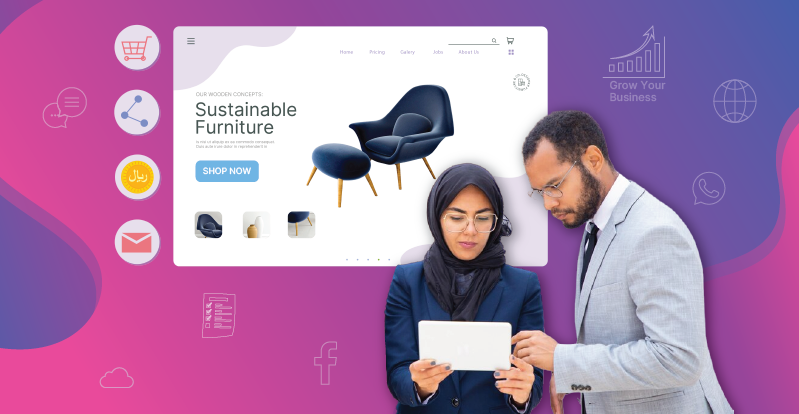 Market Research
Starting an e-commerce business for the first can be overwhelming, and entrepreneurs need guidance to settle down. So, always conduct thorough market research to identify your target audience, preferences, and buying behaviors.
Understand what the competition is about and identify unique selling points for your business. Understand market demand and ongoing trends in depth to serve your customers.
Business Plan
Create a detailed business plan outlining your products, target market, revenue model to follow, and marketing strategies. A well-structured plan will help you make a roadmap of business. A plan that is well crafted and made with proper strategies and goals helps your business in the long run.
Legal and Regulatory compliance
Register your business with Saudi Arabian government officials.
Obtain all necessary licenses and permits to operate legally and smoothly.
Familiarise yourself with tax regulations and ensure compliance.
A considerable burden is ticked off your list if you have cleared all your legal and regulatory work. Without any hurdles, you can run your business efficiently.
Finalise eCommerce Platform
Select a suitable eCommerce platform that perfectly fits your business needs and design ideologies. Platforms like Shopify, BigCommerce, Wix, WooCommerce, and Magento are some of the best platforms that provide a variety of templates and customizations.
One can start an e-commerce business with one of these platforms. Also, before starting, ensure that the platform you choose supports the Arabic language local payment gateways. Also, check if it offers customizable features to meet your business needs.
Secured Payment Gateways
Integrate secure payment gateways popular in Saudi Arabia, such as Sadad, Mada, and PayPal. Offer multiple payment options so that customers are assured that your brand considers customers' needs and preferences.
Product Sourcing and Inventory Management
Inventory management is essential for every e-commerce business to keep a record and maintain appropriate stocks in your warehouse. Source your products from reliable suppliers.
Implement efficient inventory management systems to track and record stock levels, sales, and reordering needs. Ensure timely restocking to avoid stockout in high-demand situations.
Website development and localization
Develop a user-friendly website with a responsive design that is easy to use.
Optimize the website for search engines (SEO) and ensure fast loading times.
Localize your website with culturally appropriate content and images which doesn't harm and affect anyone's sentiments.
Logistics and Shipping
You must partner or collaborate with reputable courier services for local and international shipping. Offer transparent shipping costs, achievable delivery times, and package tracking services for the best customer experience.
Often, brands face backlash because of late delivery or damaged goods because of delivery partners. Hence, before collaborating or partnering with anyone, check their reviews and policies thoroughly.
Digital Marketing
Apply digital marketing strategies, including social media, search engine marketing (SEM), and email marketing. And also, collaborating with influencers and their partnership projects can benefit your brand. Create engaging content and run targeted campaigns to boost traffic and sales.
Customer Service
As an e-commerce brand/company, providing excellent customer service is essential by offering multiple communication channels such as live chat, email, and phone support. Address customer queries and concerns promptly to build credibility and trust in the market.
Data Analysis and Optimisation
Track website traffic, customer behavior, and sales patterns with analytics tools. Analyze the data to make informed decisions, optimize marketing efforts, and improve the user experience of your e-commerce website.
Grow and Diversify
As your business grows, consider expanding your product offerings and entering new market segments. Explore options like collaboration, partnerships, and innovative marketing techniques to reach a wider audience.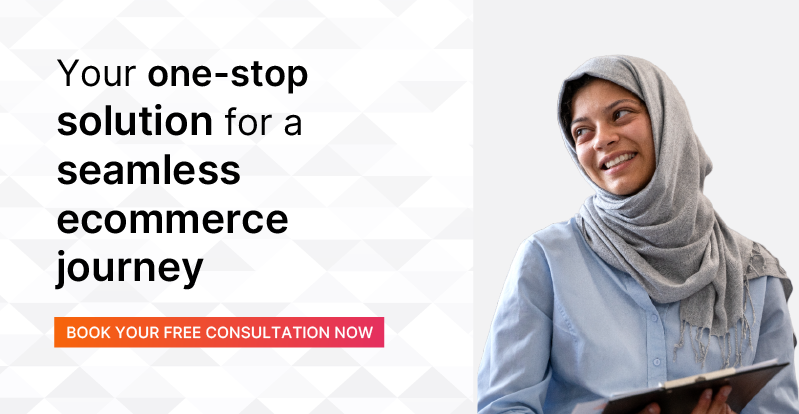 Success Stories of Saudi Ecommerce Entrepreneurs
There are a lot of success stories from Saudi Arabia that prove that e-commerce entrepreneurs are flourishing in several industries. Let's explore below:
Noon.com
One leading example is Noon.com, a USD 1 bn ecommerce marketplace based in Riyadh. It was founded by Mohammed Alabbar, known as the chairman of Emaar. Properties.
It is an ecommerce platform offering various products, including home & kitchen, fashion, beauty, baby care, groceries, and electronics. It even sells top brands like L'oreal, Apple, Mothercare, and many other world-famous brands.
Sustaining itself in the highly competitive market and digital technologies across borders and industries, this brand has grown and leveled itself as the most trusted ecommerce platform in Saudi. It is a digital marketplace made for consumers from all age groups.
Similarly, in 2017, the "Arabic-First" ecommerce platform started its brand in the UAE. But first, they closely observed the market and saw the country's internet-friendly population.
They took the opportunity immediately and started with their full potential. And in the upcoming year, they partnered with eBay to reach their target audience on a broader level. They also began to offer a comprehensive product range.
And you'll be surprised to know that in 2018, Noon.com announced that it was set to enter China's online grocery delivery market. At present, Noon.com has a head office in Riyadh and warehouses which are the size of 60 football pitches in Dubai.
Key takeaways and advice for aspiring eCommerce entrepreneurs
The world has been transitioning constantly, and human needs are, as usual, endless. And with the internet, it's a whole other game. Saudi Arabia's eCommerce industry has a lot of potential, and sustaining in the market has one crucial key, i.e., adaptability.
It's high time entrepreneurs start accepting the beauty of data analytics to understand customer behavior. And start investing in tight cybersecurity measures to ensure consumer trust and, most importantly, give attention to customer experience.
For customers, the value of a seamless shopping experience is always a top priority. Henceforth, it emphasizes the importance of user-friendly interfaces and efficient customer support. Connecting with a third-party eCommerce consultant can be a great solution to get a better idea for making critical decisions.
Wrapping up
Saudi Arabia continues to develop and grow their ecommerce market with a digital transformation side by side. The ecommerce industry can become a significant sector, a sign of hope and growth for entrepreneurs.
Stay on your toes and closely watch market trends, use the full potential of social media, and deliver the best customer experiences.