The rich land of the Kingdom of Saudi Arabia is filled with deep love and appreciation for jewellery. It is an integral part of the country's history and heritage. These gorgeous adornments have been more than accessories for generations; they are emblems of tradition, legacy, and luxury.
Traditional jewellery stores have long been the preservers of skill in the lively markets of Riyadh, Jeddah, and Dammam, selling meticulously designed jewellery that reflects stories of generations past.
However, the deserts over the centuries have welcomed an age of change, one in which Arabia's sparkling gems meet the digitalization of the twenty-first century. The jewelry retail market in Saudi Arabia has been going through a significant transition for the past few years, spurred by the development of e-commerce and digital technology.
The transition is more than just a change in how jewellery is purchased and sold; it is an era that changes the core of the jewelry trade. As per a recent report of Statista, "The jewellery segment in Saudi Arabia is projected to grow by 3.13% (2023-2026), resulting in a market volume of US$1.02bn in 2026."
It is an era where consumers are well-versed in what they buy, and sellers are aware of consumer buying patterns. Because of digital transformation, everything is now served on a platter; you just need to open your e-commerce store.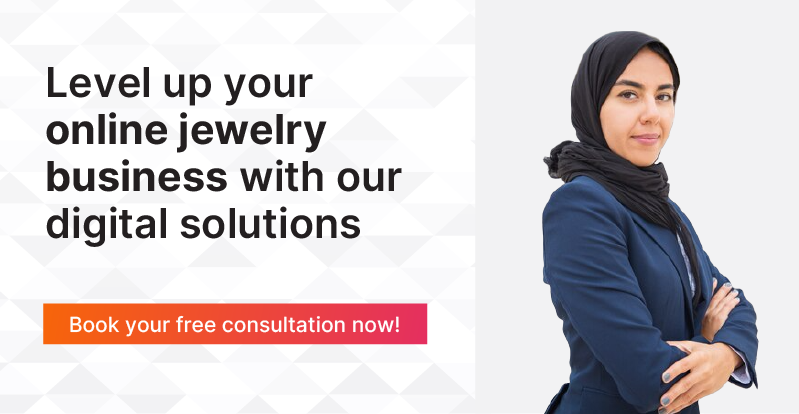 The Jewellery Retail Market in Saudi Arabia
If we go back in the history of arab, we see the bustling markets of Riyadh, Jeddah, and Dammam. There is a vibrant culture and tradition of buying and selling jewellery in the retail market. This is a century-old tradition which is now turned into modern innovation.
Saudi Arabia is also known as a land for its oil wealth and cultural heritage. And the people of the kingdom show deep-rooted affection for it. The same goes for jewellery ; it symbolizes social status, heritage, and celebration.
The country's jewellery market, formerly restricted to the labyrinth alleyways of souks (known as arab market or bazaar), swiftly moved into the new era, opening up new pathways and giving a new definition to the notion of luxury.
Historical Significance and Craftsmanship:
Saudi Arabia's jewellery legacy is an example of the ability of skilled workers who have passed down their knowledge and legacy through centuries. The delicate filigree work, sparkling jewels, and traditional motifs reveal stories about the kingdom's history and cultural diversity.
Classic designs, like Bedouin-inspired jewellery and Saudi silver, continue to be popular, representing the nation's profound pride in its past.
Shift to Modern Designs and International Influence:
While heritage is important, there is a definite movement toward fresh and fusion styles. Saudi Arabian jewellery makers are adopting modern aesthetics, experimenting with new materials, and combining foreign styles inspired by worldwide fashion trends. A combination of culture and modernity connects to young customers, establishing generational gaps and expanding commercial operations reach.
Consumer Preferences and Market Trends:
Just like Arab countries, the Saudi jewellery market is also diverse and promising for trade worldwide. The world sees the potential in the arab market and is investing rigorously. And the market of Arabia closely focuses on a wide range of consumer preferences.
Obviously, gold is an eternal favorite, but other precious metals, such as platinum and rose gold, are becoming more popular over the course of time. Gemstones, especially those with cultural importance, such as turquoise and coral, are in great demand.
Furthermore, customized jewellery, such as nameplates and birthstone pieces, has grown in favor, showing a desire for one-of-a-kind and meaningful embellishments.
E-commerce Stepping in the Market:
The growth of e-commerce in the jewellery industry has resulted in an essential change in how Saudis shop for jewellery . Online platforms provide an endless number of options, allowing customers to explore designs from both local stores and worldwide businesses.
The ease of looking at collections, comparing pricing, and reading customer reviews has enlightened shoppers, helping them to make informed decisions from the comfort of their own homes. The push toward digital retail has not only increased accessibility but has also encouraged customers and brands to take risks and experiment.
Government Initiatives and Ethical Sourcing:
The Saudi government has taken steps to govern the jewellery industry, assuring transparency and ethical behavior. Buyers have gained trust due to efforts to tackle counterfeit goods and promote true quality. Furthermore, there is a rising commitment to ethical sourcing and sustainable methods, with buyers preferring jewelry manufactured from cautiously acquired materials, supporting local workers and worldwide conservation initiatives.
Moreover, The Saudi government has been actively promoting digitalization as part of its Vision 2030 plan, aiming to diversify the economy and reduce its dependence on oil.
It is also found in the report of ECDB: "The Saudi Arabian jewellery e-commerce market is predicted to reach US$103.5 million by 2023 and accounts for 60.4% of the Watches and jewellery e-commerce market in Saudi Arabia.
It is expected to grow over the next years with a compound annual growth rate for the next four years (CAGR 2023-2027) of 12.0%, resulting in a projected market volume of US$162.9 million by 2027."
Benefits of E-commerce and Digital Transformation in the Jewellery Industry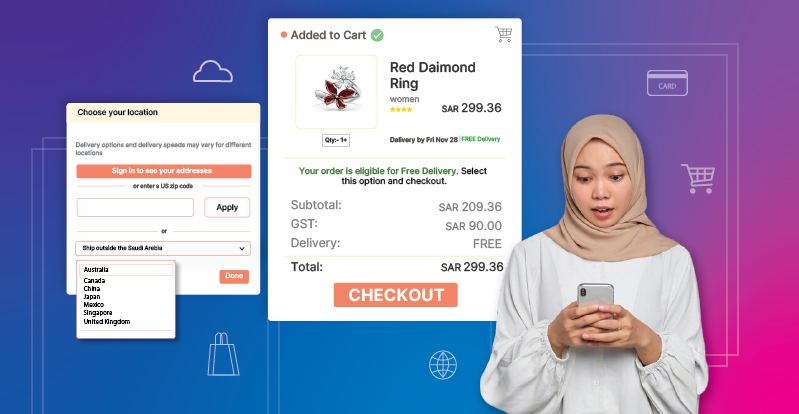 Global Market Reach and Accessibility
E-commerce platforms have wholly changed geographical barriers. Or rather, we can say that e-commerce platforms have dismantled the way consumers shop now, which has now allowed Saudi Arabian jewellery e-commerce retailers to present their exquisite pieces of art to a global audience. Plus, the 24/7 access to online stores provides perfect convenience, giving customers the power to explore and purchase jewelry at their convenience, time, and place.
New Shopping Experience through Technology
The digital transformation in the retail business of jewellery has brought new ways of customer engagement. Customers can visualize jewellery pieces in real time thanks to virtual try-on capabilities and augmented reality applications, changing the online shopping experience. Data-driven decision-making also provides targeted experiences by matching products to individual tastes and purchasing histories.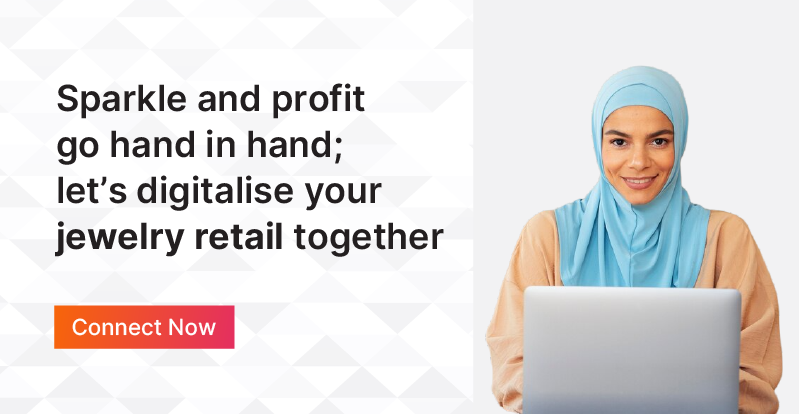 Successful Examples of Jewellery Retailers Embracing Digital Transformation
Jewellery is a key market class in the Saudi e-commerce business. Many established jewellery stores now have a web presence, and there are also specialist online jewelry sellers that focus solely on the Saudi market.
Several top Saudi Arabian jewellery brands have successfully turned the potential of digital transformation to grow their operations.
One well-known example is "L'Azurde," which is now a world-famous jewellery brand with a fantastic website. The most excellent payment gateways and the best user experience on their website are hallmarks of absolute charm. Simply browsing their website will reveal how they have divided various styles and products into subsections.
To mention a few, they have additional brands under their brand name. Among them are Miss L', Instyle, and Waves. They have strong client engagement and revenue generation in the market because of their e-commerce site.
Strategies for Launching and Marketing an Online Jewellery Stores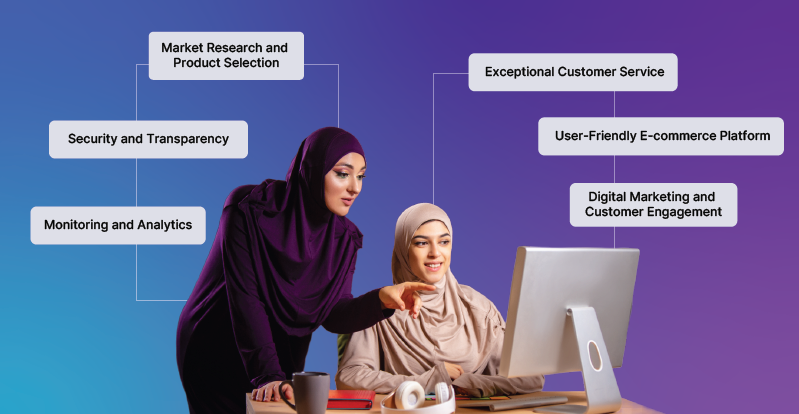 Market Research and Product Selection
Successful online jewellery stores are built on a thorough market study. Identifying the target audience and building a one-of-a-kind collection that appeals to their tastes gives you a competitive advantage. Henceforth, Market research gives you the advantage of what has worked for other brands, what is currently working and where the future is headed.
Building a User-Friendly E-commerce Platform
While shopping online, customers generally find it hard to trust brands based on online stores. Their first impression of your brand lives in their heads, rent-free. And when it comes to picking the right brand for their piece of jewellery, it takes time for them to trust the brand overall.
Hence it. Henceforth, it is imperative to select a trustworthy e-commerce platform. A user-friendly design, along with virtual try-on elements, improves the buying experience. Using high-quality photos and informative product descriptions encourages trust in potential customers.
Digital Marketing and Customer Engagement
Brands should start using digital marketing tactics seriously. SEO and SEM tactics boost the web presence on a broader level. Social media networks have proven tools for brand marketing. Engaging content, such as blog posts about jewellery trends and tips and tricks, not only informs customers but also positions the company as a leader in the field.
Ensuring Security and Transparency
There are tons of cyberattacks worldwide, and brands are dealing with them fiercely. It is advised that your brand has strong cybersecurity measures that are non-negotiable. When granting access to personal and financial information, customers must feel protected. Using blockchain technology improves supply chain transparency, which assures customers of the legitimacy and ethical source of their purchases.
Providing Unique Customer Service
Customers love it when brands are quite vocal and responsive to their needs or queries. Henceforth, responsive Customer service matters for online success. Using chatbots for prompt queries and help, in addition to human care via email and phone, ensures that customers are respected and encouraged throughout the buying procedure.
Monitoring and Analytics
Using analytics software, merchants can track website traffic, consumer activity, and sales patterns.
Data-driven insights help in informed decisions and strategies for optimizing marketing tactics and inventory management for long-term growth. It is well said that data is now no less than gold for business.
Future Trends and Opportunities in Jewellery Retail
Customization and Connection
For centuries, there has been a high demand for customized jewellery. Customers have always wished that they could get a piece of jewellery as per their likes and wishes. So, it is not something new in this industry; instead, offering that facility in an online store is something to be praised.
Brands can offer a wide range of personalized design options, allowing customers to create unique pieces as per their tastes. This will build trust and show the customers that your brand cares about them in the true sense.
Sustainable and Ethical Practices
Jewellery that is ethically sourced and created in a sustainable manner is gaining popularity. Adopting eco-friendly methods not only appeals to environmentally aware customers but it also helps the brand's reputation and social responsibility activities.
Customers nowadays are well aware of animal cruelty, sustainability, and other crucial topics. It is now the responsibility of companies to investigate these issues thoroughly and make their brand and their products sustainable. This will also help businesses establish a reputation in the industry.
Integration of Augmented Reality (AR) and Virtual Reality (VR) Technologies
The combination of AR and VR technological concepts was first proposed many years ago, and it has continued to expand over time, presenting fresh opportunities for the jewellery business. Virtual showrooms and interactive retail experiences increase customer involvement and provide a futuristic buying experience. This is a sign for brands to keep evolving and trying new things to keep customers engaged.
Wrapping Up
The melding of tradition and modern science brought about an impressive transition in the delicate world of jewellery retail, where art meets trade. This exploration's path through the many levels of Saudi Arabian jewellery retail provides a colourful vision of creativity, legacy, and limitless potential.
The digital age of Saudi Arabian jewellery retail is more than just a transition from physical stores to online platforms; it also indicates a significant change in how consumers use their most beloved ornaments. It is a historical celebration in which the skills of previous generations pass on to the boundless spaces of the modern era.
Brands have matched up to the expectations of the rich history of traditional aesthetics through diligently monitored online experiences. Customers can lose themselves in the tale woven into each piece with the click of a button, being aware of the cultural importance that differentiates Saudi Arabian jewellery.
The jewellery retail sector in Saudi Arabia is set for a bright future in this shimmering industry, where tradition interacts with technology and creativity has no limitations. As customers join in digital jewelry experiences, companies keep growing. Connect with a professional in digital commerce and shine brighter in the world of online jewellery.