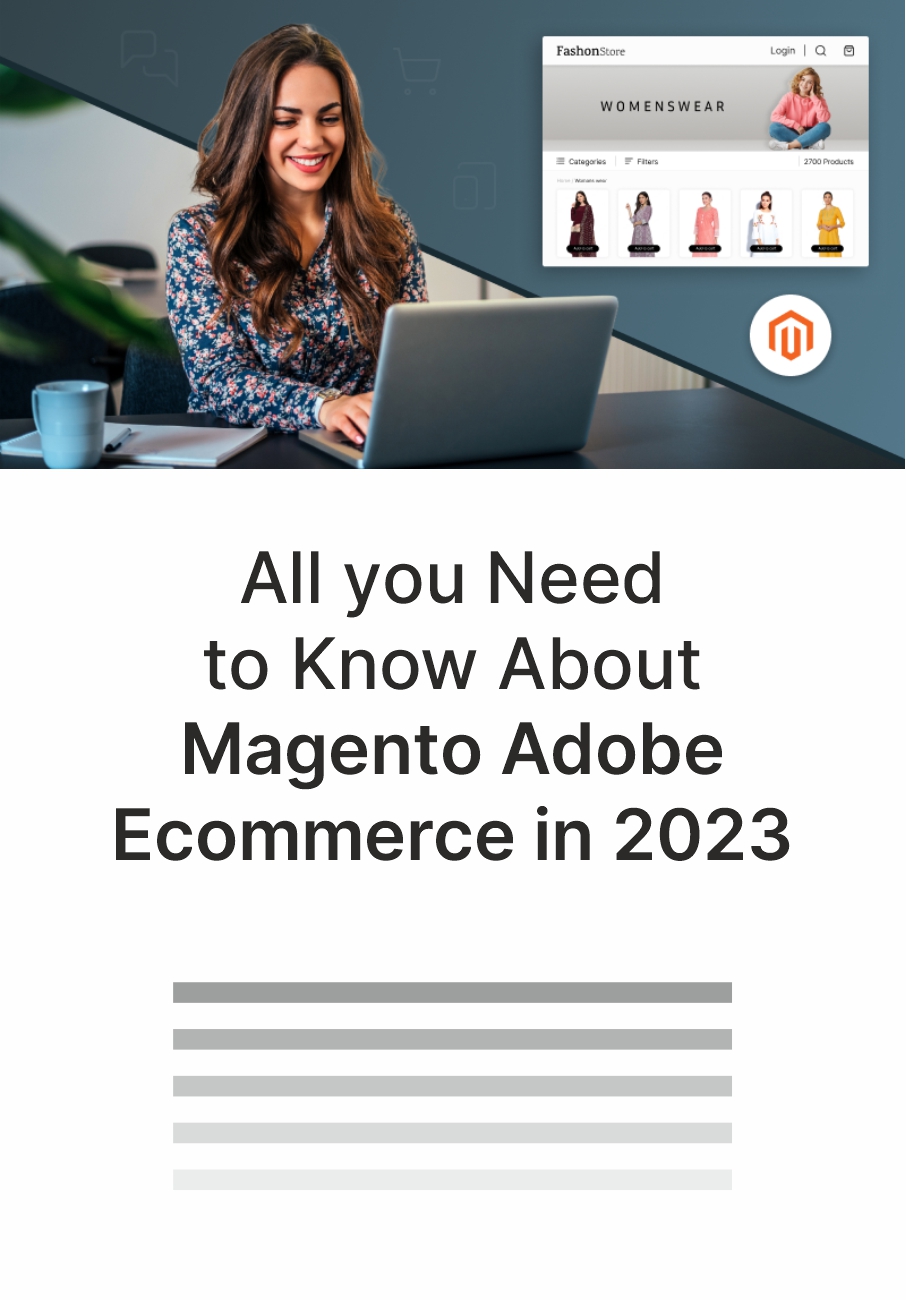 Get The Print Version
Download a PDF version for easier offline reading and sharing with coworkers
The eCommerce landscape is an ever-changing field that comes with various upgrades. This platform is advancing to stay forward and help generate revenue in the face of rising competition.
A company's online exposure can be greatly increased by selecting the right platform to work with in order to reach the largest audience. The ideal platform for enhancing your eCommerce business visibility is Magento Adobe Commerce.
It comes up with many features and benefits that can make your business grow positively. It is an open-sourced platform chosen by multiple companies for improving their eCommerce process.
According to a recent study, the Magento website is found to be a great option for eCommerce businesses. The use of Magento Adobe Commerce is expected to reach from 10% to 90% in the coming years, and most are expected to be accounted for by eCommerce businesses.
Magento Adobe Commerce offers highly flexible and customizable features that make them the most unique and desirable option for leading brands like Nike, HP, coca-cola, and many more.
Today, we'll talk about how Magento Adobe Commerce can help your online store grow successfully and all of its helpful capabilities.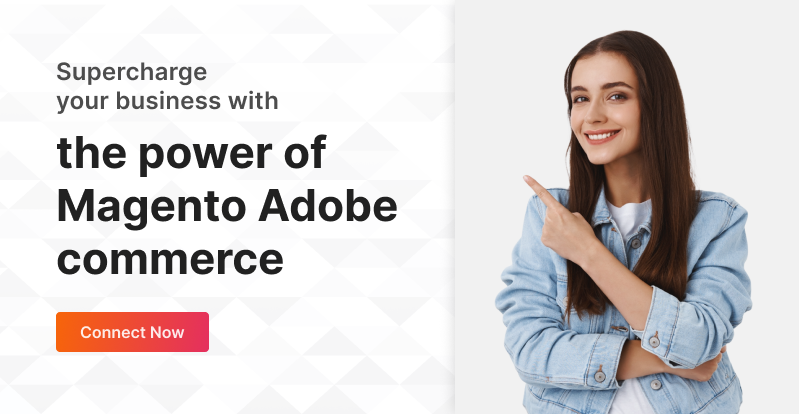 Why is Magento Adobe eCommerce needed for your business?
Magento Adobe Commerce is the much-needed platform for your business. It has a number of advantages that might assist you in growing your company. Let's identify a few of them below:
Highly Flexible
Magento Adobe Commerce makes the Online business process much simpler by using unique designs to make the website impressive. It will help to offer more customized solutions to the clients that will help to satisfy their requirements.
With their highly flexible features, Magento eCommerce web development solutions make the business process useful for all. It further allows to make a great outcome from the online business process to support the customers in improving their buying journey.
Optimise SEO for business
SEO management is a majorly critical process for any business, as optimization of search engines is not an easy process. Managing the Backlinks, code specifications, and other factors have been added in addition to keywords.
All these aspects eventually make the SEO management process highly difficult for the business, and many struggle to boost it. But Magento Adobe Commerce has a great solution to reduce this issue.
Their platform can effectively improve the meta keywords description, keywords, sitemaps, and lots more to ensure a great outcome from the SEO optimization. It can be a great option for any business that wants to have great web-based promotional activities.
Improve Security
For handling sensitive data, Magento Adobe Commerce is a very safe web platform. Additionally, it provides a different management system so businesses can easily manage their web stores.
An open-source platform like Magento and Adobe Commerce offers higher security as compared to a closed one. With access to the entire codebase, the issues can be easily fixed by connecting with thousands of developers.
It will eventually be helpful for improving the website security, and assurance of fixing the potential issues makes them the best for enhancing the security.
Quick Integration
Integrating with multiple platforms and devices is a key need for any eCommerce business. It helps the buyer to improve the shopping experience by simplifying the payment, order management, data handling, and logistics process through smart and quick integration.
Magento helps to connect various third-party platforms with different business operations easily. With the help of API connectivity, the back-end system boosts up the business process and helps to align with the ongoing market trends.
Besides, the advanced features of Adobe Commerce have helped Magento to boost the data analysis quality for offering better solutions to the client.
Custom solutions
To align with the changing needs of the customers, eCommerce business leaders need to adopt customized solutions. Magento offers complete custom solutions from website design to personalized categories and offerings making them the best for the eCommerce business.
They will allow you to customize the entire business process by offering an open-sourced platform with various plugins for different business operations, including payment, processing, shipping, web designing, and lots more.
By integrating Adobe e-commerce with Magento, this tool has boosted their potential even higher than ever. Adobe Analytics helps to collect and process customer data for offering more customized solutions to the end-users.
Mobile-friendly and omnichannel support
Mobile responsive and omnichannel support is the most required aspect an eCommerce business needs. Magento Adobe Commerce can effortlessly improve the customer experience by providing responsive themes, size of screens, and appropriate templates for making it mobile-friendly.
These features help to connect potential customers with the product and brands instantly without any interruptions. It will help the user to easily purchase the products from the brands by interacting with different shopping channels effectively, including webpages, social media, mobile apps, and many more.
It will be further helpful for ensuring a better customer experience, which can be helpful for generating potential leads and retention. The responsive design and ability to connect to different platforms make Magneto Adobe the best place to offer omnichannel support to users.
It helps the customers to improve the business process with a responsive and systematic navigation process for better outcomes.
Budget-friendly
Magento offers budget-friendly solutions that can make your business grow with a limited investment. It will help the brands to get all the custom solutions on a low budget, which will be helpful for connecting more users promptly and implementing these services in a better manner.
Magneto Adobe Commerce can also be suitable for all business sizes, which will help the business to grow rapidly by offering their best to the potential clients in a better manner.
Key features of Magento Adobe Commerce for boosting your business
Magento Adobe Commerce is a pile of various features that can offer great solutions for your eCommerce business. We have identified the key features of this platform to glorify your eCommerce business.
Variety of payment method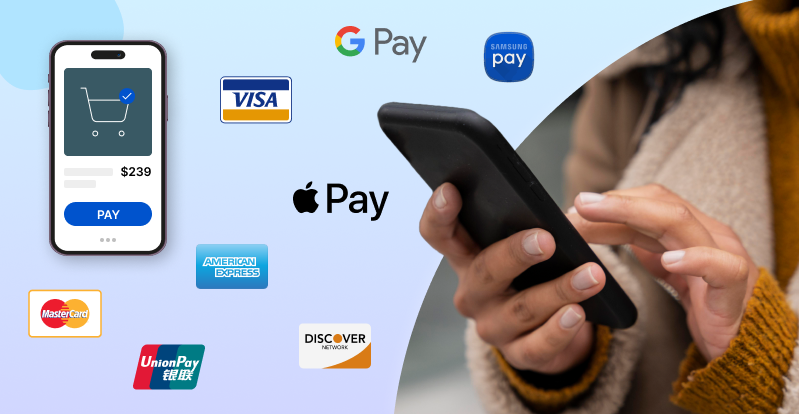 Having a simplified payment gateway is the key necessity for any eCommerce business. It helps to connect the customers instantly and make them purchase their desired product without any interruptions.
Studies say more than "60% of merchants have added additional payment gateway to aligned with customer need."
Magento Adobe Commerce helps to offer a structured payment method that offers a variety of options to improve the buyer's shopping experience. This platform is effective for connecting your store to multiple payment service providers for creating and managing the ordering process in a better manner.
This platform is capable of offering different kinds of payment gateways, including Debit/Credit cards, Prepaid cards, gift wallets, digital wallets, and lots more to make the shopper's journey better and delightful.
Magneto Adobe makes sure that the customers are getting the best experience on the eCommerce website. Therefore, they always strive to offer them as many options as possible for payments. It will help the customer to choose the much-offered payment gateways rather than the less-offered ones.
Therefore, most of the eCommerce brands prefer to work with Magento Adobe Commerce to ensure a better experience for their customers.
Advanced Search Engine
Most of the time, consumers face issues with locating the right product from the online platform. This leads to the problem of losing potential customers and a long-term higher decline in sales. Therefore, to reduce this problem, it's important to connect with the best provider that can improve the search engine.
Magento Adobe Commerce is one of the best solutions for this problem. This platform knows how to get clients on your site, and helping them locate what they need as quickly as possible is one of the best strategies to increase conversions.
With their AI-based search engine they make sure the end-users are getting the best results from the particular eCommerce site. It eventually helps to lead a successful purchase story for them that leads to higher sales in future.
The advanced search results also help to draw the customer interest towards specific brands, help to create strong brand loyalty and improve the conversion rate.
Progressive web application
When it comes to bridging the gap between the browser and app experiences, progressive web applications (PWAs) are the most appropriate choice. This application is helpful for delivering excellent mobile experiences to consumers.
Therefore, the merchants may boost the engagement and conversion rates and, at the same time, can reduce the operating and developer costs.
This application is directly helpful for improving mobile conversion and higher sales for the end-users by choosing the right tool and features. It further helps the developer to reduce their efforts on the complicated task by approaching a completely functional web application with Magento Adobe Commerce potential.
Magneto has a specific platform for improving the progressive web application; this platform is known as Magento PWA studio. This is majorly helpful for improving the user experience, which is the foremost goal of any eCommerce business.
This platform is also helpful for connecting the online and offline store effortlessly, which can be helpful for improving the website speed and growing better user experience. It also provides refined features such as barcode scanning, smart product search and lots more to ensure the end-users are getting a delightful experience.
Highly capable of Page Builder
Building a web page in an eCommerce website is a crucial factor, as it will directly impact the customer journey. Therefore, while creating a page, it's important to connect with the right provider.
Whenever you are required to develop a page, you need to connect with a technical professional. This can be a costing and time-consuming process that can negatively impact the customer experience.
But what if you can create an impressive design for your web page without connecting with technical people? Sounds good right, this can be only possible by choosing Magento's Adobe E-commerce platform. It will help non-technical people to create some impressive and beautiful designs for the web page.
They offer an easy to use page builder that comes up with a simple drag-and drop interface for creating the web page more conveniently. With the help of Magneto's page builder the need for CSS and HTML can be bypassed, which will help to streamline the web design and development process in a much faster and effective manner than before.
Multi-source inventory
An eCommerce business needs to deal with a lot of sources that make it difficult to manage the inventory. With the growing expansion and changing eCommerce environment Magento Adobe commerce has come up with an admin panel that can help to manage multiple sources for inventory.
It will be helpful for improving the operation process in a cost-effective and faster manner. With the help of Magento's developer, the business can use priority algorithms and help the third-party to support the inventory system integration.
With the help of this tool, the business can track their inventory in real-time, that will be a great help to improve the product management operations. Besides, the customer adds to the cart, and checkout details can also be tracked with the help of Magento Adobe Commerce refined solutions.
These highly featured solutions will help to create an outstanding experience for the end-users by conducting appropriate stock management.
Product Suggestions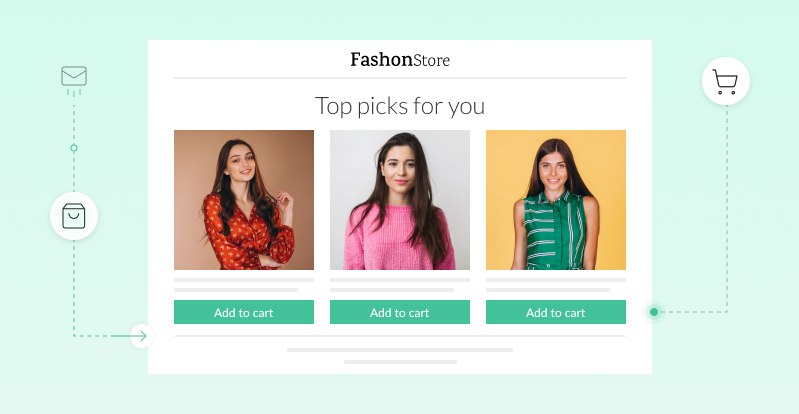 Today's customers expect a more aligned experience; with the development of technology, the shift in consumer expectation has also taken place. This demand for custom solutions for the end-users to connect them in a better manner.
This expectation can be fulfilled by offering them related product recommendations; this strategy can be helpful for improving the customer experience as they will be able to get their desired product quickly like never before.
Based on the recent analysis done by Accenture, more than 50% of customers like to get special treatment for being loyal consumers.
Adobe Commerce is a great provider for improving customer data analysis and understanding their needs in a better manner. This platform offers AI-based recommendations for making the buyer's journey more enjoyable.
This platform is capable of analysing customer behaviour, recent trends, buying habits and preferences, making it the best option for providing a personalised experience to users.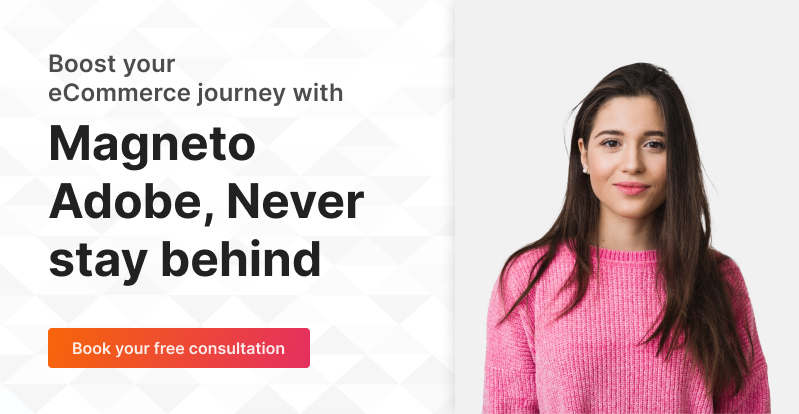 Steps to implement Magento Adobe Ecommerce in your business
Magneto Adobe eCommerce is rich with a lot of benefits; it is capable of transforming the eCommerce business; therefore, choosing this platform can be a wise decision for eCommerce leaders. Let's find out how you can implement this platform in your business with ease.
Analyze your current platform
Before selecting Magneto Adobe Commerce for your online business, it's important to analyze the currently used platform. Understand the keep problem area and how Magento can help to get rid of it. It will help to understand the actual need for Magneto Adobe commerce features for your business.
Understand the benefits of Magento Adobe
Once you are done with understanding the current problem area of your business, compare the benefits of Magneto Adobe and how they can help. It will help you to analyse and understand the area of application of the solutions. Be clear with where you want to use Magneto and what are the expectations or goals you have with a period of time for better analysis.
Hire a third-party professional
After setting your goals and expectations, it's time to choose the right professional who will be able to help you get outstanding results. Look for the best provider of Adobe Commerce website development company and analyze their expertise based on your expectation. Choose wisely to get a better result.
Assign a team
To get the expected results from the implementation, a team needs to assign who can monitor the process and take action on any kind of issues. This team should be completely aware of the goal, as that will help them to act positively.
Review and Upgrade
Monitor the growth of your business after implementing Magento Adobe Commerce. Once you are done with the result analysis, upgrade your business with the upcoming trends to assuring future benefits.
Final words
Magento Adobe Commerce consists of various benefits for boosting your eCommerce potential. This platform can help you to provide completely customized web solutions that can boost conversion.
According to the research, 1.2% of all web pages are using Magento; among them, 12% of the market share is accounted for by eCommerce websites. This shows how Magento Adobe commerce is leading the eCommerce business, and it's expected to grow in the future.
Magneto, with Adobe capabilities, makes the best solution for the eCommerce business; it is a treasure of unique solutions powered by AI-based technology that can help the online business to stay ahead of the competition.
The need for this platform is expected to grow in immense numbers due to the growing need for online business development. Therefore, investing in this solution can be a great decision for eCommerce leaders.
To get a clear idea it's important to connect with the best Magneto Adobe Commerce solutions provider and grow like never before.