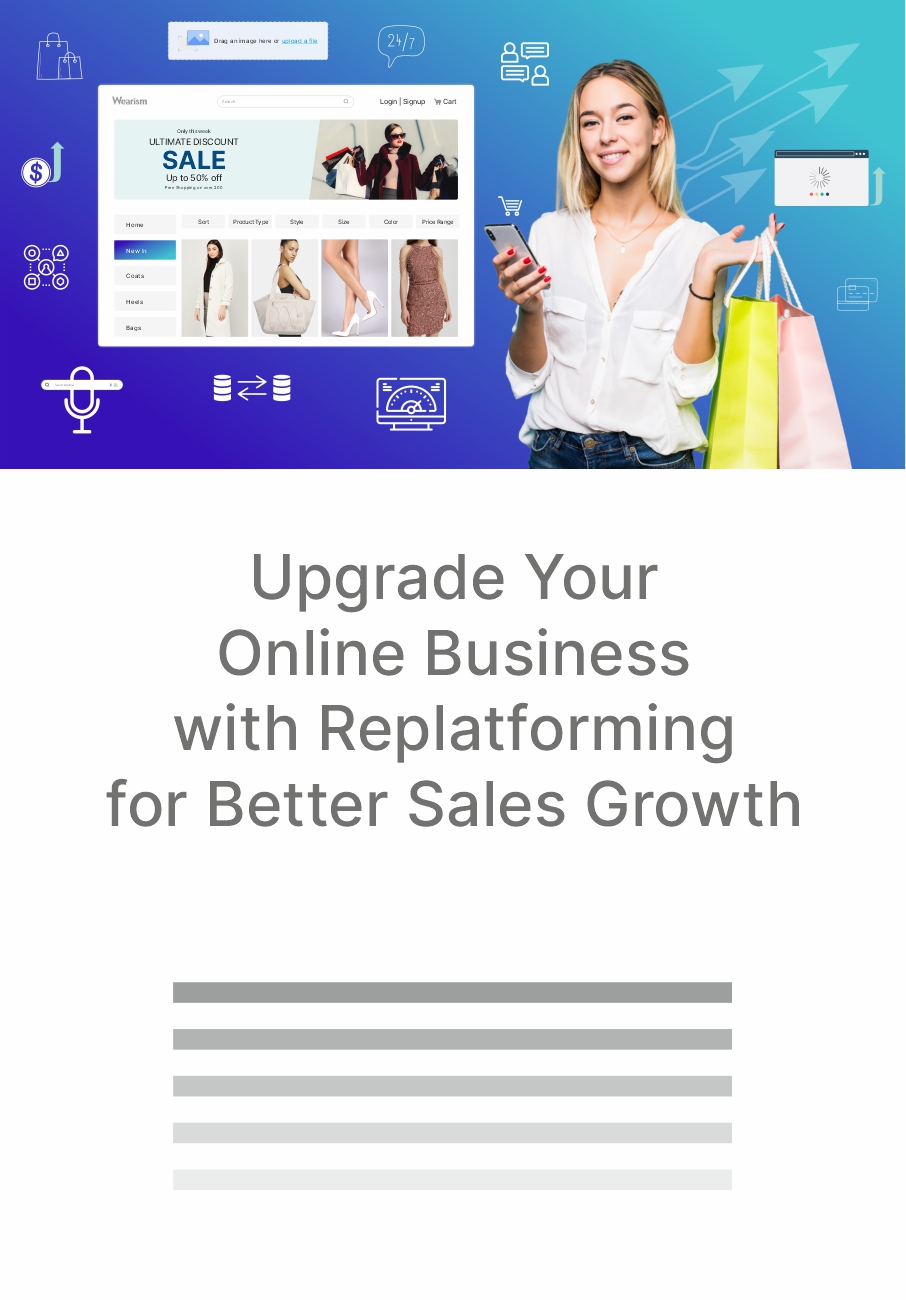 Get The Print Version
Download a PDF version for easier offline reading and sharing with coworkers
The online business is taking a significant turn in the digital age. This is due to the changing customer behavior towards their shopping habits. Now, they look for more comfort, convenience, and faster delivery. This is where the need for replatforming and migrating to a new platform arose.
Replatforming can help to upgrade your business to improve its overall growth. It comes with a lot of features that can help you fulfill your customer requirements in a better manner. Migrating with a reliable platform will help your business to grow its sales ratio by ensuring a quality customer experience.
This blog will discuss the core aspects of replatforming for better sales growth. We will also focus on the key marketing strategy for ensuring quality experience for the end-users.
How can Replatforming grow your sales ratio?
Replatforming is migrating your traditional system to a more advanced one. Indeed, it comes with many benefits that can impact your business growth. But do you know it can completely transform your sales process? Let's find out how and what are the key aspects below:
Boost SEO Optimisation
Search engine optimization (SEO) is critical for eCommerce business growth. This process needs to be done with refined algorithms. With replatfroming, this process can be simplified.
For example: If you choose Magento for replatforming, it will help you to improve the incoming traffic, backlinks quality, keyword optimization, and lots more to ensure a quality outcome. They have multiple extensions that can help to grow a better ranking.
Shopify is another suitable option for optimizing SEO for the eCommerce business. It has an SEO-friendly interface, custom template, and designs to ensure higher optimization. A good strategy will help the business to connect with its target audience more quickly. It will eventually help grow sales and profit in the long run.
Customer Data Management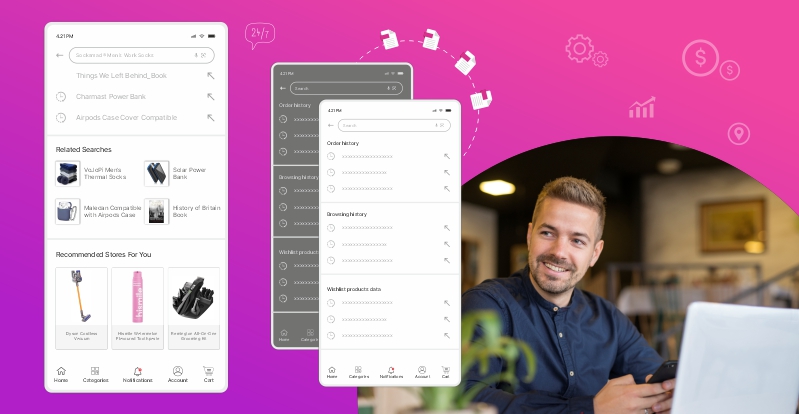 Focusing on customer satisfaction is the prime concern when discussing higher sales ratios. According to a recent analysis, "77% of customers reported that if they get a good customer experience, they will be more motivated to spend for that brand.
Managing their data effectively can help enhance their experience and drive sales motivation. Replatforming will help your brand to collect and manage customer data from different aspects seamlessly. These data include contact details, purchasing history, preferences, and other factors.
It will help the brand to understand its customers in a better manner, and that can be useful for offering a more personalized shopping experience for them to boost their buying interest.
For example: When you choose Magento for replatforming, it will help to centralize all the customer data easily to offer a better experience.
On the other hand, by choosing Shopify, your business can use AI to recommend better products based on their purchase history and browsing trends.
Hence, migrating your monolithic system to this robust one can streamline your customer data management, which is beneficial for higher consumption and sales.
Impressive user experience
Users are the most essential part of any eCommerce business. Hence, meeting with their parameters is the foremost thing.
Customers purchase online retail based on the user interface (UI) experience, as this is the only way to know about the brand initially. Therefore, making it simple and innovative is a significant need.
However, with a traditional approach, conducting this process takes a lot of work. Therefore, choosing replatforming to a modern system can be a great solution. Let's take the example of Shopify and Magento.
They have multiple extensions, elements and components that ensure a custom user interface for better outcomes. These two platforms have an easy-to-use interface with a systematic navigation process for boosting the end-user's shopping experience for conducting better deals.
Higher website speed
A high-speed website is the wish of all eCommerce end-users; while online shopping, no one wants to wait long for the website to load. It frustrates the users, who often leave the site without the final purchase.
A recent study done by Deloitte has found that more than 70% of customer says a slow-loading website impacts their willingness to buy from online stores. Therefore, ensuring faster website loading is the key factor.
In the monolithic system, all the aspects are conducted in a single place, eventually hampering the website speed. But by replatforming to a new platform, these problems can be bypassed as it will help them to separate the front and backend. Also, with their highly featured extensions and elements, the website performance can be enhanced.
For instance, Magento uses PWA technology to improve website speed. It grows the website interactions and makes it more responsive for the users. This helps them to make effortless scrolling in friction, enhances their experience, and motivates them to complete their final purchase.
Similarly, WooCommerce uses plugins to offer a smooth website experience to their customers. On the other hand, Shopify uses advanced technology to improve the website speed. They conduct a speed test to understand and fix the errors effectively.
Hence, choosing the right platform can help your business grow its website speed and customer retention effortlessly, never like before.
Custom recommendations
With the changing technical aspects, the user's behavior has also taken a major shift. This eventually initiated the requirement for a more personalized experience. This process can be done by choosing custom recommendations. But by using an old system, conducting this process is quite impossible.
Therefore, choosing a modern platform is important to meet customer demands. Which is directly connected with the sales ratio. Migrating to platforms like Magento, Shopify, Adobe Commerce, and WooCommerce can help to design a custom-friendly website.
This process can also be done by conducting in-depth data collection and analysis with customer data management. The brand can conduct a detailed analysis using refined technology and tools like AI and ML.
These two tools have a superior algorithm that can conduct behavioral analysis to know the end-users better for offering custom recommendations based on their actual need, which is eventually effective for improving their experience and, finally, the sales ratio.
Quality User Acceptance Testing
The brand image is the most significant part of any e-commerce business. To protect this, following a user-acceptance testing process is important. This process will help to test the customer experience for a specific product or service.
Understanding the product errors and opportunities will eventually be helpful based on the customer's response. This process helps improve the brand image and customer loyalty toward the product. Besides, it's also useful for ensuring compliance and regulations for the specific commodity.
However, conducting this process is not possible in a monolithic system. Therefore, the need for replatorming comes to the scenario. Advanced software like PIM and AI-based solutions can help conduct user acceptance testing for the eCommerce business for better customer understanding and a growing sales ratio.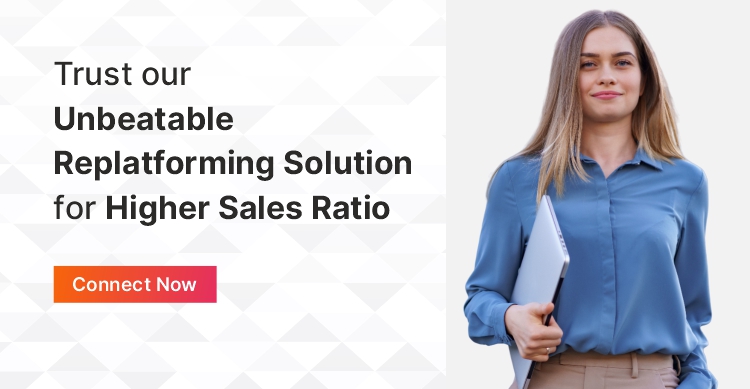 Create a better marketing strategy with Replatforming
Replatforming can transform the sales ratio, but to conduct this process, choosing and following the appropriate marketing strategy is important. We have identified the key strategies to improve the marketing outcome.
Maintain a Single Ecosystem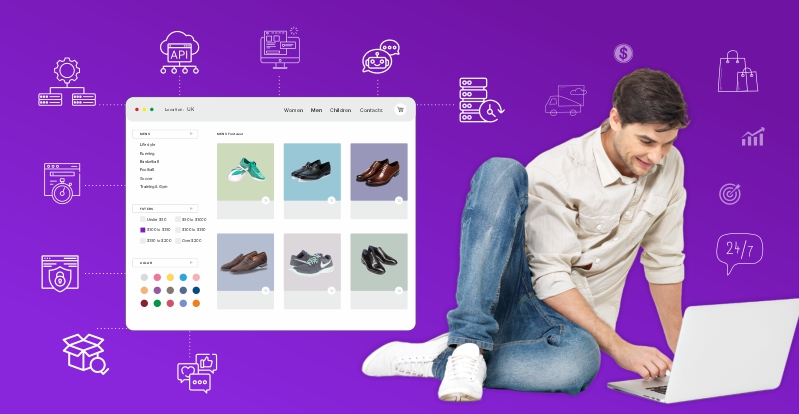 In the era of the digital world, the customer looks for an easy-to-use interface. Therefore, it's important to reduce the complexity of the traditional system and choose a modern approach with a system ecosystem.
It will help to manage the entire business process under a single roof more effectively. This system will help connect a target customer and be useful for conducting better promotional activities in a more aligned manner.
Replatfroming to platforms like WooCommerce, Magento, Shopify, Adobe Commerce, and much more helps to simply conduct this process.
Choose quality UI templates
To target the accurate customer, offering an amazing UI experience is essential. This process can be done by developing an impressive design for the website. However, conducting this process is time-consuming and costly and demands professional involvement.
Therefore replatforming to a new platform with some modern technology is important. The core reason for platform migration is the availability of quality professionals and amazing templates.
With the help of platforms like Magento & Shopify, the eCommerce business can design a custom-friendly user interface. They have various template options for different brands that can help to create user-friendly designs with a limited time and cost.
It will help to improve the buyer's experience by offering an impressive interface design. That helps to create an engaging marketing strategy.
Integrate and upgrade
Integrating with some third-party software is a need for any eCommerce business. It helps the brand to improve its entire operations seamlessly. With the help of appropriate software, the operations can be performed better.
It can also help the business to grow positively by ensuring higher sales growth. Besides, it helps to enhance marketing communications among the internal team. That allows to improve the co-ordination and functional activities.
With the help of replatforming, integration, and upgrade can be possible. For example, the business can opt for integrated marketing by choosing Adobe Commerce. That will help to drive positive outcomes by integrating different marketing processes.
Shopify is also offering some great features for integrated marketing. Integrating with these platforms can be a wise decision to ensure quality outcomes.
Guidelines to choose the best replatforming services for your online store
Work with the best provider
Finding and choosing the best provider is essential to get the most out of your replatforming implementation. Look for an experienced provider with multiple platforms. Research their expertise, work quality, and customer feedback to make sure you are making appropriate decisions.
Choose platform wisely
Remember; every platform is not suitable for your business. All the platforms come with unique features. Choose your platform based on your specific requirements. For example, Shopify is good with security, payment gateway, and SEO. On the other hand, Magento is best for custom templates. Therefore, choosing your platform consciously is needed to align with the actual business issues.
Compare costing and features
Before implementing a platform, compare its pricing and features to ensure you make the best decision. It will help you to analyze all the platforms appropriately and choose the most suitable one based on the features and budget.
Upgrade with trends
Replatforming is not a one-time job. To stay on top, you must be upgraded with the growing trends. This can be implementing new features, tools, plugins, extensions, and lots more to ensure positive outcomes.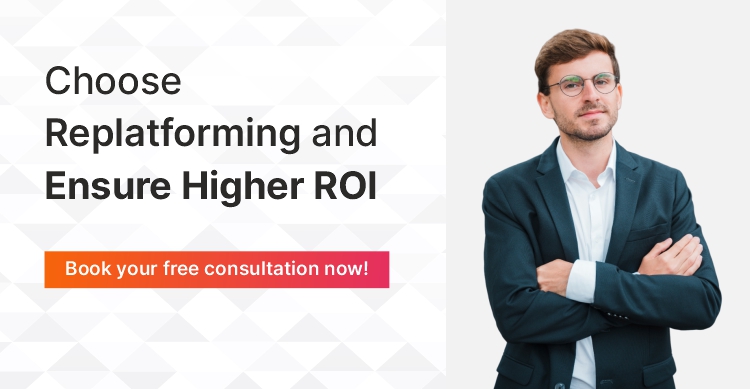 Success stories of replatforming for sales enhancement
Many eCommerce companies get significant benefits from replatforming, specifically for sales growth. Let's take a look and gain insights from their success.
Gymshark
Replatforming has transformed the sales ratio for Gymshark. It is a leading brand in the UK that has offered fitness apparel and accessories for over 10 years. They migrated to Shopify to boost their sales ratio. This brand faced issues with enhancing its website traffic, and that is where it connected with Shopify Plus to conduct this process.
The result was so amazing that they were not just able to improve their traffic but also able to expand in international locations. With Shopify, they can boost highly impressive customer experience for both online and offline customers.
It also resulted in £41 million in sales during 2017 after the migration and has boosted their social media followers by 5.1m among the more than 131 countries. Choosing Shopify Plus for replatforming is a wise decision for Gymshark to grow its business and sales.
Final Words
Replatforming to a new system has multiple benefits; businesses can grow their brand image, sales, and profits. It is the most reliable choice for boosting customer satisfaction to the new height.
To deal with changing customer behavior, implementing modern software for replatforming is crucial. According to Digital Commerce 360 research, "by 2023, more than 61% of eCommerce companies are planning to migrate to a new system".
It will help the brands deal with the limitless needs of the end-users.
Connecting with the right provider is the key to maximizing sales for your eCommerce business.
Look for the experts and grow your business success. Replatfroming is the future of eCommerce; choose wisely and experience the change in your sales ratio.