Are you preparing a checklist for launching your Magento eCommerce store?
Then there is a big chance that you've considered how your dream eCommerce store on Magento will appear to users. Well, at the heart of every Magento store's visual appearance is a well crafted Magento theme that often represents the brand using it.
However, thousands of these themes are available for free or on sale in online marketplaces and could leave you confused regarding which one you should use for your eCommerce store. Another source of concern could be picking from a large pool of providers, the most trusted Magento theme providers that offer the best templates for Magento stores.

Well, this article will help you solve these concerns but begin by highlighting what you can expect from a good Magento theme.
Jump to your favourite topic
What Makes A Good Magento Theme
Good Visuals and Intuitive Designs
Unless you're building from scratch, it is recommended that any Magento theme you choose for your eCommerce store will feature colors and designs that align with your brand. Other features such as fonts, images, and position of tabs must combine to give that unique visual appeal that your shoppers deserve.
Nearly all Magento themes providers allow prospective customers to view a demo version of the template before installing it. Take your time when reviewing the demo version since some marketplaces do not offer a money-back guarantee on your purchase or make you go through a lengthy process if they eventually initiate a refund.
Customizable
Although most Magento themes providers promise users that they could customize its features and functionalities to fit their website, the reality is that this is not always the case.
Therefore, before you settle for a Magento theme, consult a best magento developer to know whether there is a chance that it could be customized to reflect the core features you expect to have on your eCommerce website.
Another vital factor is that most ready-made Magento themes are specifically designed to serve eCommerce merchants in a particular niche. Trying to customize a Fashion Theme to suit an Electronic Store will likely be more hard work than customizing an Electronics Theme to suit your website.
Mobile Appeal
It is no longer news that online shoppers now spend more time on mobile devices instead of desktop. For this reason, the ideal Magento theme must not only appeal to desktop users but also mobile shoppers.
In fact, it should be compatible with the majority if not all popular mobile devices. You can check mobile compatibility while previewing the demo version of your theme.
Easy Checkout
A lengthy checkout process or misrepresentation of information on the purchase page could increase the rate of cart abandonment and low sales.
A good Magento theme either features a simple checkout page or include extensions that allow you to set it up quickly. Your profit numbers depend on it.
Compatibility
Next, you want to check that the Magento theme you're purchasing is compatible with the version of Magento software powering your site. Most Magento Theme Providers would usually indicate compatible versions on the product description page of the theme you're looking to purchase.
An important point to bear in mind is that if you're still running Magento 1, then there's a significant chance that the soon ending support for the software means that you'll soon need a new theme or upgrade when you hire a Magento migration team to help you make the switch.
Pricing
Well, the fact that you want your site to appeal to users doesn't mean that you have to break the bank to get a suitable Magento theme.
Therefore, affordable pricing is another factor you should consider before settling for a particular Magento Theme. As we'll discuss next, the type of Magento theme is another thing that could influence the pricing.

Types Of Magento Themes
Ready-Made Magento Themes
These are Magento themes listed either for free or on-sale on some websites. They're called ready-made because they're not built from scratch to suit a particular website.
Different Magento store merchants install these themes and then customize them to suit their business needs while Magento theme providers that put them on sale could earn affiliate commissions for promoting them.
Custom Magento Themes
Some large corporations and even sole proprietor eCommerce operators hire expert Magento Theme developers to build an exclusive template for their store.
Such a Magento theme usually costs more time and money but often comes off perfect since every feature and functionality integrated by the developer takes into consideration the goals and objectives of the business.
Now that we have a clear understanding of what makes a great Magento theme and the types that exist, we'll now list the best Magento theme providers to patronize in 2022.
The Best Magento Theme Providers
1. TemplateMonster
TemplateMonster is a top template provider offering themes for different platforms such as WordPress, Joomla, WooCommerce, Shopify, and then Magento. You can expect to see 499+ Magento Themes for various niches such as Art, Design, Photography, Fashion, Electronics, Real Estate, Sports, and more.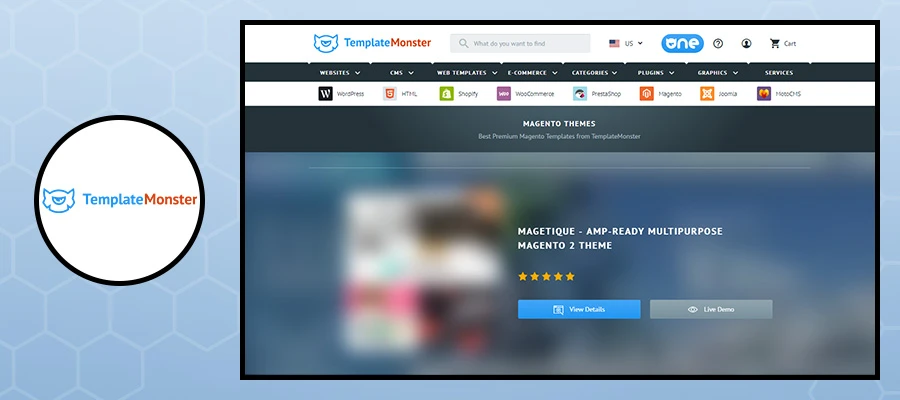 The best selling Magento themes on TemplateMonster goes for $179 even though you can find other low priced and suitable themes for less than $90. A better deal may also be signing up for paid membership for $179, giving you access to not only eCommerce themes but also unlimited installations, prompt customer support, and other premium features.
Finally, if you've not moved your Magento store to Magento 2, then you will be pleased to know that 344 of the themes on TemplateMonster is compatible for Magento 1.9.2. You will need to run higher versions of the Magento eCommerce software before you can install the newest items on their marketplace.
Website: https://www.templatemonster.com
2. MageCloud
MageCloud is a cloud-based product-as-a-service company that allows merchants to set up their Magento store in a few minutes with minimum technical skills required.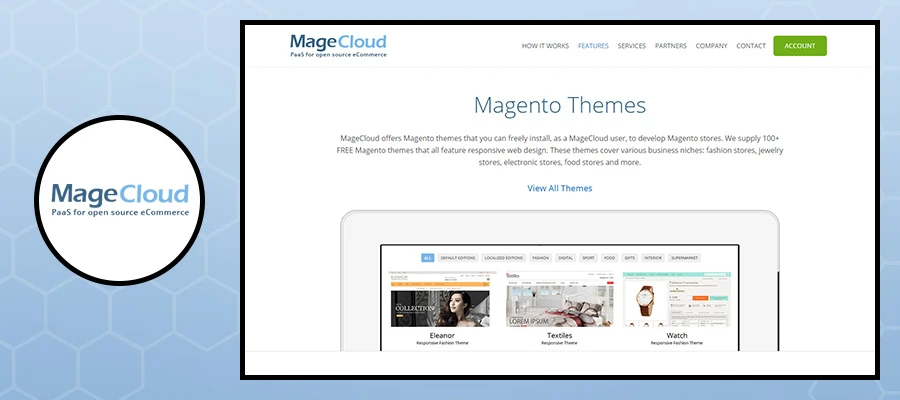 The service supports languages such as French, German, Italian, Spanish, Polish and offers 100+ free Magento Themes to merchants who use their service to develop their Magento store. However, this does not mean that you cannot choose to install third-party Magento themes such as those purchased from TemplateMonster.
MageCloud also lists a range of premium themes even though it would be advisable to go through their free gallery since you could find feature responsive web design themes covering niches such as Fashion, Jewelry, Electronics, Food Stores and More.
Magento 1 users also have something to cheer one since you can find on MageCloud, free, and premium themes starting at $99 for your eCommerce store.
Website: https://www.magecloud.net
3. Weltpixel
Weltpixel is not a full Magento themes marketplace like the other providers we have reviewed so far. However, if you're looking for the Pearl Magento 2 theme, often regarded as one of the most popular Magento themes, then you can find it on Weltpixel.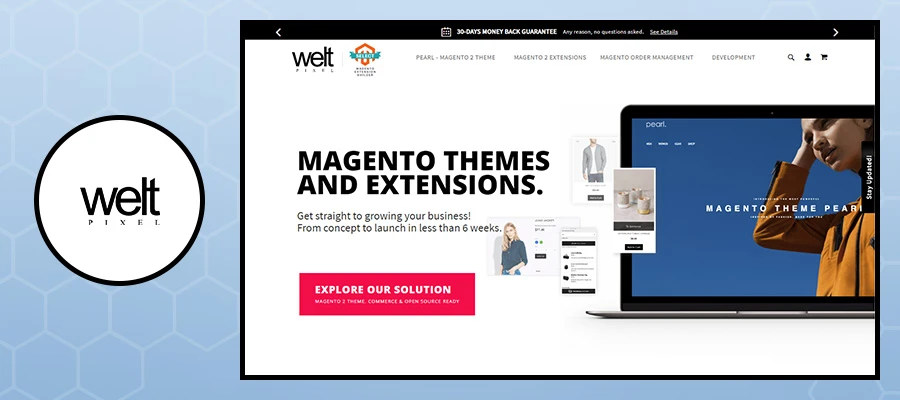 Over 32,700 eCommerce merchants who have migrated to Magento 2 use the different versions of the Pearl Magento Theme which was mainly designed for websites in the Fashion and Accessories niche.
Weltpixel classifies the Pearl Theme into three main categories Essential, Professional, and Custom. As you would expect, the separate categories contain varying features and functionalities. If you're using the Community edition of Magento, then Pearl Essential goes for $499 while the Professional version goes for $999.
Magento Enterprise edition users, on the other hand, have to pay at least $999 for the Essential version and $1499 for the Professional version of the Pearl theme.
Website: https://www.weltpixel.com
4. RocketTheme
The RocketTheme marketplace features one free Magento Theme (Quasar) and a variety of premium templates that are only compatible with Magento 1 eCommerce stores.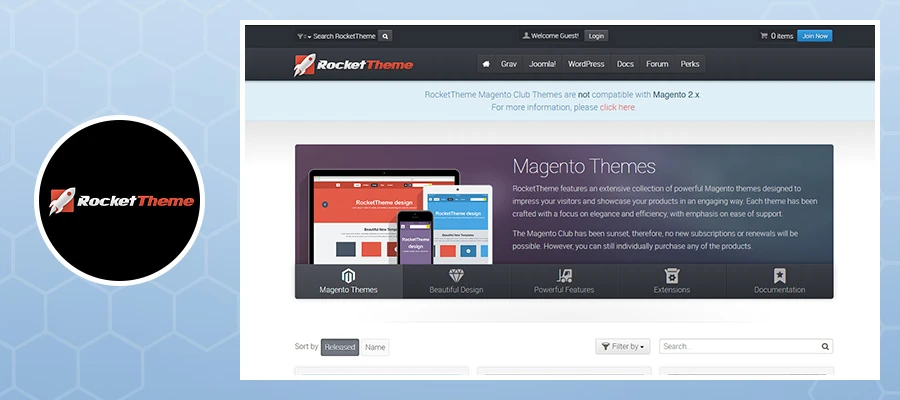 In other words, if you're a Magento 2 user, then you should not waste your time going to Rocket Theme, although we expect this to change as more users make the switch to Magento 2 with the June 2020 deadline approaching.
Given the imminent and fading popularity of the Magento 1 version, it is also not surprising that the pricing for themes on RocketTheme starts from as low as $55.
You can, however, expect to enjoy a variety of Magento extensions and lifetime support (ending in 12 months) with each theme you purchase on their service while there are no renewal or subscription costs attached.
Website: https://rockettheme.com
5. MagePlaza
While some of the Magento Themes providers we've reviewed so far offer a wide range of templates covering different niches, MagePlaza does not follow the trend. Instead, you can expect to find a handpicked collection of the top Magento themes.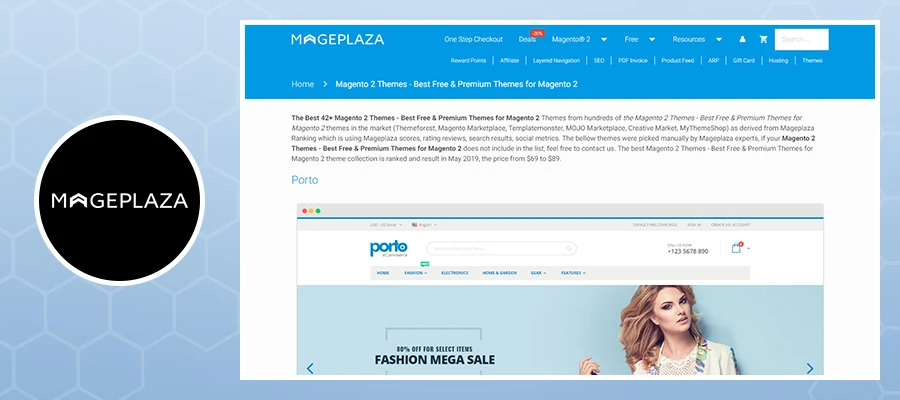 MagePlaza compiled this list by taking into consideration the best free and paid Magento 2 themes of ThemeForest and other marketplaces. If you're also searching for moderately-priced Magento themes, then you will find it interesting to know that themes on MagePlaza fall between the range of $69 to $89.
To be specific, MagePlaza Themes does not support Magento 1 eCommerce software, so you'll have to go elsewhere if that is what you need.
Website: https://www.mageplaza.com
6. ArgentoTheme
Argento is a premium Magento Theme reportedly created from scratch for the best eCommerce stores and according to the latest Magento guidelines. Interestingly, the Theme does not discriminate but offers support for multiple versions of Magento 1 and 2 eCommerce software.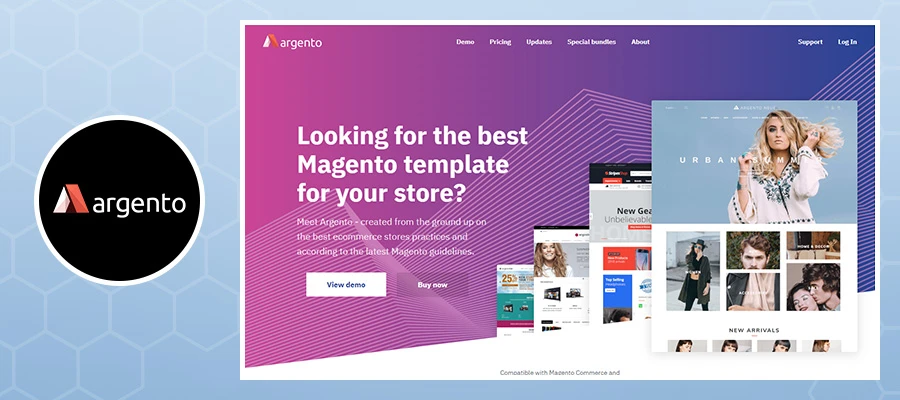 Lifetime access to the theme which is compatible with Magento Community Edition goes for $90 while merchants can have to pay an extra $25 if they wish to get access to customer support and updates.
Website: https://argentotheme.com

7. UberTheme
No, UberTheme is not a transport services company providing Magento Themes. UberTheme is a Magento Theme provider that lists free and paid templates compatible with Magento 1.9 and 2 websites.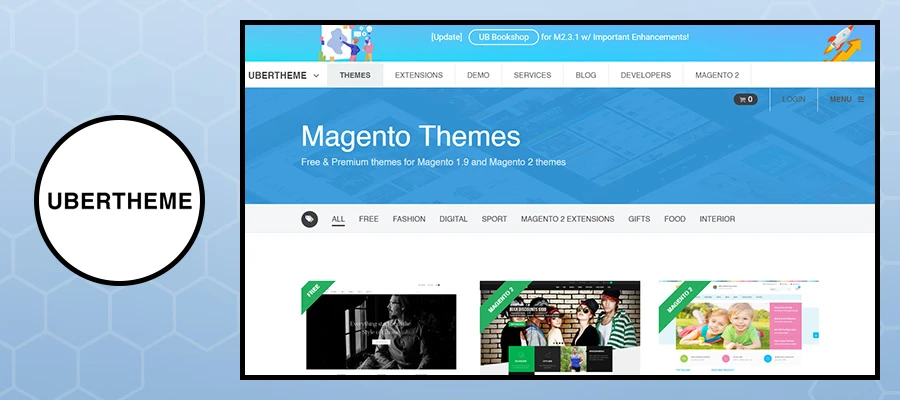 The downside, though, is that there are only three free Magento themes available for download on the website. However, paid themes typically priced at $80 cuts across niches such as Fashion, Digital, Sports, Food, Gift Items, etc.
Website: https://www.ubertheme.com
8. Zemez
The Zemez Magento Theme marketplace contains only Premium templates, but a more extensive variety across different niches collated from the top Magento Theme providers listed so far. You can also find themes compatible with multiple versions of Magento ranging from 1.9.2 to version 2.3.0.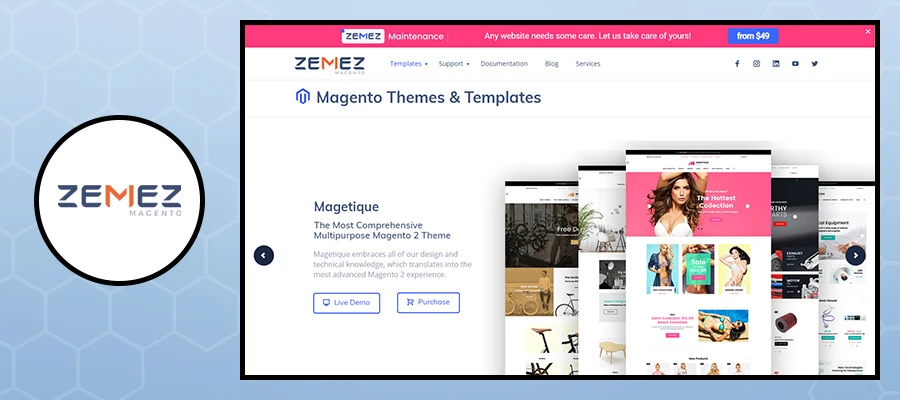 Another exciting feature on their website is that you will spend less time in finding a particular theme that suits your brand. A filter allows you to make a choice based on factors such as compatibility, topic, style, extensions, color, etc. while you can also find templates for other eCommerce platforms other than Magento.
Website: https://https://zemez.io
9. PlazaThemes
Like Zemez, PlazaThemes lists only premium Magento Themes typically priced $59 and compatible for merchants using either lower versions of Magento 1 or the latest Magento 2 platform.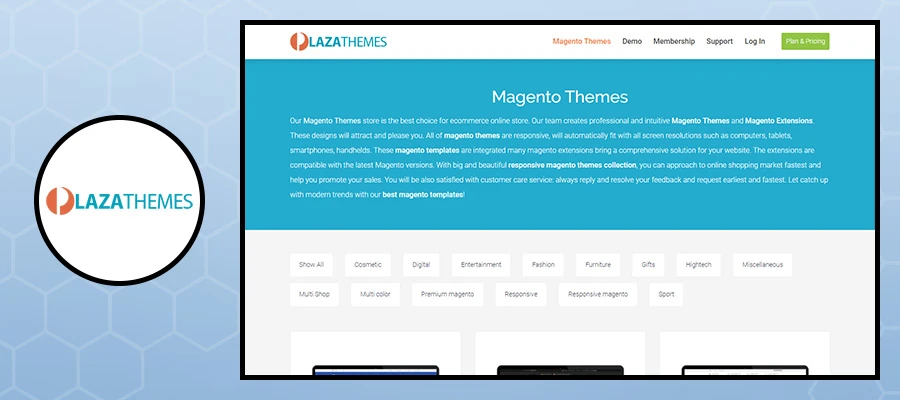 Additionally, Plaza Theme offers a paid membership which allows merchants access up to 30 Magento themes and updates with higher packages for developers providing unlimited access to Premium themes.
Themes cover most popular eCommerce niches, including Cosmetic, Digital, Entertainment, Furniture, Gifts, Fashion, and much more.
Website: http://www.plazathemes.com
10. MagenTech
MagenTech may be a top Magento extension provider but lists only 21 Premium Magento themes on its website. The fact that the service has won the trust of many merchants, however, means it deserves a place on our list of the best Magento extension providers.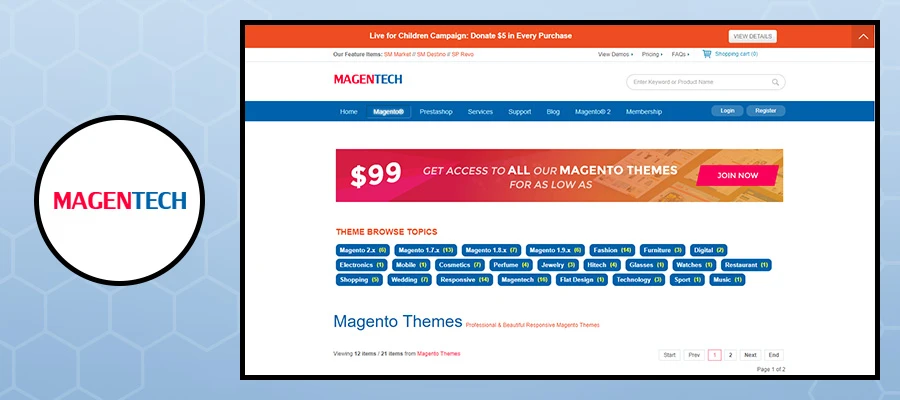 The limited number of themes on Magentech is typically sold at $69 with license support for developers expected to cost an extra $30. The Magento themes provider also allows merchants and developers to sign up for a membership program where they can enjoy all the themes for $99.
MagenTech has themes that are compatible for Magento stores starting from version 1.7x to any of the latest version for merchants already running the improved software.
11. World Web Technology
If you could recall the outset of this article, we mentioned that there are two main types of Magento themes, namely; ready-made and custom Magento themes. Well, while the other Magento themes providers mentioned so far offer ready-made templates, WorldWebTechnology offers custom Magento themes.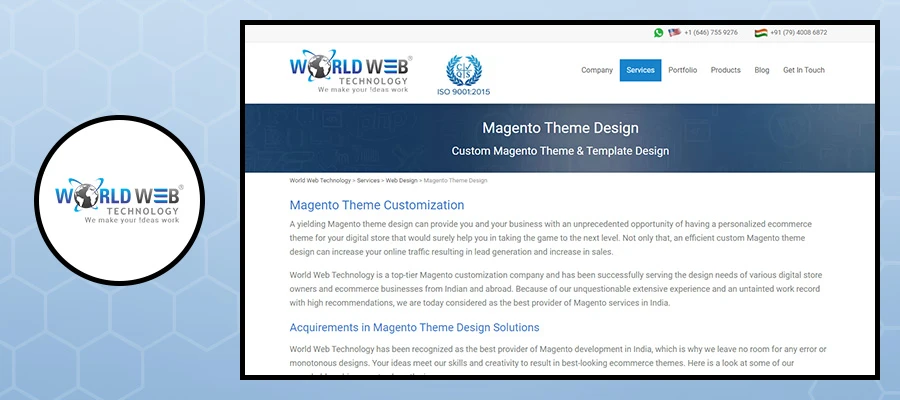 For this reason, there is no fixed amount for the development of such Magento themes since the complexity of the design you want plays a significant part. The upside is that you'll get an exclusive theme for your Magento store, one not shared by any other eCommerce website in the industry!
Website: https://www.worldwebtechnology.com
12. Cmsmart
Cmsmart offers what it believes to be nine of the best Magento Themes with prices starting from $29.9 for the Magento DVD Shop theme. The highest priced theme on their service is the Enterprise edition of the Multistore Marketplace Magento 2 Theme Integrated Multi-Vendor, which goes for $799.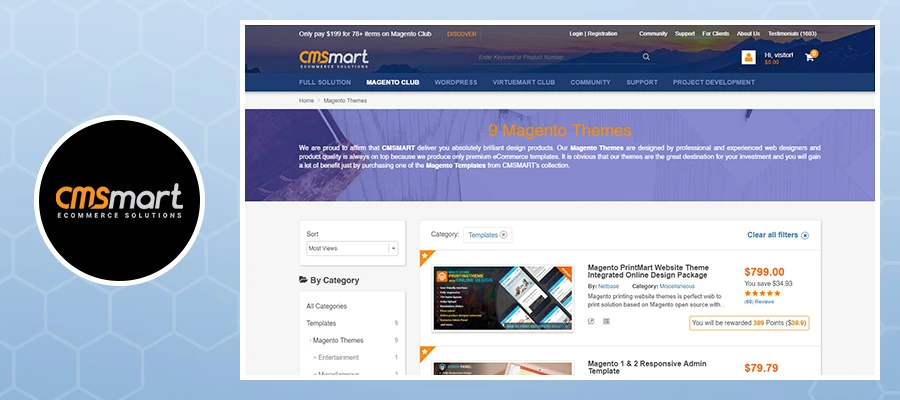 Given that Cmsmart offers only a handful of themes, we do not recommend it for merchants who are searching for free Magento themes but only those willing to spend the cash to get a premium theme for their eCommerce store.
Website: https://cmsmart.net
13. WebExperiment
The Magento Themes marketplace on WebExperiement has roughly 23 templates covering niches such as Toys, Hightech. Beauty, Health, and Furniture. The downside, though, is that the website lists only themes that are compatible with Magento 1.6 to 1.9.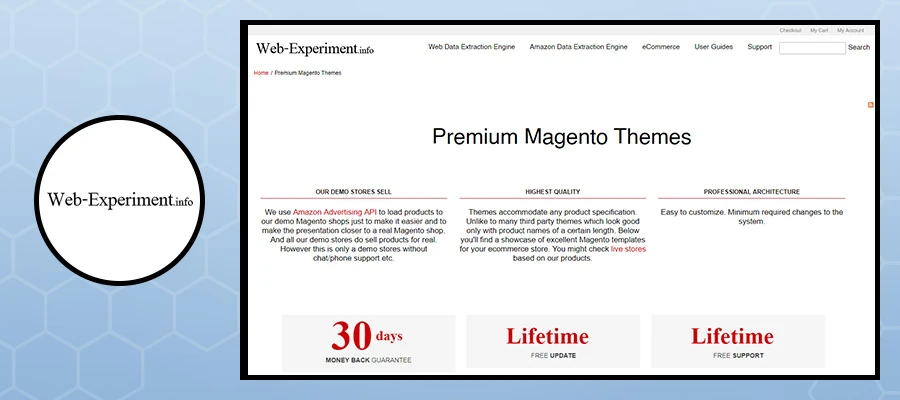 So if you run a higher version of Magento, WebExperiment is not for you.
Pricing for the Magento 1 themes available starts at $29 but could go as high as $79 for a few of there top-ranked templates. Each purchase also comes with a 30-day money back guarantee and lifetime updates and support.
Website: https://web-experiment.info
14. MagikCommerce
MagikCommerce focuses on the delivery of Premium Magento eCommerce themes spanning different niches including Animals and Pet, Beauty, Education, Arts, Business, Electronic, Cars and Auto, Entertainment, and much more.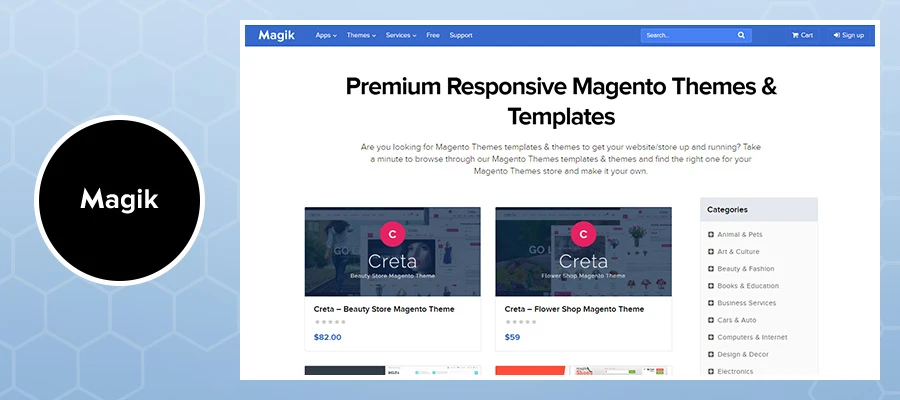 There are two free Magento themes available too, namely Rolta and Shoes but the Premium templates cost anywhere between $59 to $89 while the service also offers a guide on how to download the themes.
Website: https://www.magikcommerce.com
15. LandofCoder
LandofCoder is another rich Magento marketplace offering a broad range of free and premium Magento themes. However, the platform does not sell or allow you to download the listed themes but refers you to a third party provider.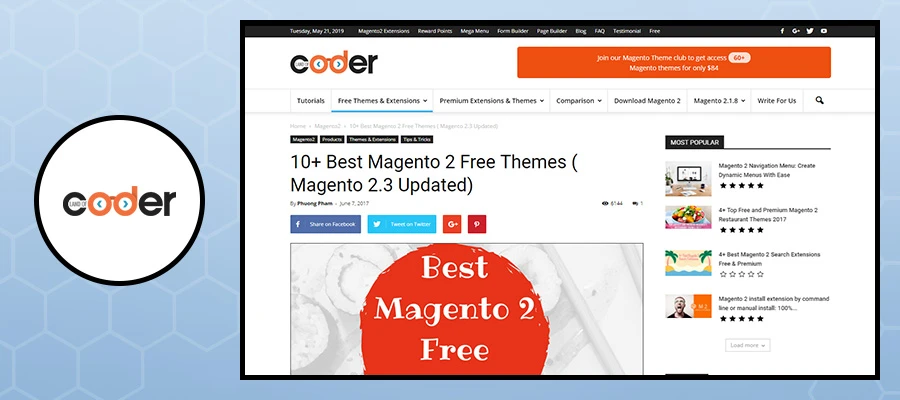 Additionally, the new demand that Magento merchants migrate to Magento 2 means LandofCoder only provides themes that are compatible with updated websites. If you're still running Magento 1, then don't waste your time going to check.
Premium themes listed on LandofCoder would usually cost anywhere between $54 to $94 and cuts across multiple niches.
Website: https://blog.landofcoder.com
16. MeigeeTeam
Unlike LandofCoder, the Meigee theme marketplace basically features only a few free Magento themes and a majority of premium Magento themes with only 20 of those compatible with Magento 2.0 and above.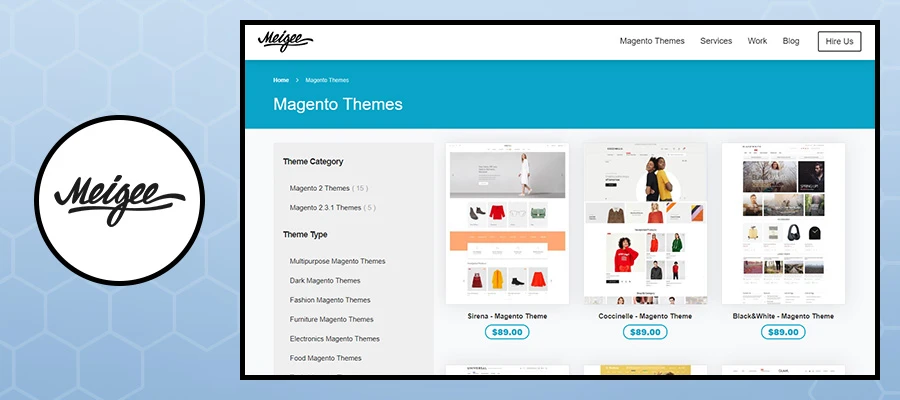 Pricing typically starts at $49 but could go as high as $89 for the best premium themes available on MeigeeTeam. Merchants plying their trade in industries such as Pet, Kitchen, Furniture, Auto-parts, Perfume, Jewelry, and Food can expect to find suitable themes for their eCommerce store from this marketplace.
In cases where you think a particular theme needs a little tweak before it can align with your website, then MeigeeTeam offers to implement the changes required for a 30% discount. It is important to note, however, that the customization features do not apply to free themes.
Website: https://meigeeteam.com
17. Pagayo
While most of the Magento Theme providers mentioned in this article lists third-party Magento themes, Pagayo contains only Premium themes created by its developers. For this reason, there are not so many Magento themes to find on the website except three compatible with Magento 1 and another three compatible with Magento 2.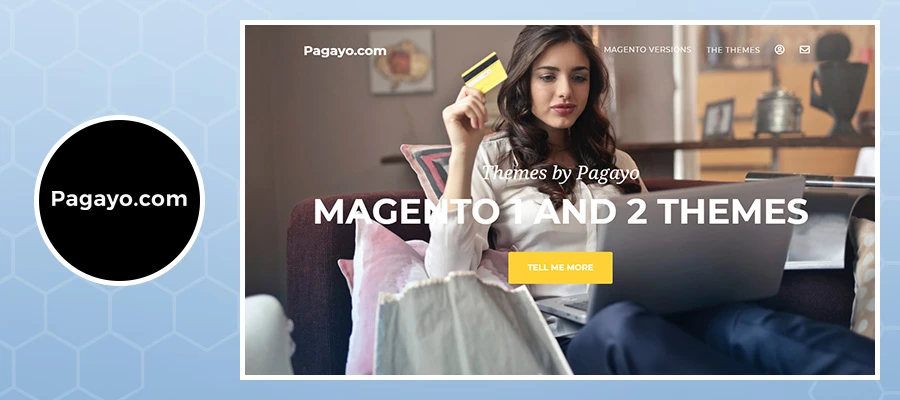 These themes, however, are moderately priced at $19.95 and comes with theme hosting offer, future updates and six-months support from the Pagayo team. Themes on their marketplace cover only three niches, namely Fashion, Electronics, and Jewelry.
Website: https://pagayo.com
18. VenusTheme
On the VenusTheme Magento marketplace, you can expect to find templates that are compatible with Magento versions between 1.7 to 2.3. These themes are then sub-divided into the various niches they represent, including Books, Media, Entertainment, Jewelry, Fashion, Gift, Health, Home Decor, etc.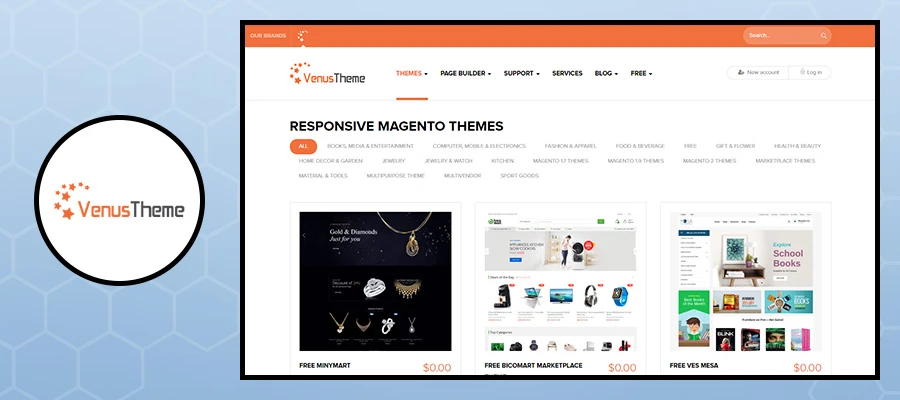 Premium themes typically cost $84 with a handful of free themes available if you're looking to start up your Magento eCommerce store without spending a lot of money. VenusTheme also offers to give users access to 60+ Magento themes for just $80 even though this option was unavailable at the time of writing this piece.
19. EmThemes
EmThemes or Extreme Themes offers five free Magento themes and a broader range of premium ones supporting Magento 1.9 and other versions above Magento 2.0.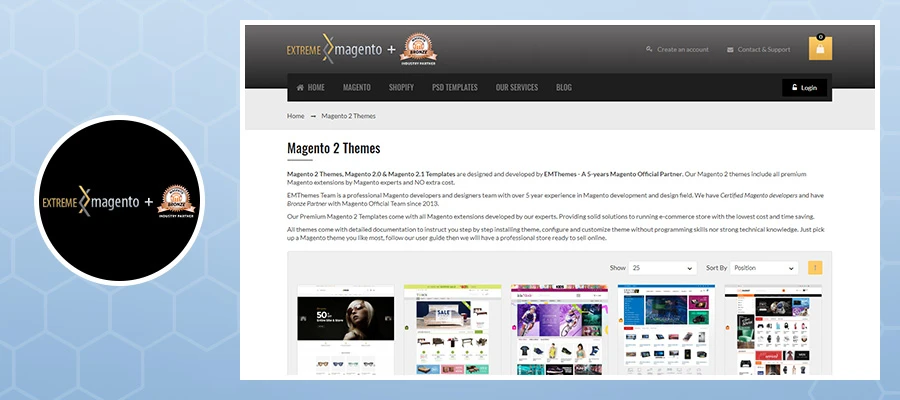 Pricing for the 13 Premium Magento themes falls between $79 to $99. As you would expect, the limited number of templates available on their marketplace also means a limited number of niches to choose from. So you may be better off checking other fully-stocked Magento Theme providers covered in this article or still visit EmThemes if you find a need to check out their templates.
Website: https://www.emthemes.com
20. Templates Master
Templates Master is the final Magento themes provider on our list, not for any specific reason since the marketplace offers even more value than some of the ones we've reviewed so far.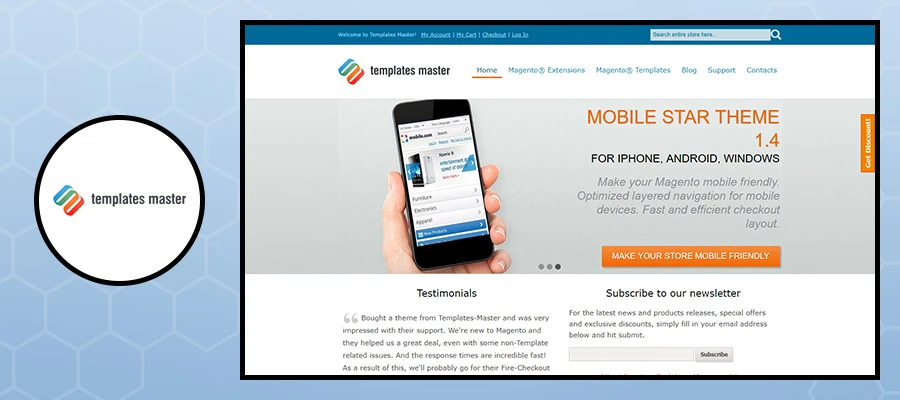 For instance, Template Monster features a handful of free Magento themes supporting up to Magento version 1.8 but is the only marketplace on our list that offers free integration for items you purchase from them.
Also, the fact that all of the themes listed on the marketplace is open-source means you can make wholesale changes to suit your taste. Pricing for Premium themes typically starts at $79 with the most expensive templates going for at $139.
Website: https://templates-master.com
Final Words
As we promised earlier, we have in this article outlined the best Magento theme providers to shop with if you're looking to get your eCommerce website off to an excellent start with the appealing interface that your customers deserve.
Before you install each theme, however, do make sure to review our earlier suggestions regarding what makes an ideal Magento theme and then you can find the perfect template that suits your brand and rakes in the sales for your store straight out the door!