Social media is transforming the B2C eCommerce space and its impact on the industry. Statista shows that in 2022, social media accounted for 28% of online shoppers' top sources of shopping inspiration worldwide. Moreover, these figures are still rising because of constant advancements in social media and the B2c Ecommerce industry.
In this blog, we will discuss what new opportunities are created after the social media impact on ecommerce. We will also shed light on some challenges that are being faced by businesses and strategies that can be used to overcome them.
Opportunities of Social Media on eCommerce
With the rise of the digital era and customers' online shopping preferences, many new opportunities for social media marketing have opened up. Consequently, ecommerce enterprises have directed their attention toward catering to the requirements and preferences of their customers. So, let's explore essential strategies that can significantly benefit a B2C ecommerce business.
Increased brand awareness and visibility
Because of the number of people browsing social media daily, It provides wider reach and engagement opportunities for businesses. Leveraging these platforms by creating relevant content, choosing the right target customers, and staying up-to-date with social media trends will do wonders for a B2C ecommerce business.
Furthermore, product and service offerings can also reach a wider audience, Which can help companies to increase their sales and is less time-consuming.
Enhanced customer engagement and loyalty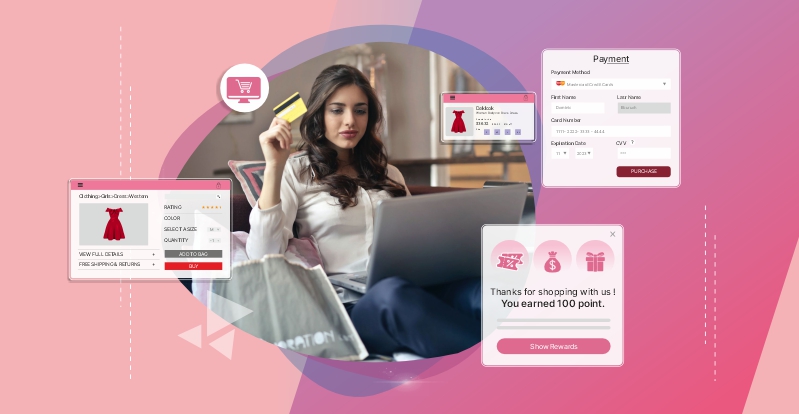 Social media provides direct interaction features between users; thus, ecommerce businesses can also use this opportunity to engage with their customers effectively, solving their queries, FAQs, and more. Additionally, by consistently engaging with social media, companies can enjoy the benefits that come with it.
Social media implementation in eCommerce businesses can enhance customer engagement, foster trust and loyalty, and build relationships with potential patrons. This strategic approach to staying connected with consumers can yield significant benefits.
Targeted advertising
Social media creates targeted advertising opportunities for businesses to point out their specific customer base by choosing relevant geography, interests, age & gender, and behavior. Companies can use this opportunity to deliver personalized advertisements to their potential buyers.
They generally need to pay for their social media platform to reach their consumers, e.g., Facebook & Twitter. The method is called PPC advertising. By using PPC advertising, companies can maximize their conversions and ROI.
Collaboration and partnerships
Using social media to create partnerships with like-minded brands and collaborating with influencers to market the products and services is a great idea to enhance brand value in this digital age.
Influencers generally have large audiences that can help businesses to market their products or make any other new announcements/ news. Partnering with different brands to launch co-branded products, effectively using combined audiences to maintain brand awareness, etc.
Strategies for Social Media in B2C eCommerce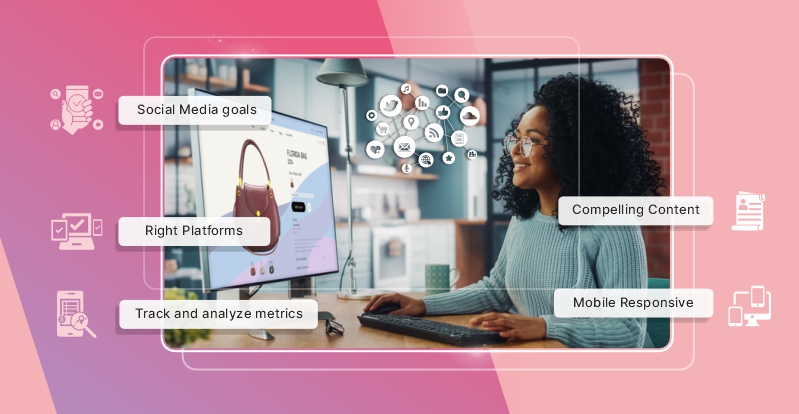 As discussed above, several opportunities opened up because of the impact. However, to take the full benefits of the options, a social media strategy for ecommerce needs to be in place. There are a few strategies discussed below that might help in taking full advantage of the opportunities.
Social Media goals
Embarking on a social media journey requires meticulous planning, starting with determining your desired outcomes or objectives. Establishing clear goals is imperative before delving into social media engagement.
Is it driving sales, brand awareness, or generating leads? Setting goals is necessary because it keeps you streamlined, and your efforts directly contribute to your objective. That's why choosing social media goals relevant to the need will be beneficial.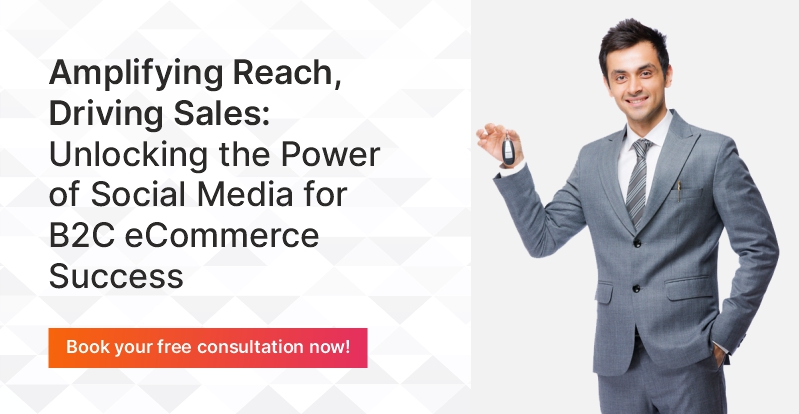 Compelling Content
Content is king. The right content is critical to a successful social media journey. It should be relevant, interesting, and engaging. Customers engage with content that they find amusing.
Doing polls/this or that questions relevant to your business can help build a visible engagement. Informative content which genuinely helps the customer can also be beneficial for you. Product showcasing and mixed content with infographics and videos are examples of attention-grabbing content.
Right Platforms
An essential social media marketing strategy for ecommerce. Choosing the correct and relevant social media platform for your business needs is crucial. In addition, selecting the right platform can help optimize your social media strategy.
Some platforms provide relevant users to help you focus on your target audience and showcase your products and services accordingly. Using different platforms is good sometimes, but you must identify what is trending on social media. Then, it can help in grabbing the attention of your potential customers.
Track and analyze metrics
Tracking and analyzing your social media efforts is necessary to reach your selected goal. In addition, you can evaluate your performance and keep track of improvements for better results.
Tracking and analyzing can also help you learn if you are in the right direction toward reaching your objective or if something requires change. Social media takes unexpected turns, so tracking and analyzing your efforts becomes essential.
Mobile Responsive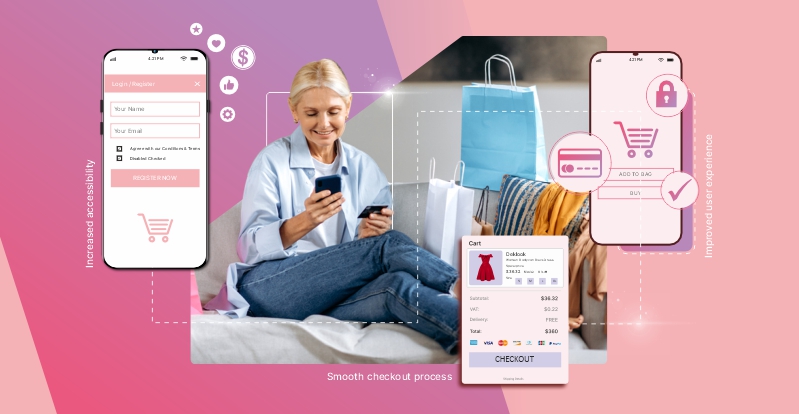 Having a mobile-responsive website can have several advantages. However, since almost everyone carries a mobile device, ensuring your website functions properly on these devices is crucial.
Increased accessibility
A mobile-responsive website makes sure that consumers who are on the go can readily access your content and products. Potential clients may easily access your website from their mobile devices, whether surfing social media, looking for products, or connecting with your brand. This accessibility increases your prospective consumer base and reach.
Improved user experience
Making your website mobile-friendly gives users a seamless, easy-to-use experience. A mobile-responsive design modifies the content, functionality, and layout to match.
Smooth checkout process
Mobile-friendly websites can simplify checkout, making it simple and quick for customers. Users may finish their purchases efficiently thanks to simple payment channels and forms that are optimized. For your eCommerce business, simplified checkouts increase conversion rates, decrease friction, and reduce cart abandonment.
A mobile-responsive website allows you to present your products well-organized and pleasingly. For example, you can display excellent photographs, offer thorough product descriptions, and provide simple filtering and sorting choices by mobile-optimizing your product catalog. It lets customers quickly find what they seek and make informed purchase judgments.
Use cases of B2C eCommerce on Social Media
Some B2C Ecommerce businesses have excelled in using strategies for social media and different optimization techniques to engage with their customers and improve their overall marketing efforts. Let's look at some of the Ecommerce businesses that have mastered the social media game.
Nike
Nike is a well-renowned brand recognized by everyone in this generation. Nike's social media game is so unique that they are now in everybody's mind. Nike's ecommerce and social media strategy keeps it ahead in the game.
Nike focuses on creating attention-grabbing content that catches the users' eyes. By sharing inspirational stories, attractive product images, and videos, they can drive more customers and, eventually, more sales.
This brand is a master of implementing influencer strategies. Their influencer marketing strategies are impressive. Leveraging the influencer's audience and uniquely showcasing their products and services works to their advantage. Nike's plan to launch products related to its influencers is impressive, for example, Air Jordan shoes.
It enhances their brand awareness. The selection of influencers who can refer to their target audience is mindblowing. Nike has signed famous athletes like Cristiano Ronaldo and Michael Jordan to promote its products.
Starbucks
Starbucks is a global coffee brand. It sells varieties of beverages and food items. While having a presence in 80+ countries, it has made quite a name for itself. Starbucks is also famous for its unique and memorable social media marketing campaigns that grab public attention.
The coffee brand has excellent target marketing strategies. The target audience Starbucks chooses for itself through customer demographics, interests, geography, and location. After having the right audience, the coffee brand focuses on advertising its products, discounts or new launches to its targeted market in a creative way. It helps Starbucks in staying among the people and maintains its brand awareness.
Starbucks' strategies for customer engagement are prevalent in the market. It uses different unique methods to keep in touch with its consumers. Some of Starbucks' plans that make it so popular are: Unique Campaigns on social media with hashtags. It enables customers to engage with the brand and share their experiences and joy while drinking Starbucks coffee. The Coffee brand also knows how to think outside the box to grab users' attention.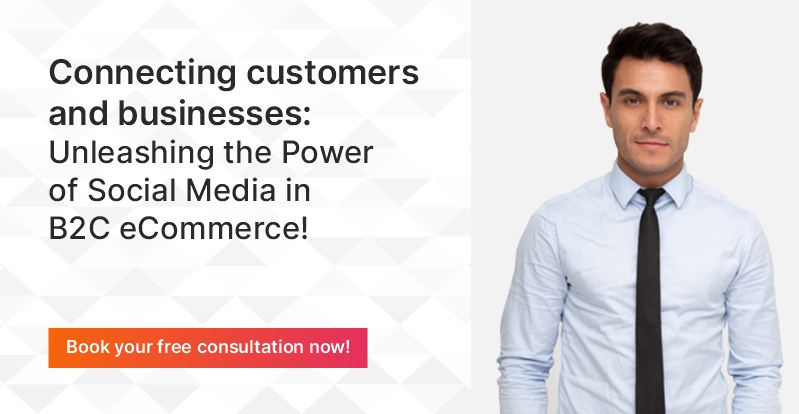 Challenges of Social Media on B2C eCommerce
Social media has completely changed how companies communicate with their customers and have developed a lot of opportunities for B2C e-commerce. However, firms that use social media in their eCommerce initiatives encounter several challenges.
Competition
Social media is filled with different audiences and businesses trying to build an online presence. So much information exists on a platform that grabbing the user's attention becomes challenging. With the trend rising of short video content, social media users' attention span is also decreasing.
It makes it so much harder for businesses to grab the attention of their target audience while considering the massive competition there is. Furthermore, many companies constantly try to engage with their target audience, indirectly creating customer confusion. Creative social media strategies are required to excel in the online media game.
Maintaining brand image and reputation
When businesses hustle to create their social media presence, it opens the door to both negative and positive opinions of the customers. Unfortunately, sometimes companies take a negative hit because of that, and unfavorable views result in a decline in brand reputation.
Maintaining a positive brand reputation is crucial for businesses, as it directly affects customer perception and loyalty. Therefore, it is essential for companies to carefully monitor their actions and approach when sharing content on social media.
Here are a few key points to consider:
Handling Negative Feedback
Negative opinions or complaints can arise on social media platforms, and businesses must be prepared to address them professionally. Ignoring or mishandling such feedback can further damage the brand's reputation. It's essential to respond empathetically, offer solutions, and resolve customer issues.
Transparency and Authenticity
Building trust with buyers is essential. Being transparent and authentic in your social media interactions helps create a positive perception of your brand. Avoid misleading or false claims; instead, focus on sharing accurate information, providing valuable insights, and engaging with clients honestly and genuinely.
Customer Engagement
Engaging with buyers on social media platforms is a great way to maintain brand awareness and strengthen relationships. Regularly respond to comments, messages, and mentions from consumers. Encourage open dialogue, ask for feedback, and show genuine interest in their opinions. It fosters a sense of connection and loyalty among customers.
Trends and New Platforms
Social media keeps evolving continuously, so keeping up with it frequently is becoming challenging. Furthermore, with the existing platforms growing, new social media platforms rising, and customers having multiple alternatives, it is becoming difficult to maintain an online presence.
Staying updated with the latest trends is necessary so businesses can take advantage of social platforms. Multiple social media strategies, tracking, and analyzing data are essential for future decisions. Using Different tools for social media automation can be time-effective. Furthermore, having a team of Digital media experts can be an advantage for a business.
Data and Privacy
Data privacy and security are paramount in today's digital age. With the growing concerns over safeguarding personal information, businesses must handle buyer data responsibly, particularly on social media platforms. Organizations must follow privacy regulations, protect customer information, and ensure secure transactions to maintain trust and avoid legal repercussions.
In an era where personal data is increasingly vulnerable, businesses must prioritize implementing robust privacy measures. It includes adopting strict internal policies and procedures to handle customer data securely. By doing so, companies can minimize the risk of data breaches and mishandling of personal information.
Furthermore, by successfully handling buyers' data, companies can improve their consumer's trust and eventually have loyal users, enhancing brand value and reputation.
While there are challenges associated with utilizing social media for business-to-consumer (B2C) e-commerce, its potential for success must be noticed. With a well-thought-out strategy and a proactive approach, businesses can make full use of the power of social media to increase brand visibility, improve customer engagement, and ultimately drive sales.
Conclusion
Social media has revolutionized the B2C eCommerce industry, presenting business opportunities and challenges. The impact of social media on B2C eCommerce cannot be underestimated, as it has provided numerous advantages to companies willing to adapt and leverage its power.
The opportunities presented by social media for B2C eCommerce are vast. Increased brand awareness and visibility allow businesses to reach a wider audience and effectively showcase their products and services. Enhanced customer engagement and loyalty can be achieved through direct interaction with customers, addressing their queries, and building trust. Targeted advertising enables businesses to personalize their marketing messages and reach the right audience, maximizing conversions and return on investment. Collaboration and partnerships with influencers and like-minded brands help boost brand value and awareness.
Businesses need to formulate effective strategies to take full advantage of these opportunities. First, setting clear social media goals ensures efforts align with specific objectives. Second, creating compelling and relevant content that engages customers is vital to capturing their attention and building brand affinity. Third, choosing the right platforms that resonate with the target audience and staying updated with social media trends is crucial. Finally, tracking and analyzing metrics allow businesses to evaluate their performance, make informed decisions, and drive continuous improvement.
While there are challenges associated with social media in B2C eCommerce, such as increased competition, maintaining brand reputation, keeping up with trends, and data privacy concerns, these can be overcome with careful planning and proactive measures. Businesses can navigate the challenges by implementing strategies to stand out in a crowded market, addressing negative feedback with transparency and authenticity, staying updated on evolving trends, and prioritizing data privacy.
The utilization of social media presents a significant opportunity for B2C eCommerce businesses. By leveraging the influence of social media, companies can enhance brand exposure, foster meaningful connections with customers, and boost sales. With a thorough comprehension of the possibilities and hurdles, and by implementing well-crafted tactics, businesses can establish themselves for triumph in the constantly evolving B2C eCommerce sphere. A team of digital marketing experts can facilitate a deeper understanding of these strategies and ensure favorable business outcomes.