Is this not awesome?
If someone told you a couple of years ago that you will be reading a blog post on 'Chatbot trends' or may be on the verge of hiring a Chatbot development company, it would have been more skeptical than realistic.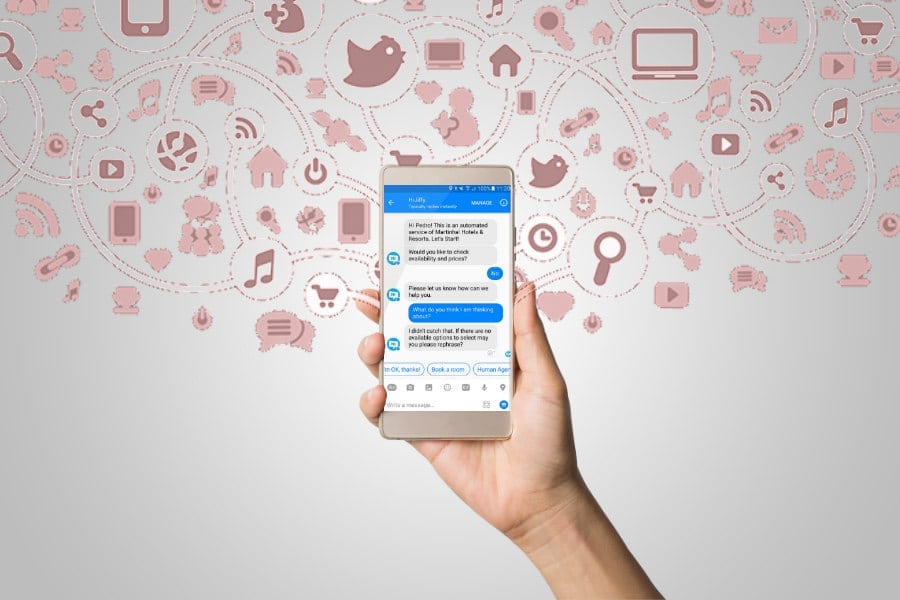 That is how quickly tech can transform lives!
Nowadays, chatbot is in the mouth of every tech person is swiftly being adopted even by very small businesses.
Not everyone, though, knows exactly what a Chatbot is, so we will explain in the simplest way possible.
What is a Chatbot?
A Chatbot is a program designed to automatically chat with a user and provide useful feedback, triggered by the users response or other preset response.
That was not too hard.
If you missed it, then you can think of it, as the same way you tell a young child what to say to a visitor who checks on you while you are away.
The child is the Chatbot while you are the developer.
The child takes care of the conversation in your absence and represents you efficiently. The only difference is that your child operates with Natural Intelligence (NI).



The Work of Chatbots
Chatbots are powered by Artificial Intelligence (AI) which helps them solve problems, personalize messages and improve interaction while the bot owner is away or attends to other areas of business.
A well-crafted Chatbot can be used for payment processing, order processing, query solving, marketing, and customer service.
It was not until 2016 that chatbots became widely recognized following its integration with Facebook's Messenger App and with the rate of adoption amongst businesses, we find it easier to say that chatbots will be a trend in tech business this year 2018.
So what are Chatbot trends to keep an eye on this 2018?
These are our top 8 predictions about the Chatbot Industry in 2018
1) The Chatbot and Email List Rivalry
Emails have been around for almost as long as the internet has and is widely accepted by online marketers because of its personalization features, massive CTR, conversion rate, and convenience.
Even social media marketing, affiliate marketing ,and influencer marketing all have an element of email list building.
Watch out, though, as we really believe that things are about to change.
The dawn of the Chatbot will provide the email marketing process with its greatest rival since inception and has a great potential to even overtake it.
This is why we said so.
Chatbots get over 15% – 60% click-through rate, a figure that greatly outwits emails that usually has a mere 20% click through-rate for the most extraordinary campaign. Source: Chatbots Magazine
Chatbot users also tend to reply a lot quicker, an advantage that the email lists can never truly be said to have.
Some emails are never opened for life by the recipient while others are deported to the trash box almost as soon as it hits an inbox.
When you hire a Chatbot developer to deploy a Chatbot for this same purpose, bounce rates are automatically reduced and open rates massively improved.
Who does not want more success?
The downline
While a lot of hard-to-convince online marketers find it difficult to migrate to the era of bots, others believe that chatbots offer quicker ways to improve website traffic and sell more in less time. You can even use chatbots to build an email list in less time.
Email lists or chatbots?
We will definitely find out in 2018!
2) Heavy Chatbot Adoption and Integration
With the introduction of Chatbot in the Facebook messenger app in 2016, we can now say that it is no longer a thing of only Fortune 500. Even Twitter and telegram allows user to experience the Chatbot opportunity in their own distinct ways.
Everyone can now be a part of the chatbots industry and as more people wake up to this reality, the number of businesses using Chatbots will record a rapid increase.


This adoption process will be quicker amongst high-level enterprise organizations before trickling down to midsized and then small businesses.
Its lower cost, growing demand, and improved technology will in 2018, leave even the staunch skeptics with little reason to not join the Chatbot trend.
Chatfuel, a service that allows users create Facebook Messenger bots, already has built tens of thousands of bots for individuals and companies. Business owners who want one can hire a Chatbot developer to get it done for them in little or no time.
What happens when you bring a scarce product or service to the door of those who badly need it?
You are absolutely right.
You will sell off more and chatbots will sell even more because of its immense and undeniable value.
3) Blockchain and Chatbot Partnership
Watch out, because this one is going to happen pretty soon.
Blockchain technology has stormed the financial tech landscape in the past few years in almost the same fashion as chatbots are taking over the messaging sector.
Bitcoin, for instance just walked past the $18000 milestone and is showing no signs of dropping anytime soon.
Even people who never believed in the blockchain revolution are gradually buying into it, just the same way they are adopting chatbots automation.
As both numbers continue to increase, we will get to a point where the blockchain technology joins forces with chatbots to make business processes a lot easier.
That is the beauty of tech and why everyone loves it– simplified processes
Chatbots can be used to automate some block chain tasks and blockchain being used a payment option when you hire a Chatbot development Company is just one exciting prospect that we will get to see with both technologies around.
Also, blockchain can be directly used to enhance more secure interaction between chatbots and customers. With blockchain protecting information that customers share with a bot, there will be more trusted transactions.
Are there more? We will soon find out.
4) Live Customer Service Jobs will be Reduced
This is really a bad news if you're working with the customer service department in your organization,
Chatbots can be seamlessly built to take over simple tasks such as
Overseeing bill payment
Making reservations
Placing orders
Customer care service and
Emergency responder

It feels bad to say that in 2018, generally, chatbots will have to take over some customer service jobs, robots (another AI-powered unit) is already this as we noted when
Amazon announced the release of a check-out free store
–Amazon Go earlier this year without cashiers.
Not all jobs will be lost, though, as Natural Intelligence (NI) always trumps Artificial Intelligence (AI).
But think about this
American tech giants and Asian firms are swiftly adopting chatbots for banks, airports, malls and other businesses at a great rate to deal with their massive customer numbers.
Why?
A huge number of requests or FAQs take away valuable time from customer service agents. This time could be better spent on assisting clients with more complex issues.
So, what happens when the customer service bots take over the simple requests and FAQs?
It saves time for everyone and money too.
Juniper research in 2017 revealed that chatbots could save as much as
6 billion per year across industries and a huge portion of this is definitely from human jobs that will be taken over the bots.
Now, it is only a matter of how soon that will happen and we think it is already at the door.



5) Voicebots Will Come Around
They are already here!
Amazon Echo devices and Google Home (voice assistant bots) sold like hot cakes in 2017
These smart devices allow users to use voice commands to control smart home appliances.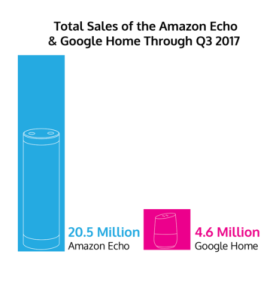 (Graph illustrating total sales of the Amazon and Google voice assistant bots)
The number of features has been on the rise too and right now, Google Home includes a two-way conversation with users and a smooth multi user's support for six persons.
More features are on the way for voice bots and at some point, voice bots will invariably compete with messenger bots.
Who will win?
We will see
Also, Google Voice search rate has increased and in 2018 we do not rule out the possibility of seeing a voice bot deployed to help you get more results from your Google searches.
This could come sooner, just watch and wait.
6) Website Chat Bot Increase
Chatbots on Websites?
Those little conversation boxes on websites that offer ostensibly human-like help to customers will also be a big cost saver for business and as such will get massive adoption.
It has already been heavily adopted by WordPress and website developers and you will be seeing more of it around the web in 2018.
Live chat support and banner-based Chatbot can be used online marketers and even business websites to generate leads, conduct quick surveys and even increase conversions if properly implemented.
This will be done, without worrying about whether users will leave, because the whole process has been automated and personalized at the backend by a hired Chatbot developer or company.
Another benefit is that the website owner can now spend ample time on other important business engagements that will improve ROI.
7) Birth Of More Human-Like Chatbots
Chatbots have been clearly designed to help manage and improve interactions in the absence of the actual business owner or customer service team.
But so far, this reality has never been fully satisfied because a lot of people still hate to know that they are chatting with an automated machine.
They still prefer pure human interaction and some points, customer service agents are required to complete a chat entry started by a bot.
What is Next?
To cater for these needs, we are likely to witness the birth of more human-like chatbot that can almost perfectly communicate with just about anyone that hits it up.
With the ability to easily interpret and respond the natural speech, the conversations will be more real, less primitive and actually serve up a nice taste of Ai at its absolute best.
That will be awesome!


8) Massive Growth For The Chatbot Industry
Is this not almost inevitable?
With the big boys such as Google, Amazon, IBM, Apple, Twitter, Microsoft and Facebook pouring in so much money into the development of AI-powered chatbots, 2018 is definitely going to be the year where the Chatbot industry will record its peak growth rate so far.
A lot more will need to be invested so that we can have the perfect bot that people will love to interact with and actively reduce operation costs
Just in 2016, the Chatbot industry was valued at a mere USD 190.8 million but that figure is expected to arrive at USD 1.25 billion in 2025, less than ten years.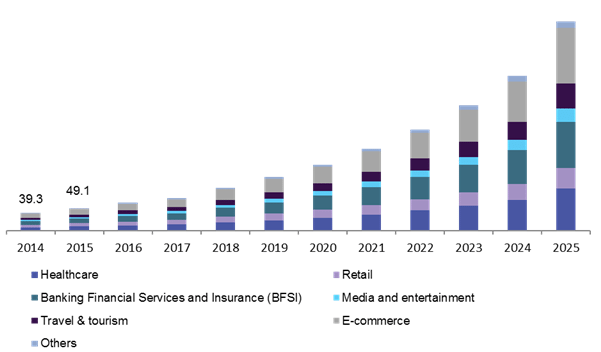 (Graph illustrating the growth of Chatbot industry)
Source (Nelco)
More and more small and medium-sized businesses will also buy into this trending idea by hiring a Chatbot development company to help them set up their own Chatbot either on a website or live customer service unit.
We believe that in 2018, Chatbot development jobs will become more viable and can only be expected to grow from strength to strength at this point.
Rounding Up
The future is now and Chatbot has finally come to stay and eventually change the way a lot of things are done on the web and messaging platforms.
With the exploits it has already done in its debut year 2016 and 2017, we can only spend time imagining what new tweaks and trends will make this technology even better acceptable.
While we fold our hands and watch 2018 unfold, you do not want to be left behind.
You can speak with a Chatbot development company to find out exactly how you can incorporate this new and exciting technology into your business.
If you already know, exactly what you need a Chatbot for, do not hesitate to hire a Chatbot developer right away.
Let's live the Chatbot era!