The rapid growth of the internet produces a variety of data that continuously grows over time. These huge clusters of data, also known as big data, contain structured and unorganized information from multiple sources, like social media and search engine queries.
Big data is crucial for the future of eCommerce businesses, as it can help them stay up-to-date on competitive market trends. So, companies need to find the right method to extract valuable information from the data.
Using big data analytics allows businesses to dig deeper into customer data and utilize it to improve consumer satisfaction and experience. If you are new to this analytics method, it is important to know the fundamentals before implementing it in your business.
This article will discuss big data analytics and how it works in the eCommerce industry. You will also learn the benefits of big data analysis and how businesses use it to enhance their marketing strategy.
What Is Big Data Analytics?
Big data analytics is the process of extracting useful information from large data sets for business purposes which helps to develop the future of eCommerce businesses. Therefore, companies can gain meaningful insights into various aspects, such as customer behavior, consumer preferences, and marketing performance.
The process involves using advanced software tools for collecting customer data from multiple sources, such as social media, customer reviews, sales records, and eCommerce trends. Big data analytics also utilizes multiple techniques, like running queries on collected data and visualizing them in charts and graphs.
Generally, any company or business can utilize big data analytics & produces a variety of data. However, its most common use is among eCommerce businesses due to their need for real-time customer information.
There are four main types of big data analytics, and each one has different functions and uses. The following list breaks down each type in more detail.
Predictive Analytics
Predictive analytics involves collecting and analyzing current and historical sales data to predict future outcomes based on certain market trends.
This analytics type allows eCommerce company owners to identify new opportunities and make better decisions to achieve their goals.
Moreover, businesses with online stores can implement predictive analytics to determine the demand for specific products and adjust their inventory accordingly.
Descriptive Analytics
Descriptive analytics focuses on gathering and analyzing data to explain current market conditions. It helps businesses understand customer behavior and identify trends.
Businesses commonly use it to analyze customer surveys, website views, and sales figures. For example, an online store can utilize descriptive analytics to gather customer feedback using surveys.
The results help business owners understand customers' needs and create better strategies to attract prospective buyers.
Diagnostic Analytics
Diagnostic analytics focuses on finding the cause of a problem behind certain events, such as customer churn, low conversion rates, or decreased website traffic.
With it, eCommerce companies can identify why a customer leaves the website without completing a purchase or why certain products have low sales.
Consequently, diagnostic analytics lets business owners find solutions to improve customer retention and increase conversions.
Prescriptive Analytics
Prescriptive analytics is another type of big data analytics used for recommending actions to achieve a desired goal. Online business owners can utilize prescriptive analytics for various purposes, such as optimizing marketing strategies or improving the customer experience.
For example, businesses can determine the optimal price point for their products based on competitor analysis and market trends. Therefore, they have a more accurate prediction about customer behavior that helps target marketing campaigns and increase conversion rates.
9 Benefits of Using Big Data Analytics for eCommerce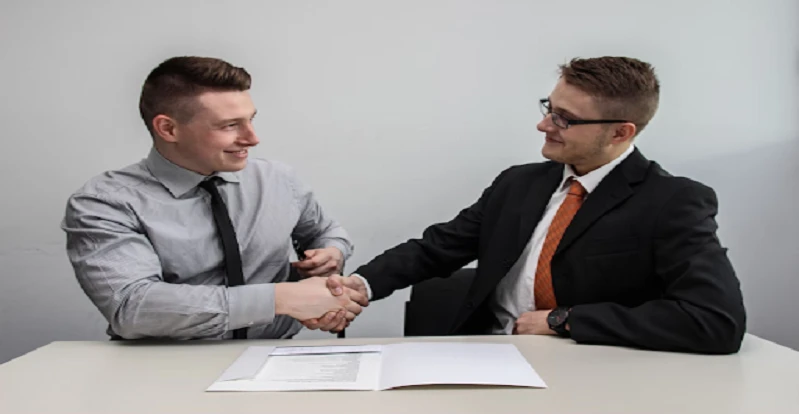 Big data analytics plays a significant role in the eCommerce industry. With such valuable data, it provides various advantages to help boost your marketing strategies and make your online business successful.
This section will cover the nine benefits of implementing big data analytics for eCommerce.
1. Improving Marketing Performance
Business owners use big data analytics to identify popular products among customers and content types with the highest audience engagement. With this knowledge, businesses can create targeted campaigns and improve overall marketing efforts.
Utilizing big data for targeted email marketing is especially beneficial. Therefore, knowing how to create an email account for business use is crucial. With it, you can send personalized messages based on customers' preferences and demographic information.
2. Gaining Actionable Insights
eCommerce businesses can get valuable customer information by collecting and analyzing their data. It helps companies identify patterns in consumer behavior that benefits the business' marketing goals.
For example, conduct research to analyze your eCommerce website's largest traffic sources. You can even categorize them and identify which source brings the most conversions. With this information, business owners can adjust their marketing approach to achieve optimal results.
3. Identifying Customer Preferences for Specific Products
Big data analysis enables eCommerce businesses to identify customer preferences for particular products. This way, companies can strategize their product offers to match customers' needs.
For instance, an online clothing store can analyze consumer data to determine the most purchased product types. With the gathered information, the brand can set competitive pricing and create enticing discounts for those key items.

4. Enhancing Product Development and Innovation
Implementing big data analytics allows eCommerce business owners to understand emerging trends and develop new products that meet market demand. At the same time, they can gather customer feedback to inspire new ideas for product innovation.
eCommerce company owners can track customer searches, purchases, and reviews to identify ways they can improve their products. This helps them develop new items that best suit their target audience.
5. Optimizing Customer Service Level
Big data is beneficial for optimizing customer service levels, so eCommerce businesses can provide quality customer service. It also makes anticipating and addressing customers' needs more effective.
Furthermore, big data helps business owners identify common problems that customers may experience while browsing products on their online store or website. With this in mind, they can develop strategies to improve the user experience and reduce customer dissatisfaction.
6. Targeting More Relevant Customers With Personalized Messaging
Big data analytics enables businesses to create more relevant personalized messaging for both existing and potential customers.
Personalized messaging helps companies create more engaging and customized content based on unique consumer data, such as past purchases, interests, and occupations. Business owners can also make precise marketing campaigns that can increase conversions.
7. Allowing Businesses to Stay Ahead of the Competition
Staying competitive and up-to-date is crucial for any business owner, as it helps determine their success. Using big data tools is one of the ways to achieve such goals.
Business owners can research competitors' strategies and market trends to develop more agile business models. For example, find popular products from competitors' websites and create more competitive offers through better pricing, features, and benefits.
8. Understanding Market Trends Accurately
Understanding the latest market trends allows online business owners to get an overview of their eCommerce industry and pinpoint potential growth opportunities.
With the help of big data analytics, you can gather customer data from various sources, such as search engine queries, social media platforms, and online marketplaces. That way, you can identify products and services that are worth selling for the emerging trend cycle.
9. Automating Decision-Making Processes
Another benefit of big data analytics is to automate the decision-making process. This helps business owners optimize their online stores to serve customers better.
Companies can set up automated processes by analyzing transactional data and creating recommendations based on the collected insights.
For example, you can configure an online store to automate discounts or apply dynamic pricing to determine the best pricing strategies for certain products.
How eCommerce Businesses Use Big Data Analytics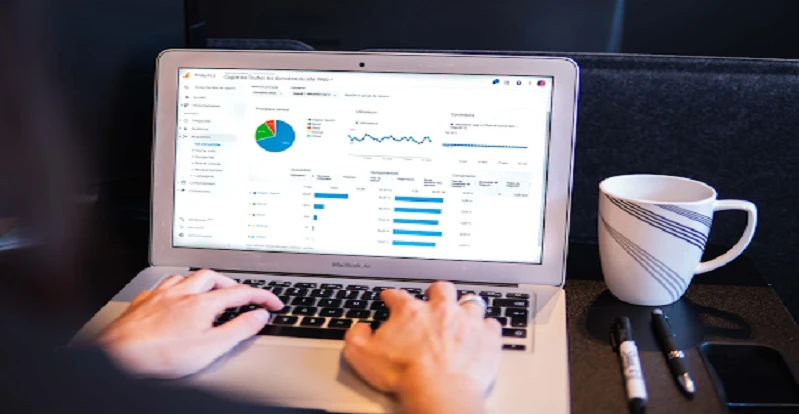 There are various ways eCommerce business owners implement big data analytics in their businesses. In this section, we will review the seven practical uses of big data in the eCommerce industry.
1. Track Customer Journey
Most commerce firms utilize big data analytics to monitor customer or buyer journeys. A customer journey tracks users' interactions and experiences with an eCommerce business throughout their entire buying process.
By monitoring the customer journey, companies can understand the factors influencing people's buying decisions. It also helps them identify and improve specific sales touchpoints to provide excellent customer service.
2. Run A/B Testing
Running A/B testing is a crucial part of big data analysis. In the eCommerce industry, A/B testing is used to determine the effectiveness of two different versions of a product, such as a website. Therefore, site owners can optimize their online store to improve the user experience.
Businesses can also test minor changes on different product elements. This way, they can make informed decisions on which features or aspects to improve and which to remove or replace.
Suppose you want to test two different versions of your product landing page. With A/B testing, you can compare elements such as a red Buy Now button versus a blue one. Then, determine which color resonates better with customers and produces better click-through rates.
Furthermore, A/B tests enable eCommerce businesses to measure big data more accurately and gather insights into their target audience. This information helps them personalize their products or services to attract customers' attention.
3. Predict eCommerce Trends and Demands
Another use of big data analytics is to predict eCommerce demands and trends. However, doing so can be quite challenging as it requires the right type of method. This is where predictive analytics comes in handy.
Predictive analytics uses advanced algorithms such as machine learning, artificial intelligence (AI), and natural language processing to analyze large data sets of customer interactions.
With it, businesses can accurately forecast customer needs and behaviors while anticipating upcoming trends and demands.
Moreover, predictive analytics helps businesses identify emerging customer segments with unique needs. It can also predict potential opportunities arising from changes in the market or new technologies.
For example, an online store could forecast rising demand for eco-friendly products due to increased environmental awareness. With these gathered insights, it enables them to launch new eco-friendly products that meet consumer needs.
4. Build Marketing and Sales Plans
The role of marketing and sales plans in an eCommerce business is essential for success. Big data analytics enables business owners to implement advanced techniques to build a more effective marketing strategy.
Marketing plans help companies reach out to their ideal target customers, increase brand visibility, and ultimately drive sales. It is also a great approach for creating effective campaigns that target specific demographics.
For example, a luxury boutique business can create a marketing plan that targets high-income customers. They can utilize digital marketing tools to reach the target audience, such as search engine optimization (SEO), content marketing, pay-per-click (PPC) campaigns, and influencer marketing.
As a result of these targeted marketing efforts, this eCommerce business has a better chance of attracting new customers while achieving higher profits annually.
5. Improve User Interface
Big data analytics also plays an important role in improving customer experiences, such as on an eCommerce website's user interface.
Businesses implement big data analytics to examine customer feedback about their experience using websites. The information can help the company create optimization strategies for the website's design and layout.
Let's say your visitors find that the website's navigation menus are complicated, which makes them overwhelmed when trying to find certain products or pages.
With the help of big data analytics, you can identify these issues and implement the gathered feedback to make the site's navigation menus more user-friendly.
6. Personalize Product Recommendations
Knowing customers' preferences is crucial for business owners to personalize product recommendations and target their ideal audience. Big data analytics makes it easier to collect, analyze, and interpret customer data, so companies can accurately identify what customers look for.
Using several analytics techniques, such as machine learning algorithms and natural language processing, business owners can get meaningful information about customer behaviors, interests, and demographics.
For example, an online store can implement artificial intelligence to help personalize product recommendations. AI-powered algorithms can autonomously learn from buyers' behaviors and provide highly accurate product suggestions based on their preferences.
Furthermore, businesses can also utilize AI technology to track customer behavior across multiple channels, such as websites, emails, and social media, and implement the findings to improve their products or services.
7. Optimize Product Pricing
Optimizing product pricing is crucial for any eCommerce company. Big data analytics enables commerce businesses to do so by helping them determine the right product price points.
By gathering and analyzing data on previous purchase trends and market costs, business owners can accurately set attractive prices to help maximize profits.
For example, an online furniture store compares its product prices with competitors using a big data analytics technique, such as regression analysis. In doing so, the business owner can better match and optimize pricing decisions.
Big Data Analytics Techniques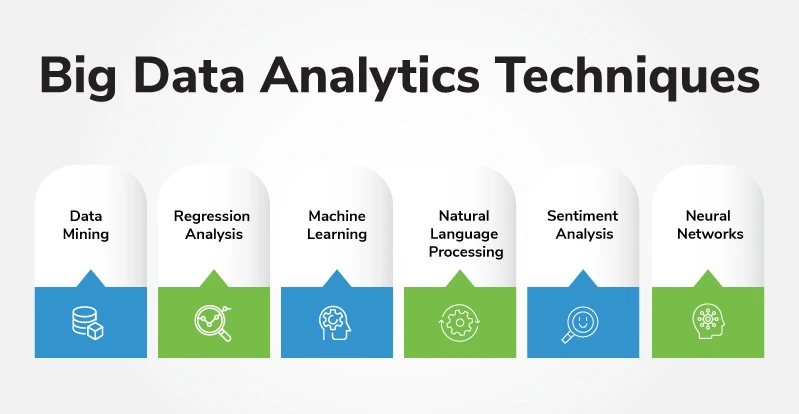 Many eCommerce companies might incorporate different data analytics techniques to achieve their desired goals. In this section, we will review several of these techniques to understand how they can help improve overall business operations.
Data Mining
Data mining is the process of gathering and analyzing data to reveal information regarding market trends, patterns, and correlations. It helps brands make more informed pricing, campaign, and product inventory decisions.
Data mining employs various analytics techniques, such as clustering, classification, decision trees, and association rules:
Clustering involves grouping items with similar characteristics.
Classification is used to categorize items based on their features.
Decision trees are diagrams that predict an outcome by splitting data into distinct characteristics.
Association rules determine the relationships between items included together in transactions.
Moreover, data mining is also useful for forecasting future demand. This gives businesses a head-start to stock up on products during demand surges and avoid overstocking during downturns.
Regression Analysis
Regression analysis utilizes statistical methods to understand the characteristics of a dependent variable and sets of various independent variables.
For eCommerce business owners, regression analysis helps identify the relationship between customer behavior and product features. It can also create predictions about future outcomes by analyzing historical consumer data.
For example, an online store wants to examine customer satisfaction levels for different product categories to create more engaging campaigns. With the findings, the company can improve the customer experience to increase sales.
A regression analysis has several variations, such as linear, multiple linear, and nonlinear. The following briefly elaborates on these variations:
Linear regression is the most basic form and involves a single independent variable.
Multiple linear regression adds more variables to the equation.
Nonlinear regressions analyze more complex data sets with multiple independent variables.
Machine Learning
Machine learning is a subset of artificial intelligence that deals with algorithms. It is designed to learn from and make predictions on data. It works using various techniques, such as supervised learning, unsupervised learning, and reinforcement learning.
These machine-learning techniques have different purposes and functions. Below is a brief explanation of the three techniques:
Supervised learning uses labeled data to teach a model how to classify new data points.
Unsupervised learning identifies patterns and clusters within the data points using unlabeled data.
Reinforcement learning utilizes rewards as feedback to find the optimal solution for a given problem.
Machine learning algorithms can also predict customer preferences more accurately than traditional methods. Therefore, online businesses can deliver more relevant content and products to their customers.
Moreover, it can also help identify fraud cases by analyzing large transaction data sets. Many companies, such as PayPal, use machine learning models to detect fraudulent activities by identifying patterns from previous fake transactions.

Natural Language Processing
Natural language processing (NLP) is an artificial intelligence model that focuses on the interactions between computers and humans using natural language.
NLP technologies enable computers to understand text and spoken words to generate meaningful responses. This way, it helps machines communicate with humans more naturally, which is valuable for the customer experience.
NLP implements various algorithms, such as rule-based methods, machine learning techniques, and deep learning models, to process large quantities of unstructured data. These algorithms analyze text for sentiment analysis and document classification.
For eCommerce businesses, NLP helps automate customer service tasks, such as answering frequently asked questions (FAQs) or responding to customer inquiries via chatbots or voice assistants.
For example, an online store can use NLP algorithms to analyze customer reviews and feedback to improve its products or services.
The NLP algorithms can detect keywords indicating dissatisfaction and examine how often they appear in each review. From these insights, the business owner can identify areas that need improvement.
Sentiment Analysis
Sentiment analysis implements NLP techniques to analyze the emotion in customer feedback. It involves algorithms to detect sentiment-bearing words and phrases to determine whether the feedback sounds positive, negative, or neutral.
For example, online businesses can monitor customer reviews on third-party websites using this technique. The results will then reveal information about how people perceive their products or services.
Moreover, sentiment analysis helps eCommerce businesses discover trends in customers' opinions and preferences. For instance, they can track changes in customer satisfaction scores by monitoring comments left on social media platforms, such as Twitter or Facebook.
Sentiment analysis is also important for improving customer service inquiries and conversations with chatbots or virtual assistants to provide better customer support.
Neural Networks
Neural networks are artificial intelligence models that emulate the function of the human brain. They use algorithms to process data, recognize patterns, and learn from past experiences.
People utilize neural networks in various applications, such as image recognition, speech recognition, and natural language processing.
In the eCommerce industry, neural networks can help companies increase consumer engagement by providing personalized experiences. It tracks customer behaviors to deliver recommendations that match individual needs.
eCommerce businesses may also implement this data analytics technique to avoid fraudulent transactions. Through deep learning algorithms, it can detect anomalies that highlight potentially suspicious activities.
Additionally, neural networks help identify demographic information and browsing behavior by analyzing customer segmentation. This way, business owners can develop accurately targeted campaigns for different audiences.
Conclusion
Big data analytics offers immense potential for eCommerce companies. It can help businesses collect customer data for more accurate decision-making and increased efficiency.
Moreover, investing in big data analytics helps online retailers gain an edge over their competition and drive success in today's competitive market landscape.
This article has covered the fundamental aspects of big data analytics, from its definition to its various techniques. To recap, the following is a list of advantages of using big data analysis:
Improving marketing performance.
Gaining actionable insights.
Identifying customer preferences for specific products.
Enhancing product development and innovation.
Optimizing customer service levels.
Targeting more relevant customers with personalization messaging.
Helping businesses stay ahead of the competition.
Understanding market trends quickly and accurately.
Automating decision-making processes.
We also discussed how eCommerce businesses strategies help to utilize big data analytics for various purposes. Below are some use-case examples of big data analysis:
Track the customer journey.
Run A/B testing.
Predict eCommerce trends and demands.
Build marketing and sales plans.
Improve the user interface.
Personalize product recommendations.
Optimize product pricing.
Big data analytics provide many techniques that eCommerce business owners can use to suit their needs. These include data mining, regression analysis, machine learning, natural language processing, sentiment analysis, and neural networks.
Hopefully, this article has helped you understand how big data analytics works and how it can benefit your eCommerce business.