It seems as though every restaurant is connected to some sort of app these days. These mobile applications, all of which are available either through the Google Play store, the iTunes store, or both, are easy to use.
For most of them, you just need to choose your restaurant, check out its menu, and then place your order. Before you know, a piping hot meal will arrive at your door, or, depending on the app, some groceries (after all, the word "food" is used loosely here.)
The 20 different food ordering mobile applications listed below are commonly used all over the world. You might find a new favorite restaurant through them.
Jump to your favourite topic
1) UberEats
You've no doubt heard of Uber, the car service that allows just about anyone to become a taxi driver. UberEats is their version of food delivery.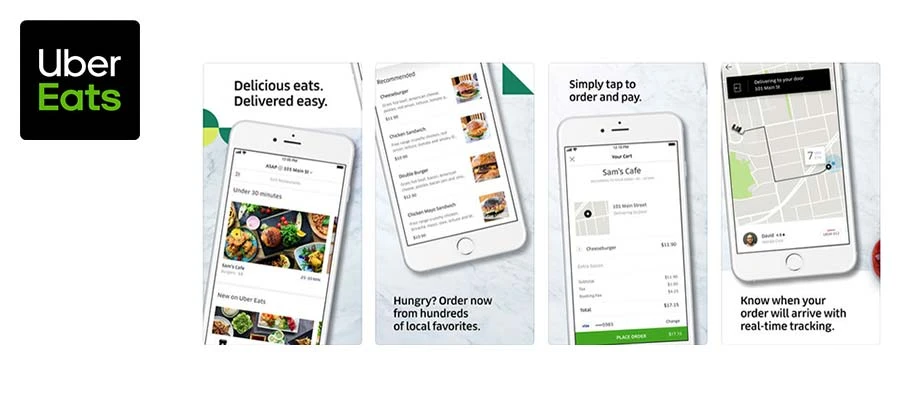 The app (which is available for both Apple and Android phones) is separate from the Uber driver app, so you won't find yourself accidentally ordering a meal instead of a ride to a friend's house. However, UberEats isn't yet nationwide.
Website: https://www.ubereats.com
2) Grubhub
GrubHub, which can be downloaded onto both Android and Apple phones, is one of the most well-known food delivery apps.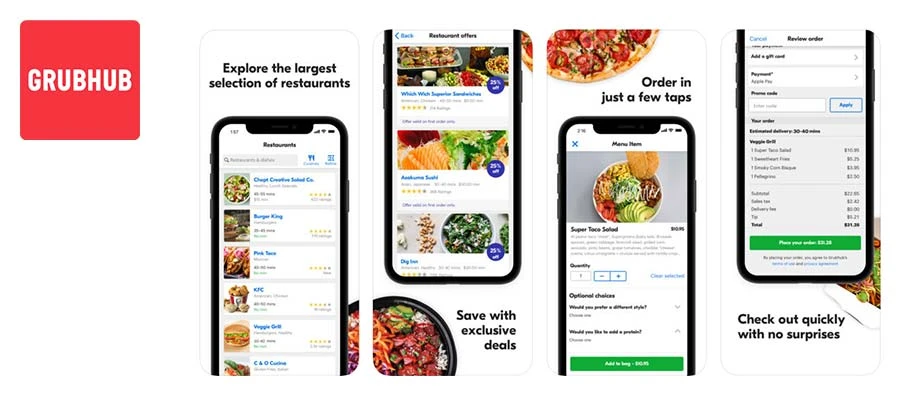 This one is designed to search by location, and you can actually program in several addresses so that you can have a separate set up for both home and work. The downside to GrubHub is that there's a delivery fee, and your order has to meet certain minimums before you're allowed to order. On the plus side, you can search for local restaurants based on what you want to eat, and the service is available in literally hundreds of different cities.
Website: https://www.grubhub.com/
3) Postmates
Not only does Postmates allow you to order food from local restaurants, but its delivery people will bring you just about anything that you order from one of the stores that offer the service.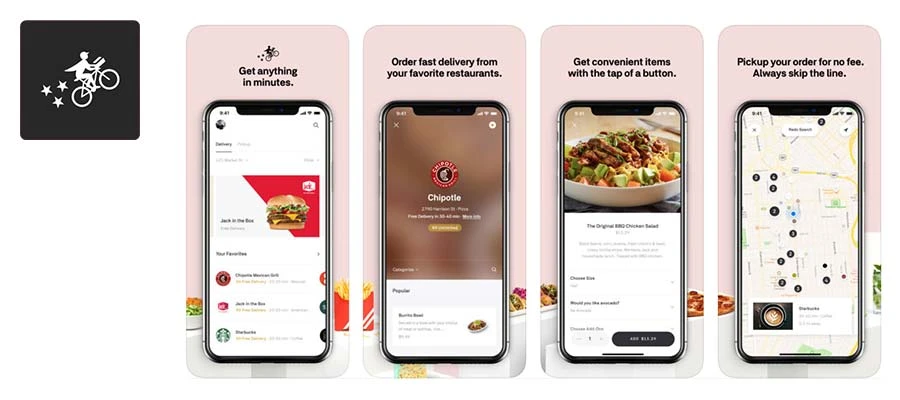 This means that you can order up alcohol, furniture, or anything else as well. The Postmates app is available on both iTunes and Google Play. The service is offered in a number of different cities across the United States, and it's expanding all of the time. Although there are additional fees based on what they call "blitz pricing" during busy times, there are some flat rate ones as well.
Website: https://postmates.com/
4) Doordash
Doordash is another very popular option. This app is also available for both Android and Apple phones (or tablets) and the people who run the service are slowly expanding the number of cities that it's available in.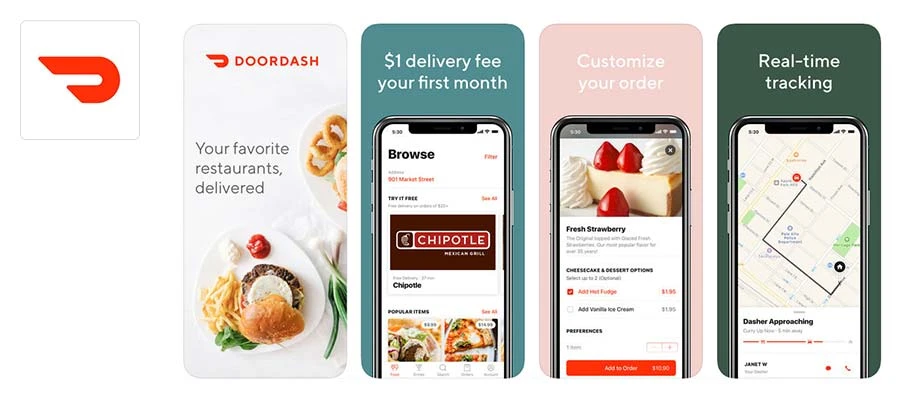 One of the cool things about Doordash is the unusual scoring system, which is called "Doordash delight." It ranks the restaurants in your area, allowing you to pick the best one. However, this is one of the more expensive food ordering apps, as a number of service fees and other things are usually added on to the cost of your order.
Website: https://www.doordash.com/
5) Yelp Eats
Many diners are familiar with Yelp, as it was one of the original restaurant ranking services.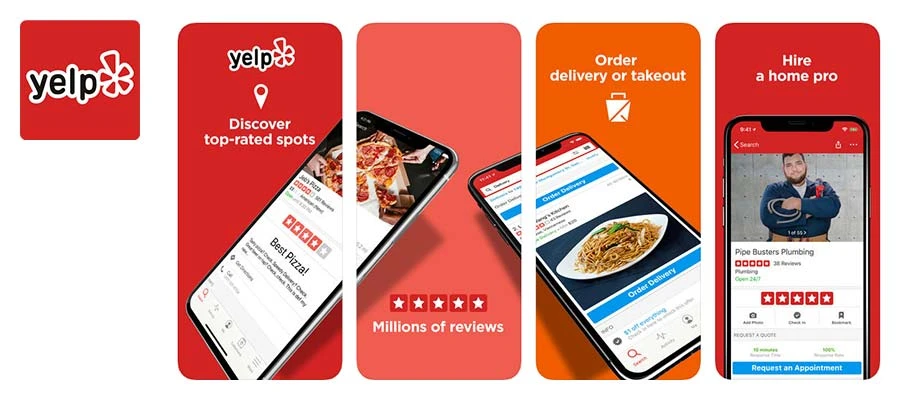 They've since expanded into the realm of meal delivery services. This app, which is appropriately named Yelp Eats, is designed for both iPhones and Android devices.
Website: https://www.yelp.com/


6) Seamless
The Seamless app is available for both iPhones and Android devices.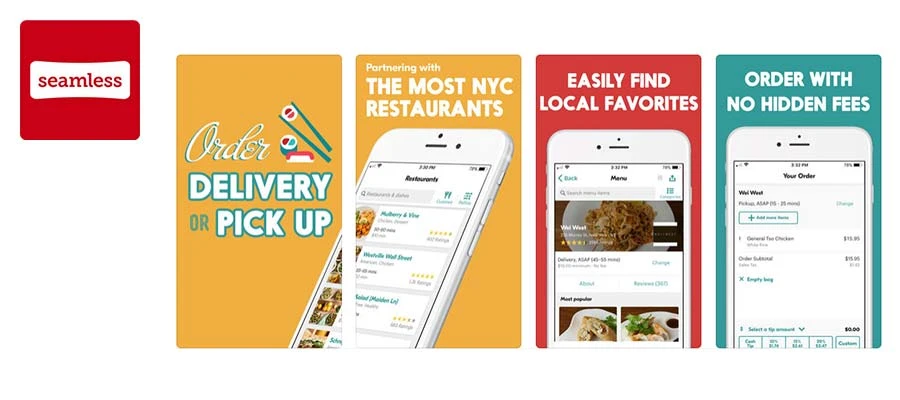 This food-ordering app is designed to live up to its name, with a "seamless" ordering and tracking process. There are also specific discounts for certain restaurants that you can only get by using the app, as well as no delivery fee. The downside is that you can only use it if you live in certain cities. It hasn't yet expanded to all areas of the United States, let alone the rest of the world.
Website: https://www.seamless.com/
7) Foodler
Many people haven' heard of Foodler, despite the fact that it's set up to work in over 4,000 cities across the United States.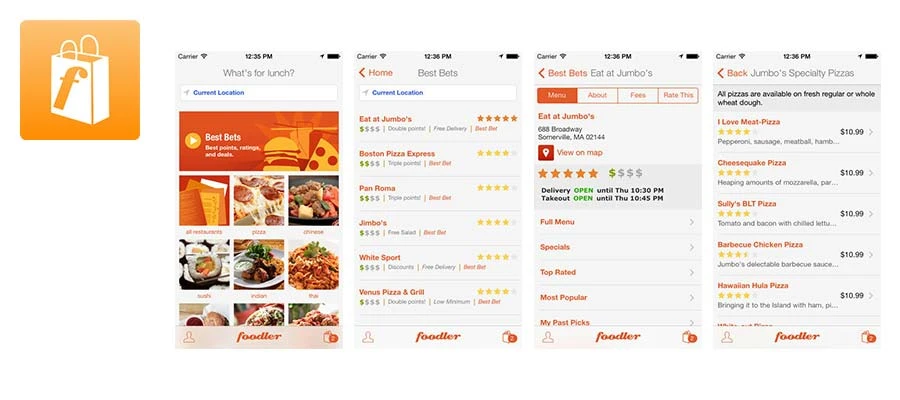 This iTunes and Google Play app is free to download, although you'll need to pay a delivery or service fee with your order. The best thing about Foodler is that it accepts both traditional payments and cryptocurrency.
Website: http://www.foodler.com
8) Instacart
If you hate to go grocery shopping, then this is the app for you. It's available for both Apple and Android phones, and it's a great way to have food delivered right to your door.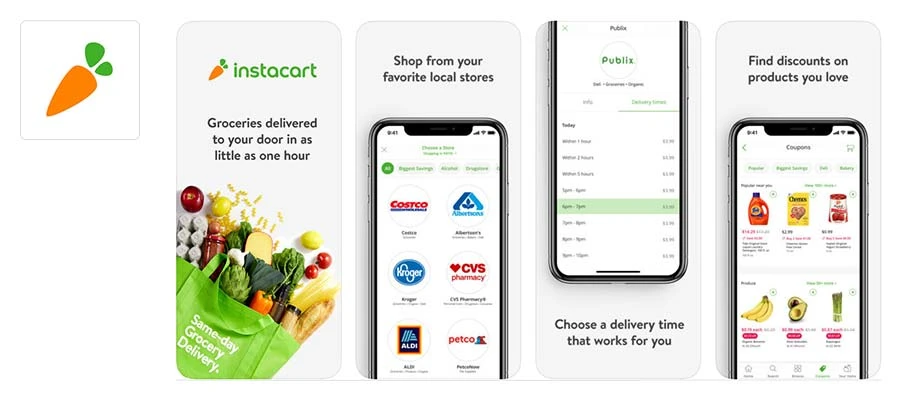 Although you'll have to cook that food (it's just for ordering groceries) it is a good way to save some time. With Instacart, you have your choice of paying for an annual membership or paying a small delivery fee per order.
Website: https://www.instacart.com/
9) GoPuff
Have you ever wanted to have the contents of a convenience store at your fingertips, without actually having to leave your home?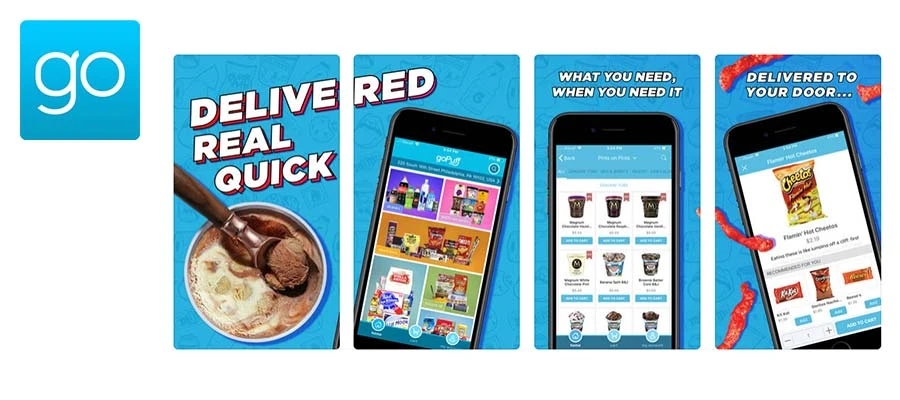 That's what GoPuff is. This Android and iTunes app will deliver food, tissues, and even cold medications to you.
Website: https://gopuff.com/home
10) Delivery.com
Despite its name, Delivery.com is actually an app.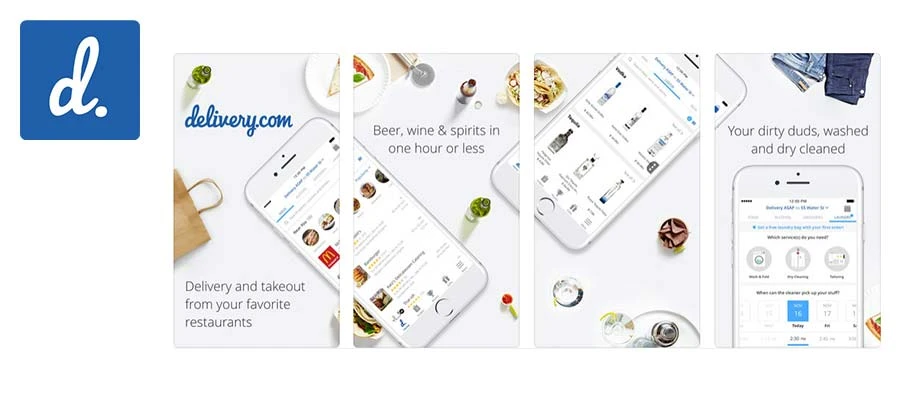 This app works on both iPhones and Android phones, and it allows you to order up everything from groceries to alcohol and even meals from restaurants, all for one reasonable fee.
Website: https://www.delivery.com/
11) Eat 24
Eat 24 started off as its own independent Android and iTunes app, but it's now affiliated with GrubHub, so users have access to all of their restaurants as well.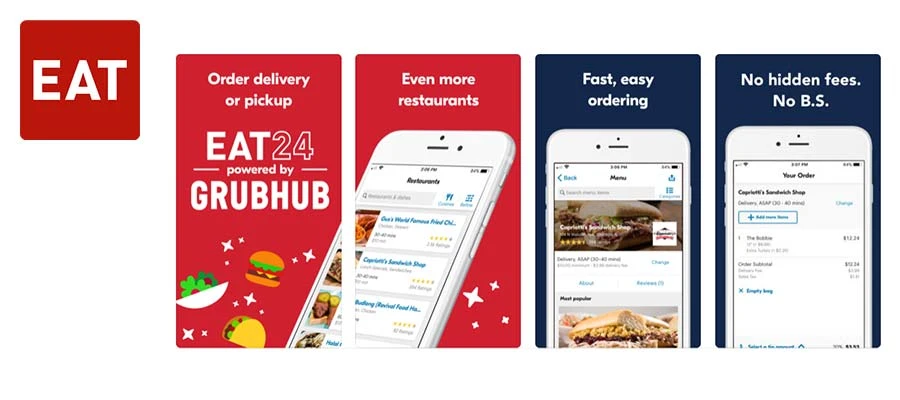 This app works well and, thanks to its new GrubHub power, is available in more cities than ever before.
Website: https://www.eat24.com
12) Munchery
Munchery, an app for Android and Apple phones, is a service that charges you a monthly fee.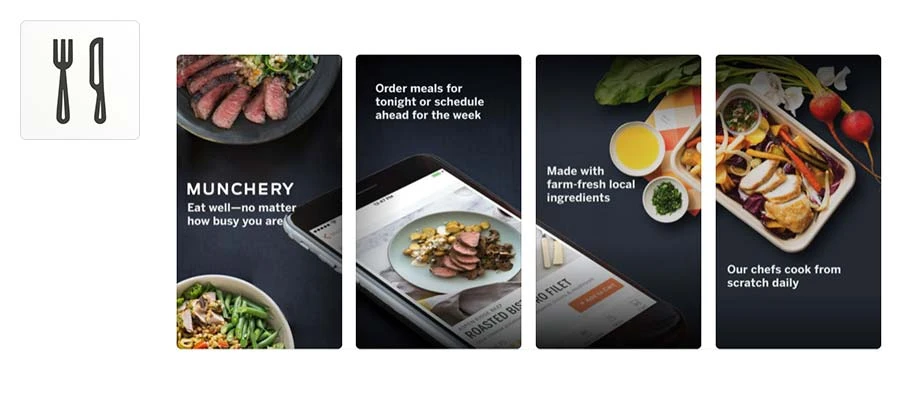 However, for that fee, you have the ability to order meals that have been created by a series of chefs, which will be delivered right to your door.
13) ChowNow
ChowNow markets itself to both restaurants and consumers alike.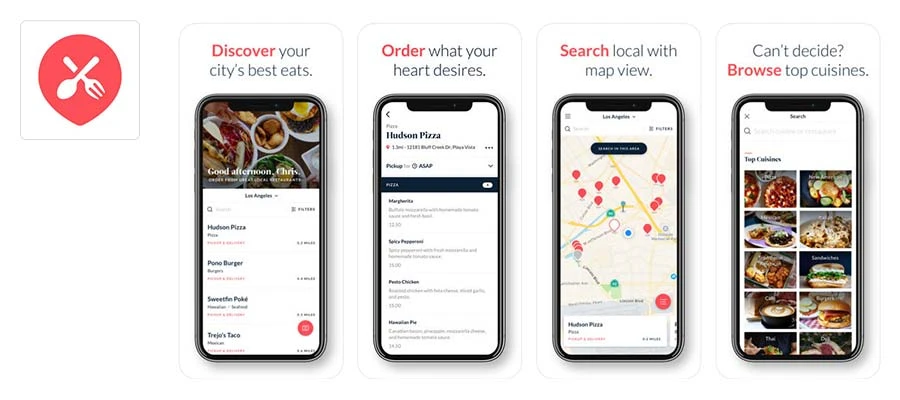 This app has social media functions, so restaurateurs can link it to their Facebook and Twitter account, opening themselves up to new users. If you live in one of the areas serviced by the app, then you have your choice of dozens of restaurants to order a meal from. Plus, it's available for both iTunes and Android.
Website: https://get.chownow.com/
14) Zomato
Zomato used to be called Urbanspoon.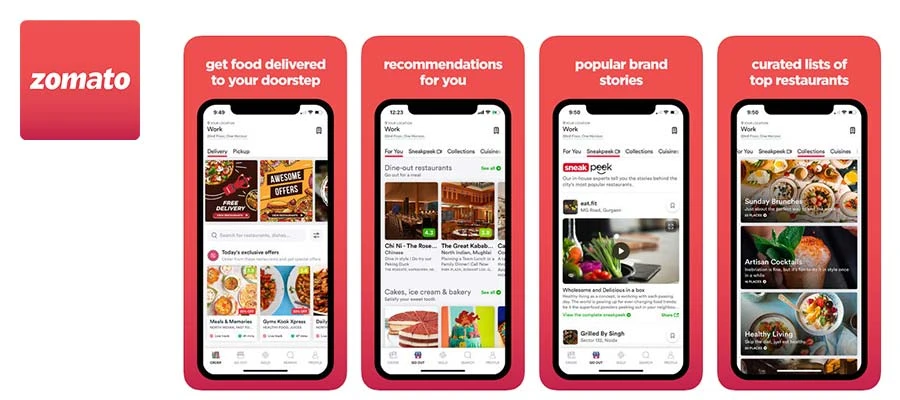 This app is available through the Google Play store, and it allows you to book tables, search for restaurants, find menus, and even order food from restaurants near you. Some of its functionality includes user reviews of the restaurants that you uncover, as well as the ability to bookmark certain restaurants for future use. If you want to really do some research before choosing your meal, then this is the app for you.
Website: https://www.zomato.com/
15) Beyond Menu
Beyond Menu is an Android app that's only available in major cities, like New York and Los Angeles.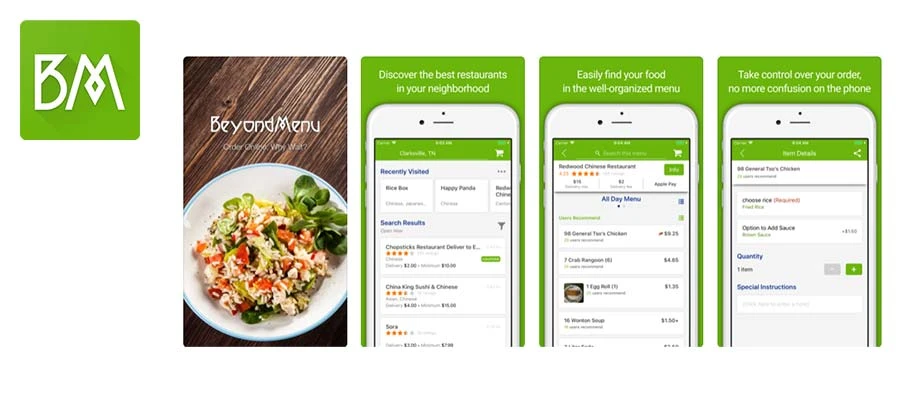 However, this app has many social functions, meaning that it pops up on your Facebook so that your friends can see where you're eating. Many of the restaurants affiliated with the app offer special coupons through it, so you'll be able to find some good deals, depending on the type of cuisine you're in the mood for.
Website: https://www.beyondmenu.com/


16) Food Panda
Looking for something to eat when you're outside of the United States? You want to use Food Panda.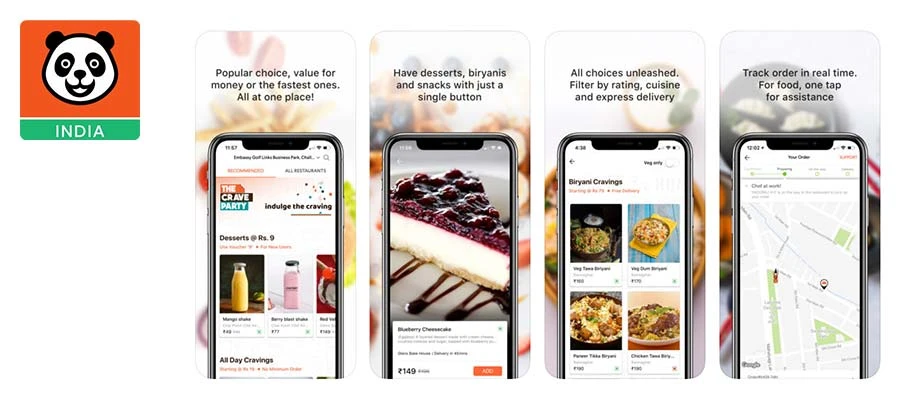 This app is only for Apple phones, and it's owned by a German-based company. Some of the countries that it's set up in are Romania, India, Thailand, and Bulgaria.
Website: https://www.foodora.com/
17) Deliveroo
Deliveroo is only available on Google Play.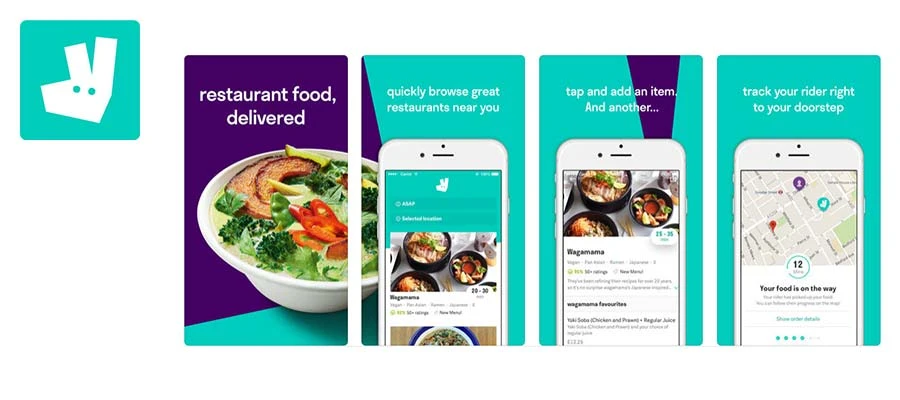 However, this app has a large reach, and you'll find that it's set up to work in many cities across the United States. One of the best things about it is that it gives you the option of placing a future order, so if you know that you'll be craving pizza tomorrow, then you can set that in motion today.
Website: https://deliveroo.co.uk/
18) Otlob
Otlob is a food delivery app for the iPhone that only works in the Middle East, specifically, the cities of Alexandria and Cairo in Egypt, as well as their surrounding areas.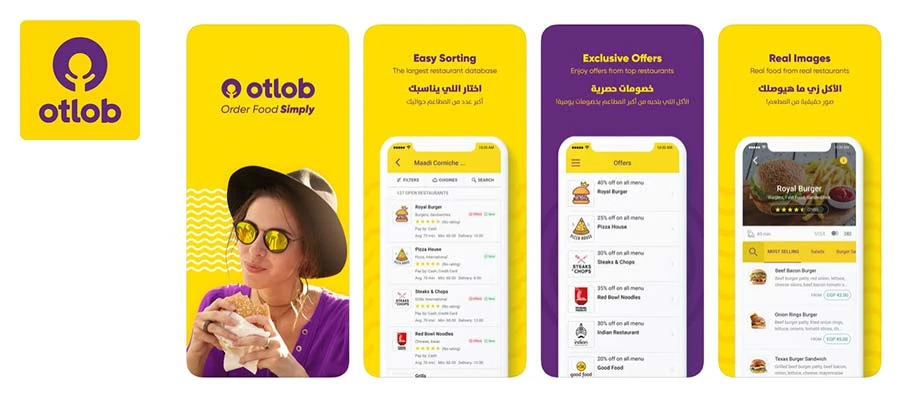 The upside is that you can order from a number of restaurants, including fast food ones, and the app saves your order history, just in case you want to eat that same meal again.
Website: https://www.otlob.com/
19) SkipTheDishes
SkipTheDishes is a food delivery app that's only available on iTunes.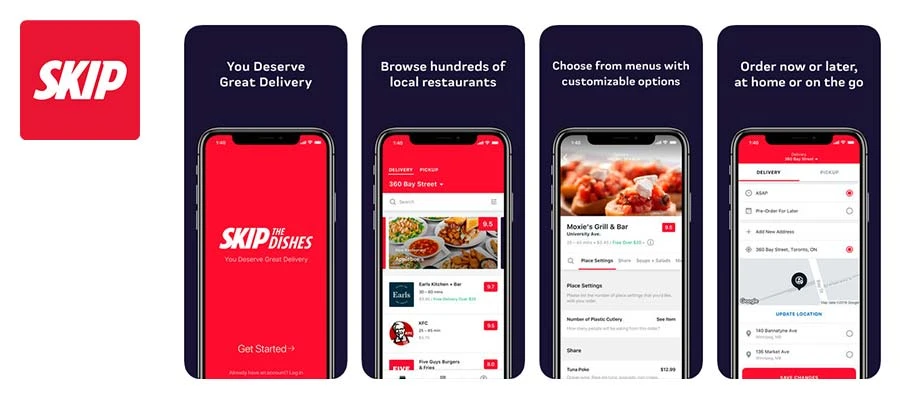 Currently, its reach is limited to several cities located throughout the Midwest and into parts of Canada, including Cleveland, Buffalo, Cincinnati, Toronto, Calgary, and others. One of the highlights of this app is that it's the whole package – you can order meals, track your order, and even place an order several days in advance. It's slowly expanding throughout the U.S. and Canada, so keep an eye on this upstart.
You can contact the food delivery app development company for developing an app.
Website: https://www.skipthedishes.com/
20) Grab Food
Grab Food is another location-specific app, much like Otlob.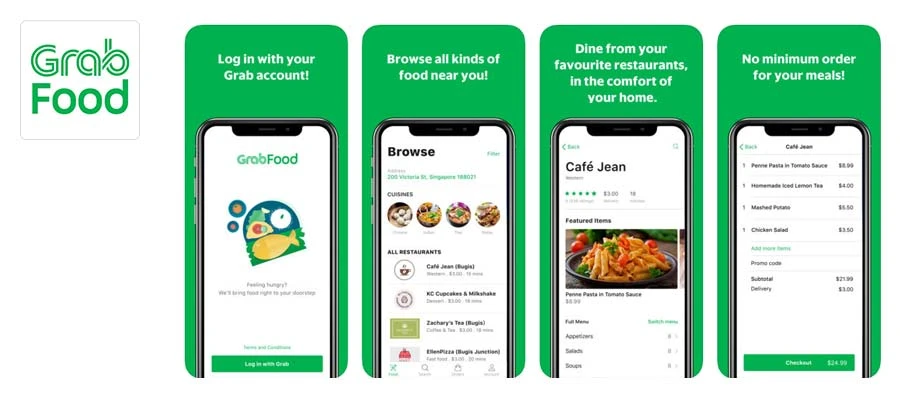 This one is good for many locations throughout Southeast Asia. If you happen to be on vacation (or live in Southeast Asia) and want some food delivered, then you can use this iTunes-only app to browse menus and order yourself a meal. The best thing about it is that there's no minimum order amount, and many local street food vendors utilize the app.
Website: https://www.grab.com/my/food/
Wrapping Up:
Nowhere, its quite easy to choose your desired cuisines with the help of stated-above Food ordering applications; Although, if you're also aiming to gain online foot-prints then collaborating with a pioneer Food delivery app development company that aids you benefited strategies for attaining business inspirations with minimal efforts.
Author Bio:
Sameer Panjwani is the Founder & CEO of Mondovo.com, an online marketing toolset that helps you track your rankings, monitor your site stats, and research your competitors. A man of many talents, Sameer is currently on a mission to help 1 million businesses grow organically through his products and services.