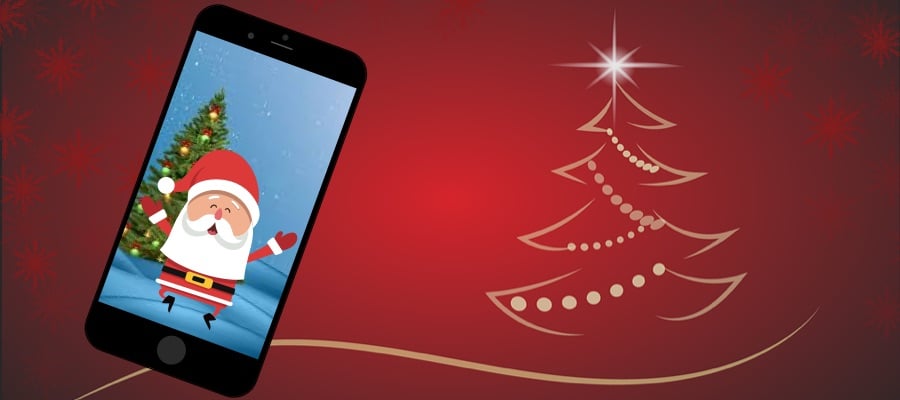 Christmas is around the corner. Everyone's is singing "Jingle Bells" and getting super excited for the holidays. On one side, people are busy with crazy shopping season and on the other, businesses are busy with winding up their work before the holidays arrive.
As more than 90% of consumers spend their mobile time in apps (Mobile marketing Statistics), it is essential for businesses to make their app competitive and lucrative. Since it is the season of gifting, no wonder that e-commerce sites will be ruling the App Store and Play Store.
Holiday time is indeed a good time for mobile marketers as they bring new users, clients, and a spike in revenue. It is a great opportunity for apps to engage new customers and enhance customer interaction. Is your app ready and armed for the holiday rush? Not yet? Don't worry, we are here to help you!
This holiday season, make your app ready for consumers with these delightful and cheerful marketing tactics:
Make Your App Holiday-Themed
"Be like a Roman when you are in Rome" is a famous quote. The holiday season always tends to make people joyful, cheerful, and refreshing. We all decorate our homes and offices with glowing lights and lamps. Then why not incorporate the same pleasantness into your app marketing?
You can consider incorporating jingles, words, songs, etc. into your push notifications and holiday-themed visuals like jingle bells and snowflakes for your in-app messages. You can even update your logo with a Santa Claus hat and your app with snowfall theme. This is a great way to connect with your users by sharing the joy of the holiday season.



Offer Christmas Deals and Sales
Who doesn't love offers? Especially in the holiday season, people search for special deals. Do not hesitate to offer some gifts for your loyal customers in this holiday season. 2016 U.S retail e-commerce sales are projected to amount to nearly 95 billion U.S dollars. So, as consumers lighten their pockets, you can double their joy by offering coupons, free shipping, buy 1 get 1 free, etc.
Be Ready to Face App Store Freeze
Due to excess load, many times, Apple experienced the App Store freeze. This means Apple stops from making app submissions and updates which cause the App Store rank to stay static for many days. So, make a plan about what you want to do well before so that you could be one of the lucky persons that witness unquantifiable app downloads.
Make Your App Visible
App Store Optimization (ASO) plays a vital role in making your app search-friendly for your potential customers. Insert the right keywords in your app title that perfectly describes your app without any ambiguity. You should be able to describe your app in 100 or fewer words so choose your keywords wisely.
It doesn't matter whether yours is an iOS app development company or Android app development company, now is the time to create your app marketing strategies for 2017 to attract new users and retain the existing ones. We believe this short, yet intense article assists you to get things going. We hope Santa brings you a ton of new users.