Magento 2 marketplace created a lot of buzz around its improvements from the first version. Leading eCommerce platform and empowering over 200,000 online eCommerce store till date, it has taken a step forward towards better usability and visibility by introducing Magento 2.0 to the world. The necessity to upgrade its eCommerce platform arose due to increasing dependency on digital transactions while the online business is taking a grip of the market.
Magento 2 Marketplace, with its availability in both enterprise and community versions have turned out to be the best platform for medium or large businesses to use for eCommerce consulting, catalogue management, CRO, PPC and SEO requirements are some of the features it addresses using the incorporated tools in most efficient manner. Compatibility with HHVM and PHP7, makes it the most user friendly and scalable e-commerce environment retaining its simplicity and charm with improved functionality and appearance. Magento 2 Development has eventually risen to the heights to curtail any discrepancies prevalent with the earlier version.
Extracting the benefits of Magento 2 to full potential with assistance from certified magneto developer, here are its features: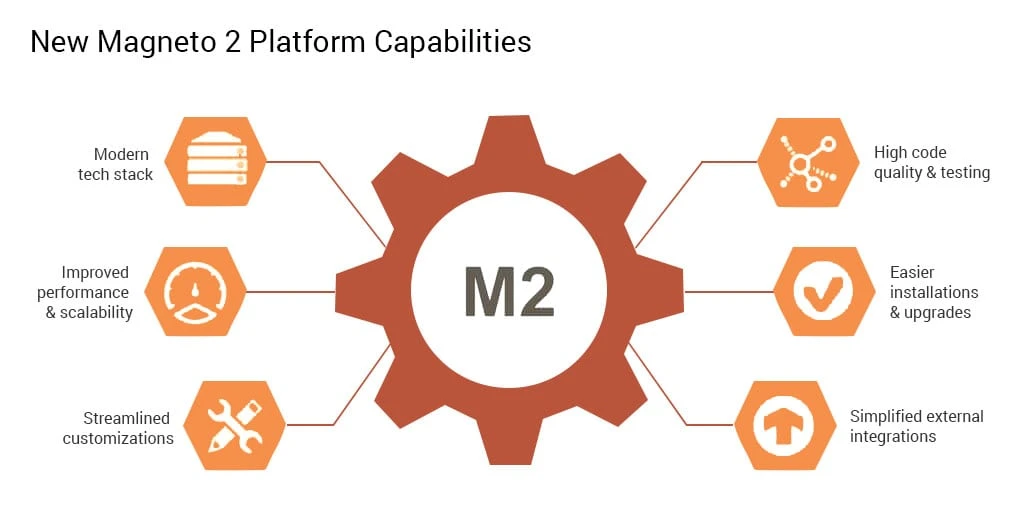 Efficient extended compatibility:
It is one of the primary attractions of the platform as it offers myriad of Magento 2 extensions enabling you to run multiple extensions on a single website without conflicts and causing your store to break or appear distorted.
Easy Magento 2 upgrading system:
This feature is one of the most sought after by retailers. Not supporting its previous versions, calls for customers to start planning an upgrade.
Scalable Infrastructure:
The web server layer and the caching layer at the database layer is built to scale with full page caching which catches a database-driven site and pre-renders the pages into basic HTML. Thereby the load time reduces from 5 – 8 seconds to just about 1 – 2 seconds. This further reduces server load allowing websites to now handle much more visitors and traffic, without having to shell out the big bucks for additional hosting infrastructure.


Improved user experience and store management:
Faster page loads can make the user experience easy, increasing conversion rates which are a green signal to Google to rank your website higher. Moreover, product creation flow, as well as the tax rules/rates, is being modified for better usability.
Simplified Checkout Process:
While filling the form, the end user needs to punch his/her email ID whereby the system starts the authentication process, if a found password is asked and the other forms are filled automatically and if not, the user can check out normally. Based on the pin code typed in, city and state fields are entered automatically. Auto selection of card type is enabled once the number is punched. Guest account information is saved without causing any hassle to a new user as well.
Performance Improvements:
With redesigned Magento 2 helps to load a page mind 30% to 50% faster handling 39% more orders per hour with 66% faster add-to-cart times than Magento 1, for further reference you may visit to our previous article on Why You Should Migrate to Magento 2 ? Server response times for catalog browsing have seen tremendous improvement with the proper hosting setup. Magento 2 CE can handle 50,000 orders an hour while Magento 2 EE handles 90,000 at the same time at the checkout process. Due to the following enhancements, the above changes have been realized:
Ajax Cart:
Using javascript to add items to the shopper's cart without reloading the entire page installation of Ajax Carts has a putless load on your hosting hardware resulting in a more responsive experience for your shoppers.
Cache:
Native support for caching technologies like Varnish (Varnish is a popular HTTP accelerator) is used which stores commonly accessed page elements to serve them faster to your visitors.
PHP 7:
Optimized for PHP 7 provides superior performance to previous PHP versions which Magento 2 has been using.
Improvement of Hosting Environment: New features and functionality that allows you to more easily spread the demand on your hosting infrastructure over multiple servers is found in the Enterprise Edition. Thus large traffic spikes can be handled more easily.
Administrative Improvements: Administering your site has been made quite simpler and more efficient in the new version by taking care of the following aspects:
Improved Product Creation: This allows you to more quickly and accurately add products to your store accelerating the process of adding products to 4 times.

Improved Data View and Filtering: A very robust data grid view to the admin has been added to give you the ability to customize what attributes are shown (such as a product list) without the need to get a dedicated Magento 2 developer involved. Each administrator can customize their data views to suit their individual needs. This guarantees clean, uncluttered interfaces ensuring you can see the data that you need to see. Apart from this quickly filtering of data based on any of the attributes you have enabled in your data view is added.
Admin Navigation Improvements: Magento 2 migration has been a great success under this category. Menus being more organized, finding the page and functionality that you are seeking is much simpler. This leads to a smaller learning curve and quicker productivity for administrators.
Data Safeguards: Safeguards for product data that allow multiple administrators to work on product data simultaneously is a distinctive feature which will make your team more efficient, allowing you to more easily keep your store's products up to date.


Product Videos:Native support to the addition of videos from Vimeo or Youtube offers a great opportunity to properly merchandise your products.
7. The Marketplace:
Inflated popularity scores and plagiarized extensions Magento creating a marketplace which is a win-win situation for Merchants, Magento Commerce, Solution Partners, and good extension developers. Following shows some of the market statistics: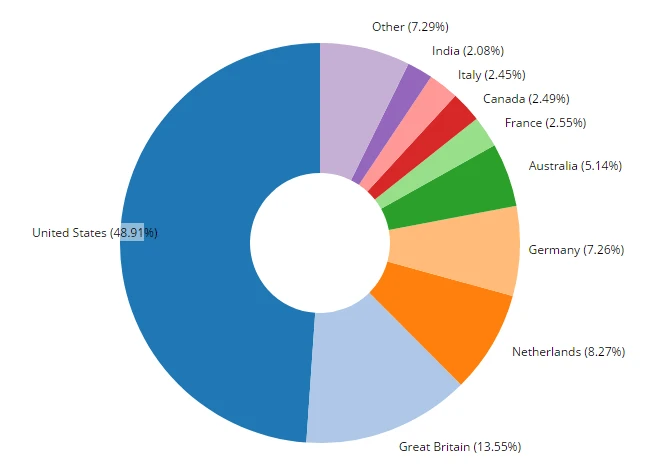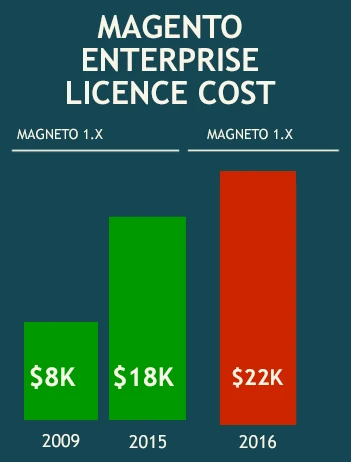 Conclusion:

Under the light of the above discussion, migrating to Magento 2 is worthwhile due to the performance improvements and new functionality in both the Enterprise and Community editions. As we see more and more mobile use of the internet, e-commerce sites need to be able to meet the demands of those users. Any investment that your business makes into the old platform will be essentially short term in nature as Magento 1 will not be supported after 2018. Therefore there is a growing consensus to adopt Magento 2 by all businesses and even our personal experience with the platform would recommend to Download Magento to experience its full-fledged purpose.