Within the last decade, Magento has become one of the most popular eCommerce systems used by online merchants. Regardless of the product they want to offer on sale or the eCommerce business model they're implementing, Magento always has an answer. body {<br /> font-size: 2px;<br /> }<br />
In this article, we'll review
☛ What to look out for when choosing a Magento Hosting Provider
☛ Recommended Magento Hosting Providers
☛ Magento's top features
Jump to your favourite topic
1. What to look out for when choosing a Magento Hosting Provider
Security
Hackers are real, and you should be wary of doing what you can to keep your store safe. However, your hosting provider is responsible for ensuring server security every time.
It is not a wrong idea to ask a potential Magento hosting provider if they use a server-side virus scanner and also what forms of DDoS or firewall systems are available on their service.
Since PHP modules are susceptible to attack, you may also want to find out whether the hosting provider offers an application for turning the modules on and off any time you want.

Up-time
For one thing, you never want your Magento eCommerce store to go offline now and then because of hosting related issues.
Since the internet is always online and customers can come around at any time, it is vital to match their consistency by choosing the right hosting provider.
While it is true that nearly all Magento hosting providers will attach a "99.99% uptime" tag to their package, the reality is that some of them cannot guarantee it in the long run.
Compatibility
It is also vital to ensure that Magento's hosting requirements are in line with what is offered by the provider.
For instance, newer versions of Magento recommends PHP 7.0 or higher, and although most providers have implemented the necessary upgrades, some may still lack the compatible features to support the deployment.
Find out from them whether all their current features are compatible with Magento's.
Speed
How long do you expect a web page to load, especially when you're in the middle of shopping?
The reality is that online buyers are impatient and don't have all the time in the world to wait for your overloaded system to show them the items they're searching.
Once you determine the size of your eCommerce store, choose a hosting plan that guarantees the maximum speed and verify with the provider that there will be no numerous cases of server overload.
Technical Support
Let's face it. No matter how hard you try always to keep your eCommerce store online, downtime issues related to hosting providers are almost inevitable.
When that happens, you should have a trusted channel to get in touch with the hosting provider even if its a holiday!
Not offering a 24/7 support can be a red flag that a particular Magento hosting provider is not the best option for you.

Pricing
Since there are many recommended Magento hosting providers, it is never a wrong idea to compare pricing and choose which one suits your budget.
There are still some other things you have to spend on before your store can go live. Therefore, hosting should not dig a hole in your pocket!
Customer reviews
Conclusively, the best Magento Hosting providers include a review page on their website to allow satisfied and unsatisfied customers share their thoughts about the service.
If you can't find this page on their website, then you can do a Google search containing the company's name.
For instance: (Magento Hosting Company name) + negative reviews
Since you already expect a top hosting company to offer at least an average service, searching for negative reviews can help you to find out what loopholes exist easily.
Recommended Magento Hosting Providers
Aside from hiring an expert Magento eCommerce developer to work on your new online store, successful merchants will tell you that the next thing that decides the success of your business is the Magento hosting provider that you choose.
2. We'll review next, recommended Magento Hosting providers
1) Nexcess
Nexcess prides itself as a provider of stable and secure Magento Hosting and even goes further to prove this by allowing new users a 30-day trial period on a dedicated hosting package.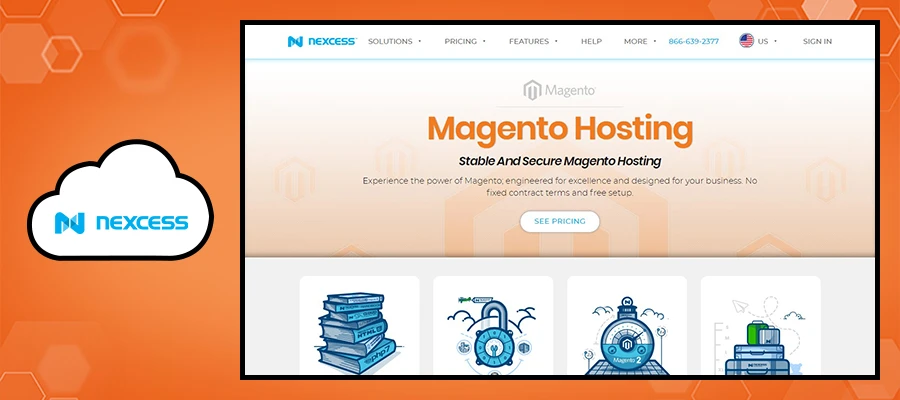 Nexcess also offers a 24/7/365 customer support, free support for migrating to their service from a different host and automated daily backup of your site archived for 30 days.
Pricing
Nexcess offers five Magento hosting packages called SIP in addition to cloud hosting while all of them includes an email service for your store and other features that are peculiar to the price of each offer.
SIP 100 (Shared Hosting) — Annually $19.95/ mo or $24.95 Monthly
SIP 200 (Shared Hosting) — Annually $74.95/ mo or $79.95 Monthly
SIP 300 (Shared Hosting) — Annually $189.95/ mo or $194.95 Monthly
SIP 400 (Dedicated Hosting) — Annually $539.95/ mo or $599.95 Monthly
SIP 500 (Dedicated Hosting) — Annually $674.95/ mo or $749.95 Monthly
Website: https://www.nexcess.net/
2) ServerGuy
ServerGuy offers managed Magento Hosting solutions for growing eCommerce businesses. Their essential features include bulletproof security, pro-active monitoring of hosted sites, superior support and optimized loading times.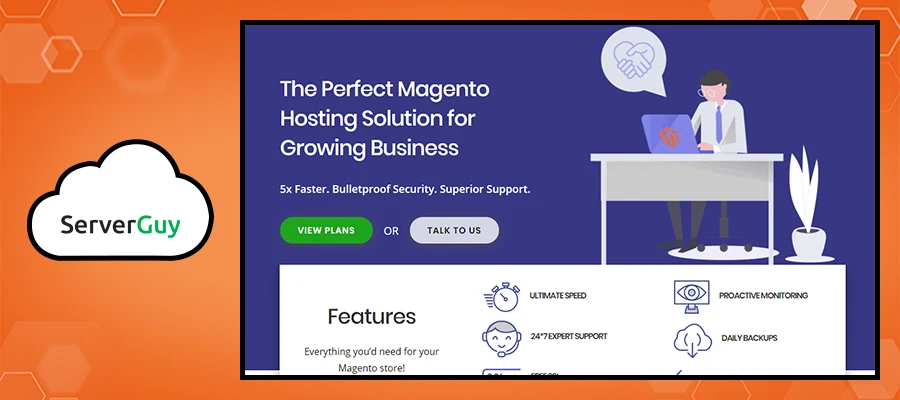 Additionally, you'll get free in-built SSL, daily backups, Magento developer support and free migration from other hosting providers.
Pricing
ServerGuy offers three hosting solutions suited to 10,000, 20,000 and 40,000 monthly page views respectively.
Startup — $29/mo
Growing — $69/mo
Advanced — $99/mo
Aside from in-house server-side Magento hosting, ServerGuy also offers cloud hosting suitable for 20,000, 40,000 and 60,000 monthly page views respectively.
Cloud-Growing — $99/month
Cloud-Advanced — $149/month
Cloud-Pro — $249/month
Website: https://serverguy.com/
3) MageMojo
MageMojo is ideal if you're looking for a pay-per-use Magento Hosting provider, that is, you only pay for the number of sessions and conversions your site produces.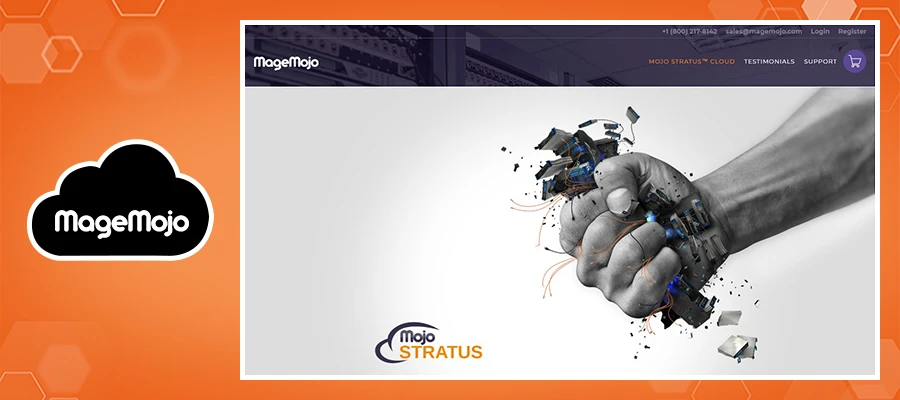 You will also enjoy top-notch security, improved site speed, free setup, and migration, plus an excellent support team that Magemojo claims will never leave you hanging.
Pricing
Magemojo's pay-per-use model means that they offer one of the most competitive prices in the Magento Hosting industry across the different "Stratus" packages.
The capabilities namely: sessions, disk space, dev sites, and others increase on a parallel with the package you order on MageMojo
Stratus Starter — $98/mo
Stratus Pro — $298/mo
Stratus Growth — $1250/mo
Website: https://magemojo.com/
4) MilesWeb
MilesWeb is a renowned and fastest flourishing web hosting firm; as it offers reliable web services with well-crafted web hosting solutions. MilesWeb was incepted back in 2012 with the aim of delivering quality services round the clock at very fair prices.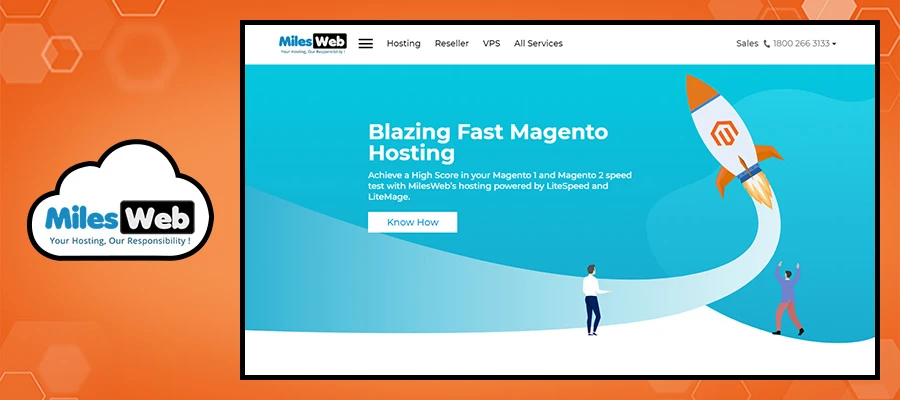 MilesWeb is one of the comprehensive aka dynamic web hosting company which is all set for charismatic tech revolutions with its outstanding web services to their client.
MilesWeb offers shared hosting, VPS hosting, reseller hosting, DigitalOcean & AWS Cloud hosting, WordPress hosting, dedicated hosting.
Best Features they offer are –
24×7 Support
Free Domain Name
Free SSL Certificate
Free Website Migration
30 Day Money Back Guarantee
Pricing
MilesWeb offers distinct Magento hosting services such as Redis Backend & Session Cache, Optimized Server, CloudFlare CDN + Railgun, Free Magento Installation and Magento consultancy. You're unbound to select your preferred Magento Plan:
M1- 1,960/M
M2- 3,360/M
M3- 5,040/M
M4- 6,720/M
Website: https://www.milesweb.com
5) A2 Hosting
A2 Hosting is another popular site for hosting your Magento eCommerce store, albeit off cloud like Webscale. Their package offers a pre-installed and optimized Magento system, thereby, reducing your developer's workload and allowing you to get your store live within the shortest time possible.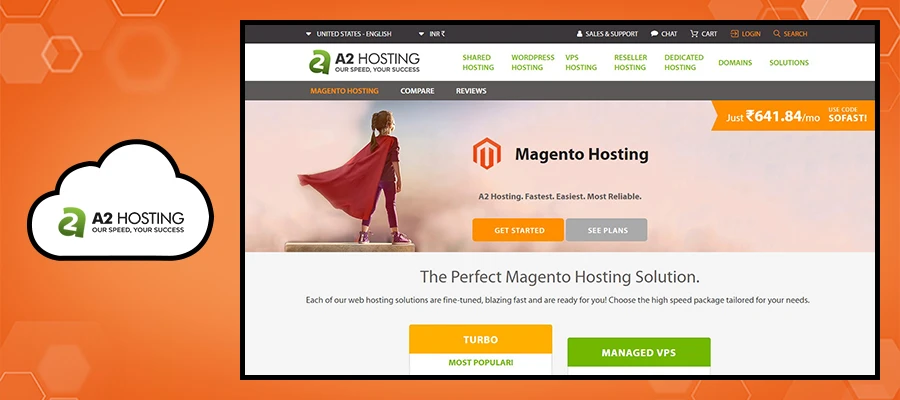 Additionally, A2 offers free migration, money back guarantee, support for unlimited websites and databases, as well as an excellent customer service team.
Pricing
Turbo (Shared Hosting) — $9.31/mo
Managed VPS (Dedicated Hosting) — $32.99/mo
Website: https://www.a2hosting.com/
6) Accu Web Hosting
Accu Web Hosting is also a top Magento Hosting provider that pre-installs the eCommerce system on your domain, allowing you to deploy your store within a few minutes after purchasing a hosting plan.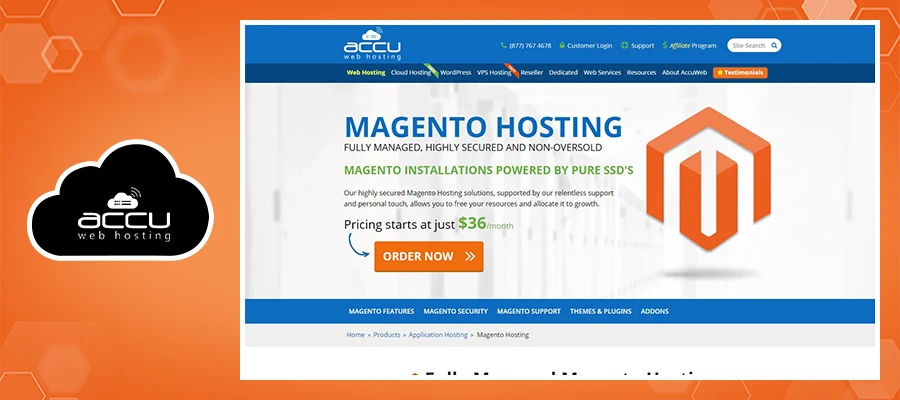 The company also guarantees access to the Magento source code or database, giving you the power to customize your store from the real backend at any time.
Pricing
All of AccuWeb's plans include options to pay for a one month or quarterly subscription. However, for this review, we'll list the pricing for annual purchases.
Magento VPS 1 — $400.80 yearly
Magento VPS 2 — $823.95 yearly
Magento VPS 3 — $1634.81 yearly
Website: https://www.accuwebhosting.com/
7) CloudWays
As the name suggests, CloudWays is a cloud-based hosting provider that has helped many online businesses to focus on meeting customer demands, instead of the infrastructure powering their platform.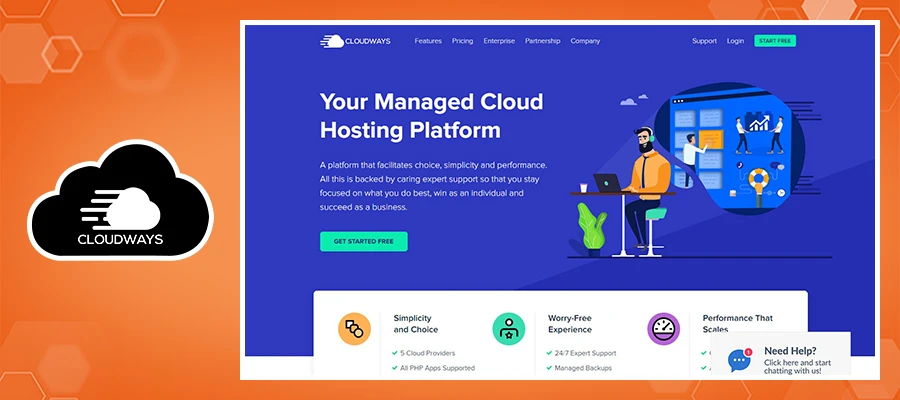 Through CloudWays, you can host your Magento store on five of the best cloud servers globally including, DigitalOcean, Linode, Vultr, Amazon Web Services, and Google Cloud. The good news though is that all the plans include 24/7 expert support, free migration, free SLL certificates, and unlimited app installation.
Pricing
The price for hosting your Magento Store across the different cloud servers varies slightly even though all are pay-per-use plans. Different plans also have different capabilities.
DigitalOcean — $10/mo (25GB), $22/mo (50GB), $42/mo (80GB), and $80/mon (160GB)
Linode — $12/mo (25GB), $24/mo (50GB), $50/mo (80GB) and $90 (169GB)
Vultr — $11/mo (25GB), $23/mo (40GB), $44/mo (60GB) and $84/mo (100GB)
Amazon Web Services — $86.77/mo (25GB), $36.51/mo (20GB), $176.26/mo, (20GB), and $274.33 (20GB)
Google Cloud — $86.77/mo (25GB), $33.30/mo (20GB), $138.64/mo, (20GB), and $226.05/mo (20GB)
Website: https://www.cloudways.com
8) Hostinger
Hostinger is another popular web hosting company that offers competitive plans for Magento store owners. You will enjoy superior speed performance, excellent customer support, and 30-day money back guarantee when you purchase your first plan.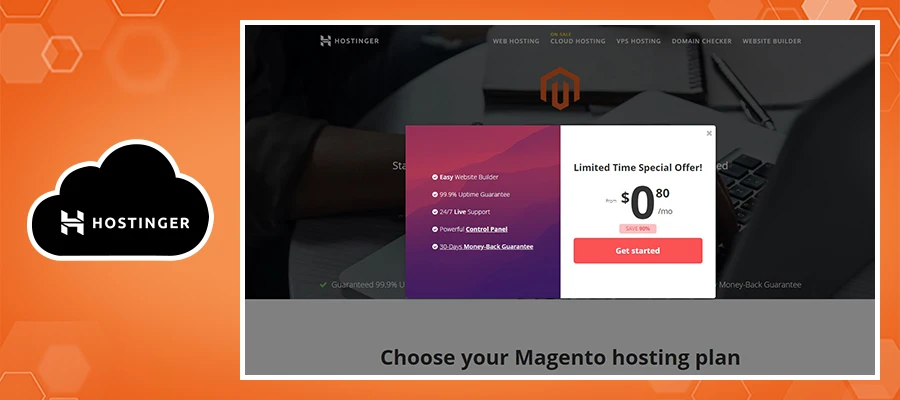 There is also a one-click installer and free domain for any annual Magento hosting plan on Hostinger. So, if you're looking to save money on domain purchase without compromising on quality, then you may want to consider their service.
Pricing
Hostinger offers three plans for Magento hosting namely:
Magento Startup — $7.45/mo
Magento Professional — $14.95/mo
Magento Enterprise — $27.45/mo
Website: https://www.hostinger.in/
9) GoogieHost
GoogieHost is one of the most well-ranked Magento Hosting providers in our list in terms of traffic to their site. Such a prominent status, as well as positive reviews from customers around the web, means you're almost sure of getting good value for your money when you sign up.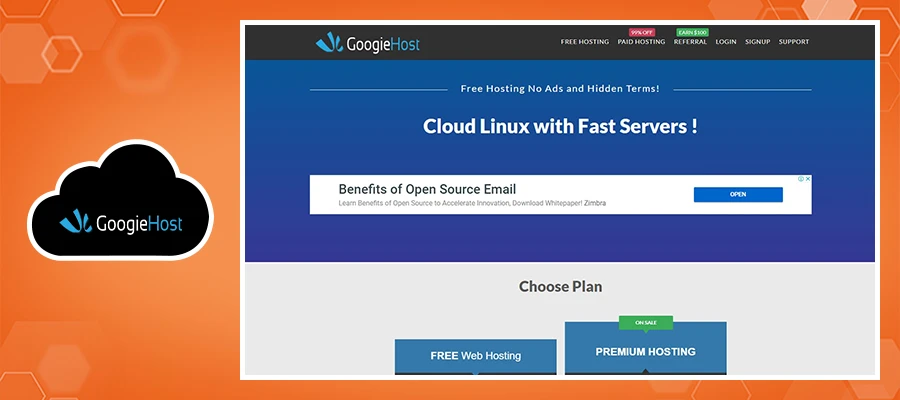 GoogieHost's core features include 30 daily backups of your Magento site, automatic updates of Magento core plugins, and an excellent support team.
Pricing
GoogieHost offers unlimited storage, unlimited transfers as well as unlimited websites and emails for as low $5/month paid annually with a 30-day money-back guarantee.
Website: https://googiehost.com/
10) SiteGround
SiteGround is arguably one of the best online hosting providers with over 1m+ domains, apparently including Magento stores running on their servers.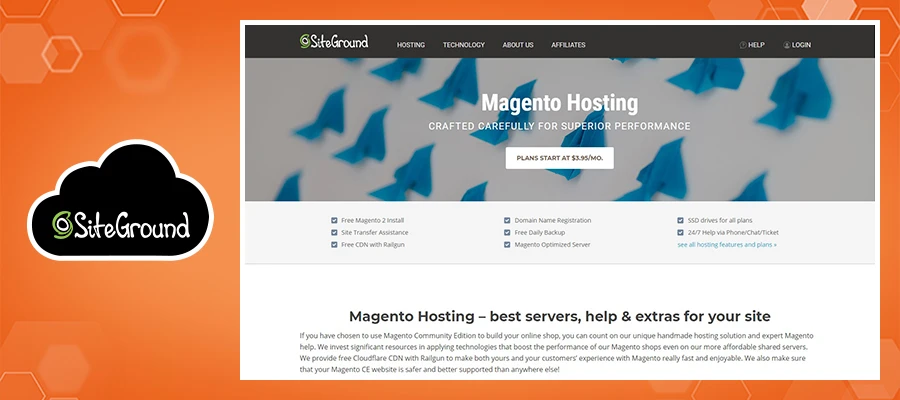 Some of their key features include assistance with migration, free daily backup of your eCommerce store, domain name registration, top-notch security, and 24/7 customer assistance via phone, chat, and email.
Pricing
SiteGround offers three plans with special prices on initial purchase.
The Startup Plan is priced at $11.95/mo but goes for $3.95/mo on the initial purchase.
The GrowBig Plan is priced at $19.95/mo but goes for $5.95/mo on the initial purchase.
The Go-Geek Plan is priced at $34.95/mo but goes for $11.95 on the initial purchase.
Website: https://www.siteground.com/
11) Go4hosting
Go4hosting is a renowned hosting service provider that offers a comprehensive range of solutions in areas of dedicated server hosting, VPS hosting, email hosting, cloud hosting and server colocation. They boast of state-of-the-art tier-III data centers that offer fast and reliable servers and guarantee the highest level of security for your data.
What's more, all their hosting plans come with free set-up, 24*7 customer support and 99.95% network uptime.
Pricing
Linux VPS Hosting (1 GB Plan): Rs. 1208.06/mo

Windows VPS Hosting (1 GB plan): Rs. 1781.81/mo
Cloud Hosting (Value Basic): Rs. 1595/mo
Server Colocation (Value Series): Rs. 4,995/mo
Website: https://go4hosting.in/
12) Hostgator
Many people know Hostgator as a top WordPress development hosting provider, but only a few know that you can also deploy a Magento eCommerce store on their Shared-Web Hosting service using the one-click install features.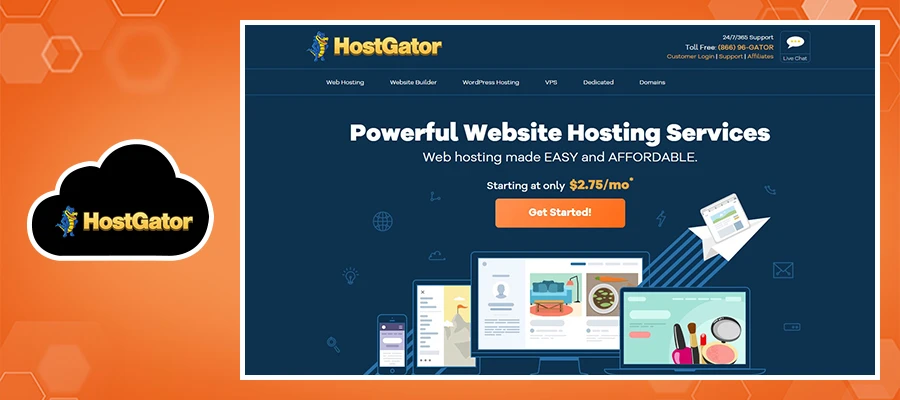 The platform has robust servers that offer the same level of security as when creating a WordPress site. Although, HostGator Coupon Code offers the latest and proven discount codes that avail free domain registration with less hassle.
Pricing
Hatchling Plan — $2.75/mo
Baby Plan — $3.95/mo
Business Plan — $5.95/mo
Website: https://www.hostgator.com/
13) Inmotion Hosting
Inmotion Hosting allows one-click installation of the Magento system through Softaculous and then offers VPS and dedicated servers for hosting your eCommerce platform. You'll also get free setup, and 2-hours launch assists from their experts to get your site live as soon as possible.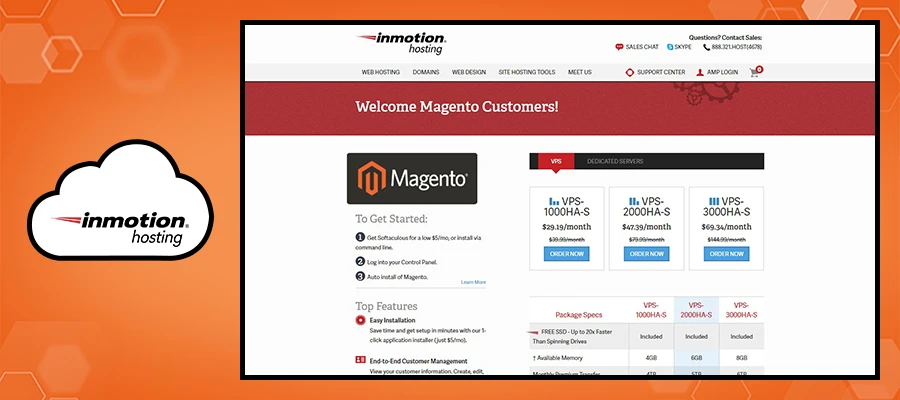 Pricing
Inmotion Hosting offers the following annual packages for Virtual Privates Server (VPS) and Dedicated Servers.
VPS
1000HA-S hosting — $29.19/mo
2000 HA-S hosting — $47.39/mo
3000 HA-S hosting — $69.34/mo
Dedicated Servers
Essential — $105.69/mo
Advanced — $166.59/mo
Elite — $238.99/mo
Website: https://www.inmotionhosting.com/
14) Glow Host
GlowHost offers a variety of hosting plans suited to different calibers of eCommerce owners looking to deploy Magento stores and free setup, in case you don't want to hire a Magento developer straight out the door.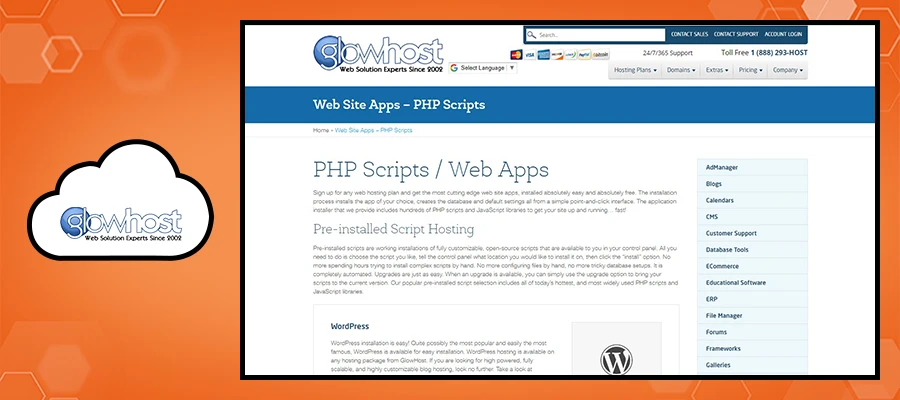 Although GlowHost all offers virtual and dedicated server hosting, their shared hosting plans are Cloud-Linux based and therefore suitable for new eCommerce operators who are only thinking about scaling up their business first. You could make an upgrade as your audience grows.
Pricing
You can pay annually for all packages on GlowHost.
Unlimited Single Domain — $6.95 /Mo
Unlimited Multi-Domain — $9.95 /Mo
Personal Hosting — $10.95/Mo
Professional Hosting — $18.95/Mo
15) Hostripples
Hostripples is arguably India's largest web hosting company offering plans for Magento eCommerce deployment. With Hostripples, you'll get some of the best prices in the hosting industry and other features such as free supporting for migrating to their service and setting up your website.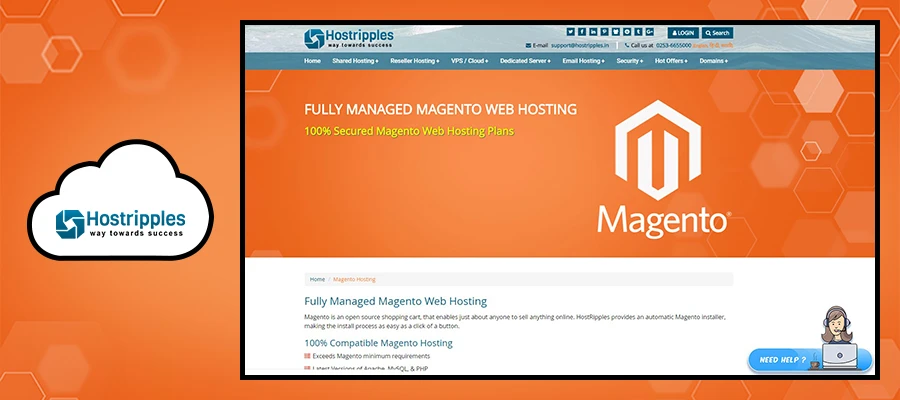 In case you're wondering whether Hostripples can power websites in your location, it may interest you to know that the company has data centers in the U.S, Canada, France, and some other countries around the globe.
Pricing
Hostripples offers three Magento Hosting plans with different capabilities namely:
Smart — Rs 165 (appr. $2.40/mo) paid annually
Business — Rs 370 (appr. $5.38/mo) paid annually
Enterprise — Rs 1220 (appr. $18.73/mo) paid annually
Note that there are also options to pay for these plans quarterly, semi-annually, bi-annually and tri-annually. The total cost spreads per month would vary depending on the duration you purchase.
Website: https://hostripples.in/

16) Scope Hosts
Scopehosts is another India-based web services company that offers Business hosting solutions suited to Magento stores operators. Just like Hostripples, Scope Hosts also have data centers located across Europe and the U.S, meaning that you have little to worry about if your customers reside in these regions.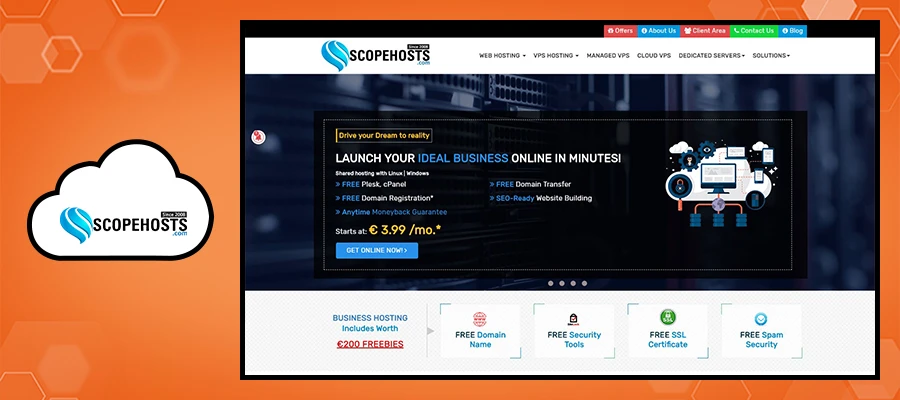 ScopeHost's Business Hosting package comes with free domain names, free security tools, free SSL certificate, free daily backup, and multiple coding language support.
Pricing
ScopeHost divides it Business Hosting option into three packages that you can pay for annually.
BH-Mini — €19.99/mo (appr. $22.6/mo)
BH-Pro — €35.99/mo (appr. $40.7/mo)
BH-Enterprise — €49.99/mo (appr. $56.5/mo)
Website: https://www.scopehosts.com/
div id="Green">
17) Greengeeks
Greengeeks hosting plans are fully optimized for all CMS hosting. Even with our shared hosting plans, we give the ability to increase your RAM limit without going for a full plan upgrade.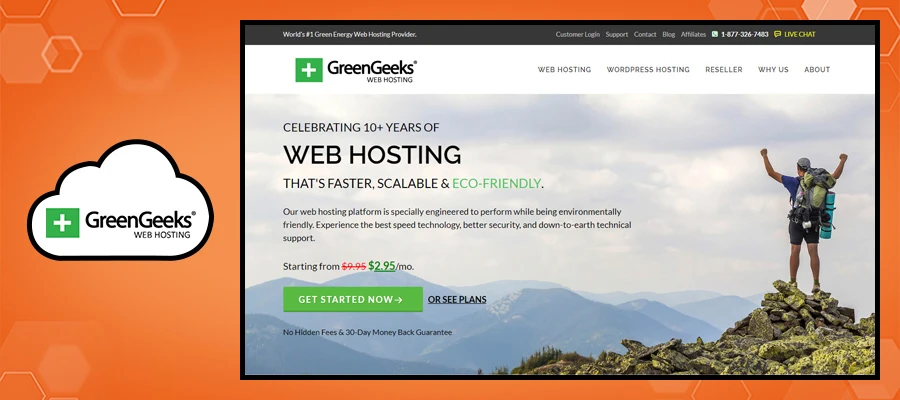 300% renewable energy refers to the wind energy credits we purchase. For every unit of the energy that we use to run our servers, we purchase 3-time wind credits to compensate for our carbon footprints.
Pricing
These plans come with different limits for computing resources. You can select the plan according to your needs for hosting
Ecosite Starter $2.95/month
Ecosite Pro $5.95/month
Ecosite Premium $11.95/month
Website: https://greengeeks.com/
18) Webscale
Webscale is an eCommerce cloud company, that is, providing cloud hosting services for top eCommerce systems including Magento. Given the prevalence of cloud computing and the extra security and flexibility features that it offers, moving your Magento store to the clouds may be a better option instead of using shared or dedicated server.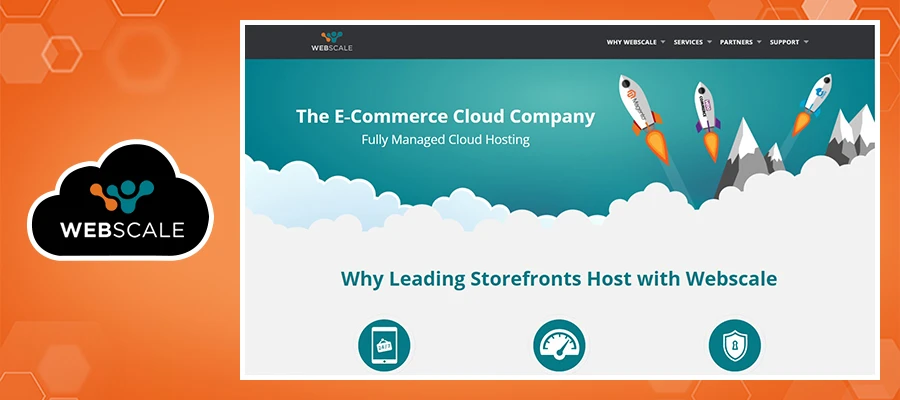 In case you're worried about having a downtime while your site migrates to the cloud, Webscale allows your current environment to function until the cloud solution is ready to go live.
Pricing
Webscale tends to adapt their offer based on a customer's demand and thus require a 15-minute session with their experts so that they can up with a suitable package.
Website: https://www.webscale.com/
3. Magento's Top features
Powerful Product Display Options
It's one thing to have the option to list all items in your inventory and entirely different stuff to give shoppers the best view of the items they're looking to load in the cart.
Interestingly, Magento developers understood these essential components and included in the system, some features that will help give your product that best visual appeal when customers come around.
Product display options in Magento include the following options:
Adding multiple images to the same product
Image Zoom
Product availability
Product grades and price for bulk purchases
Add product to wishlist
Send to a friend
Intuitive Product Catalogue and Browsing Options
While you may have multiple products across different niches and categories, it is often how easy it is for a potential customer to find a particular item that determines whether they will patronize your store or look elsewhere.
Well, Magneto's intuitive product catalog allows you to easy classify different groups and variations of products without mixing them up. The system features:
unlimited options for product attributes
Defining variable prices for different groups of visitors
classification for downloadable items and excerpts
support for specially customized products and
other inventory management tools
Now, while you do your best to make it easier for customers to find products by carefully using catalogs, the built-in browsing options on Magento also plays a part.
Visitors can use search features to:
select the price range of a product and other specifications
compare products and
view related products in cases where they can't find the item they want.
The downline is that a combination of these features will reduce the exit rate on your product pages and lead to more sales over time.
Customer Service Suite
The internet never goes off, and one of the primary purposes of running an online store is to rake in sales round the clock. For these reasons, you will need an eCommerce system that allows you to set up a 24/7 customer team to assist customers with minor and major glitches that can show up even in odd hours.
Magento offers the following as part of its customer service suite for merchants:
Creating and editing orders as admin
Contact forms for customer inquiries and suggestions
Customer order tracking
Password reset options from both the front and backends.
With these features, you can continue maintaining an excellent relationship with your customers and reduce the number of abandoned carts associated with the lack of a support team.
Analytics and Reporting Tools
The best eCommerce merchants rely on essential metrics and data generated from their store to make the right decisions and boost sales.
For these purposes, Magento offers:
Seamless integration with Google Analytics and
Admin report dashboards containing all the vital metrics including abandoned carts, top performing products, top search terms, revenue, returned products and many more.
Marketing and Promotion Tools
What is the purpose of an online store if you have to put in so much effort to complete a sale all the time?
Magento comes with some key features that encourage upsell, promotions and other tools that can make your eCommerce business genuinely successful. Here are some of them:
email and newsletter integration
view related products on product and checkout pages
promote new items with a tag to show they are new
enable free shipping for the high ticket and expensive products
enable send to a friend and wishlist features to encourage shoppers to promote your products.
referral system setup
With a combination of these tools, upselling and cross-selling becomes a lot easier and you won't have to break a sweat before making a sale.
Multiple Payment and Shipping Options
Given that eCommerce stores are mostly designed to serve the global audience or a least a reasonably sizeable geographical location, payment and shipping options come into consideration.
For instance, if customers do not trust that their financial information is safe with you and also that you will deliver their item on time, they will likely hesitate to buy.
Magento comes handy with the following features:
Extensions for Multiple payment gateway integrations.
Ship a single order to multiple addresses
Save shopping cart and Bill me later
Complete checkout as a guest or registered user
Calculate estimated shipping and tax fees
Customize shipping rate based on weight, size, and price of items.
Optimized for Search Engines
Magento was built with the rigors of getting indexed on top search engine result pages (SERPs) in mind.
With the right implementation of some Magento features on WordPress development, an eCommerce store can attract tons of steady traffic from search engines and thus lower their budget on ads from other channels.
These are Magento features that ensure better results on SERPS:
Option to enter metadata for each product, category and content page.
Generate XML sitemap for submissions on search engines
Full control over URL settings
Enable popular keyword pages for products and categories.
Now that we have clear reasons why it is never a bad choice to use Magento's system for your new or existing eCommerce stores, we'll go over the things to consider when choosing where to host your store.
#toc_container {
margin: 50px auto;
background: transparent;
border: 4px solid #aaa;
padding: 0 40px 40px 40px;
width: auto;
display: table;
font-size: 95%;
}
#toc_container p.toc_title {
background-color: #ccc;
position: relative;
max-width: fit-content;
text-align: center;
font-weight: 500;
margin: -19px auto 30px auto;
padding: 0 15px;
margin-bottom: 15px;
height: 32px;
}
#toc_container p.toc_title:before {
right: 100%;
border-left: 1rem solid #fff;
}
#toc_container p.toc_title:after, #toc_container p.toc_title:before {
border-top: 1rem solid #ccc;
border-bottom: 1rem solid #ccc;
content: "";
position: absolute;
top: 0;
bottom: 0;
width: 0;
height: 0;
}
#toc_container p.toc_title:after {
left: 100%;
border-right: 1rem solid #fff;
}
#toc_container.no_bullets li:before {
content: "";
border-top: 1px dashed #ccc;
display: block;
position: absolute;
top: 21px;
width: 100%;
z-index: 1;
}
#toc_container a {
background-color: #fff;
z-index: 2;
position: relative;
padding-right: 10px;
color: #269a83 !important;
}
.toc_number {
float: right;
color: #aaa;
padding: 0 0 0 10px;
background-color: #fff;
display: block;
z-index: 2;
position: relative;
}
#toc_container.no_bullets li, #toc_container.no_bullets ul, #toc_container.no_bullets ul li, .toc_widget_list.no_bullets, .toc_widget_list.no_bullets li {
background: 0 0;
list-style-type: none;
list-style: none;
position: relative;
margin-left:0;
}
#toc_container.no_bullets li:before {
content: "";
border-top: 1px dashed #ccc;
display: block;
position: absolute;
top: 21px;
width: 100%;
z-index: 1;
}
#toc_container a {
background-color: #fff;
z-index: 2;
position: relative;
padding-right: 10px;
}
.toc_number {
float: right;
color: #aaa;
padding: 0 0 0 10px;
background-color: #fff;
display: block;
z-index: 2;
position: relative;
}