Do you know that you can make more money by selling the same products on your Magento store? How? It's simple. Offering quality products and giving your customers the power to personalize the items the way they like it will generate more money for your business.
This is a strategy you should implement as an e-tailer. Your customers will always patronize you when you sell quality products, but they're willing to pay more if they can customize the product according to their preference.
Imagine selling a quality Chelsea T-shirt for $30, your customer, who is a Chelsea fan, will likely be ready to pay a little extra if he can imprint his name at the back of the shirt right there on your online store. Another instance is a customer who will pay a few extra dollars when they can customize a coffee mug with a logo according to their specification.
The good news is that you can actually make that possible by using a product designer tool or software, which you can install on your Magento store. However, since there are many different product designer extensions out there in the market, it's quite challenging to choose the right tool that will do a perfect job. So to make things easier for you, we have come up with a list of the top 10 Magento product designer tools for your e-tailing business.
We considered some basic things (which you should also consider) before choosing the listed product designer tools.

Ease of Use
Nobody likes stuff that they can't use, whether it's a gadget or software. So if you want to attract more potential customers, then you must show them that the whole design process is easy. Ensure that whatever product design tool that you choose is easy to use for your audience, especially for non-tech savvy customers.
Browser Compatibility
Is the product designer tool compatible with various browsers for a seamless experience while working? Is it mobile responsive? These are questions you need to find answers to before installing a Magento product designer extension. Your customers will find it comfortable to design their products on your online shop if they can do so on any browser, especially on mobile devices.
Interface and User Experience
What experience are you offering your customers? Why should they use your platform instead of others? What makes your shop special? When you have a product designer tool that engages user experience and comes with advanced features, it can quickly convert leads to customers. Always consider both the UI & the UX when installing a product designer on your e-commerce store.
Compatibility with Multiple Platforms
It's important that your product designer tool is compatible with different eCom platforms such as Magento, Shopify, WooCommerce, BigCommerce, WordPress, and many others. When the software performs well on multiple platforms, your customers can easily use all the features to create unique designs without sending their designs separately.
Other things to also consider are admin dashboard, safety & security, and customer area.
Top 11 Magento Product Designer Extensions
Jump to your favourite topic
If you got that, then let's roll!
Best Magento Product Designer Extensions
1) Brush Your Ideas
Brush Your Ideas (BYI) is popularly known as the "holy grail" for e-tailers. This complete web-to-print Magento extension gives your customers the opportunity to create unique designs on products and allowing you to make money from your them.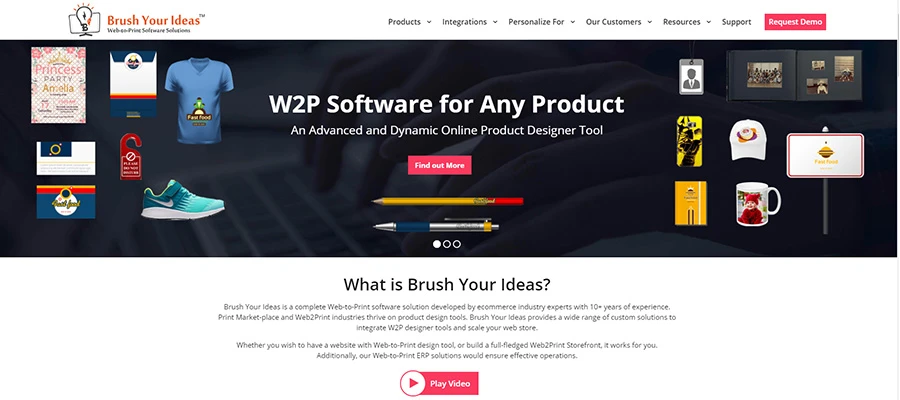 The end users can use this tool to customize products such as business cards, t-shirts, mugs, and many more. Brush Your Ideas designer tool is also compatible with different platforms and e-commerce stores like Magento, Shopify, WordPress, Php, and others.
BYI features over 10,000 items on its clipart library, so you will never run out of ideas. This product designer software also supports different printing formats such as JPG, PNG, SVG, and, PDF. Interestingly, customers can also share their artwork on social media platforms, all thanks to the "Social Media Support" feature.

Some of its features include:
User-friendly and mobile responsive: Brush Your Ideas product designer has a simple interface design with a responsive version for mobile users.
Compatible with different platforms: You can use this product design extension on different e-commerce stores such as Magento, Shopify, Woocommerce, etc.
Versatility: BYI can be used to design a wide variety of products.
Social media sharing: Allows customers to share their product design with their followers on social media networks like Facebook, Instagram, Pinterest, and Twitter.
10,000+ items on clipart library: Customers can select from over 10,000 items such as templates, text, fonts, and others.
Supports custom image upload: Users can upload any custom image from their device that they wish to use for the product design.
Templates: Customers can use any of the pre-designed templates that help to save a great deal of time.
While Brush Your Ideas offers great features, including free upgrades for 12 months and free support for 6 months, the price might seem high to some people. The Basic and Pro plans cost $599 and $799 respectively while the Ultimate extension goes for $1299.
2) Product Designer Canvas
Product Designer Canvas (PDC) is a leading online designer software offered by Magebay that allows users to personalize products such as t-shirts, business cards, postcards, photo frames, flyers, brochures, and much more.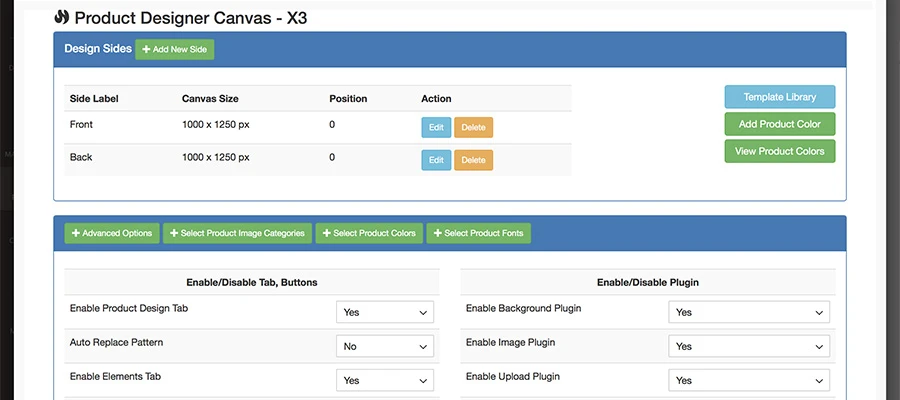 This software comes with a truckload of incredible features, and according to the provider, the PDC is an "all in purpose product designer tool."
Some of its features include
For Customers
Variety of Products: Customers can create custom designs for different products on your eCommerce store.
Artwork Libraries: Your customers can edit and modify thousands of artworks in libraries in order to get a unique design for products.
Save and Share: Your customers can save and share their custom designs with friends on social media.
Custom Image Upload: Product Designer Canvas allows your customers to upload images from the PCs, or import from an online gallery.
Photo crop: This feature allows users to crop their photos the way they want.
Mobile responsiveness: Product Designer Canvas has a user-friendly interface, and it's fully responsive on mobile devices.
For Admin
Font size and color management: You can control and manage the fonts and colors that will be available to your customers.
On/Off functionals: Store managers can turn on/off some functions such as font, custom upload, etc.
Other features for admin include clipart, text, and layouts price management, easy data input, and quotes and pattern management.
Customizable source codes
Bootstrap
jQuery and Fabricjs combinations
3) Advance Product Designer
This is an advance product designer extension from AppJetty that allows your customers to personalize or carve their abstract thoughts into beautiful and printable designs on different products such as T-shirts, bags, caps, pillowcase, gifts, etc., before placing an order.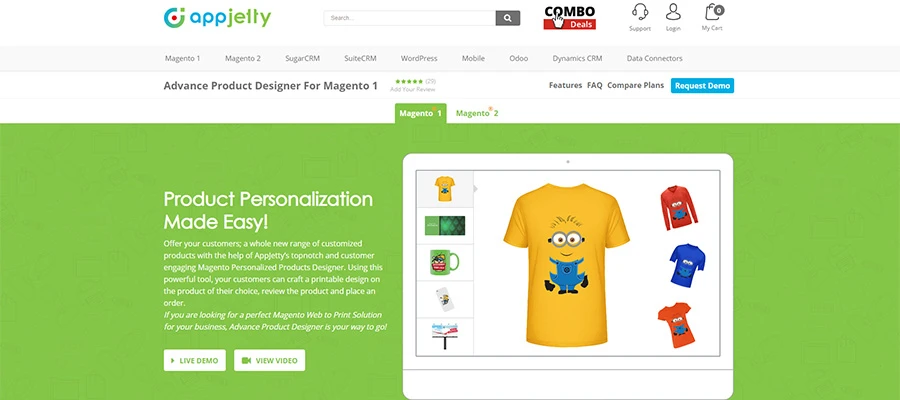 Appjetty Advance Product Designer software is easy to use. Once you click on "Start Designing," it navigates you to a product designing page where your customers can personalize their products by using text, quotes, templates, clipart, or custom image which they can upload from their computer or mobile device.
Some of its features include:
Text Feature: This lets customers add text or quote with different font types and sizes.
Design Management: This allows your customers to select from the already made designs or upload a custom image of 600 dots per inch from their device or social media.
Templates: This product designer extension has many different models that customers can use if they don't want to upload a custom image.
Change Product: Your customers can use this feature to switch between products available on your store whenever they lose interest in the current product they are designing.
My Designs: This is where customers can store their designs for future use. They can also save their design halfway and continue later.
Smart Search: This lets customers search for products, templates, or clipart faster.
Multiple Designing: This feature allows your customers to add more than one design area on a single product. For example, customers will be able to design the front and back of their T-shirt using this option. This helps to give your clients more control over their design as they can add, edit, and delete whatever design they want.
Advance Product Designer extension has three packages: Standard, Pro, and Ultimate version. These plans vary in price, ranging from $375 to $999. You get 6 months free support and one-year upgrades when you subscribe to any of the packages.
4) Magento Product Designer By Design'N'Buy
If you are looking for the most complete Magento web-to-print solution, then this Design'N'Buy creation is apt for your business. Available on Magento Cloud, Magento Community and Magento Commerce, the product configurator plugin combines the power of personalization with Magento (obviously!) to give you a wholesome web2print software.
The Magento product designer enables printers to sell custom print products such as photo albums, banners, corporate gifts, t-shirts, mugs, hats, and so on with ease. Since PrintCommerce integrates directly with Magento's ordering process, this brings down cart abandonment rates considerably.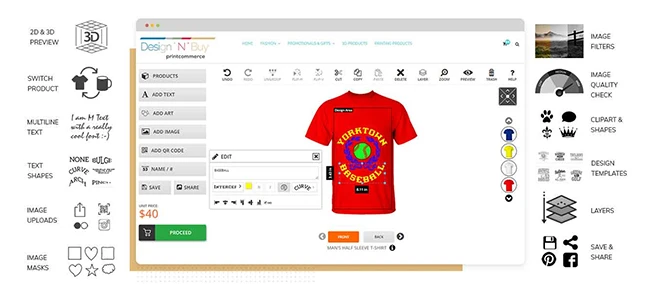 Features:
Fantastic visual editor
Use a powerful Magento 2 custom product design tool to offer editable templates that your end customers can quickly customize and order. There are also live pricing and 3D preview options to process orders quickly.
Custom image upload
Design'N'Buy emphasizes a lot on mobile responsiveness, which is what allows your customers to upload images from their desktop or mobile, while on the go.
Easy website setup
Whether you already have a Magento site or need a new one, Design'N'Buy will work with you to ensure you have an eCommerce storefront either built on or integrated with PrintCommerce hassle-free.
Simple save-and-share option
Your end customers can save their custom designers on their own user account and share it with their friends and family on social media.
Useful for various businesses
The Magento web-to-print solution is an ideal choice for trade printers, print brokers, digital printers, specialty printers and wide-format printers who want to take their businesses to the next level.
Efficient customer service
Use Design'N'Buy highly dedicated maintenance and support team who are 24/7 ready to work on the backend of your Magento product configurator plugin.
5) Product Designer Pro
This is a pro extension for any online business that sells custom products. This tool is compatible with multiple platforms such as Magento, Shopify, Woocommerce, Opencart, etc. Product Designer Pro tool also supports different printing formats such as Digital, embroidery, Screen, Laser, Vinyl and so on.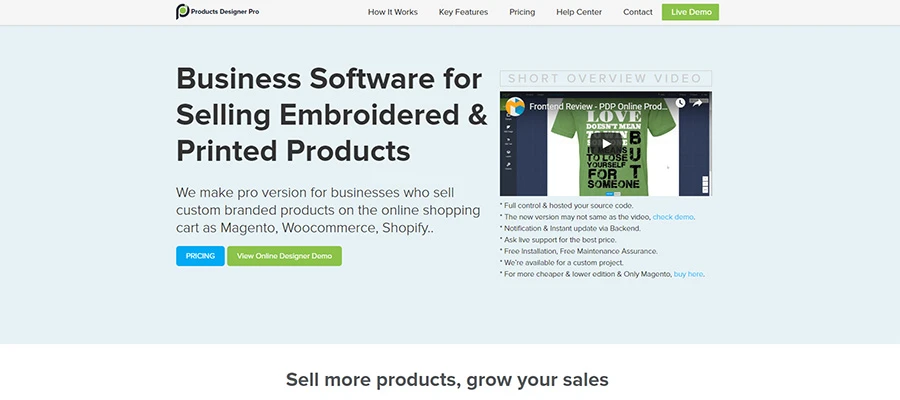 This software is one of the best Magento product designer tools in the market. It has a responsive, user-friendly and simple interface. You don't have to worry if your customers will find it difficult because it's easy to use. Customers can select thousands of free templates from the library, which they can use for their designs.
Interestingly, all ongoing designs are autosave so that customers will never lose their work unexpectedly. The final printing result is always at its best with 300 DPI output quality.
Some of its features include:
A wide range of customizable products: With Product Designer Pro, your customers will be able to create amazing custom designs for a variety of products available on your store.
Thousands of clipart and templates: This extension comes with thousands of already made templates and clipart which makes things easier and a lot faster for your customers.
Social media photo upload: Your customers can import their photos from social media.
Output Quality: Product Design Pro offers a high-quality output of at least 300 DPI for all customized designs. All files support SVG, PNG, and PDG. Customers can also specify the size of the printing.
E-commerce Integration: Product Designer Pro is designed for product customization on any online store. You can integrate it into Magento, Shopify, WooCommerce, etc.
6) CMSmart Product Designer
CMSmart has provided a premium product designer tool for store owners who want their customers to have a great users experience while customizing products online.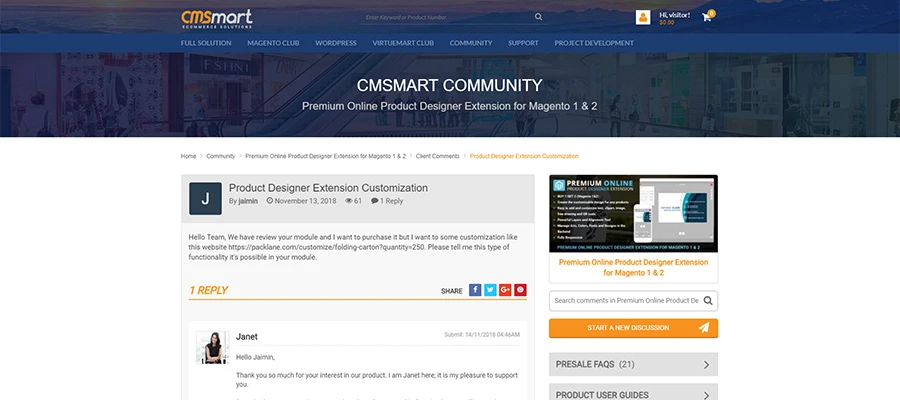 This extension allows your customers to create beautiful designs on products of their preference, after which they can preview to see how the outcome will be on the product. CMSmart is compatible with Magento 1 and Magento 2 as well as other online stores.
Some of its features include:
Personalize any product: It allows your customers to create designs and customize any products available on your store.
QR code function: You customers can create QR codes and add to their designs.
Text and image management: This allows customers to add, edit and delete text, clipart, and images to achieve the desired result.
Free drawing tool: This feature helps customers to create or draw images just as they expect it. Your customers can also customize the layers using "select brush, brush shape & dimension, and color."
Design preview feature: Customers can preview their designs while working to ensure that they achieve the perfect outcome.
Font, color, and art management: This is accessible from the backend. It allows you as the store owner to customize the font, color, and art that will be available to your customers for product design on the frontend.
On/off functions: You can activate or deactivate different functionals such as add image, add a QR code, add art, etc.
Although Cmsmart Product Designer is a sophisticated extension for e-tail stores, it doesn't come with straightforward pricing. Standard payment for the tool cost $213 while auto renewal is $199.
That's not all, Cmsmart also recommends that to prevent its product designer software from conflicting with other tools on your store, you should also buy three additional extensions. Installing the product designer tool alongside the three others will cost $433 for standard payment and $419 for auto-renewal.
7) Zakeke Interactive Product Designer
Zakeke is a good choice for those searching for a cloud extension that will allow customers to personalize products on their Magento store.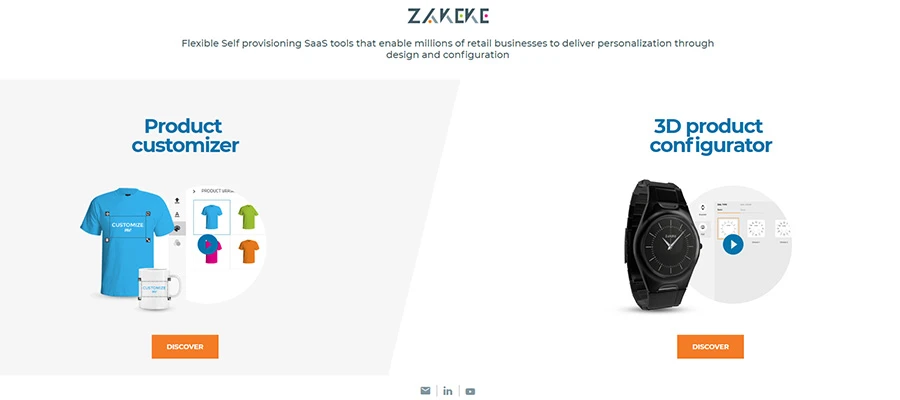 Your customers can use this Magento product designer tool to customize products like apparel, gifts, phone cases, and others. This can be done with the aid of text, clipart, and images. It also comes with a 3D preview.
Some of its features include:
Cloud Service: Zakeke provides cloud services which eliminate your worries for hosting, coding, and updates.
3D live Preview: This feature allows customers to preview their customized products in 3D.
Free templates: Zakeke product designer tool comes with a load of free templates that customers can use for their products.
100% responsive: There is a dedicated version that allows customers to create designs with their mobile devices such as smartphones and tablets.
Great support team: This Magento extension gives you direct access to its super responsive customer care, which you can use from the admin dashboard.
Unlimited Storage Space: Allows users to save their designs on a cloud with unlimited space.
Image filters: Customers can filter their custom images with the inbuilt filters.
Multiple File Formats: The extension supports different formats such as SVG, PNG, PDF, AutoCAD DXF, etc.
Multiple Language and Currency: This Magento product designer tool can be used in any country as it supports many languages and currencies.

8) inkXE
inkXE is an e-commerce product designer extension that you can use on your Magento store for product customization. Your customers can use inkXE to create personalized designs for different products like t-shirts, cap, promotional gifts, and many more.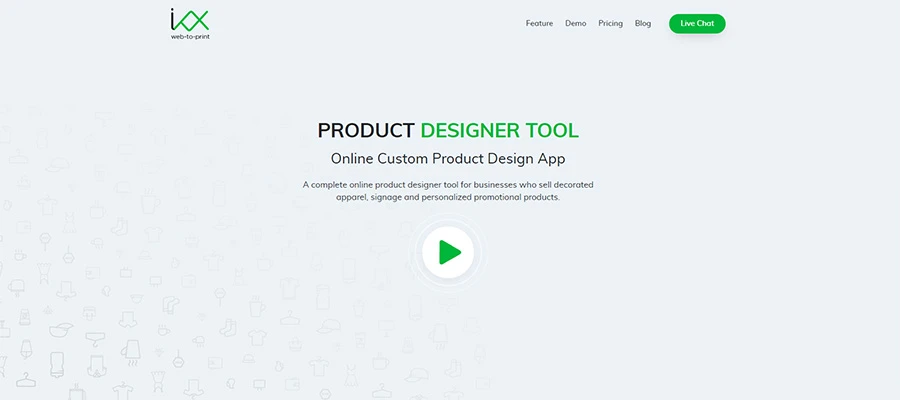 This Magento product designer software has a great backend for admin and a friendly interface that enhance user experience. It is compatible with any e-commerce shopping cart system whether Magento, WooCommerce, Shopify, Zoey Commerce, 3dCart or BigCommerce.
Some of its features include:
Fully responsive: This extension is 100% responsive on any device. You can use it smoothly on your mobile phones, tablets, and computers.
Custom image upload: Customers can manually upload a preferred photo from their device or import from Facebook. The image can take different formats such as SVG, JPEG, PDF, AI, or CDR. You can also upload vector images.
Real-Time Preview: Your customers can preview their designs in 3D while working.
Free Templates: inkXE comes with free templates, fonts, and vector clipart to make things easy for your customers.
Other interesting features include QR codes creation, layering, quotations, and design sharing.
inkXE doesn't use a monthly or annual subscription payment system, it issues a lifetime license to its customers. The standard payment for this extension is $2499 while enterprise costs $3999 one time payment. You will also get one-year free support plus one month Skype/IM support.
9) GoMage Product Designer
GoMage Product Designer Tool was designed to give users the opportunity of personalizing the products available on Magento digital stores. Once you install this extension in your store, your customers will be able to create their own designs and logos on any products you're offering for sale such as t-shirts, caps, mug, and so on. You can consult the online logo creator too.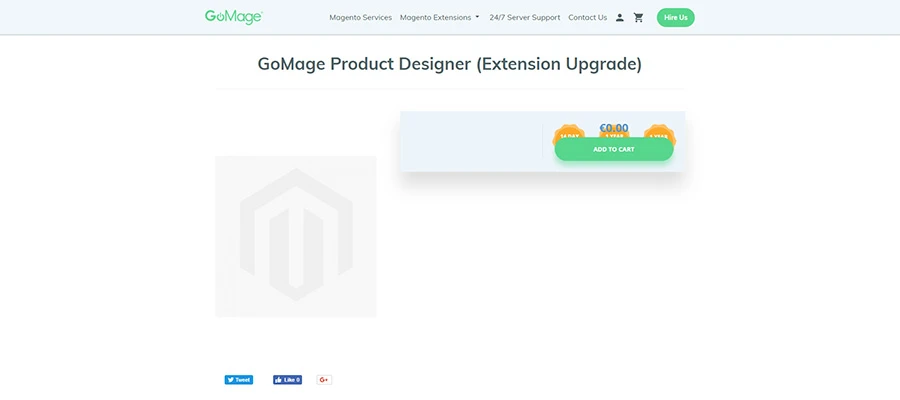 GoMage is convenient for both the end users and the store admins because of the many benefits it offers. Your customers can easily create uniques, either from the pre-installed templates or custom image, as well as preview the design they want on the product. As a store manager, you can set the font size, color, and text effect from the backend.
Some of its features include:
Custom image upload: Users can upload their own photos and use them for product design image.
No Flash: GoMage uses sophisticated techs such as CSS3 and HTML5.
Fully responsive and user-friendly: This Magento extension features a super responsive design while maintaining compatibility with mobile devices. Use GoMage v2.3 and above for enhanced mobile responsiveness and better user experience.
Clipart library: Your customers can edit the product design by adding elements such as cliparts, images, text, and shapes.
10) Customily
Customily offers an online product designer extension that allows end users to customize any product they want on your Magento online store. You can use Customily to personalize products like t-shirts, mugs, business cards, bags, and many more.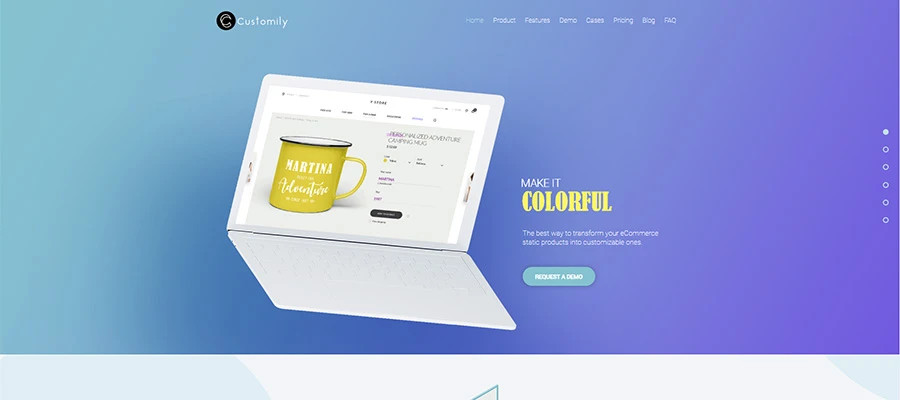 This software gives your customers the opportunity to upload custom images and designs, and also let them personalize the uploaded image by adding custom clipart and text. This will improve the overall value of your products, which in turn will increase customers engagement in your e-commerce business.
Customily product designer tool also comes with an online preview feature that allows your customers to see the possible outcome of their design. The software also has the web to print tools that offer high resolution in files such as PDF, Ai, PNG, EPS, of the designs for either printing or engraving.
11) Magento 2 Product Designer By MageComp
Magento 2 Product Designer Extension allows customers to customize the product by adding text and images and performing styling options. The extension provides customers with designing tools to create a unique product design of their choice. Help guide of all the design tools helps to simplify the process of product custom designing for customers. The module allows changing the font styling, text color and background color. Customers can easily print, download and even share the custom product design via social media. Improve the shopping experience and sales by offering customized experiences using the Custom Product Design Magento 2 Extension.
Why use the MageComp Product Designer Extension for Magento 2?
Create attractive and unique product designs
Share custom product designs with friends
Preview and download custom designs
Print-ready designs using an easy-to-use design tool
Offers help guide tour of designing tool to customers
Charge extra fees for personalized products
Admin has total control over product customization options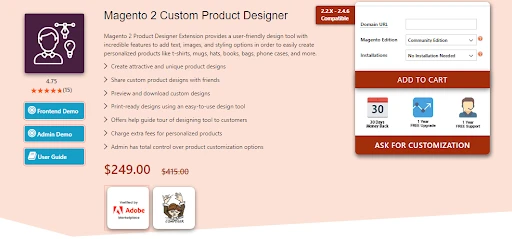 Some of its features include:
Interactive personalization: Your customers will not only be able to create any custom design they want for the products on your store, but they will also be able to use the live preview feature that helps them stay on track while creating the design.
Fully Responsive on Multiple Ecom Stores: You can seamlessly integrate customily product designer extension into any e-commerce store like Magento, Shopify, WooCommerce, etc. It also comes with 100% responsiveness across all devices like smartphones, tablets, and PCs.
Ready for production: All the custom products design is ready for your manufacturer which helps to reduce both time and cost. All you have to do is to provide the manufacturers with the right information about your customers' designs
Social sharing: Customily allows your customers to share all their designs on social media which will increase customers' engagement and likely attract more clients to your e-commerce store.
Conclusion
So these are the top 10 Magento Product Designer Extensions that you can add to your online store for product customization. However, ensure you consider the factors we discussed earlier before choosing any Magento product designer tool for your e-commerce business. The software you want to use should have a friendly interface and mobile responsiveness since most internet users mainly use mobile devices to surf the web.
A good product designer tool shouldn't cost you a fortune. It should be cost effective and fit right into your budget. Some product designer tool providers offer mouthwatering discounts to their users, and it's advisable that you take advantage of such offers in order to save some money.
#toc_container {
margin: 50px auto;
background: transparent;
border: 4px solid #aaa;
padding: 0 40px 40px 40px;
width: auto;
display: table;
font-size: 95%;
}
#toc_container p.toc_title {
background-color: #ccc;
position: relative;
max-width: fit-content;
text-align: center;
font-weight: 500;
margin: -19px auto 30px auto;
padding: 0 15px;
margin-bottom: 15px;
height: 32px;
}
#toc_container p.toc_title:before {
right: 100%;
border-left: 1rem solid #fff;
}
#toc_container p.toc_title:after, #toc_container p.toc_title:before {
border-top: 1rem solid #ccc;
border-bottom: 1rem solid #ccc;
content: "";
position: absolute;
top: 0;
bottom: 0;
width: 0;
height: 0;
}
#toc_container p.toc_title:after {
left: 100%;
border-right: 1rem solid #fff;
}
#toc_container.no_bullets li:before {
content: "";
border-top: 1px dashed #ccc;
display: block;
position: absolute;
top: 21px;
width: 100%;
z-index: 1;
}
#toc_container a {
background-color: #fff;
z-index: 2;
position: relative;
padding-right: 10px;
color: #FF7700 !important;
}
.toc_number {
float: right;
color: #aaa;
padding: 0 0 0 10px;
background-color: #fff;
display: block;
z-index: 2;
position: relative;
}
#toc_container.no_bullets li, #toc_container.no_bullets ul, #toc_container.no_bullets ul li, .toc_widget_list.no_bullets, .toc_widget_list.no_bullets li {
background: 0 0;
list-style-type: none;
list-style: none;
position: relative;
margin-left:0;
}
#toc_container.no_bullets li:before {
content: "";
border-top: 1px dashed #ccc;
display: block;
position: absolute;
top: 21px;
width: 100%;
z-index: 1;
}
#toc_container a {
background-color: #fff;
z-index: 2;
position: relative;
padding-right: 10px;
}
.toc_number {
float: right;
color: #aaa;
padding: 0 0 0 10px;
background-color: #fff;
display: block;
z-index: 2;
position: relative;
}