The eCommerce industry is rapidly changing. To ensure you never stay behind, understanding the trending strategies is important. Personalization is a future for B2C eCommerce businesses.
Personalized marketing provides a customized experience for each end user. It helps to improve customer fulfillment and allows you to go the extra mile. There are a lot of benefits of personalization in eCommerce.
This article will help you explore the core advantages, strategies, and examples of executing eCommerce personalization for the B2C segment to ensure higher business growth.
Personalized B2C ECommerce, A Game-Changer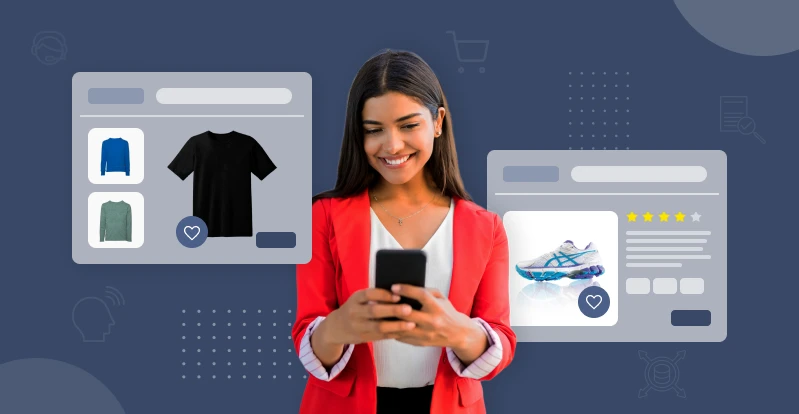 Personalization in ECommerce?
Personalized eCommerce is all about providing a distinctive experience to the end users. This practice can be executed by considering various factors, data-driven analysis, and the use of software. This section will discuss the core factors and elements that influence personalization.
Purchasing Behavior
Consumer purchasing behavior is a process followed by the end-users to make final buying decisions. In personalized trends, analyzing consumer purchasing behavior is majorly important. It helps them to develop strategies based on their unique behavior and provides more relevant solutions.
Demographic Factors
Demographic aspects define buying behavior based on gender, age, earnings, education, and marital status. This factor is vital for personalization to understand the core needs of the end-users based on their demographic behavior.
Psychological Factors
The psychological factor is a process of consumer purchasing behavior based on their unique thought process, belief systems, values, motivation, and perceptions. This factor allows one to get a deep understanding of the consumer.
Digital Survey
The digital survey helps gather information about the individuals. This process can be done by sending personalized surveys on social media and email campaigns and also can be done by resolving their issue through the customer support system. It will help the business better understand its customers by getting knowledge about their concerns.
Data Analysis
Most eCommerce businesses conduct data analysis through their consumption and browsing records to ensure an overall consumer understanding. It helps the industry understand individuals' preferred and non-preferred products and offers them the best commodity.
Performing this process needs to be done by a third-party tool to ensure the expected outcome.However, clear information about the data use needs to be shared with the consumer. In addition, it helps consumers to understand their data security and brand transparency.
Data-Driven Elements
eCommerce personalization tools use AI-based data-driven solutions, Machine learning, and other analytics tools to collect and analyze the data. These data are accessed based on different behavioral factors.
The data collection process varies based on the brands. Amazon uses the AWS tool for conducting personalization using machine learning.
Traditional eCommerce vs. Personalized ECommerce
According to the Forbes report, "The eCommerce market is expected to grow $8.1 trillion over the period of 2026. Hence, staying up-to-date with the trending tools, practices, and strategies is a primary concern. We often come across the concept of traditional and personalized eCommerce.
The core difference between these two tools depends on their strategy implementation. Traditional eCommerce targets a mass audience for providing products and services. On the other hand, personalization focuses on providing customized services to a specific audience.
The growing demand for the eCommerce industry has enhanced the challenges of retaining consumers. It massively hampers traditional b2b ecommerce software solutions platforms, as they follow a one-way marketing strategy.
It comes with the drawback of needing to be customized and meet the unique needs of the end customers. As a result, it eventually slows down consumer retention and sales.
On the other hand, personalization strategies are aimed at one-to-one marketing. It will help you meet the actual consumer needs and ensure higher retention.
How ECommerce Personalization work for B2C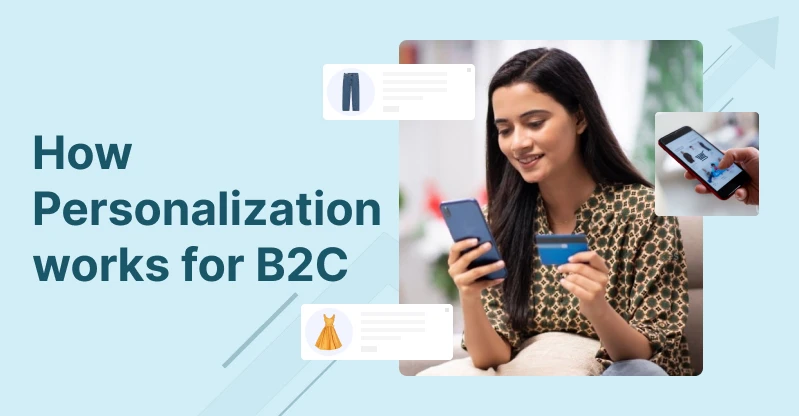 Today's world revolves around eCommerce, from day-to-day products to specialized ones; everything can be available online. Based on a recent study done by BigCommerce, "67% of individuals prefer to use eCommerce shopping over in-store shopping". This ratio is growing over time, as most individuals like the products and services on their doorsteps.
Therefore, providing an exceptional shopping experience is the core requirement. The personalization platform is a great tool that helps improve consumer satisfaction.
These days individuals prefer to get personal experiences rather than generic ones. This scenario has created the requirement for personalized trends in the eCommerce industry.
It's essential for the B2C business, as it demands more tailored products and services. The B2C eCommerce personalization trends are associated with various activities. The most helpful process starts with understanding the target audience and meeting their needs accordingly.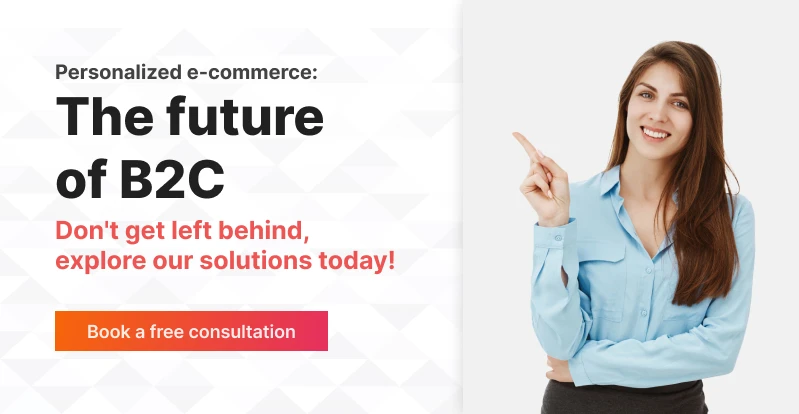 Amazon is a significant player in the eCommerce industry and has set higher expectations for B2C customers by using eCommerce personalization platform. They understand customer interaction and offer them product personalization based on their specific interest.
An example of how Amazon practices eCommerce personalization
If a customer is exploring commodities from the pet segment, then Amazon will send them more product options, offers, new arrival updates, and emails based on the same category. It benefits them to get more aligned information and products based on their needs. It eventually helps to enhance the sales ratio and customer conversion rate.
Benefits of Personalized B2C ECommerce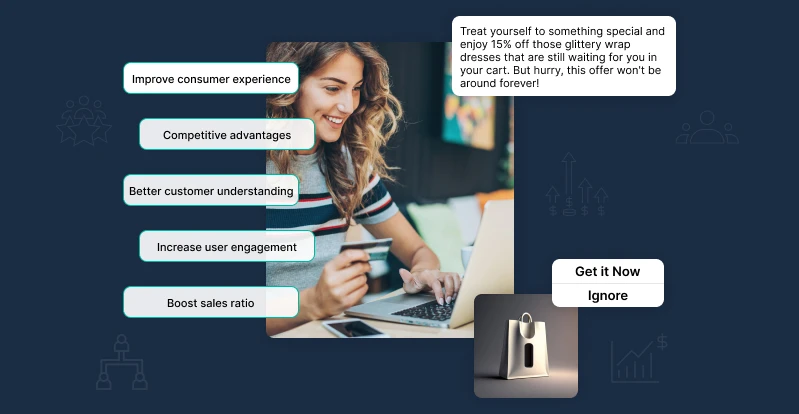 ECommerce personalized strategies involve various benefits. It focused on different factors, tools, and end-users analysis. A few of the core benefits are below mentioned:
Improve Consumer Experience
Personalized marketing aligned with consumer needs. Understanding the actual condition of customers helps to showcase and offer suitable products. Personalized tools help to provide specific products, information, promotional events, and updates based on the different demands of the users.
It helps to create an enjoyable shopping experience for the end-users. It allows consumers to cut down their time and fulfill their genuine needs.
Competitive Advantages
Personalizing eCommerce allows you to stay ahead of the crowd. It will help you to deal with your competitors by providing more satisfying services. Improving consumer retention and loyalty is becoming challenging day by day.
The abundant option for consumers nowadays changes their purchasing decision in a few seconds. Hence, offering a personalized experience can help to improve their conversion rate and brand loyalty.
Besides, personalization allows for resolving the specific concern of the individuals, including privacy, comfort, and secondary factors. Therefore, personalized marketing helps motivate customers to influence their purchasing decisions by focusing on all aspects.
Better Customer Understanding
Personalized marketing allows you to understand your end-users in a better manner by analyzing their habits and behavior. This process is conducted by using some advanced technology.
For example, the eCommerce personalization software helps to understand the customer better by analyzing their data in real-time. With the help of these data, the organization can understand consumer buying habits, preferences, and disliked factors. This analysis helps to provide the best offering to the end user.
Increase User Engagement and Loyalty
A personalized marketing approach helps your customer feel valued. Providing precise information, relevant product recommendation, and offers that can fulfill the need of your customer help to increase their engagement and loyalty.
Boost Sales Ratio
Increasing customer engagement by satisfying them is the core factor that impacts the sales ratio. By aligning with consumer needs, it's possible to enhance the order value, which results in higher sales growth and business success.
Strategy Implementation for Personalized B2C ECommerce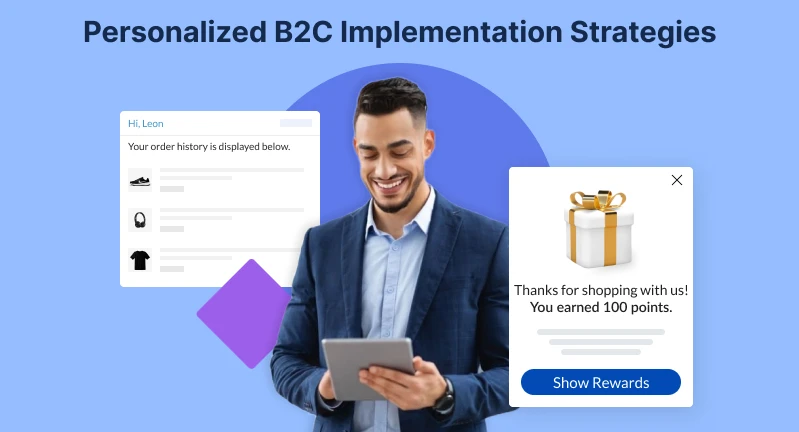 Implementing a personalized strategy in B2C eCommerce is complex. It comes with various limitations. Most eCommerce businesses need help to cope with the competition due to the inability to understand consumer needs.
Therefore, using personalization tools in eCommerce and approaches for implementation is a prime concern. Here are some core strategies that can do wonder for your business.
Understand your Target Audience
Knowing your consumer is the top priority for any business. It's specifically necessary for conducting personalized marketing. It can perform by analyzing consumer behavior by approaching AI-driven tools, data analysis platforms, and relevant software that can help collect and analyze the data in real time.
These tools allow you to get unique data about consumer demographic, geographical, and behavioral patterns to ensure a strong understanding. It will help to provide the right solutions and commodities to the right people at the right time.
For example, an 18-year-old customer tends to browse electronic goods but needs help to make the purchase decision. Providing him with product personalization options about the same product line will help to motivate him to choose the right commodity. It can be involved with exclusive offers, rewards points, or price and product customization.
Customer Segment-Based Product Development
Every customer demands an exceptional experience. A segment-based solution can be the key to meeting their expectations. This strategy includes the need for product personalization.
Designing your product and services according to the exact needs of the consumer allows you to stay ahead of the crowd. Personalizing the product can play an essential role in influencing your consumer compared to generic.
For example, analyzing the individual's taste, preference, and budget is necessary for dealing with a food product line. It will allow you to offer them the best product that fulfills their needs. Additional categories about their food taste can also provide a personalized experience.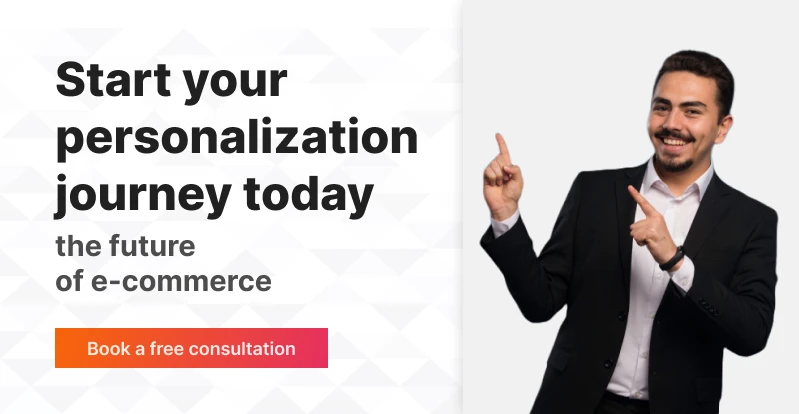 Develop Customer Behavioral-Based Product Offers
If your products are not meeting your end-user's expectations, then it can cost higher on your sales ratio. To ensure a great buying experience adopting a behavioral-based product offering is a foremost concern.
This strategy allows you to offer products or services based on consumer-specific behavior. It can perform by analyzing the consumption pattern, preferences, and the influence factors of buyer's psychology.
For example, If your business deals with a grocery product, then understanding the trend of grocery consumption for individuals is essential to send them personalized offers. In addition, it will help to improve the repetitive purchase by considering users buying history. It can also be done by identifying their segments, situational aspects, and psychology.
Conduct Personalized Survey
Understanding your consumer is a never-ending process. To beat the competition, more than relying on data is required. Therefore, following a personalized survey can be helpful to ensure vital insight.
A customized survey includes various one-to-one questions for improving the individual shopping experience. The survey module can perform depth research on the end user's behavior and other purchasing factors. It will help you get more clarity on their unique needs and resolve them to ensure customer loyalty.
This process can be done by including your customer support team in collecting and analyzing the feedback. Addressing their particular issues will help you to make them feel valued and delighted.
For example, If consumer reports in the survey that he is unsatisfied with the website experience, offering a customized website experience can be beneficial. Website personalization is a best practice for providing a personalized experience to each visitor. In addition, it helps to align with your customer's exact needs by offering segment-based solutions.
Understanding the Primary and Secondary Concerns
Knowing your customer for offering personalized experience is not only limited to their product or services. It can be a primary or secondary concern influencing their purchasing decision. Addressing these concerns will help your business differentiate from all the competitors. It can be based on their psychological behavior, habits, or situational factors.
For example, you have identified that consumers are concerned about their privacy policies on your website due to the personalized offers. You can solve this issue by providing them with clarity about the brand's data collection policies.
Sending them emails, content, and notifications about how their data is safe with you will help them to feel secure and confident about your brand. It will also allow them to choose you compared to your competitors for meeting their real needs.
Personalized Social Media and Email Marketing Campaign
According to a recent report, "personalized email marketing helps improve the conversion rate by 10% and sales by 20%, compared to non-personalized". That indicates customers are more intended to receive personalized offers and information about your brand than a generic one.
Executing a social media or email campaign will be more valuable if aligned with the current and unique requirements of the customer. A need-based buyer persona can help you meet their needs and customize the campaign accordingly.
For example, sending personalized offers, product advice, new arrival details, and rewards to meet specific necessities can help to improve the conversion rate.
Suppose a consumer is interested in an accessories product line. In that case, sending them relevant offers and product information through social media and email campaigns can help improve transformation.
Examples of personalization in B2C eCommerce
Personalization trends in eCommerce have been adopted and followed by many top B2C brands in recent years. Let's explore the success stories of leading players like Amazon, Stitch Fix, Walmart, and Starbucks.
Amazon
While discussing personalization, you must recognize Amazon. This brand has set different expectations regarding personalized marketing by using omnichannel. Amazon targets consumers through behavioral factors, contextual-based data, and predictability based on their purchasing history.
As a result, they have achieved higher conversion rates than other eCommerce brands. Amazon offers a personalized experience by product suggestions, wishlist reminders, and new arrival details on purchasing habits. Their customer service is also terrific. It helps to develop a great shopping experience for the consumer.
Stitch Fix
Getting a brand that is only customized for you is a dream for all consumers. Stitch Fix is a great example of eCommerce personalization strategy. With this strategy it has successfully provided a unique offering to more than 2 million customers in the USA.
The brand offers a customized style for each customer by combining clothing and accessories, a note from the expert for following the specific style based on their preference, and an easy return policy.
In addition, using machine learning, AI-driven data, and human expert suggestions helps them to provide personalized experiences. With these strategies, they have retained almost one fourth of customers in just six months.
Walmart
Walmart is a leading eCommerce brand that provides personalized experiences to its consumers to enhance conversion rates. This strategy has increased their sales ratio and made them stay ahead of their competitors.
Walmart analyzes geographical data and recommends products to their customers based on location trends. It also allows its customers to create customized shopping lists and provide exclusive offers that suit them based on their buying patterns.
Starbucks
Getting mail and notification that perfectly meets the user's needs is a win-win situation. Starbucks is someone who exceptionally personalized email and social media campaigns. It helped them achieve higher revenue compared to the other players in the eCommerce beverage industry.
They use machine learning tools to analyze the real-time needs of their customers. They provide offers, rewards, messages, and recommendations based on tastes and consumption history. They use strategies like providing virtual drinks before ordering to ensure higher consumer satisfaction. It increases customer loyalty by satisfying their beverage needs.
Conclusion
Satisfying customers is a complicated process. Personalized marketing can help you to deal with their changing behaviors and reach the top of success. In the B2C business, it has a unique advantage in influencing individuals and ensuring consumer satisfaction.
Personalization starts with data collection and analysis to ensure a great understanding of the target audience. eCommerce leaders have chosen various tools to personalize customer experience to provide higher success rates.
A recent survey has found that "51% of eCommerce businesses choose personalization strategies by using AI to enhance their consumer interactions. By the coming year, it is expected to grow by 25% to improve customer satisfaction"
The growing ratio of omnichannel, digital commerce, AI-driven, and machine-learning tools predicts a prosperous future of personalization in the eCommerce industry. Choosing the right third-party tool can help you to get a better upshot. Start personalization before it's too late, and see the change in your revenue report.