SMS marketing in itself is super powerful. Now, add to this two other power-packed elements – data and personalization. The results? SMS remarketing – a marketing technique that guarantees big sales. Read on to know more about what SMS remarketing is, its best practices and the potential benefits for your business.
SMS is still relevant. More so when it comes to businesses interacting with customers and prospects through SMS marketing and remarketing endeavors. In simple words, text messages are opened more quickly. They are concise and convenient and effectively drive recipients to take action.
According to Gartner, SMS open and response rates are as high as 98% and 45%, respectively, in contrast to corresponding figures of 20% and 6% for email. Moreover, as per Voiceage.com, SMS messages are read in the first 3 minutes, with 82% of people saying that they open every text they receive and 19% of all links in the SMS being clicked.
What is SMS Remarketing? 
SMS remarketing is a marketing technique to bring back customers and visitors who know about your product or are interested in them.
However, SMS remarketing can be carried out after contacting prospects and customers and obtaining their phone numbers consensually. Then, businesses can leverage this information (likes, dislikes, purchase behavior, contact information, etc.) to send personalized text messages to customers who have either abandoned their purchase or are stuck somewhere in the sales funnel.
You can use SMS remarketing to send messages to customers to do the following things:
Send shopping cart abandonment reminders so that they come back and check out
Following up with how their experience is with the products and services they bought
Asking for taking customer experience surveys
Sending offers, coupons, and more so they make a purchase again
Updates about your business – new product launch, opening a new store, etc.
And here are the types of people you can retarget.
Visitors to your site (who have entered their phone numbers on your website)
Current customers
Your competitors' customers
Former customers
Subscribers to your newsletters who are yet to buy from you.


Here's how to get started with SMS remarketing.
How to Get Started?
There are two points to starting an SMS remarketing campaign.
Collecting phone numbers consensually
While collecting phone numbers, don't be too direct and ensure you do so with their permission – or it may put your business in legal trouble.
Creating gated content
Developing assets like blogs, whitepapers, access to webcasts, podcasts, and tutorials and then trading them for customers' and prospects' phone numbers. This is a good way to offer immense value for the data you are asking for while also providing a sense of exclusivity.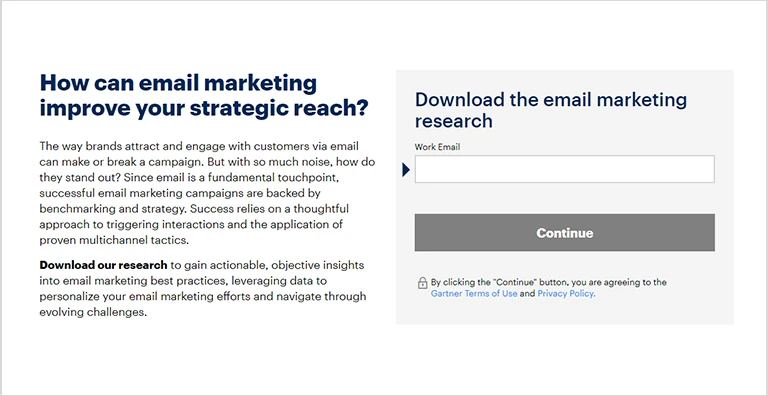 Gamification
Create a game on your website that visitors can play to win rewards. To be able to play, customers need to enter their phone numbers. Gamification helps you obtain customers' phone numbers and makes you stand out from competitors by having a more interactive and interesting website.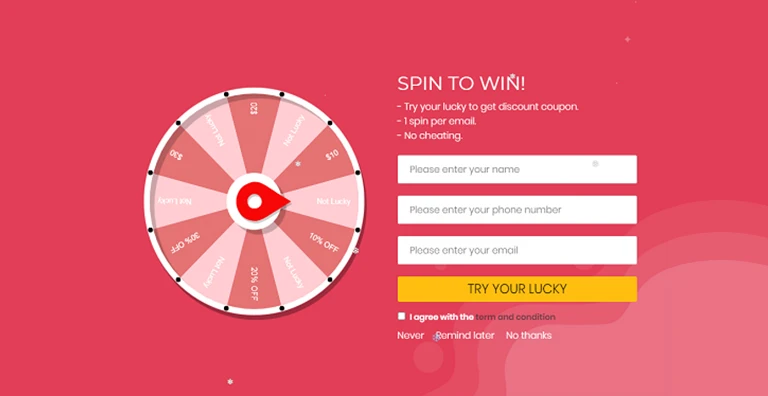 Giveaways
Another exciting way to gather numbers is by offering rewards in exchange for numbers. These rewards can be free goodies, discounts, cashback, and more.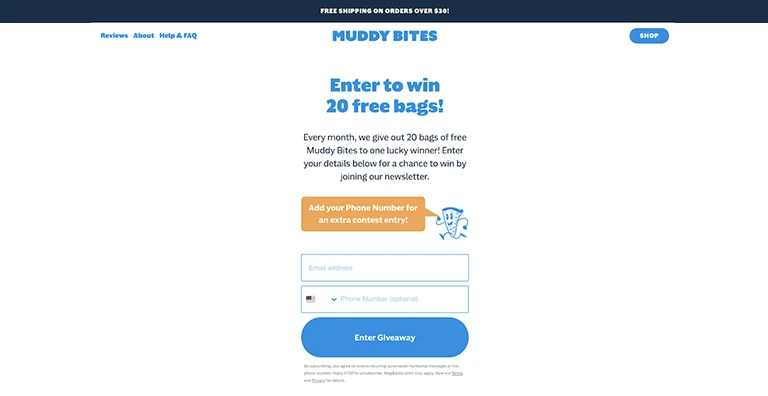 Online Checkout
This is the most common way to collect numbers. Ask customers to enter phone numbers as they insert their address before checking out. Also, it would be good practice for your business to help customers track their orders through their phones. For instance, through a tracking link sent as an SMS, this is how it would look: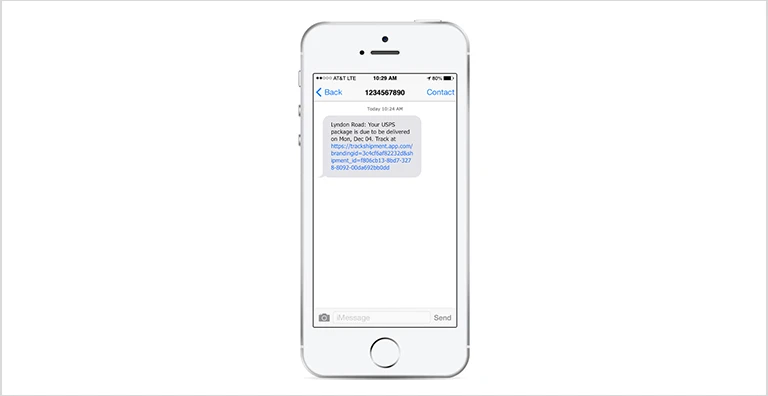 Deploying an SMS Marketing tool
An SMS marketing tool can help you with the needed data, tools, and technology to create a successful SMS remarketing campaign. With SMS marketing, you can integrate with other channels like email, effectively leverage data, and launch remarketing campaigns. You also get better end-to-end visibility, enabling you to track KPIs and optimize or pivot your remarketing strategies.
What are the benefits of SMS Remarketing?
The benefits of SMS Remarketing are multifold; here they are:
Personalized Experience
A 2019 report from Statista found that 90 percent of US respondents were receiving marketing messages that were irrelevant to them. Also, 44 percent of survey participants said they would switch brands that did personalization better.
You can send relevant messages powered by insights like their unique interests, pain points, and past purchases using an SMS marketing tool.
Here are some examples of personalized text messages by a beauty and wellness start-up. A customer has purchased hair oil to prevent hair loss, and this is what the remarketing texts would look like:
1. Cross-selling based on purchases
Is hair oil helping you
get thick hair? It's
time to make your skin
great now! Try our
skincare range today
XYZ10 for 10% off
@xyz.co/eb9691
 2. Topical Texts
There is uncertainty
in the world right now!
But if you use your hair
in the regime for 4 months,
you will certainly see
less hair fall!
@XYZ.co/3743e9
3. Texts for repeat customers
Your salary is credited!
Along with your SIPs,
invest in yourself.
HEALTH is WEALTH!
Use the $5 in your
XYZWallet for discounts
@ XYZ.co/3743e9
4. Customer success efforts
It takes 4 months
to see results
with our hair fall
regime. It's been
around 40 days since
your last order.
Use XY7 for 7% off
@ XYZ.co/d87fdf
Best ROIs
There are multiple reasons why SMS remarketing can yield a great return on investments:
You are targeting people already aware of or interested in your products and services.
You are sending them messages that are relevant to them and can offer them real-time benefits.
Text messages are crisp and extremely short-form, which makes it convenient for people to read and act upon them.
Prospects or customers don't need the internet or a smartphone to receive an SMS.
Reviving Cold Leads
Did you know that the average shopping cart abandonment rate is between 70-80%? That means out of 100 prospects that put products in the cart on your website, only 30-40% checkout.
However, SMS remarketing reduces your shopping cart abandonment rate.
An SMS marketing tool can automatically send texts when customers don't check out, urging customers to come back and make the payment. This works great since the conversion rate for abandoned cart messages is more than 10%, which means you enjoy immediate returns with remarketing texts.
Increasing CLV
We all know that the cost of customer acquisition is higher than the cost of retention. Moreover, an existing customer who trusts your brand will likely do more business with you. Therefore the greater the customer's lifetime value is, the bigger the profits.
A happy customer can also start a great word-of-mouth marketing campaign and increase your social proof by leaving positive reviews online.
It is not wise to rely solely on great products and services to create loyal customers (though it is of foundational importance.) Instead, you need to go the extra mile. SMS remarketing does the job for you.
It helps you carry out customer success activities – ensuring that your customers are having a good time using your products and services.
They help you send attractive offers to existing customers so they can make repeat purchases.
Better Brand Image
Being in your customer's inbox all the time has its benefits.
First, you will always have their attention, and they will not lose sight of you. In other words, SMS remarketing is personalized, cost-effective advertising.
Also, since you're always in touch with customers, you can give constant updates about your business. You can share the good news and clarify or apologize for not-so-good ones.
All in all, SMS remarketing keeps you relevant in the eyes of your customers.
Now that you know what the benefits of SMS remarketing are and how to get started, here are some of the best practices to keep in mind:
SMS Remarketing Best Practices
Ensure that you follow these points for a successful SMS remarketing campaign:
Always Mention Your Brand Name
Again, as mentioned above, SMS remarketing is a personalized and cost-effective advertisement. And while advertising, you must always display your brand's name. Here are some good examples: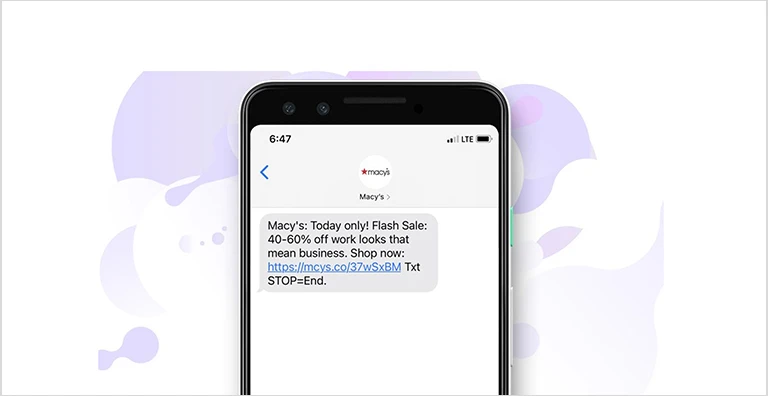 Always give an opt-in and opt-out option
You are legally obliged to do this. Moreover, you want to avoid annoying your customers with texts when they don't want any. Unfortunately, it is only sometimes that all customers want to receive remarketing texts indiscriminately. Therefore, you should always allow them to re-subscribe to your texts. Below are some examples.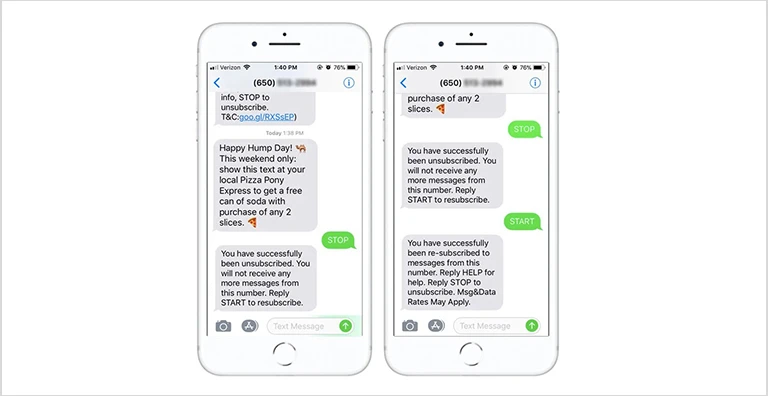 Display Urgency
Phrases like "while stock lasts," "limited time offer," "sale ends tonight," etc. have a huge impact in grabbing the attention of customers, and they urge them to act quickly. SMS without urgency or attention-grabbing phrases have more probability of being dismissed as just "business" or "sales" messages.
Use link shorteners
Since you only have to play with a limited number of characters, you should look for an SMS remarketing software that offers automatic link shortening for links redirecting to your web pages. This also helps you run SMS marketing campaigns cost-effectively.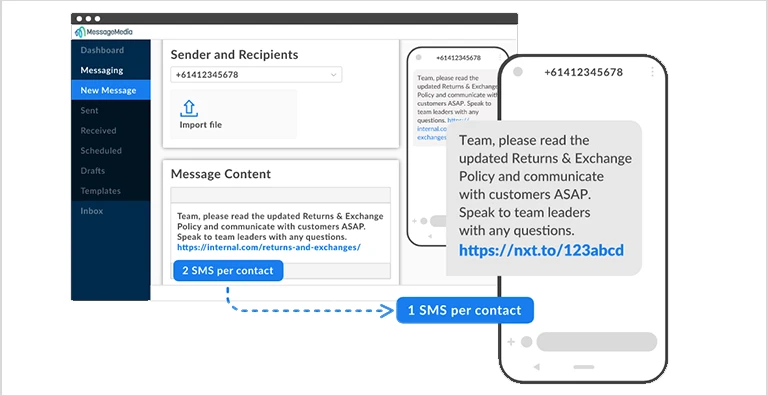 Focus heavily on great copywriting
This is one of the most important factors that determine the success of your SMS remarketing campaign. Invest in copywriters or hone your copywriting skills.
Be topical: Include what's going on in real-time in your messaging.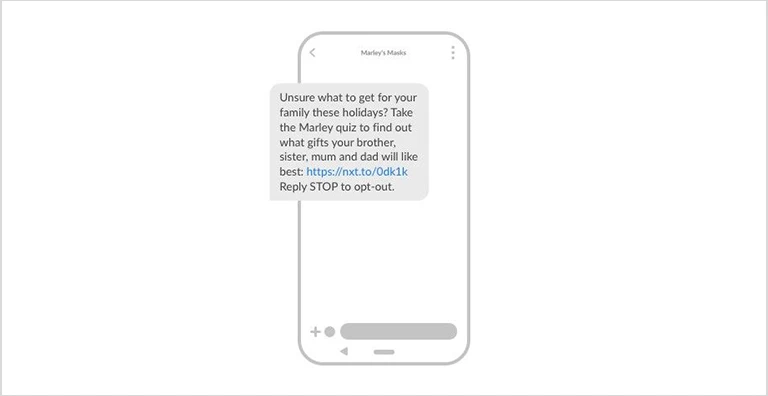 Be funny: A little humor will help you go a long way.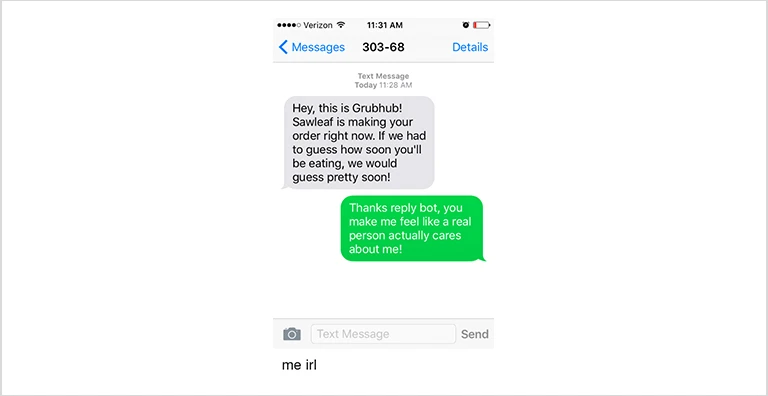 Be creative: Creativity will help you stand out.
Track Metrics
Always opt for SMS marketing tools that can give you multiple metrics to track and allow integration with other software like Google Analytics. Having visibility on important metrics like Click through rates (CTRs), Open rates, unsubscriptions, and more can help you optimize and pivot your strategies for a better return on investments.
Be intuitive
Have a deeper understanding of who your target audience is. Try to use empathy and visualize when they want to see a particular text and if that would not be the case. This has much to do with what you are selling and your customers' attributes, including likes, dislikes, age, gender, socio-economic status, and more.
For instance, if you sell baby care products, it would be more appropriate to drop texts in the morning or afternoon instead of at night. But, of course, this will only be a good idea if you sell wines.
Pick an Effective Call-to-Action (CTA)
If you want to avoid marooning your customer with your SMS, offer them a clear Call to action so that they know where to go next. Keep in mind the following questions while deciding on the best call to action.
After they read your message, what from the following you want them to do –
Click on a link.
Buy a product?
Visit your store personally?
Rate your products, services, or customer experience.
This should help you create effective CTAs.
Stay Updated With The Rules and Regulations
Lastly, keep in mind that you shall always adhere to federal rules and regulations for telecommunications. Failure to do so can put you in dire consequences.
SMS communications must abide by the Telephone Consumer Protection Act (TCPA) for businesses based out of the United States. According to the act, businesses cannot send marketing texts without getting consumers' consent. Businesses must also mandatorily disclose the campaign's terms and conditions, frequency of messages, and opt-in and opt-out options. You can learn more about text message privacy laws here.
Wrapping Up
SMS remarketing is a super powerful marketing technique that can be used when you have consensually obtained prospects' phone numbers and deployed an SMS marketing tool. Remarketing helps you with customer retention, increasing customer lifetime value, and guarantees a boost in sales. It is a cost-effective option that offers immediate and long-term profits. This article will help you bolster the power of SMS and remarketing, and your business can experience deeper customer relationships and more sales.