AI and Machine learning (ML) are the successful eCommerce trends that have completely transformed this industry.
AI helps provide aligned solutions by understanding consumers' exact needs. On the other hand, Machine learning can exceptionally predict the business outcome by analyzing individual data interactions.
As a result, Machine learning and AI play a significant role in the eCommerce business. It helps to grow knowledge about B2B and B2C customers to deliver a better experience.
This article will help you understand how AI and machine learning technologies are changing eCommerce, specifically for the B2B and B2C segments. It will also provide insights into use cases and implementation strategies to ensure you always stand out.
AI and Machine Learning the Future of eCommerce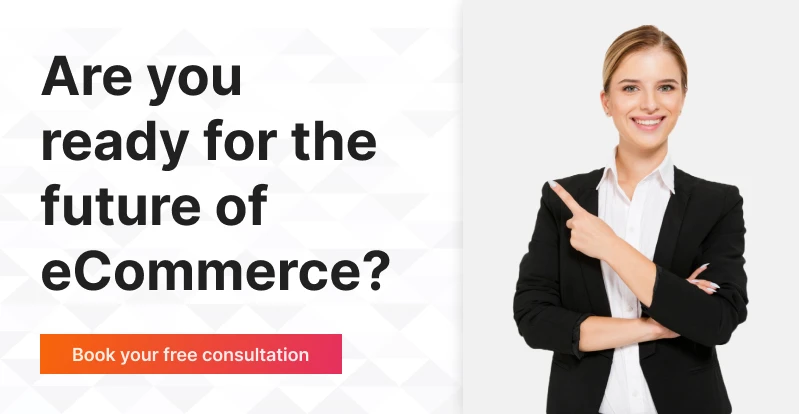 AI and machine learning are growing technologies that have remarkably changed the eCommerce industry. Forbes has found that "AI will manage 95% of customer interactions for the eCommerce industry in the coming years."
If you are an eCommerce player, understanding and adopting these technologies is a primary need for your business. So let's explore how these technologies are transforming the eCommerce industry.
Machine Learning for ECommerce
Understanding actual needs is essential to coping with higher consumer expectations. Machine learning uses algorithms that help ensure data accuracy. This technology will give you accurate data based on the buyer's search record, browsing history, and more to understand their requirements.
It eventually helps enhance the product recommendation quality and meet the target audience's expectations, which boosts revenue in the long term.
Machine learning models for ecommerce also allow you to get real-time insights about the target audience. So that you are always able to satisfy your buyer. This technology can effectively predict buyer decisions, which helps deliver more accurate and aligned products.
Artificial Intelligence for ECommerce
Implementing AI in your eCommerce business is a prime concern, as it's expected to reach (CAGR) of 37.3% by 2030. With a brilliant technical understanding, AI has changed the performance of the eCommerce industry.
The core use of artificial intelligence in business is to get accurate insights about the individual consumer by understanding their psychology, purchasing, and behavioral data. It allows eCommerce companies to enhance their understanding of their end-users.
Understanding your target audience better can solve most of your business barriers. For example, AI technology has helped various eCommerce businesses to enhance their sales ratio by evaluating their target audience in a personalized manner.
In addition, Artificial intelligence in websites added a core advantage for the eCommerce industry by effortlessly automating customer support with the help of powerful chatbots.
Role of Machine Learning and AI for B2B and B2C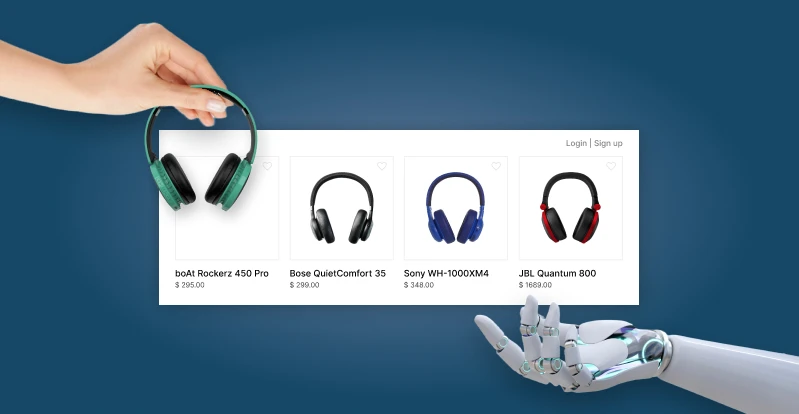 Machine learning and AI are advanced technologies that can transform the conversion rate for B2B and B2C consumers. Let's discover how these technologies work for B2B and B2C eCommerce.
AI and Machine Learning in B2B
B2B eCommerce is different from B2C. In this segment, you will not directly deal with consumers. But, with the wholesalers, dealers, or retailers. Hence, understanding your target audience is challenging and crucial for meeting their needs.
B2B eCommerce has significant benefits for business growth, and failure to meet their expectations can reduce your sales growth. Introducing AI and machine learning can help you meet their expectations and ensure a positive business outcome.
Streamline Lead Generation
Lead generation is critical, particularly for B2B businesses, as connecting with the right people and industry is challenging. However, AI and machine learning can help you overcome this with their unique solutions.
According to the Harvard Business Review, "By implementing AI in B2B business, 50% more lead generation can occur". AI and Machine learning automates the data collection and analysis process, saving time so that you can connect with the right person more quickly.
Personalization in B2B
Delivering personalization to your target audience is always tricky; it's specifically difficult for B2B consumers. AI and machine learning can help you get detailed data about their requirements. That will help you design a unique product, campaign, and pricing for them to improve your end-user retention and sales ratio.
Enhance Customer Relation
Maintaining a great relationship with the buyer is essential for the B2B segment, as it involves a long-term commitment. AI and Machine learning allows real-time support for resolving customer issues. It adds value to maintaining strong consumer relations.
AI and Machine Learning for B2C
In B2C eCommerce, you need to deal with the consumer directly. It is a complex process, as understanding their unique requirements can be challenging. Adopting AI and machine learning can simplify this process. These two technologies can collect and analyze the data and provide your business with a great understanding of individual users.
Better Customer Understanding
Understanding the target audience is a prime concern for eCommerce. You can achieve a successful growth rate if you know their exact requirements. AI and machine learning will help you get the consumer's precise demand by analyzing their browsing history, purchasing details, behavior factors, and buying habits.
It will allow you to comprehend their pattern of purchase, their predictions for the future, and their current preferences. That eventually helps you better understand them and offer perfectly aligned products and services.
Ensure Customer Delight
Providing excellent customer support is a USP for many eCommerce businesses. With the help of AI and Machine learning, you can deliver real-time support that can resolve your buyers issues and enhance their satisfaction. For example, the leading eCommerce player Amazon uses AI in websites to automate customer support, resulting in higher consumer satisfaction.
Enhance Customer Satisfaction
While shopping online, most individuals are looking for personalized. It has been found that the consumers mostly like brands that provide customized services. Implementing AI and machine learning can help you make unique product recommendations and deliver the best solutions.
Benefits of AI and Machine Learning for B2B and B2C eCommerce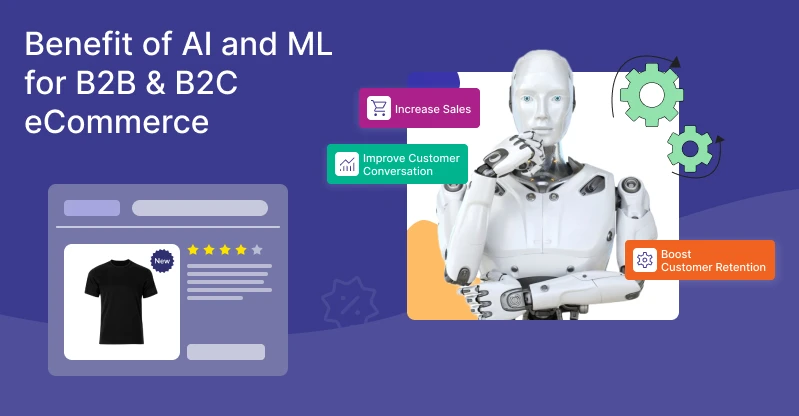 Boost Customer Retention
Machine learning, along with AI, allows you to personalize the customer experience, which helps to enhance retention. In addition, these two technologies help to get real-time insights and enable eCommerce businesses to align with buyers' needs.
Advancing Promotion and Advertising
AI and machine learning for businesses help improve eCommerce intelligence by providing personalization.
For example, a machine learning algorithm shows more accurate data based on the customer segment. That boosts your business's promotion and advertising events by focusing on a more aligned target market.
Additionally, AI and machine learning-based email tools can get excellent results for your business by streamlining the email marketing strategy. It helps to enhance higher conversion and click rates, allowing you to improve business promotion.
Increase Sales
Implementing AI in eCommerce has helped improve the data collection process that allows personalization. By providing a more aligned experience to the end-users, you can influence their buying decisions, which helps to grow the sales ratio in the long run.
On the eCommerce platform, AI has also added a chatbot experience that can help improve the consumer experience through real-time support. For example, Amazon's chatbot customer support tool is a prime factor in its success in the eCommerce industry.
Enhance Conversion Rate
AI and machine learning help improve search engine optimization. AI technology allows you to get a more competent outcome from the website that aligns with the end-user's needs.
On the other hand, Machine learning helps predict the consumer search result for delivering relevant product offers lead to higher conversion by satisfying their needs with helpful product advice and quick search results.
Simplify Business Process
The importance of machine learning and the use of AI in business is not limited to improving the customer experience. It is also useful for automating the entire operation. For example, using AI for ecommerce helps reduce repetitive tasks and enhance cost-effectiveness.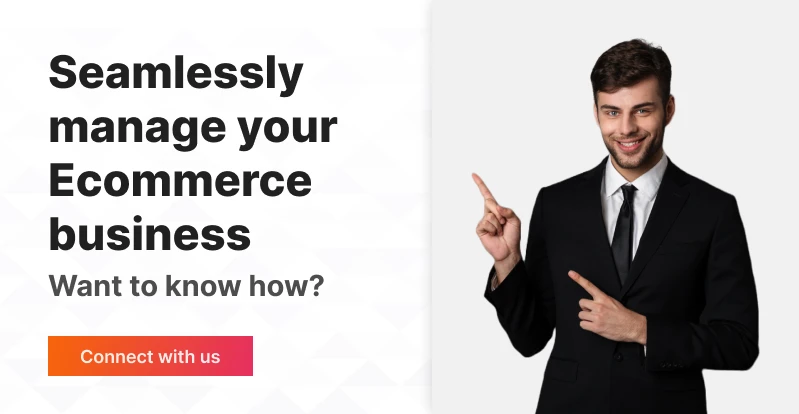 Machine learning can help seamlessly manage demand and supply by observing it in real-time. On the other hand, using Artificial intelligence in websites can automate customer support, product offers, promotional activities, email campaigning, social media promotion, and lots more to ensure a seamless process.
AI and Machine Learning Use Cases for B2B and B2C eCommerce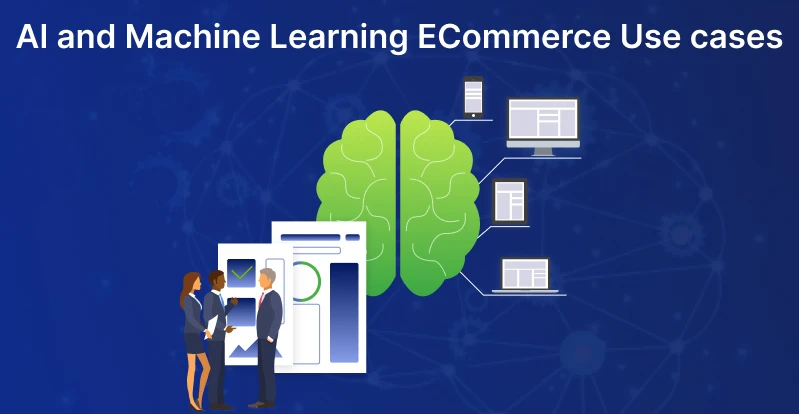 Personalization
Leading eCommerce brands like Amazon and Walmart have boosted customer loyalty and sales by providing personalized services to their end-users. AI technology helps to provide a customized experience by offering product recommendations based on user behavior and purchasing history.
On the other hand, Machine Learning helps design websites, product customization, price optimization, and personalized marketing campaigns with its accurate predictions. Combining these tools can seamlessly enhance the personalization experience for the end-users, leading to higher satisfaction.
Upgrade Search Results
In eCommerce, improving the search result is a core necessity. Machine learning uses advanced algorithms that help refine the website search result experience through detailed consumer data analysis.
It also helps boost the click rate and conversion rate of the website. In addition, Artificial Intelligence in websites helps improve search results through reasonable prediction, image recognition, and product recommendation, enhancing customer satisfaction.
Automate Demand and Supply
Managing demand and supply in the eCommerce business is challenging. However, with the help of AI and machine learning tools, you can simplify the process. Combining these tools can automate supply and demand prediction by analyzing real-time data.
The analysis allows companies to predict the consumer's needs and restock accordingly to ensure higher inventory and less waste. In addition, it will help run the business smoothly by precisely meeting the end user's demands.
Enhance Customer Service
Providing appropriate customer support is crucial for eCommerce. Failure to solve real-time issues can impact their retention rate. However, offering human support for running a 24/7 business is complicated.
Introducing an AI chatbot can help. These chatbots can provide real-time customer support to ensure higher satisfaction for B2B and B2C users. In addition, it can provide automated support and solve critical issues to ensure customer delight.
Besides, these chatbots are also helpful for recommending products and services when the customer visits the website. It gives individuals a deep understanding of the product line, leading to valuable decisions.
Fraud Detection
Most buyers are concerned about data protection before choosing an eCommerce brand. These industries are houses of consumer data. Unfortunately, that makes them targeted by hackers and phishers.
Machine learning can be an excellent solution for ensuring safety and fraud detection. This tool has expertise in detecting genuine and fraudulent transactions, improving customer data protection by reducing threats.
Price Optimization
Optimizing the product's pricing is a crucial B2C and B2B Machine learning use case. AI and Machine learning are experts in improving price optimization based on buyer data evaluation. It helps monitor the product's demand and supply by predicting dynamic pricing.
Furthermore, using Machine learning and AI in websites helps analyze consumer behavior for improving pricing decisions like offer generation, calculating the discount ratio, and estimating other business costs to ensure higher profit margins.
ECommerce Businesses that Successfully Implemented AI and Machine Learning
The future of machine learning and AI has predicted to set revolutionary growth for the eCommerce industry. Reports revealed "more than 80% of retail CEOs are planning to use AI-powered intelligent automation by 2027″. This process has been successfully implemented in the last few years. Let's explore a few success stories of the top eCommerce leaders.
Amazon
Amazon has fully trusted AI and machine learning to ensure higher business growth. They have implemented these tools to improve product recommendations, price optimization, and real-time support to offer end-users personalized experiences.
The brand has adopted these tools in logistics for accurately understanding demand and supply processes by conducting real-time evaluations. Besides, using chatbots for customer support is another machine learning and AI use case followed by Amazon. Following these strategies helps them to improve consumer satisfaction and seamless business operations.
Alibaba
Alibaba is another eCommerce player that has embraced and benefited from AI and machine learning mechanisms. This company has automated its customer support by adopting AI-based virtual assistance. This VA can solve most consumer queries and ensure higher satisfaction.
Alibaba also uses Machine learning to predict future demands, inventory management, and pricing offer hints. As a result, it helps them to develop appropriate product recommendations for the end-users.
IKEA
IKEA is a notable furniture eCommerce brand. They have used AI technology differently. They offer their buyers the AI-based AR experience to ensure better engagement and understanding.
With the help of AR platforms, users can virtually try their products based on their room size and make appropriate decisions. Besides, they also use Machine learning and AI to predict logistics to meet consumer demands.
How to Implement AI and Machine Learning for B2B and B2C ECommerce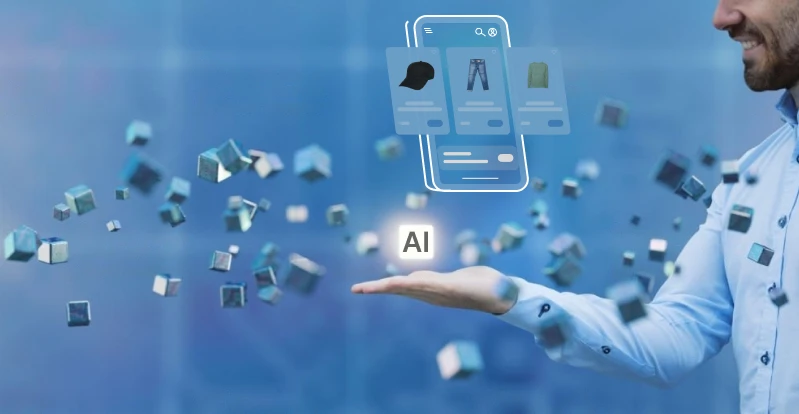 Identify the Technological Gap
Before executing AI and machine learning for your B2B and B2B eCommerce, you must understand the needs. The requirements can be based on the technological gap or some other factors. Comparing the currently used technology with the AI and Machine learning tools will help you to get a fair idea.
Get Familiar with AI and Machine Learning
Implementing AI and machine learning requires a fair understanding of the function and capabilities. Evaluating the core benefits of these tools with the existing product line and competitors can give you a better vision.
Focus on the Specific Segments
To ensure a positive outcome focusing on a specific segment is crucial. But first, you need to identify the pain point where you want to implement AI and Machine learning. For example, if you adopt it to enhance customer engagement, focusing on popular AI and Machine learning-based tools, like a chatbot, or VR/AR, will be helpful.
Choose Third-Party Platform Wisely
Support from the experts can help you get better results for enforcing these two technologies in your business. Therefore leveraging a third-party expert like us can be an excellent option for starting implementation.
Assign a Dedicated Team
Assigning a team to monitor the process is essential to ensure a fruitful outcome. Therefore, choose a team of experts and skilled people who can understand the process of AI and machine learning for the eCommerce business to meet your goal effectively.
Measure and Scale Up
Once the strategy is executed, measuring the progress is necessary. It will allow you to understand the stage of implementation. You can also analyze the gap and possible outcomes for ensuring a successful performance.
Conclusion
Implementing AI and Machine Learning is the future of eCommerce. Studies stated, "AI-powered eCommerce solutions will reach $16.8 billion by 2030," indicating that most leaders rely on it. Hence, executing these strategies can help you succeed in this competitive market by providing exceptional customer satisfaction. Furthermore, combining these two tools helps simplify your eCommerce process by profoundly understanding the end-users.
In addition, it allows your business to provide a personalized experience, which helps grow their satisfaction and sales. AI uses programming languages that support getting accurate information about the target audience. It allows you to segment your B2B and B2C consumers to provide more aligned products and services.
Using AI in websites to ensure a better consumer experience is chosen by many of the eCommerce players. A few of them are Amazon, Walmart, Alibaba, and IKEA. AI has helped them to provide a better experience resulting in a higher retention rate.
Embracing AI and Machine learning can be a significant step toward a successful eCommerce business. So start your journey on AI and machine learning today, and beat the competitive market like never before.