"Communication is key." While this old saying may seem quite overused, there's still much truth to it. In fact, in the modern business environment, effective team communication and collaboration is what sets many highly successful companies apart from the competition.
With efficient collaboration, businesses can hope to improve their problem-solving capacity, foster innovation and maintain a competitive advantage with the competition. In short, a collaborative business is an agile one well equipped to handle the rapid changes that the modern economy presents.
The difference between an agile business that can rapidly respond to change and adapt adequately, and a siloed business, where individuals and teams are hesitant to share information and communicate, can be found in collaboration. While the former is a recipe for success in rapidly changing sectors, the latter can lead to poor decision making and inefficiency.
With the rise of remote workers, it's even more important for businesses to focus on how employees are collaborating. As an example, 20-25% of US employees work remotely at least part of the time, a significant rise in the last decade. Engaging remote workers take an even more strategic approach and cutting edge tools, as their geographic spread puts up an additional barrier to collaboration.
If it's so clear that in the modern workplace teams need to collaborate effectively in order to reach their highest productivity levels, then why do so many businesses struggle in this area? The reasons are certainly complicated, but at the heart of them are perhaps a lack of understanding of the importance of collaboration and how to foster it and a lack of the right tools to implement it.
Read on in order to learn more about team collaboration, and discover tips and tools on how you can improve your business's agility through effective collaboration.
How do we define collaboration?
Team collaboration starts with a group of people united by a common goal or mission. This first step of alignment, often ignored by businesses, lays the groundwork for teams to effectively navigate priorities, divide roles, and layout processes to achieve concrete goals and grow a business.
Without alignment, you can find yourself in a situation where employees may be working at cross purposes or duplicating each others' work, leading to lower overall efficiency. That's why you'll find that investing in this alignment at the start is a crucial step in the collaboration process (more on this topic below).
Once a team has this clarity of purpose they are then able to clearly define their roles in achieving a goal. Traditional teamwork focuses solely on this element, dividing and assigning tasks (usually done by a manager), and pairing people to work together (also usually done by a manager). What sets collaboration apart is the equal participation of all teammates in the process and the value placed on each individuals' opinions and ideas.
Working collaboratively requires a clear division of labor, where each team member is contributing equally in their specific role and each member's contribution is valued. It also requires the space to hear team members' different ideas, as opposed to simply delegating tasks. This process of brainstorming and encouraging creativity is what ultimately empowers employees to be their most creative and effective.
To summarize, team collaboration includes the following main elements:
Shared short-term goals and long-term mission
Clear roles with equal participation between team members
Respect for different opinions and innovative solutions
Openness to changes in approaches
A focus on creating employee buy-in
As mentioned above, the collaboration process is different than the traditional management structure of one or a few "higher-ups" determining exactly how and when teams will accomplish certain tasks. This begs the question, however, of why this ultimately matters, and how effective team collaboration can actually benefit your business?
Are You Looking For Digital Marketing Services?
Why does it matter?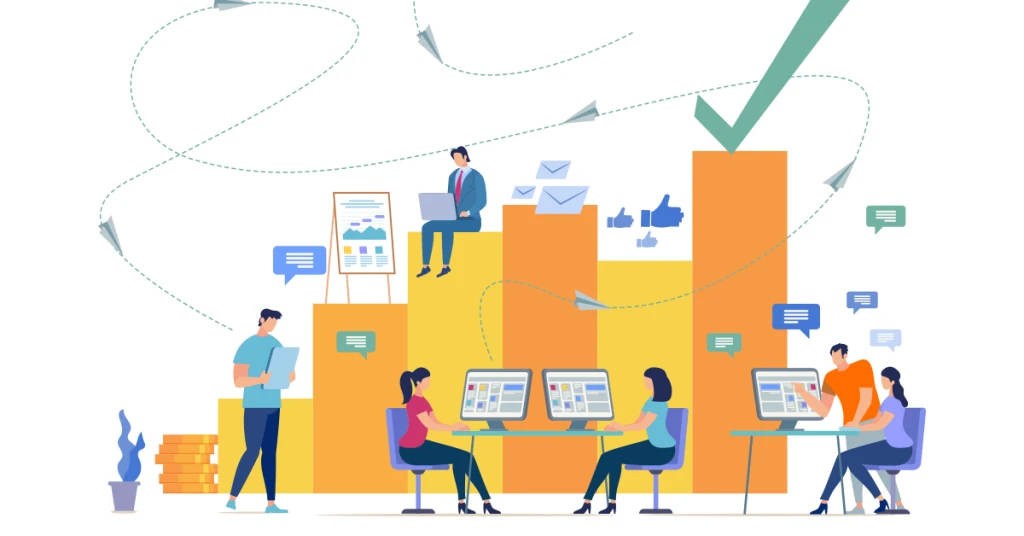 Teams that collaborate effectively work more productively
Perhaps the biggest benefit of your team's collaboration is the fact that it leads to higher productivity. Productivity is one of the most important metrics of your business's strengths, and finding ways to boost it should be a top priority. Collaborative businesses tend to perform better than those where employees feel they are working in silos, where portable backpack vacuums that will help them you deal with cleaning their mindsets are in inadequate quota.
A growing body of studies shows that by increasing your team's collaboration you can expect to improve workplace performance. In short, employees that effectively work together on joint projects complete more work with less input such as man hours and financial resources.
Collaboration builds connections between employees:
Working more closely together is one of the best ways to help build bridges of trust within your business. Trust within a team can lead to many subsequent benefits within your business, such as longer employee retention, and a general boost in morale.
Giving your employees the opportunity to work together is one of the best trust-building exercises available. The sense of accomplishment in achieving a shared objective will bring colleagues closer together, and encourage them to work together in the future.
Collaboration leads to innovative ideas
Studies show that the process of collaboration can lead to more innovation in a business environment. This finding is captured in the old saying that "two heads think better than one." Encouraging your employees to work together to tackle challenges will likely lead to more ideas both in terms of quantity and quality.
Innovation is crucial in the modern workplace, with its ever-increasing pace of change. Building effective collaboration structures and practices can help your business stay ahead of the competition.
Collaboration can help you recruit and retain top talent
As the economy in many countries continues to grow, your search for the right talent may be more difficult. With impressive jobs numbers in the US, for example, top talent is becoming more selective in their job opportunities, seeking out businesses that not only offer competitive compensation, but also an enticing work environment.
Being able to demonstrate that your business is collaborative and innovative can help you first recruit, and ultimately retain, the talent you need to drive your business forward. Employees are attracted to and stay in businesses where they feel valued and supported, two feelings that effective collaboration can provide.
Collaboration can increase overall motivation and engagement:
Employees that feel that they can easily work with their colleagues are likely to be more engaged and more highly motivated. Engagement itself leads to a wide range of benefits, and yet according to a recent Gallup International poll, only 13% of employees worldwide are engaged at work.
This lack of employee engagement can be countered with a strategic collaboration plan. Such a plan takes into account many of the engagement challenges that employees face: feeling that they don't have a voice, a lack of trust with colleagues, a lack of ownership, etc.
Above are the main benefits that you can expect to bring to your business when you improve your collaboration. While the list is not exhaustive, it certainly provides ample evidence that developing effective collaboration should be a top priority, which raises the question of how to approach improving your team's collaboration.
How to boost collaboration?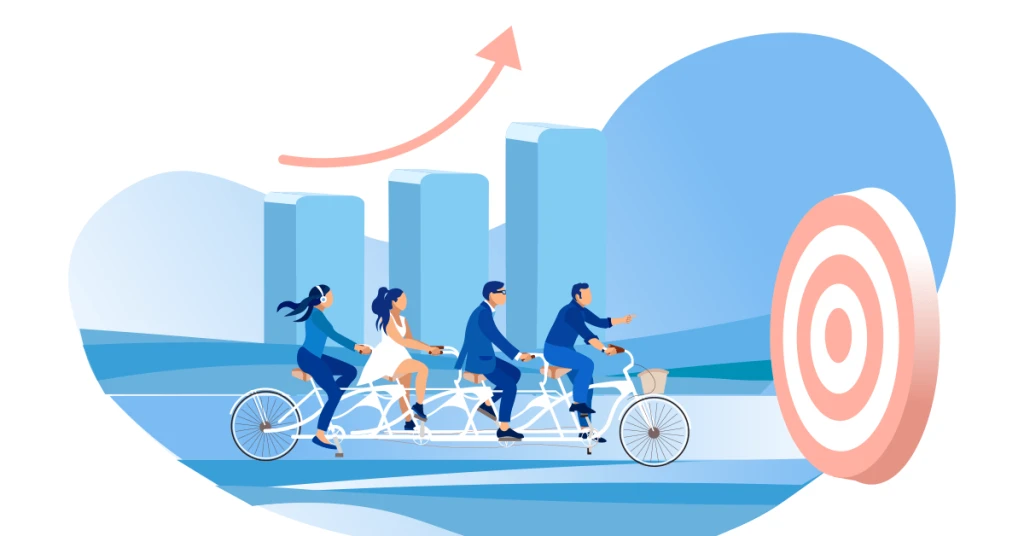 1. Vision:
As with any plan, creating a collaborative and agile business environment should begin with a clear vision. Creating a clear vision should in itself be a collaborative process that you embark on with your team. In this way, you will take the first steps to make your employees feel that they have a voice.
Try starting off with some open-ended questions:
What is the end state that you are trying to achieve?
How does your team look when collaborating effectively?
Why is effective collaboration ultimately important for you an
By answering these questions you will be able to create a clear endpoint that you and your team are working towards. This will help give clarity to your collective efforts, and ultimately will ensure that you are working in synch, and not at odds with each other.
2. Alignment:
Once you and your team are clear on the end goal you are working towards, your efforts should turn to increase team alignment in your everyday work. Working towards alignment is in itself a reflective process, so make this a part of your ongoing efforts that you revisit periodically.
Try to map out the different workstreams and processes within your business as a whole, and/or within each team. Once this is done you can determine where responsibilities lie, both individually and collectively. In this way, you will clearly see which team member is responsible for which aspect of the work, and ensure that there are collaborative processes when needed.
3. Brainstorming:
In order to collaborate effectively, team members should be encouraged to share their ideas and potential innovations. Ultimately, your employees are your most direct link to customers, therefore they will have the most relevant information on which approaches may work and which may not. If your employees feel that their ideas matter they will be more willing to think creatively.
Empowering employees to actively share their ideas and experience not only guarantees your team a constant flow of valuable information but also works to empower your employees. Empowered employees inevitably become more motivated and more willing to collaborate towards achieving common goals.
4. Knowledge Sharing:
In the dynamic information-rich modern work environment timely access to the right knowledge is a key aspect of collaboration. Much of collaboration depends on the ability to easily share and receive information. Giving your employees the right channels to share their job-related knowledge will increase theirs on job performance.
Good knowledge sharing should be both the specific channels of sharing (see some of the tools below), as well as the culture of sharing. In this regard, make sure that you find ways not only to streamline the knowledge sharing process but also to encourage and reward it.
By giving employees a sense of ownership over their work they will be more likely to feel a sense of responsibility to succeed. With this sense of responsibility comes an urge to collaborate, since working together is often the best way to accomplish a task or project.
Allowing employees more ownership can be a slightly scary proposition, as it means spreading out direct control over some of your work processes. Ultimately, however, the teams that collaborate most effectively are ones where team members are encouraged to own their work.
Boosting collaboration is a process, so don't expect your business to transform overnight. This is especially true when working with teams that have gotten used to the siloed approach. To develop the patience and perseverance to see your plan through. Also, don't hesitate to turn to technological solutions in the collaboration field to help you in your efforts!
Team collaboration tools
Once you have a clear understanding of what collaboration entails, and a plan for how you want to achieve it in your business, it's time to consider what tools you need. While a tool certainly won't guarantee collaboration by itself, when part of a wider plan and vision it can help to streamline and encourage many collaborative processes.
The tools below fall into two broad categories: communication and project management. The former can help with providing the right channels for your employees to communicate, share information and work together. The latter can help you structure complex projects and assign ownership.
1. Slack
Overview: An American based collaboration software, Slack comes with a range of features and integrations. Slack's main focus is on 'channels' which operate like persistent chat rooms and allow businesses to structure communication between teams. Slack also allows for searchable content such as messages, files, and people within a network.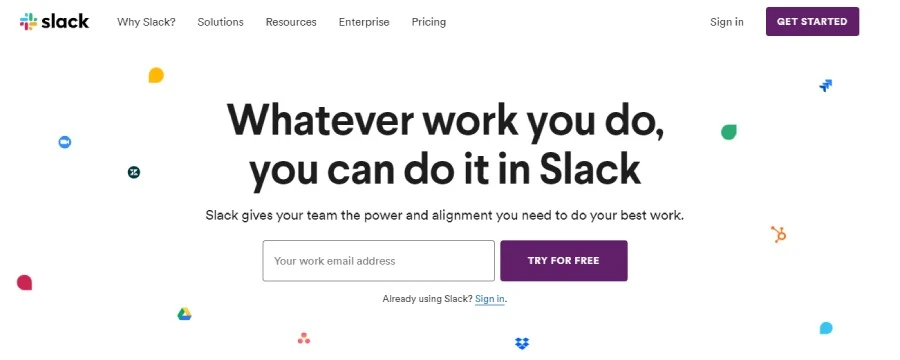 Pros: Slack's strongest features are its messaging ones, potentially leading to the streamlining of overall communication and the reduction of redundant emails. Slack also gives you a range of customizability and integration with other tools.
Cons: Slack can be somewhat complicated for new users, meaning it will take some time and effort to get your employees up to speed. Slack also comes in on the higher end of the price spectrum.
Pricing: Slack offers a free version with reduced features and two levels of enterprise packages at $6.67 for the Standard package per user and $12.50 for the Plus package per user (when billed annually).
2. Trello
Overview: A tool focused on effectiveproject management, Trello can help teams and groups across a range of industries to structure work processes and tasks. The 'list' and 'board' format of Trello allows larger projects to be visualized and broken down into smaller tasks and assigned to team members. Trello also comes with digital dashboards allowing you to track project progress.

Pros: Trello excels in easy to use project management tools, allowing you to easily structure complicated projects. Trello also integrates with a variety of other applications.
Cons: Trello is best used for project management, meaning if you're looking for a comprehensive tool that can also streamline communication this may not be the best choice.
Pricing: Trello has a free version that covers the basic features, as well as two levels of paid subscription. Business-class comes in at $9.99 per user and the Enterprise package starts at around $20 per user with a price reduction based on the number of overall users.
3. Brosix IM
Overview: A tool aimed at providing teams with secure communication and collaborative environment, Brosix IM specializes in private team communication networks. Brosix IM gives organizations privately administered networks with a range of collaboration and communication features, including video chat, file transfer, and remote desktop.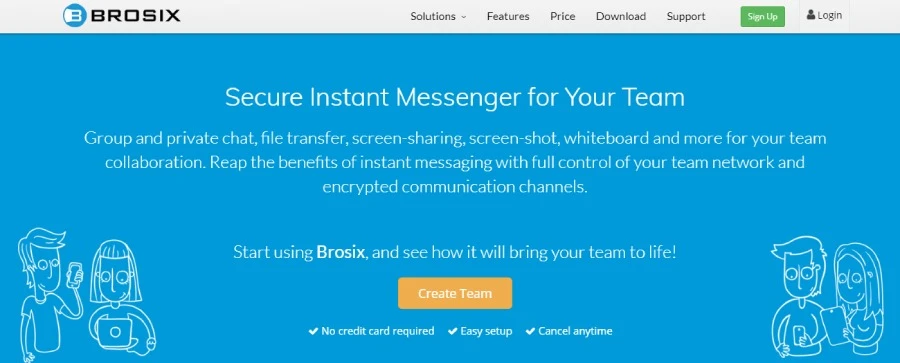 Pros: Brosix comes in at the lower end of the price scale, making it more affordable than many of its competitors. Brosix's emphasis on security also makes it a solid choice if safe communication is a top consideration.
Cons: Brosix's user interface can seem somewhat 'old school' compared to some of its competitors, with comparisons to some IM services of the past.
Pricing: Brosix offers a free version geared towards individual users. For teams, Brosix offers two paid plans. The Business plan comes in at $4.00 per user per month when billed annually, and the Enterprise version comes in at $6.00 per user.
4. Asana
Overview: Another tool focused on project management, Asana provides web-based and mobile work and project tracking features. Asana also comes with a range of notification and collaboration features, helping to keep employees on task. Asana can integrate with a variety of other applications.

Pros: Asana has a user-friendly interface and is less expensive than many of its competitors, meaning it's a good choice if you're just starting out with a project management tool.
Cons: Asana does come with a bit of a learning curve for new users, as its format can seem slightly complicated at first.
Pricing: Asana has a four-tiered pricing scheme, with a free version and three paid versions. The Premium package comes in at $9.99 per user per month when billed annually, the Business package comes in at $19.99 per user, and the Enterprise version is subject to specific sales contracts.
5. Flock
Overview: Another entry in the communication and collaboration tool category, Flock helps structure communication through teams and channels. Flock also helps teams to streamline other communication and collaboration tools in one place through a range of integrations. Flock comes with a range of collaborative features including video calls and screen sharing.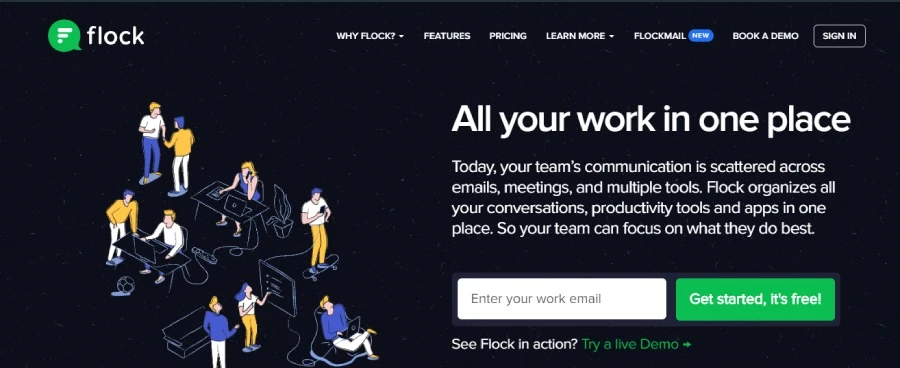 Pros: Given its focus on channels and teams, Flock is often compared to Slack, but comes in at a lower price. Flock also has a sleek design, making it appealing to the aesthetically minded.
Cons: Flock can seem somewhat overloaded with information for some users, meaning it could take some time for team members to get used to at first.
Pricing: Flock offers a free version geared towards small organizations just setting out, as well as two paid levels. The Pro Plan comes in at $4.50 per user when billed annually. The Enterprise version is subject to specific contracts.
6. ProofHub
Overview: A cloud-based project management tool, ProofHub supports teams in managing workflows and projects. ProofHub focuses on simple interface and setup, as well as a balance of tools. ProofHub's main features are related to task management and tracking, but also provides a range of communication features such as chat room like discussions as well.

Pros: ProofHub's user interface is simple and straightforward, making it a good choice if your team members are trying out a project management tool for the first time.
Cons: ProofHub currently doesn't have any budgeting tools.
Pricing: ProofHub stands out in that it offers a flat price rate regardless of the number of users in a business. The Essential package comes in at $45 per month when billed annually, and the Ultimate Control package comes in at $89 per month when billed annually.
These apps are just a sampling of the vast range of collaboration tools currently on the market. Given the abundance of choice, the tool that will ultimately work best for your team will depend on your specific preferences and needs. Take the time to do your research before making a final choice.
When making your choice consider where your team's strengths and weaknesses lie. Are your employees highly tech-savvy and eager to try out a complex tool? Or are they looking for something that has an easier learning curve? Do you need extra security features for your team? How about features, do you need a large range or just a few specific ones?
These are just a few of the questions you should answer before making your choice.
Final thoughts
Taking your team beyond simple teamwork towards collaboration is not a process that can happen overnight. Developing and encouraging effective team collaboration takes a structured approach, a clear understanding of the purpose of collaboration, the right tools, and most importantly, time.
While this is certainly a long-term investment, the ultimate payoff is well worth it. You can expect your team to become more mission-driven and motivated, more effective and innovative, and more in tune with the needs of your customers. In short, investing in effective collaboration is investing in your most valuable resource- people.
Author Bio
Nikola Baldikov is a Digital Marketing Manager at Brosix, a secure instant messaging software for business communication. Besides his passion for digital marketing, he is an avid fan of football and love to dance.