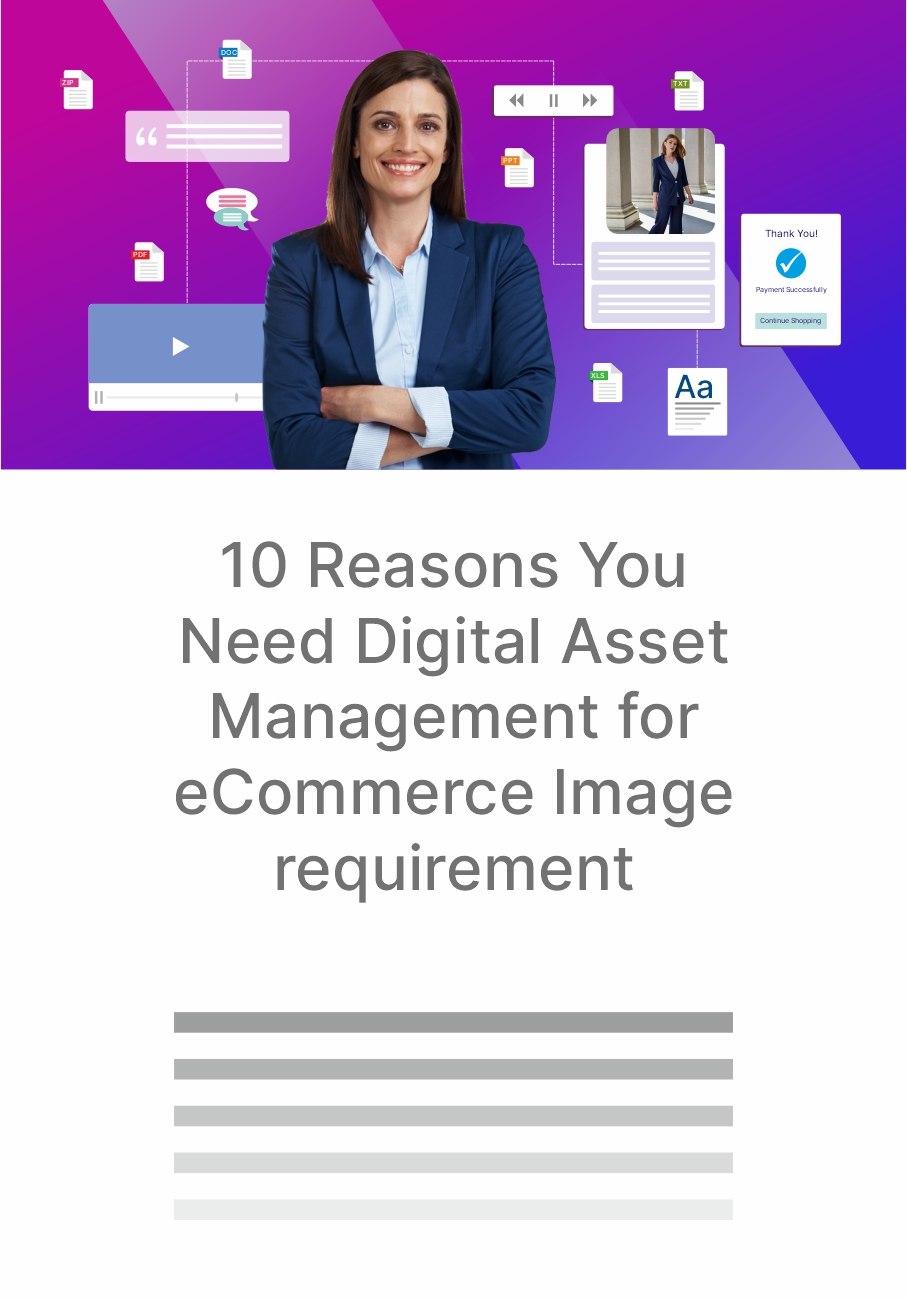 Get The Print Version
Download a PDF version for easier offline reading and sharing with coworkers
Effective management of digital assets has become essential for success in the rapidly changing and ever-evolving world of eCommerce. As an eCommerce company, you work with various digital assets, including marketing materials, videos, logos, and product photos.
These resources are essential for attracting customers, increasing conversions, and preserving a recognizable brand image. In addition, managing digital assets is essential today, so Digital Asset Management (DAM) is a must.
The act of centrally gathering, effectively storing, and dispersing digital assets is referred to as "digital asset management." It entails employing specialized software or systems to manage the entire lifecycle of digital assets, from production and organization to distribution and preservation.
The digital asset management market size was valued at USD 3,947 million in 2021. It is estimated to reach USD 8 million by 2030, registering a CAGR of 18% during the forecast period (2022-2030). However, there are various benefits of digital assets management companies in various industries, and the field of eCommerce is where its significance is most striking.
In this article, we will explore ten convincing reasons why embracing digital asset management is crucial for eCommerce firms. Understanding these causes will help you see how DAM can revolutionize your asset management procedures, improve your workflows, and take your eCommerce operations to new heights.
Why choose Digital Asset Management for eCommerce
Streamline Asset Organization
In an eCommerce setting, there is a vast collection of digital assets, and finding certain assets when needed becomes time-consuming and tedious without good organizing.
To make it simpler to search for, retrieve, and maintain consistency throughout your eCommerce platform, DAM offers a single repository where you can categorize, tag, and add metadata to assets.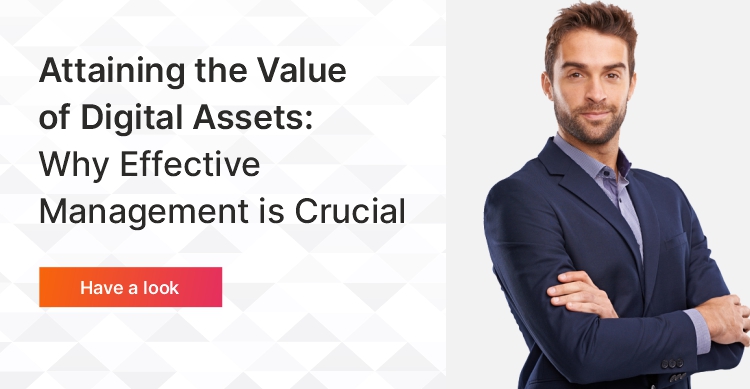 Enhance Brand Consistency
You can use DAM To maintain a consistent brand image. It will assist you in storing and sharing authorized brand assets throughout your organization, including logos, color schemes, and design templates.
It minimizes the possibility of inconsistent branding by ensuring all stakeholders access the most recent and brand-consistent images.
Accelerate Content Creation
For eCommerce companies, content generation is an ongoing struggle. DAM streamlines content development by offering a centralized center for already-existing digital materials.
Instead of starting from scratch, teams may quickly access and repurpose existing assets, saving time on content creation and searching. Content marketers who have integrated a Digital assets management platform spend 34% less time each week managing their assets.
Improve Collaboration and Workflows
Effective teamwork is essential in an eCommerce context since it involves marketing, design, and product management teams. It offers a centralized platform where teams may upload, evaluate, and share content, facilitating efficient workflows and removing version control problems.
Optimize Product Information Management (PIM)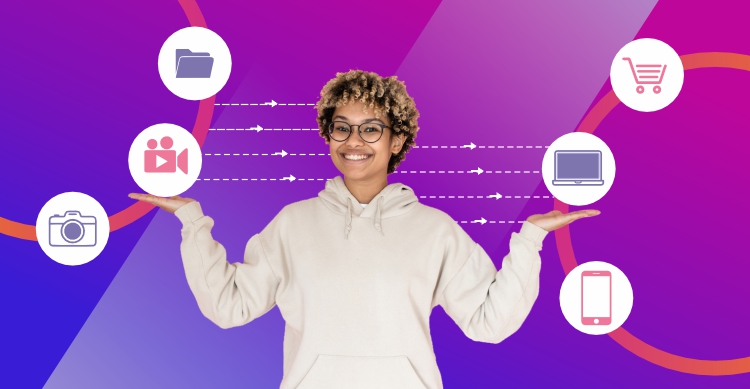 The success of eCommerce depends on having accurate and current product information. You can systematically store and manage product photos, descriptions, specs, and other materials by integrating a DAM system with your PIM system.
Enhance Search Engine Optimization (SEO)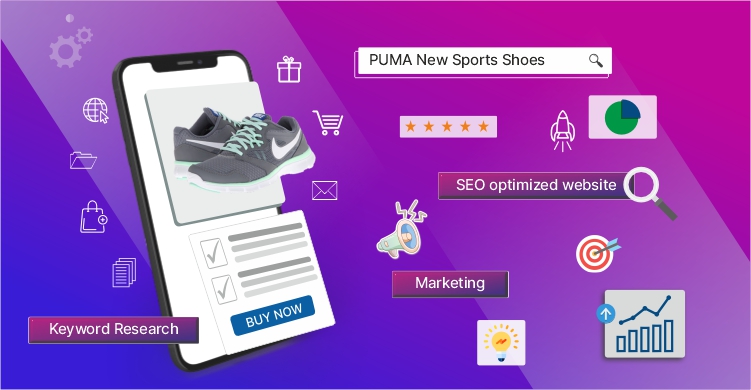 You may manage and store SEO-friendly metadata for your digital assets using a DAM system, such as alt tags and keywords. It improves how effectively search engines index and rank your product pages, enhancing organic traffic.
Simplify Digital Rights Management
A DAM system enables you to monitor and control the licenses and usage rights associated with your purchases, ensuring compliance with copyright laws, preventing unauthorized use of assets, and protecting your brand from legal consequences.
Personalize User Experiences
Using a Digital assets management system, you can store and manage customer-specific assets, including bespoke photos, videos, or product recommendations. These resources will enable you to develop customized experiences that connect with your clients and increase engagement and conversion rates.
Enable Omni channel Commerce
You can manage and distribute assets to numerous channels, including websites, mobile applications, social media, and marketplaces, with a DAM system, ensuring that customers everywhere consistently experience your brand and interact with you.
Enhance Scalability and Future Growth
As your company grows, an effective Digital assets management system can handle massive asset libraries and ensure effective asset management. It enables you to adjust to changing technology and market trends, keeping your eCommerce firm competitive.
How to Implement Digital Asset Management for eCommerce
Identify Your DAM Needs
Analyze the needs of your eCommerce business to identify the specific digital assets that must be handled. This contains pictures, movies, product descriptions, marketing materials, and other pertinent elements.
Research DAM Solutions
Examine the various Digital assets management solutions on the market. Think about metadata management, scalability, integration possibilities, and security features. Select a DAM system that fits your company's needs and budget.
Define Metadata and Taxonomy
Create an organized and thorough metadata approach for your digital assets. To efficiently organize and search materials, decide which metadata fields are crucial.
Establish a taxonomy or category structure appropriate for your eCommerce business to ensure uniformity among all assets.
Collect and Migrate Assets
Assemble your digital assets from multiple places, such as hard discs, online storage, or other departments. Cleanse and arrange the assets in accordance with your chosen taxonomy and metadata. Ensure suitable file formats and naming conventions before importing the content into the Digital assets management system.
Set User Permissions and Roles
Set restrictions on who can access, upload, edit, and delete assets. In your eCommerce organization, assign the proper rights based on the duties and requirements of various teams or individuals.
Train Users and Provide Guidelines
Hold training sessions to teach your employees practical Digital assets management tools usage. Specify standards and best practices for asset management, including methods for searching and adding metadata to files. Encourage user uptake and cooperation.
Integrate with Existing Systems
Integrate the Digital assets management system with other eCommerce platforms and tools you are utilizing, such as content management systems (CMS), product information management (PIM) systems, or marketing automation solutions. This ensures consistency while enabling seamless asset delivery across numerous channels.
Implement Workflows and Approvals
Lay up the processes for creating, reviewing, and approving assets. Establish a transparent chain of accountability and ensure that the essential checks and balances are performed before assets are published or dispersed to simplify operations and automate workflows whenever you can.
Ensure Backup and Security
Put in place reliable backup mechanisms to safeguard your digital assets from destruction or loss. Back up your Digital assets management system frequently to avoid data loss. Implement security measures to protect critical assets and limit access to authorized people.
Monitor and Optimize
Keep an eye on the performance and utilization of your Digital assets management system. Obtain user input and assess the system's performance regarding your eCommerce goals. Make the necessary corrections and changes based on analytics and user input knowledge.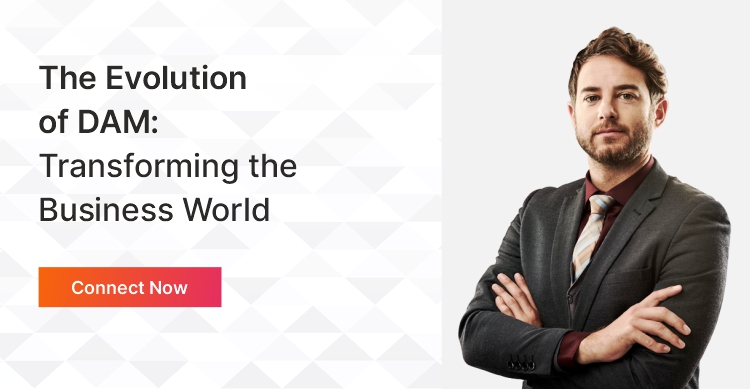 Success Stories of Digital Assets Management Integration
Under Armour
Under Armour, Inc. is an American sportswear company that manufactures footwear and apparel. Managing Under Armour's expanding collection of digital assets, including product photos, marketing materials, and brand assets, presented difficulties. It required a method to effectively group, search, and distribute assets among its international teams.
To simplify their procedures, Under Armour built a Digital assets management system. Because of the Digital assets management solution, they could centralize their assets, add metadata, and create workflows for asset delivery and approval. They connected the DAM with their eCommerce system and other programs to ensure seamless asset delivery.
They increased their assets' organization and ability to search with the Digital assets Management system. Employees could quickly locate and obtain the required resources, which reduced time spent looking for files and increased productivity.
The Digital assets management system made working internally and with outside partners easier for their teams. Marketing, design, and sales teams could access and exchange assets, maintaining consistent branding across platforms and enhancing communication and collaboration.
Due to the Digital assets management system, they efficiently distributed assets to several stakeholders and channels. With the simple sharing of approved investments, merchants, marketing firms, and other partners might receive assets on time with less human labor.
L'Oréal
Global cosmetics business L'Oréal has improved its marketing and brand management procedures by implementing Digital Asset Management (DAM) systems.
L'Oréal realized it needed to organize its extensive collection of digital assets, which includes marketing materials, movies, videos, and photos of products. L'Oréal used DAM, which gave all its assets a single source of truth, ensuring easy accessibility.
L'Oréal needed a streamlined procedure for communication between its marketing departments and external stakeholders due to its operations in several different regions and a wide range of brands.
DAM enabled seamless collaboration and shortened time-to-market by offering a shared platform where teams could access, review, and comment on assets in real time.
Due to L'Oréal's extensive modeling, celebrity, and photography operations, it is difficult to enforce rights. DAM software helped L'Oréal ensure compliance and minimize legal risks by monitoring and controlling each asset's usage rights, copyrights, and licenses.
L'Oréal may use Digital Assets Management solutions analytics and reporting features to evaluate the success of its marketing campaigns, spot popular assets, and make informed decisions for upcoming projects.
Conclusion
In conclusion, Digital asset management (DAM) is a crucial tool for eCommerce companies. A robust Digital assets management system is essential for success because of the growing reliance on digital assets examples, such as photographs, videos, and marketing materials.
A year later, it was $3.88 billion. And the digital asset management (DAM) software market share is forecasted to grow to around $8.2 billion by 2030. As technology advances and businesses increasingly rely on digital assets for their operations, the future of digital asset management (DAM) appears bright.
Increased automation, better search abilities, seamless interconnections, mobile accessibility, specialized asset management, improved compliance features, advanced analytics, and cutting-edge technologies like blockchain and artificial intelligence will likely define the future of DAM.
With the help of these innovations, organizations can manage and utilize their digital assets. It enhances user experience, scalability, branding, collaboration, asset reuse, organization, searchability, and data-driven decision-making. It also delivers material more effectively.
Therefore, adopting DAM will help you manage your digital assets properly and take your eCommerce operations to new heights of productivity and success. If you want to comprehend and apply DAM more effectively, you must consider consulting an expert who can walk you through the process and support you on your DAM journey.