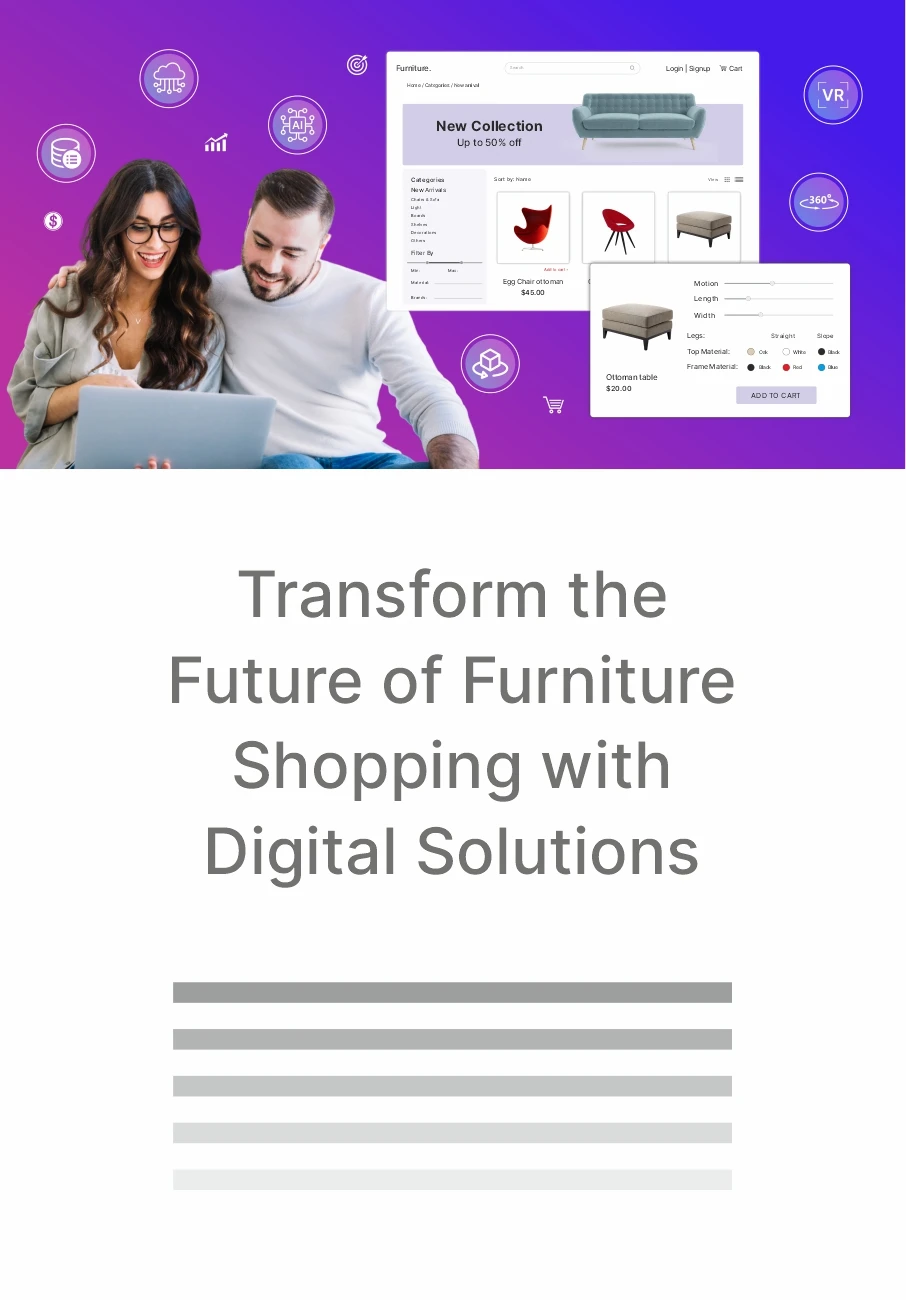 Get The Print Version
Download a PDF version for easier offline reading and sharing with coworkers
The furniture industry is experiencing major changes due to the shift in customer expectations. Consumers are now looking for convenience, customization, and products that suit their personality and level of comfort. Besides, with the development of innovation, they are more aware of the trends, which are reflected in their consumption.
Before buying any product, customers do market research and analyze social media, industry trends, and customer reviews for better exposure. This change in customer behavior has eventually increased the need for digital solutions.
Statista states, "In 2023, the Furniture market is expected to generate $236.00 billion in revenue. It is expected to grow by 10.96% annually (CAGR 2023-2027), resulting in a market volume of US$357.70 billion by 2027."
Earlier, most of the customers preferred to buy the furniture from an offline store. Still, with the growing innovation in the eCommerce business, they are looking for an online service. This change happened due to the benefit of convenient purchases, experiencing doorstep delivery, and more.
A traditional system is unable to offer the best solutions. Therefore, adopting a digital system is necessary to reduce hurdles and provide a seamless experience for the end-users. Today, we will discuss how digital transformation is reshaping the shopping experience for the future industry.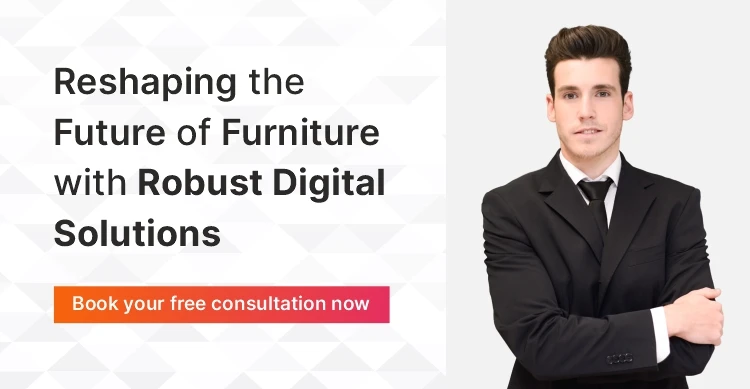 Why does your online furniture business need digitization?
The furniture sector is rapidly shifting, recognizing the vital role of digital transformation. Companies are integrating technology to streamline operations across all departments. Starting from production to logistics. It is also helpful for efficiently scaling enterprises and appealing to new markets.
The online furniture industry faces various challenges that impact its sales and revenue. Let's explore a few of them below:
Lack of Online Channel
Offline furniture businesses often face the issue of not having an appropriate channel for connecting with the right customer. This problem can negatively impact their progress in the competitive world.
Therefore, choosing a reliable online channel is vital to reduce the issue. By digitization, these core problems can come to an end. Hence, choosing the right platform is essential to minimize the problem.
Absence of Advanced Technology
The absence of modern technology can negatively hamper the customer experience. Customers often need help connecting their customers with refined tools. Using suitable technologies can reduce this problem and provide a better user experience.
Unavailability of Refined Tools
The furniture industry demands advanced tools to grow their productivity and functionality. However, the traditional system needs more smart integration, eventually reducing the business's productivity. Connecting with reliable and effective third-party tools can help mitigate this issue.
Poor Customer Satisfaction
Furniture sellers should prioritize customer communication to build loyalty and succeed in their business. But most of the time, due to a poor system, they cannot offer the best to their client. It's eventually decreasing brand loyalty and sales growth.
To solve this problem, it is crucial to find the right provider. The provider should be able to implement the best system and ensure that the users have a great experience.
Inadequate Product Recommendation
In the furniture industry, consumers expect to get product recommendations. However, most of the time, due to the traditional system, the retailers cannot offer these services. It is eventually hampering the customer experience, also negatively hampering the product sales and revenue. Associating with a systematic system can reduce this problem and implement great solutions for the end-users.
Streamline your Furniture eCommerce with Digital Solutions
With increasing innovation, the furniture sector requires exceptional solutions to address fundamental concerns. We've identified the critical solutions that can be applied to reduce the possible problem for this industry; let's have a look below.
Use of AR and VR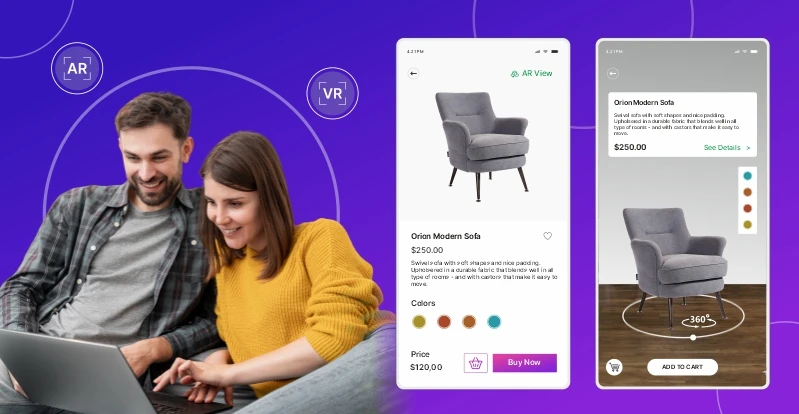 The furniture industry is moving with the technology. Consumers are now much more aware of the upcoming trends and demand more advanced experiences. AR and VR are the most common and helpful technology for the furniture industry. This technology has changed the way of buying furniture for the customers.
With the help of AR and VR, customers can try on the furniture before buying it. It will help them to get a better customer experience that will eventually help to grow their loyalty towards the brand. It also helps to convince them to buy the products repeatedly.
According to cgifurniture, "60% of US customers like to view 3D furniture models before making a purchase. 40% of shoppers are willing to spend more for a product if it has an AR option. 72% of shoppers stated they ended up buying furniture they hadn't intended on buying just because they could try it out using an augmented reality app".
For example, on a furniture eCommerce website, customers can choose the try-one option connected with AR and VR technology. It will help them to experience how the furniture looks at home or office space. It will help them to get a better idea about the product and will help them to have a delightful shopping journey.
Furniture retailers can offer an immersive shopping experience by using these advanced technologies. The users could alter the sizes, colors, and locations of the furniture in real-time before purchase. This interactive and realistic preview reduced return rates by 30%, demonstrating increased customer satisfaction and trust in their purchasing decisions.
The use of AR and VR not only improved the client journey but also resulted in a 25% increase in repeat business. Therefore, implementing this technology is majorly beneficial for the furniture industry.
Third-Party Integration
With the help of a digital solution, the furniture eCommerce can connect with the third-party provider to conduct a better integration. It will help to streamline the CRM process, inventory, conversions, and a lot more to ensure a beneficial outcome.
Using third-party integrations to manage inventories is an excellent example. By integrating with a cloud-based inventory management system, furniture retailers may streamline operations while ensuring real-time updates and precise stock levels.
With this integration, once a consumer makes a purchase, the inventory system instantly updates the stock count across all sales channels. If an item was out of stock, it was instantly updated on the website, preventing over-selling.
This collaboration will also allow furniture businesses to integrate supplier data, enhancing procurement procedures and decreasing stockouts. This method can help improve stock control and turnover to deliver a better shopping journey.
Offering Personalization
Today's customers are more aware and particular about their purchases. This change in customer behavior has increased the need for personalization. Customers now look for custom products; they want to express their style through their choice of furniture. This eventually demands the use of tools for personalizing their product experience and connecting them towards their preferred products.
As per McKinsey research, 76% of consumers are willing to purchase from brands that are customized. Hence, choosing the personalization approach is helpful to eventually connect with the management brand loyalty in today's furniture market. Customers may choose the kind, fabric, color, and even size of their desired piece using a design-your-own-furniture tool on their website.
This level of customization has the potential to boost customer engagement by more than 35%. By studying browsing and purchasing habits. They used data analytics to suggest complementing parts or modifications, which resulted in a 28% increase in average order value. It will help to get a better picture of the customer requirements, and that will be useful for offering them the best.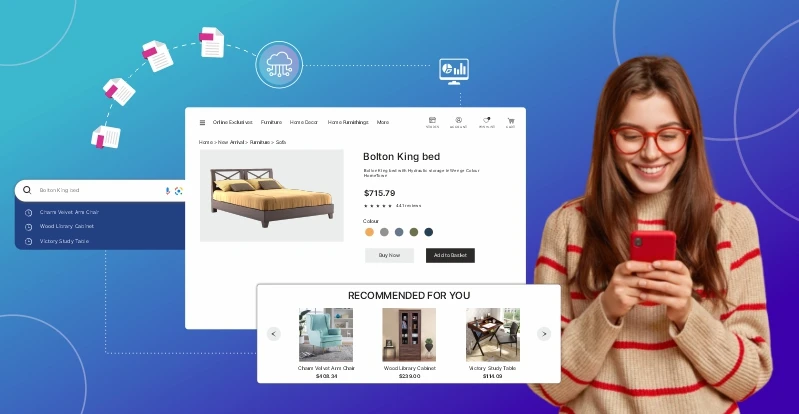 Implementation of Advanced Tools
The use of advanced data analytics, AI, and machine learning has had a significant impact on the furniture sector. To provide intelligent recommendations to its clients. When a person hits the website and begins looking for a new sofa, the system gathers information about their preferences, such as color, style, and size.
The AI algorithms analyze the customer's interactions, past purchase history, and comparable user behavior as they browse the product catalog. When a consumer clicks on a specific sofa, the AI-based recommendation system can make real-time smart recommendations, such as "Customers who viewed this sofa also liked these matching coffee tables and cushions."
These insightful suggestions not only help customers make more educated decisions but also motivate them to explore other products, increasing the average order value and improving the entire shopping experience. The online furniture store's elegant consumption of AI-driven recommendations increases sales growth and better customer satisfaction.
User-Friendly Website
The customers are now looking for easy-to-use websites, as they don't have much time to invest in the online site. Therefore, having a user-friendly website is critical in the competitive world of furniture eCommerce to ensure a pleasant buying experience.
For example, a furniture store can improve its bounce rate and sales ratio by offering a simple-to-use website. If the customers don't get the products quickly from the website, they will lose interest and shift to another store.
According to a recent report, "the online eCommerce business needs help with online sales development for consistent customer experience; 83% of B2B firms in developed countries distribute products online. It may be related to rising demands for user-friendly business systems.
Hence, having a user-friendly website is the prime concern for the furniture business. Connecting with a professional eCommerce website provider can build a structured and well-designed website for the business. It will help to improve business sales by offering a better experience to the end-users.
Easy Checkout
Cart abandonment is a vital issue for furniture retailers, sometimes linked to complicated checkout processes. For example, a furniture retailer faces increased cart abandonment due to a multi-step and sophisticated checkout method. According to the research done by Baymard Institute, 60% of shoppers abandon their carts during the payment process, affecting sales and client retention.
It can solved by streamlining its checkout procedure. Implementing a user-friendly, one-page checkout system can simplify the purchasing process. Customers could check and edit their orders, provide shipping information, and make payments in one area.
It will help to reduce cart abandonment by 40%. Furthermore, client satisfaction and retention increased sales and loyalty. Hence, a simple checkout process can increase the conversion rate in the competitive world of furniture retail.
Implementation of Direct-to-consumer Trends for Furniture eCommerce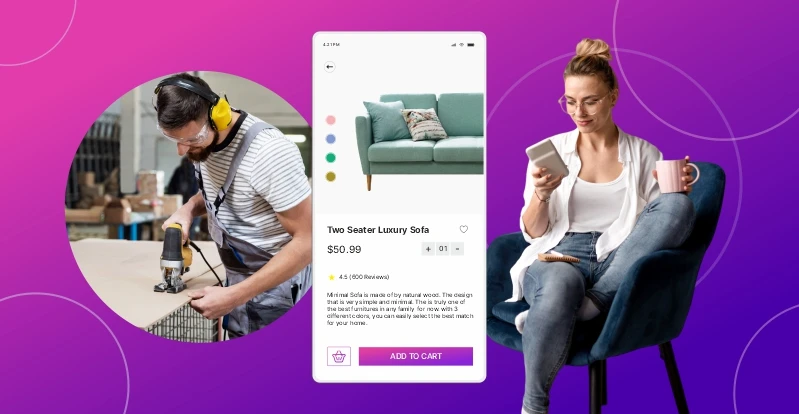 The furniture industry is witnessing the rise of direct-to-consumer trends. This simply means the cutoff of the middleman for the furniture business. The manufacturers can sell the product directly to the end customers It will be helpful to offer products at more affordable prices by eliminating any middlemen.
This approach is highly increasing in the furniture industry due to the capability to reach the maximum number of customers online. A recent study has found that more than 52% of consumers make their buying decisions based on convenience.
Besides, as the customers get the opportunity to buy their products directly from the manufacturers they get the chance to customize them based on their precious requirements. It further helps to boost their shopping experience and finally positively impacts on the sales ratio.
Mckinsey Studies says, "customized products offering can increase the overall sales by 30%, therefore investing in this can be a wise decision for the furniture retailers. This approach is also helpful for reducing inventory management as in the custom requirements, the stock-keeping process is not required.
This enhancement of DTC is eventually becoming useful for the modern furniture industry. Connecting this approach to the refined digital solution can do amazing together. For example, by using AR and VR technology, this approach can reach their end-users more conveniently. They can offer an in-store-like experience to their online consumers and can connect with them instantly.
It will help to make the brand's shopping journey more engaging than ever, which helps to build strong customer loyalty and leads to a boosted conversion rate. The future of furniture is all set to welcome the DTC approach, and it's expected to turn the industry towards success. By approaching digital and modern solutions, the furniture business can offer better solutions for connecting with their customer with ease and offering them the best.
Success Stories
Various furniture brands have chosen digital solutions to stay out of the competition. We have identified a few of them; let's have a look below:
IKEA
When discussing furniture brand digitization, we can't miss IKEA. This brand has set a different expectation for the furniture industry by using AI-driven solutions. This brand uses AI for most of its operations, starting from customer services, designing, stock management, and lots more.
The brand uses AR to try items to boost the customer experience and conversions. Besides, they have an AI chatbot for streamlining all customer inquiries effectively. It helps to offer 24/7 customer service availability to ensure a delightful customer experience. Besides, they use NLP and AI to ensure real-time design support to provide better customer interactions.
Their AI implementation is not only for boosting the customer experience but also for ensuring effective stock management. They use demand-sensing AI tools to optimize the stock levels. This tool predicts demand and prevents items from running out of stock, meeting customer expectations.
In addition, IKEA provides 3D images to help customers see products more clearly. Using modern technologies helps the brand provide a digital experience and stay ahead in the competitive market.
Wayfair
Another great example of eCommerce furniture modernization is Wayfair. It's a US-based online furniture brand. This company has taken advantage of modern technology since 2017. They use AR and VR to ensure a great experience for their end-users.
This brand follows the try-before-you-buy approach, simply using AR and VR technology. Wayfair connects these technologies to their design app, and that makes the customer try the products in their own space (home, office space, or somewhere else). It also helps the customer to get a 3D view for a better experience and understanding of the product.
Wayfair also allows customers to get room decor products in try-on options that help them to choose the best for decorating their space. This feature allows the customer to place their furniture in a computer-generated room to furnish it appropriately.
These implementation has helped this brand to connect with their customers in a better manner and offer them the most delightful experience., choosing these technologies can help to supercharge your furniture business, and this is the right time to invest in this.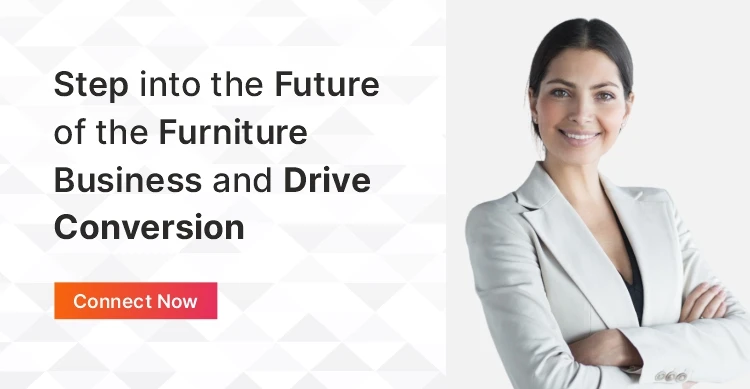 Final Words
The global furniture industry is rapidly reaching success with the help of an online platform. This success has been possible due to the growing use of digital solutions and modern technologies. Like the other industries, this segment is also complete with a lot of challenges, and the use of modern tools and solutions is just what helped the furniture retailers to transform the challenges into reliable solutions.
The future of the furniture market is all set to connect with the right customers by choosing AI-friendly tools and the DTC approach. A recent study has found that the global furniture market is going to reach a USA $725.5 billion valuation by the year 2027. This is expected to be done with the contribution of digital solutions by contributing to the customer needs.
This is the right time to invest in digital solutions for the furniture industry. Connecting with digital commerce professionals can help to conduct this transformation more effectively. It will help the brands to get the most valuable insights and make better decisions to reach the height of success.