Today e-commerce is growing rocketing speed thanks to easily reach the Internet via mobiles and increased tendencies of Omnichannel presence among the retailers and wholesalers.
It has boosted the demand for eCommerce web development, and Magento is at the king position among the e-commerce platforms by its richness in offering features and functionality that render it a contemporary and competent platform.
However, its richness comes with intricacies in development and management too. It is true that a power user can manage the back-end of Magento but unable to develop a unique and functional online store using the latest and powerful Magento themes.
The finding process involves three main phases:
1. Searching the right Magento developer from right sources
2. Judging the real capabilities of the Magento developer
3. Post-hire activities
Searching the right Magento developer from right sources:
Whether you want to hire Magento developer as an in-house employee or freelancer, you must look at the potential sources where you can hunt the right candidate for your aspiring Magento development project.

1) Use Direct Search on the Web to Find Magento Developer
It is the handiest way to run a quick search using the search engines available on the web. Fortunately, the modern search engines like Google and Bing are using the latest search technologies including artificial intelligence (AI), machine learning, and so many other algorithms that finally make the search engines behaving like humans.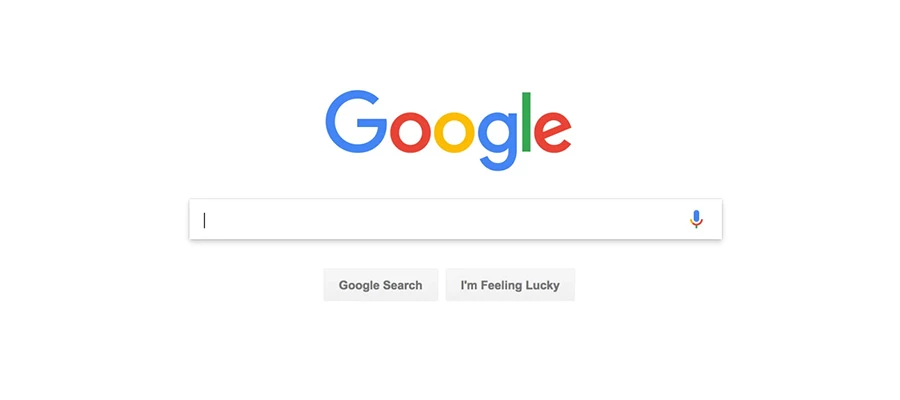 Moreover, localization option in the search engines enables you to catch a local Magento developer or a Magento development companies in your vicinity and globalization for offshore and outsourcing work.
Unfortunately, despite lots of efforts and investments on search engines, the possibilities of search results manipulation through various SEO techniques are persisting and you may miss the excellent team despite exploring the first few search results pages.
2) Explore Freelance Web Portals
It is a bit better option for those Magento merchants who are somewhat tech-savvy and know how to communicate with the software developers using the tech languages and managing the development projects.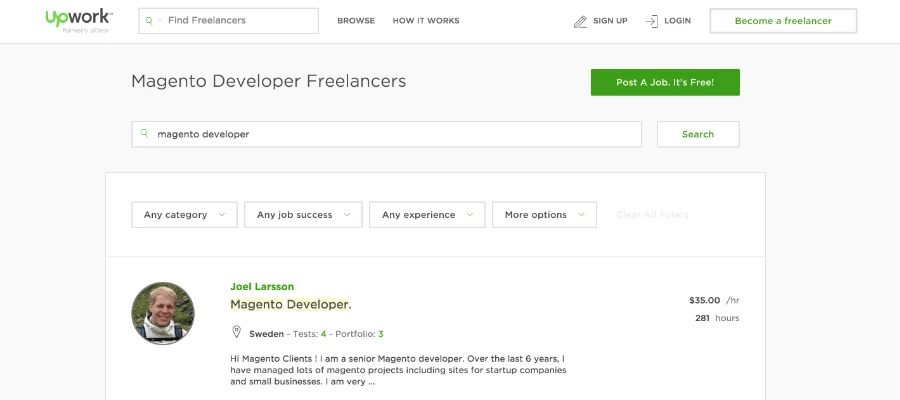 Of course, you can take help of local consultants or a reliable agency in your localities or your online circles. Project consultants may charge you something affordable, but they bear all responsibilities right from hunting the developers to accomplishing the projects.


3) Check the LinkedIn
LinkedIn is a professional networking platform thriving on the social media concept. Recently, it has gathered a vast audience of professionals coming from diverse niches. You can find your ideal Magento developer for outsourcing project or in-house hiring.
LinkedIn is using innovative and efficient tools to hunt the appropriate talent for the active professional network.
4) Go To Twitter
Twitter has global reach thanks to its unique style of content distribution using Tweets. If you are using the Hashtag feature correctly, you can obtain tons of inquiries and reach the hidden talents unavailable through traditional ways.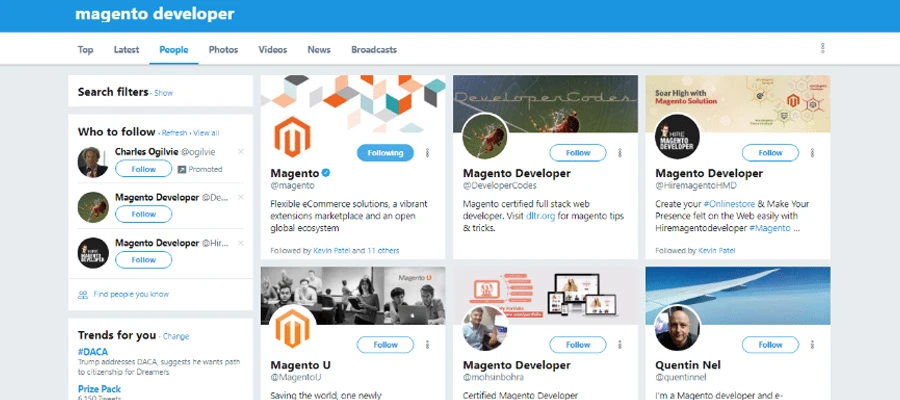 There are groups and communities of developers, designers, and other IT resources. You can join the Magento developers' groups and hunt the expected talents easily.
5) Dig the Facebook
Facebook is a famous social networking platform with all social nuts & bolts to be socialized digital animal! Fortunately, Facebook is offering free and paid services for the businesses and professionals to exploit the platform with full capacities.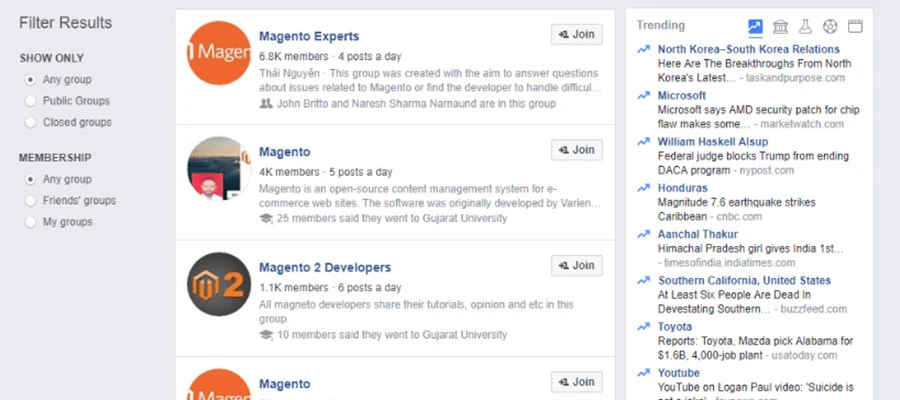 You can leverage those useful features and join the Magento developer groups or simply post your requirements to hire a Magento designer or programmer for your project. It may result in a long thread of conversations with fruitful ends.
6) Use Email Marketing
If you want to hunt the quality Magento developer, you must recognize the quality through proper inspection. It is possible to visit personal blogs of avid Magento lovers who write unique and in-depth technical blogs, articles, news, and various content on the web.
Obtain email addresses of a handful of developers or agencies and do straight email marketing targeting them.
7) Be Active on Magento Forum
Magento forums consisting of more than 200K registered users and Magento experts are posting thousands of posts every year.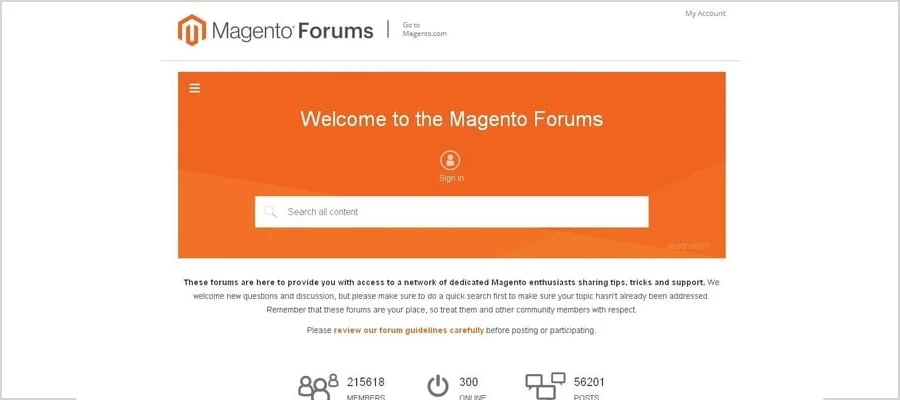 You can find real tech talents on the forums and send them a private message can help you to find the right match for your dream Magento development projects.
8) Look at Magento Certified Developer Program
Official Magento platform runs various program to aid Magento community. Among those, the training and certification program introduces Magento developers with qualifications for their standard criteria.
You can contact the support system and obtain contact details of some talented Magento developers and start a conversation with selected ones.
9) Explore Magento Solution Partner Program
Just like the certification program, official Magento Solution Partner program can extend your reach to the enterprise level Magento developers with official recognition.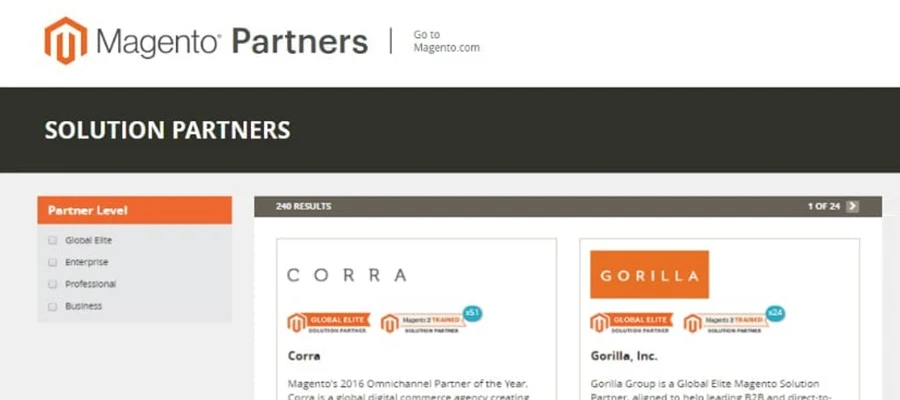 If you have a big project contact the solution partners of the Magento platform and get the optimal outputs.
10) Grab from Magento Events
Official Magento website displays various events on Magento taking place across the globe. See an opportunity to visit some in your vicinity. Attend the seminars, conferences, Hackathons, and webinars at national and international level.
It provides you an excellent opportunity to interact with experts who are almost under the curtain and doing work for selected projects of selected clients. Listen to the serious developers and exchange some words with them on your auspicious projects.
Invite them and fix the deal if possible at the end. Of course, it is time-consuming and costly affairs and only applicable in the case of big and long-term projects.
11) Exploit Potential of Job Boards
Most of the job boards support in-house placement models, but still, some are running innovative and secure freelancer or contract based models. They used to charges for quality contacts, and you should enroll with them in some fees.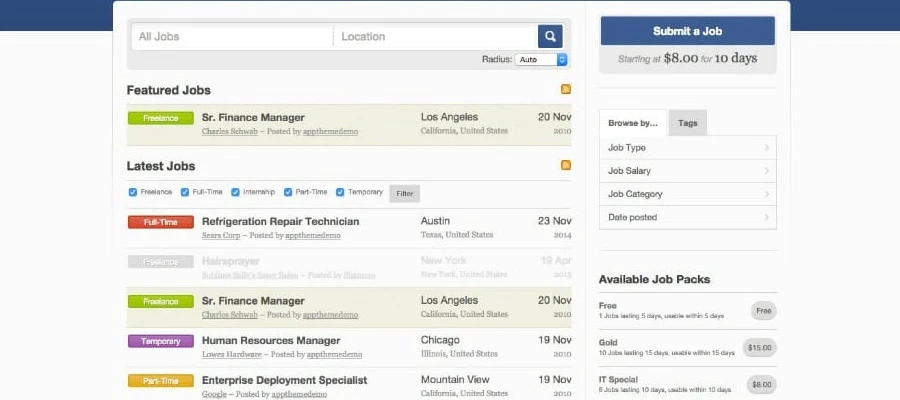 They can provide you high-end Magento developers available in your vicinity as well as from different regions or countries of the world. You must check with a suitable team or developers and sign up the contract considering your budget and constraints.
Judging Real Capabilities of Magento Developer:
Simply finding a list of right matches for your Magento development project is not provide any guarantee for the successful accomplishment of the project. It needs to judge the real capability of your selected candidates and explore those with efficient project management only can lead to desired outcomes at the end.
In due course, you need to consider a few tips, such as
12) Check Responsiveness of Magento Developers
The success of a software development project lies in the collaboration and coordination between developers as well as with clients as well. Therefore, your Magento developer should be a responsible and responsive entity in your project team.
Your developer should answer each query from you or other team members promptly and politely. Responding quickly to email, instant messenger, or chat boards are good signs.
13) Evaluate Communication Abilities of Magento Developer
Effective conversations between developer and client are the key to roll the ball smoothly and rapidly. If your developer falls into the same culture and language, you have the least hurdles in communication, but it becomes alarming when you both coming with differences.
If your Magento developer is not a native English speaker but fluent in American or British English, it will work excellent, and the project will run smoothly.
14) Consider Time Zone Differences
However, time zone differences between client and developers have some advantages particularly, a client needs allocated tasks for a day accomplishing when the client is awakening after a night sleep.
Unfortunately, it is not applicable in all circumstances and cases. Therefore, you need to discuss the matter and see the flexibility of developers to work by overcoming the time zone differences and provide the possible comfort to the esteemed clients.


15) Ask for Communication Channels Used by Magento Developer
All skilled developers on your list for Magento development project are not comfortable with the latest communication channels available in the development community. Some are good at instant messengers while some prefer to restrict up to email. A very few have VOIP and live chat or video conference facilities and comfortable with it.
Ensure your communication comfort in the first place by clarifying the things.
16) Look for Magento Development Company
We know Magento development project always becomes a challenge for a single freelance due to intricacies and resources demands involved in it. Moreover, freelancers are devoid of the latest infrastructural and communication facilities to support medium to big scale projects.
Therefore, looking for a dependable and reputed Magento Development Company is the best way to get good ROI and satisfactory results within your budget.
17) Check Portfolio of Magento Development Team
Many offshore and even onshore developers claim big but fail to deliver accordingly. Therefore, look at the individual as well as team/company portfolio of the Magento projects. It is better than they have projects relevant to your niche business or alike to your requirements.
Mostly live work and real clients speak the truth so check portfolio and ask for real references of their patrons, albeit you should have the knack to judge it.
18) Take Technical Interviews of Magento Developers
Now, it is time to judge the technical soundness of your selected Magento developers in your team, and it is only possible with some technical understanding and familiarity with coding, designing, testing, and deployment processes.
The best way for a non-tech Magento merchant is to take the assistance of a Magento consultant in your reliable circle or hire with a fee. It may prove worth investment for your entire project and the consultants will help you to weed out the right developers to create an impeccable Magento development team.
JPost-Hire Activities:
Once you have put a stamp of your choice for a Magento developer or a team of developers belong to an agency, your work is not finished yet. Some post-hiring activities need your attention and time. For instance,
19) Sign NDA with Your Magento Developer or a Team/Company
Whether your Magento e-commerce development project is a unique idea or not, but it certainly has sensitive info on your shoppers and your business. Therefore, legally binding of your developer through Non-Discloser Agreement (NDA) is the best way to secure safety, security, and privacy.
20) Be Serious Regarding Project Management
The project success also attributes to successful project management. Therefore, you must learn how to participate in Magento development project actively whether it is freelance or a Magento development agency/company.
Many companies use the latest project management software (PMS) with all bells & whistles to facilitate the active participation of the clients, and they weigh opinions of clients as well as facilitate them to obtain project progress reports.
These companies also allocate experienced and skilled project managers and team leaders to assist you on various fronts without messing up with all members of the development team individually. They act on behalf of you and speed up the process without missing the expected quality in work.
Conclusion:
We have seen what intricacies involved in the finding process for a reliable and quality Magento developer or a company. If you are a busy Magento merchant and looking for a dependable consulting service in this regard, consider Magento consultation services by Magneto IT solution a best-ever choice.
It will ease your burden and take responsibility for the entire project development as well. Ready to communicate with the support and marketing development team at Magneto IT Solutions team?