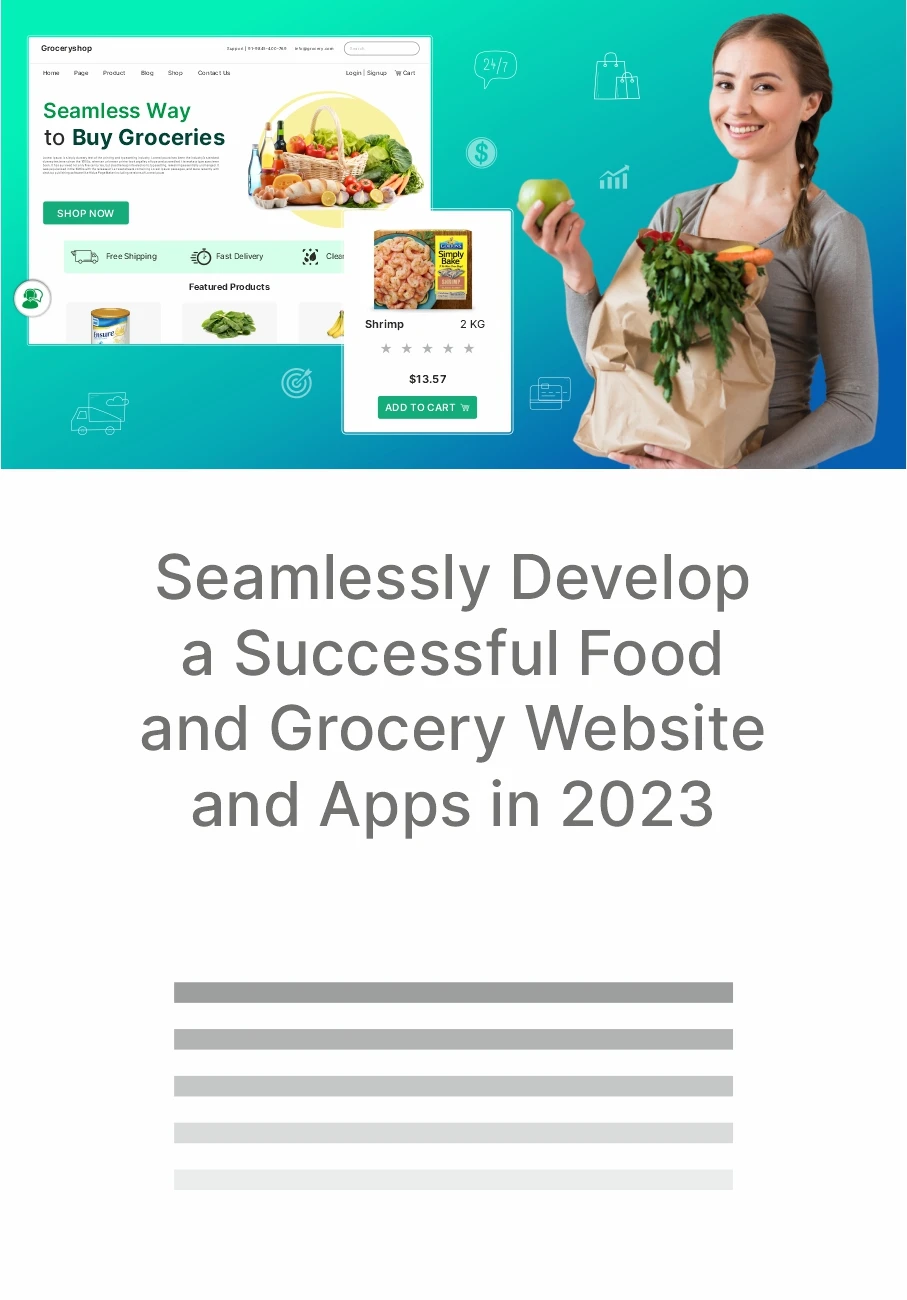 Get The Print Version
Download a PDF version for easier offline reading and sharing with coworkers
The food and grocery industry is changing dramatically; this industry has witnessed a massive shift in customer expectations. With time and technological advancement, customer demand and preferences have changed.
The new-age customers look for doorstep delivery via their preferred device, location, and time. This kind of demand has driven up the necessity for the development of a distinct and engaging grocery website and app. Which was missing in the earlier period.
The grocery industry is growing with the concept of express delivery at the customer's doorstep. To conduct this process, the need for refined solutions is majorly important. CNBC has found that online grocery sale is expected to grow by 20% by 2025.
Therefore, today we will discuss how can you build a seamless grocery website and apps in 2023 that drives higher sales. Let's explore and reach to the height of success.
The benefit of food and grocery website
The food and grocery website has various advantages that can help grow the industry positively. Let's explore a few of them below:
Convenient purchase
The core advantage of online grocery website and app is it's convenience. Customers can buy products from anywhere, anywhere, and at any time from their preferred devices.
Nowadays, most individuals have a hectic schedule, making buying groceries from an offline store difficult. Therefore, with the help of an online grocery store, they can buy their daily groceries at their convenience.
They can also get door-step delivery that helps to save their time, money and effort. It helps them to make a more comfortable purchase. They can also get door-step delivery that helps to save their time, money and effort. It helps them to make a more comfortable purchase. It is also helpful for any kind of emergency needs. As they can get super fast delivery at their home, with refined mechanisms.
Altogether, these features help to create a convenient purchase for the end-users that's helpful for improving their overall shopping journey.
Customized offers
Remember the last time you opened your grocery app? An amazing deal was waiting for you, right? In an online grocery store, you will get the most amazing offers; they come with seasonal offers and daily deals.
Every time your customer will purchase from the store, they will get some deals that will help to save their money. You can create these offers by using AI and ML algorithms. It will help you to analyze individuals purchasing behaviour, personal data, preferences and lots more to offer the best deals.
Customized offers can be created by understanding their specific user needs. it can be a great strategy to improve the sales ratio. With the help of customized offers, the problem of abandonment cart can be reduced.
Your customers are getting smarter and always seeking special offers that suit their personality. By offering more connected offers, you can retain your customers easily.
24/7 availability
Imagine getting groceries at any time in any place; sounds amazing, right? You can get these benefits with the help of a grocery delivery website and apps. These stores are available 24/7, and you can get any product anytime.
Beyond this, the customer service team is also available 24/7 to ensure the end users receive appropriate support. Customers don't follow a specific time for grocery shopping. Therefore, offering 24/7 services helps them manage their shopping schedule in their busy lifestyle.
With these features, customers can enjoy the benefit of one-day delivery, instant delivery, and the next day based on their requirements.
Budget-friendly
Most online grocery stores are budget-friendly as they can save the communication costs. Also, these kinds of stores consist of various impressive offers and deals that are missing in the offline store.
These aspects make it more budget-friendly for the end-users. It eventually helps increase customer loyalty towards the brands, as they frequently purchase from the site that offers the most discounts.
In terms of pricing, online grocery buying outperforms traditional supermarket shopping. Customers can find groceries at comparatively inexpensive prices in traditional retailers. They can efficiently compare prices to select the lowest price of food. It allows them to save time, energy, and money while providing a better client experience.
Wide range of product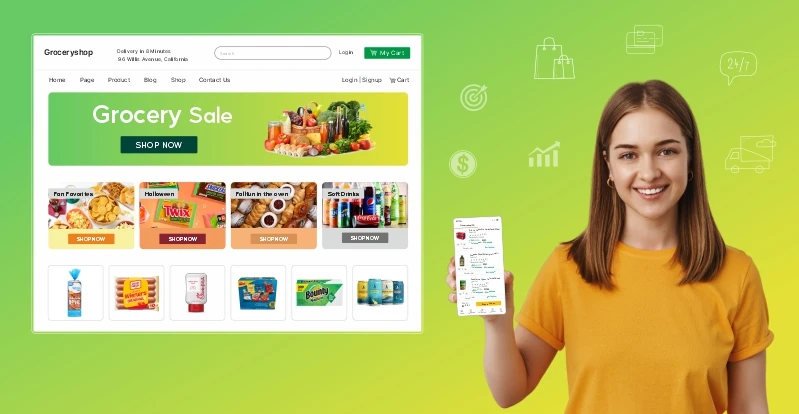 In a grocery business, offering a wide range of products is important. With the help of an impressive website design, this can be possible. This requirement is also associated with country-specific products.
In an offline grocery store, individuals are lacking global product availability. Still, when it's an online store, you will be able to get a wide range of options, including global product choices. It helps the customer to enjoy any product from anywhere without investing much in budget and effort.
Easy delivery
The best part about a grocery delivery app and website is the delivery process is very simple. Whenever you order something from the grocery app, it's supposed to come with a free or nominal delivery charge.
That makes the process much easier for the end-users. According to recent research, "55% of consumers will be more loyal to the retailer if they get delivery in 2 hours".
With the refined mechanism, the delivery process can become much easier. As the customers can get the privilege of one-day and same-day delivery has made their lives much more comfortable.
Useful payment options
The online grocery website has come up with many payment options. It includes credit/debit cards, UPI, Pay Later, cash, internet banking, and many more. These varieties of payment options are helpful for the customer to make a comfortable purchase.
Besides, the problem of payment issues in traditional businesses can also solved by opting for online store development. With the multiple payment options, grocery websites help their business to stand out and offer a more comfortable shopping journey.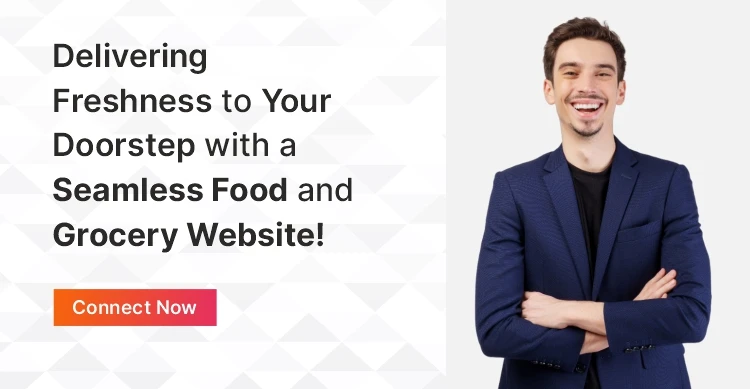 Key elements to consider for designing food and grocery websites and apps
Having an impressive grocery website and app is consists of many benefits. But, most of the time, business leaders struggle to find the required elements to design and develop it. We identified a few elements needed to design the website and app.
Impressive design
When talking about a grocery business, having an impressive design is the foremost aspect. In a website, the customer connects by the visualization of the site. Therefore, making the website simple and user-friendly is the core requirement.
This process can be streamlined with the help of a professional grocery website and app development services.
An impressive design came up with the implementation of various templates that make the entire website look much better and impressive. While designing such kind of website, it's important to identify the specific color, font style, use of appropriate images, and a user-friendly structure for better outcomes.
User-friendly website
The grocery website should be easy to use, as a complex website can reduce the customer retention process. This is because of the inability to find their desired item, which can make them feel frustrated, and finally, they might leave the website without processing their order.
It will create a fall in the sales ratio, which might impact the brand's profit. Therefore, offering and ensuring a user-friendly website is the key need for any brand. It can be possible by providing some major features like easy navigation, a simple layout, and multiple categories based on the user's need.
Use of Geofencing
The grocery industry is majorly dependent upon the location, so using a geofencing approach is the key need for this industry. This powerful strategy is to connect the customer with the retailer to improve their experience.
With the help of this approach, the brands will be able to get valuable insights on their end-customer's real-time behavior. it will help them to act accordingly to get better outcomes.
The process of geofencing is a process of location-based marketing. This approach is majorly required for any online business, as the entire business process for retail grocery is done based on their use of location.
With the help of live location tracking, grocery stores can connect with their customers effectively. They will be able to provide better insights about their location, which will help them serve better. It will help the end-users to get the information about their nearest store for easy consumption.
Segregating Package and non-package items
The grocery industry has both kinds of items, packaged and non-packaged. Both kinds of items have major importance for the online grocery store. These options help the customers to consume products based on their own preferences.
In an online grocery store, the customers come with different requirements. Some have a requirement of 5kg, and some come with 10 kg or maybe 1kg. In such a scenario, the package and non-package items are useful.
The buyer can select the package item based on the fixed MRP or based on the amount desired with bespoke packaging and price. As a result, in an online grocery store, the separation of package and non-package items should be indicated with appropriate options to provide end-users with a better experience.
Use of the Picker app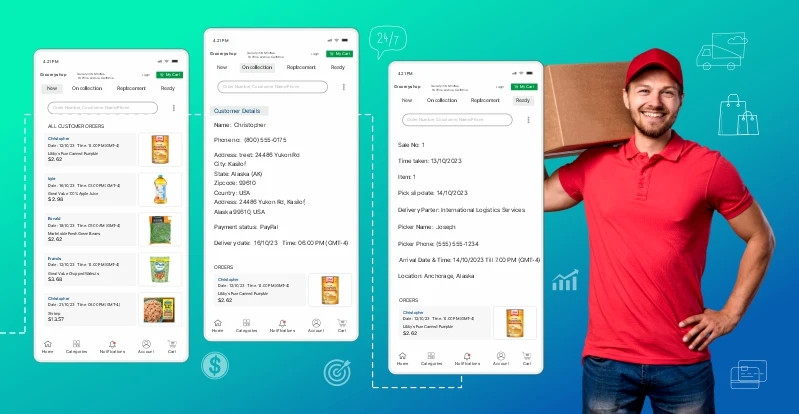 The Picker app is majorly important for any eCommerce grocery business. This app is helpful for making the grocery shopping process much easier for the end-users. The process is done by offering a systematic application to help the vendor manage their multiple orders and warehouses more easily.
With the help of this app, the manager will be able to choose the appropriate rider from the list of many based on the order priority, type, and size of the product. It will help the manager find the nearest operating warehouse to connect the picker with their required products.
Therefore, offering this application is a major need for any online grocery store. It is also helpful for managing bar scanners, contacting the riders, providing push notifications, and tracking them to provide a better customer experience.
Implement Scheduling
Scheduling is a major factor in designing any eCommerce grocery store. This feature is highly useful for enhancing the customer journey. The users can schedule their delivery based on their own convenience.
This process is very simple to perform. They just need to choose their preferred date and time on the grocery app or website. They will get a notification for the estimated delivery time.
This process can be done while conducting the product checkout. it helps the customers get their required products at their doorstep. which drives a higher customer retention process and, in the long run, brand loyalty.
Smart pricing
Pricing is a major factor in the grocery industry and plays a major role in an eCommerce grocery store. The feature for price comparison is a major necessity as it will help them buy their preferred product at the best price.
These features will allow them to get products with different prices and compare similar products based on their quality, quantity, and feedback for wise decisions. Besides, the smart pricing feature is also helpful for customized products.
In the grocery business, product customization is a major aspect as the different customer has dynamic needs. To fulfill those needs, having customized pricing is majorly important. It will help them to get their products at suitable pricing. With their preferred requirements, and in the end, it will delight them. 
Seamless Delivery
Delivering the product at the right time is essential in a grocery eCommerce store. Therefore, having an appropriate delivery feature is majorly important. The delivery should be simple, fast, and effective.
To ensure the end-user is getting these features, adding some required aspects such as:
Live tracking
Contacting the delivery person
Modifying the address or contact details
It will help to improve the customer experience is important. A provider with these features can be a great choice for the grocery business.
Upsell and cross-sell
The cross-sell and upsells are the most crucial features for any eCommerce grocery business. You might have noticed that many products are displayed when buying from an offline grocery store at the checkout counter. This strategy is known as point of purchase (POP). But most of the time, the customer doesn't buy those products as the customization is missing.
But this feature is more connected with specific customers in the eCommerce grocery business. While doing checkout, the customer will get some random yet related items as recommendations.
The suggestions are made by analyzing their previous purchase, behavior, and habits. This feature is known as the cross-seeling approach. It helps the users to buy their required items more conveniently and quickly. Hubspot has found that "Cross-selling can increase order value by 41%."
On the other hand, the upselling approach is about upgrading the preferred product. Suppose you have chosen a milk bottle from an average brand with lower benefits. With the help of upselling techniques, you will get the recommendation of better brands that are higher in quality and goodness.
This feature will be helpful for upgrading the customer product with add-ons and better quality for enjoying higher revenue benefits. According to McKinsey, "By using a cross-selling approach, a business can increase customer loyalty by 14%".
Daily deals offering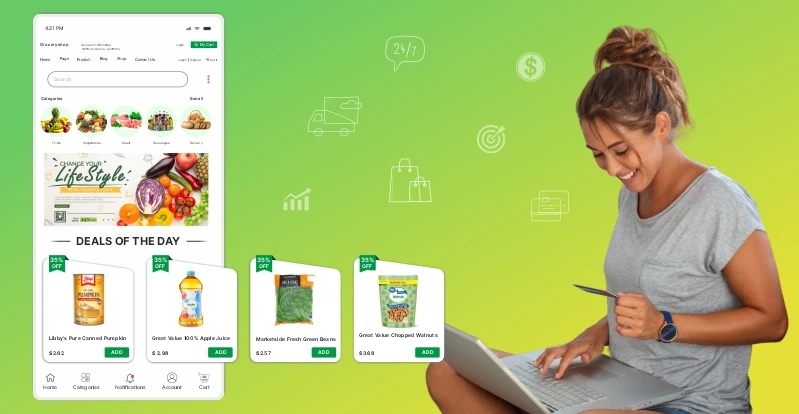 In a grocery business, the customers are looking for great deals for having a better consumption. By offering daily discounts, eCommerce grocery store development can boost customer experience by offering their required products at the best price.
It will also help the users to stay motivated with the specific store for the long term. Grocery retailers can use AI and ML algorithms to understand their customers better. The process can be done by conducting data and customer behavior analysis for providing custom deals that connect with them.
Multiple Payment options
The consumer has become smarter than before, increasing the need for multiple features. For any eCommerce business, the need for better payment options is crucial. With the multiple options for payment, the customer can buy their preferred grocery product seamlessly.
The option for different payment gateways, such as,
Debit card
Credit card
UPI
Pay later
Food cards
Net banking
It can help the customer to make a more comfortable purchase. Besides, it will be useful for choosing specific brands compared to others.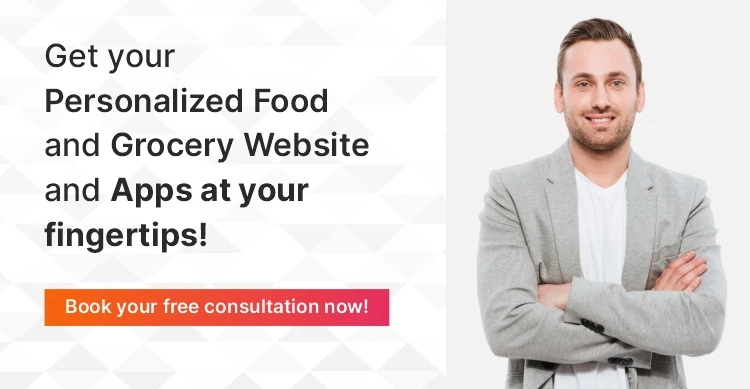 Strategy to enhance your food and grocery website optimization
Effective SEO strategy building
Search engine optimization (SEO) is the most required strategy that helps the eCommerce business to reach a new height. The business needs to be sure about an optimized SEO process. It will help them to get better visibility, which drives better conversion and, finally, profit.
Great Social media strategy
This era is looking for social media recommendations, as they spend most of their time on that platform. Therefore, staying active on social media is essential to easily reach the most suitable customer. This tactic is also helpful for promoting your store in a better manner.
Use mobile commerce
Using Mobile Commerce is a most useful strategy for the e-Commerce grocery business. Most customers are looking for a mobile-friendly website and application to make better purchases. The use of mobile-friendly features will be helpful to connect better customers.
It is helpful for boosting website optimization by increasing speed, loading time, and user-friendliness. A study done in 2022 has found more than 30 M users will prefer to use mobile apps for grocery consumption.
Digital loyalty program
The loyalty program is something that helps to retain the customer. Specifically in the grocery business, it has a major importance. Consumers like to buy products from online platforms, as compared to offline.
Therefore, providing a digital loyalty card can be beneficial to retain them in a better manner. It can be done by analyzing the buying history and the customer's current behavior. This will be helpful for offering a better discount on every purchase. That will provide them with some loyalty points to stay motivated.
Implementing multi-shopping list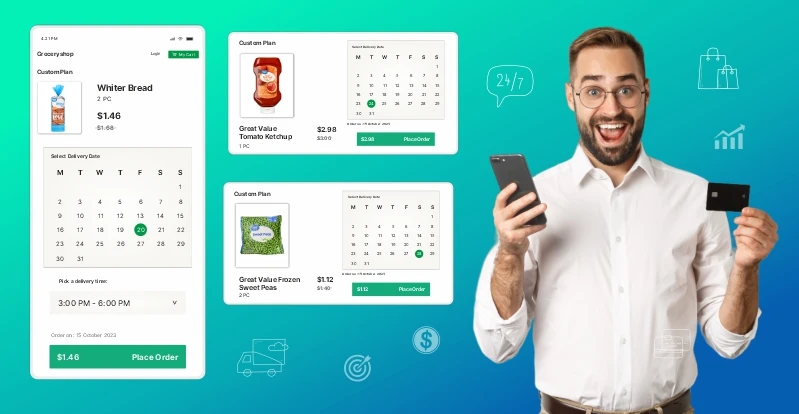 The customers need various products at different times and dates. But they want to order the entire product at the same time. To deal with these requirements, implementing a multi-shopping list is important. This approach will help the customer order a customized time and date based on their requirements at a single time.
For example, if a customer wants to get an apple on Monday, milk on Wednesday, and other grocery items on Friday. Then, they can customize the date and order at a single time. It will help save their time, effort, and money on delivery and help them make better decisions.
Flourish your business with an ultimate food and grocery website design
Food and grocery websites have a major benefit for satisfying today's customers. Modern customer demand for convenience. They look for their comfort, and to provide these features, a well-structured and highly-performed website application is the answer.
By connecting with a grocery app development company, your business can create the most desirable option for the end-users. Investing in website and app development can help to offer a better sales ratio with lower cost, effort, and time, which will finally simplify the customer journey.