How Digital Transformation Changing Jewelry Industry
Jewelry is much more than diamonds, metals, and stones. It is an emotion that shines through festivals and occasions. Jewelry is not a trend but a part of a culture that has existed for ages. From then until now, the art of jewelry creation has undergone a tidal change to fulfill the fine needs of the clients.
Technological advances have altered manufacturing and trade across industries during the last few decades. Retailing products is likewise undergoing a seismic transformation in the business. Also, it is observed that online shopping has increased in popularity in recent years and COVID-19, accelerated the pace of this online shopping transition to the next level.
One of the important reasons why digital transformation is happening is changing consumer behavior, with individuals increasingly relying on the internet to explore, discover, and buy things, including jewelry. As e-commerce platforms have become popular, consumers are more comfortable purchasing products online, including high-value items like jewelry. Global online fine jewelry sales are expected to increase from 13% to 18-21% of the total global market by 2025.
Moving online is essential for the Jewellery Industry as it enables businesses to access a larger audience, including potential buyers globally, thereby expanding their customer base and sales potential. In addition, an internet presence allows jewelry businesses to identify as modern and relevant, which is critical in today's digital world.
An online store may drastically lower business overhead expenditures, such as rent and staffing costs. Additionally, an online presence can assist jewelry businesses in personalizing their services, providing a better customer experience, and collecting vital data on client behavior and preferences. This data can then be used to improve marketing techniques and the overall business model.
Latest B2B and B2C Trends in Jewellery Industry
Jewelry Trends 2023 suggests that consumers are drawn towards minimalist and sustainable jewelry designs that focus on essential, timeless items that may be worn every day. The demand for sustainability and rejecting rapid fashion is driving this trend.
B2B jewelry brands now provide modification and personalization services to their customers, allowing them to create unique items that reflect their styles and tastes. This has evolved into a critical selling element for many jewelry stores.
B2B jewelry companies embrace digital transformation, leveraging technology to improve supply chain efficiency and buyers' experience. Many firms use digital platforms to reach new clients and increase their sales channels.
Human knowledge combined with modern technology is assisting in creating today's jewelry trends in 2023. The conventional method of designing on-paper jewelry is being rapidly digitized. Computer-Aided Design (CAD) software and Computer-Aided Manufacturing (CAM) gear are quickly altering the entire process. It can generate 2D designs as well as 3D models.
A jewelry purchase is a highly customized act requiring tailored digital strategies to maximize client pleasure and experience in Jewelry trends 2023. Artificial intelligence (AI) is making inroads into the jewelry industry. Brands are installing digital shopping assistants who act as online brand experts and imitate shopping experiences similar to physical stores.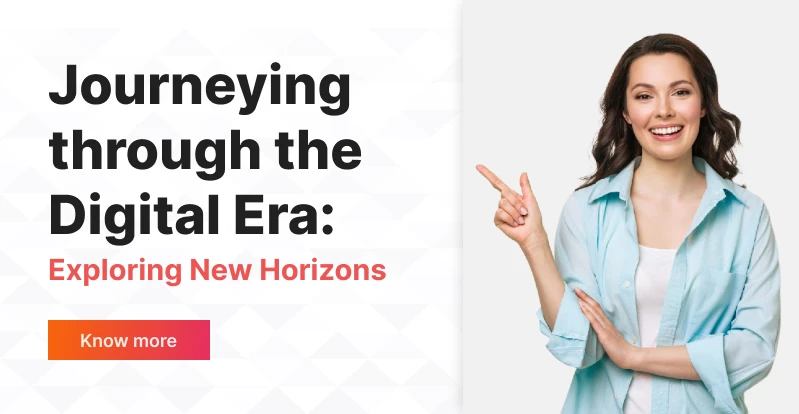 When shopping for jewelry online, customers can benefit from Augmented Reality (AR). In the jewelry industry, virtual try-on technology is becoming increasingly popular.
Data gathered by digital shopping assistants assist firms in data analysis and insight generation, helping them better understand and serve customers. In addition, adding Millennials and Gen Z's preferred technology, such as "voice search," can assist the brand in tackling competitors and providing buyers with a quick and preferred form of shopping.
Understand the Requirements of Today's Customers
Consumers' needs in today's jewelry sector differ depending on personal style, cultural preferences, and socioeconomic class.
Jewelry customers are increasingly looking for one-of-a-kind and customized jewelry designs that reflect their distinctive style and personality. They want to be able to personalize items or have access to a wide range of styles that appeal to a wide range of tastes.
Today's youngsters want to order the item from any location and want to return it from anywhere, that is they expect return policy, and delivery options to be flexible, which can improve their overall shopping experience and raise their satisfaction with the product and brand.
Consumers are growing more environmentally and socially concerned and looking for sustainable and ethical solutions in jewelry. They want to know about a brand's beliefs and production practices. Transparent brands may foster client trust and loyalty.
Many clients search for easy ways to buy jewelry online or through a smartphone app. They anticipate simple navigation and safe payment alternatives. So basically they want a smooth and interactive buyer experience.
Customers want the Real-time "Review and Feedback" option, which connects jewelry designers or owners with their clients, making contact more accessible and faster and can promote necessary changes at any stage.
Essential Features to consider during Digital Transformation
E-Commerce platform
According to Statista, worldwide e-commerce sales are estimated to reach $5.2 trillion in 2021, expected to rise in the future. So each jewelry business must have an e-commerce platform in order to compete in the digital world and reach a larger audience. It should be simple to use and provide a secure payment gateway. The platform should include elements like personalized recommendations, reviews, and ratings to optimize the consumer experience.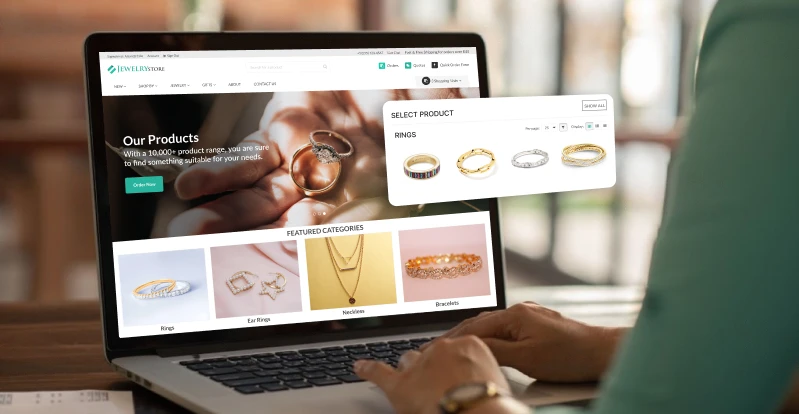 Customization feature
Customers demand for customized products tailored to their tastes. Hence, they should be able to customize their jewelry from scratch by selecting materials, gemstones, and patterns as part of the digital revolution. Buyers should be able to view a 3D rendering of their customized goods before placing an order.
Omnichannel feature
The omnichannel functionality offers a seamless consumer experience across online and offline channels, click-and-collect/ship-from-store choices, virtual showrooms, customized marketing campaigns, consistent branding, integrated loyalty programs, and data-driven insights. By exceeding customer expectations and providing a seamless shopping experience across numerous platforms.
Streamlining Design Library with DAM (Digital Asset Management)
A system for storing, classifying, and retrieving digital assets including pictures, videos, and other creative materials is called digital asset management. By integrating DAM into your online jewelry store design library, you may increase the overall effectiveness of your operations and quickly search for and identify particular files there.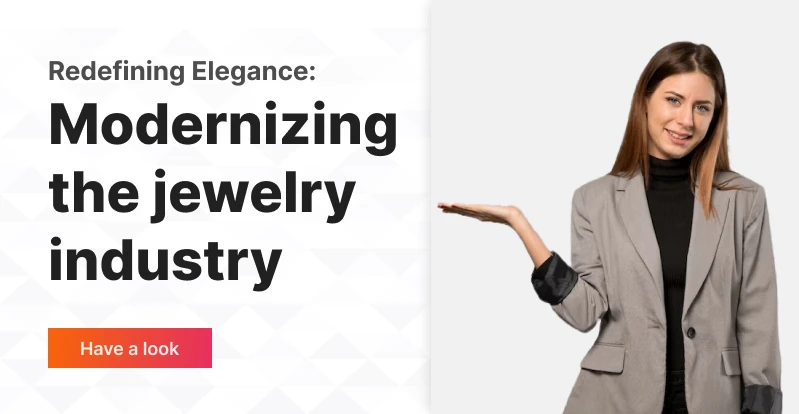 Keeping your images and other documents on-brand can also help you maintain consistency in your visual identity. Giving different team members access to particular files and folders can enhance teamwork by enabling them to work on projects at the same time.
Digital Catalog
To show potential buyers the product line, a jewelry product catalog is required. Before, it was typical to solicit orders from customers by handing out printed catalogs. With the use of this digital technology, sales personnel are now capable of creating the jewelry catalog design without the assistance of creative teams. The digital catalog can also be easily shared from anywhere with the customers with just one click.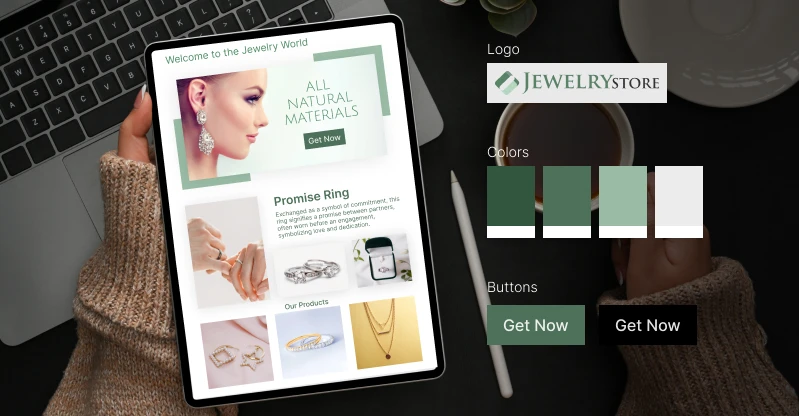 Mood-board
Using this tool, the jewelry brand's creative teams can present their concepts or ideas to potential buyers in a way that is visually appealing. Now the design team can show off the next jewelry collection. This functionality can therefore be used when creating a jewelry website using pre-existing themes, such as a presentation with jewelry design concepts, visual effects, and background music.
Mobile commerce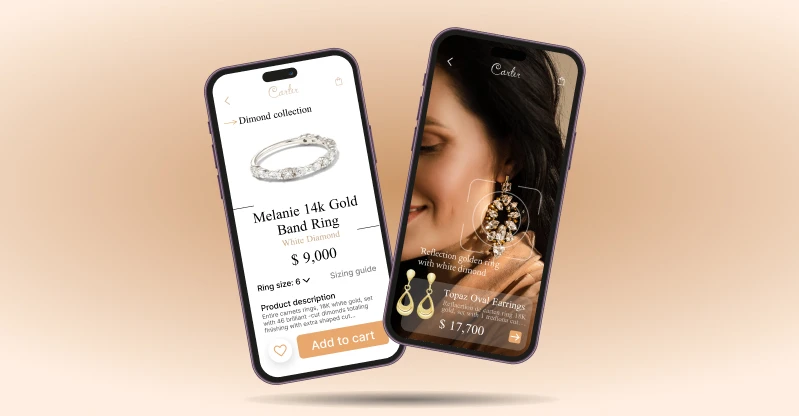 Mobile commerce is fast expanding in the jewelry business. In fact, eMarketer estimates (via Statista) that in 2021, mobile will make up about 73% of all e-commerce sales; as recently as 2016, it represented 52.4%. It provides users with a seamless and engaging shopping experience and increases sales and customer loyalty.
Analytics
Data analytics is becoming increasingly crucial in the jewelry sector. According to Statista, the worldwide big data analytics market will be worth $103 billion by 2027. It can provide insights into customer behavior, sales patterns, and inventory management. It can assist firms in making informed decisions and optimizing their operations.
Virtual try-on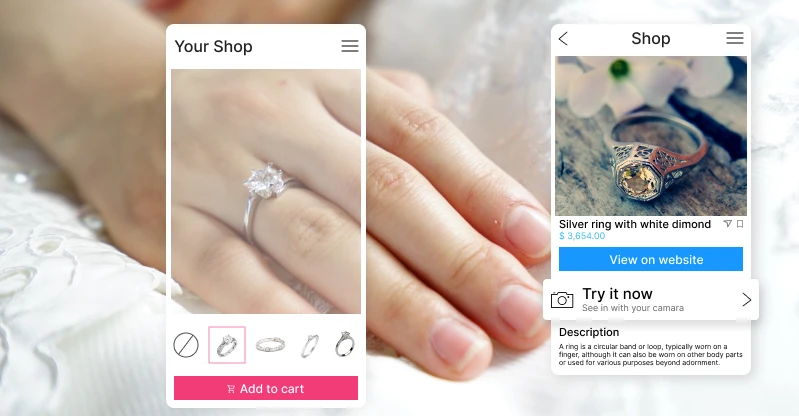 Customers often hesitate to buy jewelry online since they cannot put it on before purchasing. A virtual try-on function, which allows clients to view how the jewelry might look on them, can help to solve this problem. This function uses AR technology to superimpose a digital representation of the jewelry over a consumer's photograph or live video.
Chatbot
The chatbot can be embedded into an e-commerce jewelry platform to boost the client experience and loyalty. It can deliver Personalized Recommendations, Order Tracking, and Product Information. It can also assist organizations in lowering customer service expenses and increasing income by making targeted recommendations and upselling opportunities.
Inventory management
A digital transformation should include an inventory management system to track the stock of jewelry items. The system should provide real-time updates on the availability of products and automate reordering. An excellent inventory management system can help firms optimize their operations, minimize inventory expenses, and enhance their bottom line.
Supply Chain Management
It enables real-time inventory tracking, streamlines order fulfillment, improves supplier collaboration, and ensures product traceability and quality control. It also utilizes data analytics for insights, integrates with digital platforms for seamless operations, and drives efficiency, cost savings, and customer satisfaction in the jewelry supply chain.
Customer relationship management (CRM)
A CRM system can assist firms in managing buyer interactions and improving the overall customer experience. It should incorporate consumer history, buying behavior, and personalized communication. The technology should also provide insights into client preferences and behavior to enable businesses to personalize their marketing efforts.
Third-Party Integrations
Integrations with third parties include chatbots, analytics tools, social networking platforms, shipping and logistics, product evaluations and ratings, and payment gateways. These integrations have the potential to enhance functionality, raise consumer engagement, and generate revenue. The right services must be chosen, and their compatibility with the website and other business needs must be confirmed.
Social Media Presence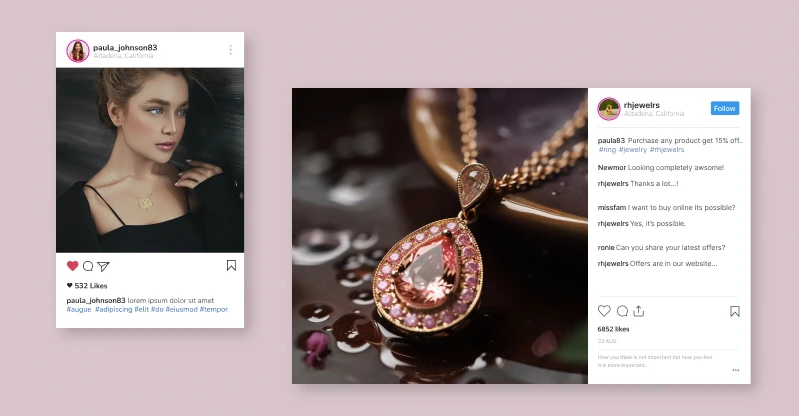 An excellent social media presence can help jewelry businesses reach a wider audience and improve brand awareness by exhibiting their products, interacting with customers, and getting feedback. Social media can be used for targeted advertising and influencer marketing as well as for displaying and selling products worldwide.
Real-time Reviews and Feedback
The "Review and Feedback" tool is an essential feature. This connects jewelry designers or owners with their clients, making communication easier and faster. With this function, customers can easily submit digitally in real-time feedback on designs they have ordered from the company.
Payment gateways
A payment gateway is a necessary aspect that lets clients make secure online payments for their orders. When choosing a payment gateway, jewelry stores should consider transaction fees, security features, and customer experience. A payment gateway that offers safe and seamless payment processing while being cost-effective for the business is essential.
Digital Transformation Case Studies
Ritani
Ritani is a well-known online retailer of engagement rings, wedding bands, and fine jewelry. The organization has adopted digital transformation to give customers a more personalized and convenient purchasing experience.
Its virtual try-on function is one of the primary ways it has exploited digital tools and technologies in which buyers can digitally try on different jewelry to understand better how it will look on them. This feature has been a considerable success, making customers feel more confident in their purchases and minimizing the number of returns.
It has included features such as personalized product recommendations and a tool for product modification. Customers can make a unique piece of jewelry by customizing their ring by picking the metal type, diamond shape, and other crucial aspects. It has also installed a CRM system which has aided the company's efforts to foster consumer loyalty and increase repeat business.
Pandora
Pandora is a global jewelry brand known for its customized charm bracelets and fine jewelry. The organization has embraced digital transformation to improve consumer engagement and streamline processes. Pandora's e-commerce platform is one of the most important ways it has used digital tools and technologies. Pandora has a virtual try-on option that allows clients to see how a piece of jewelry would look on them before purchasing it.
Pandora has incorporated various data analytics tools to understand user behavior and preferences better. This information personalizes the customer experience, including personalized product suggestions and targeted marketing initiatives. The company uses a smartphone app to monitor inventory levels, manage orders, and optimize logistics. This has aided in cost reduction and increased efficiency.
Signet Jewellers
Signet Jewellers is a global diamond jewelry store with well-known brands such as Kay Jewellers and Zales. The company has invested in its online purchasing experience, such as developing a mobile app and optimizing its website for mobile devices. Online ordering and in-store pickup are also available at Signet Jewellers.
The company uses artificial intelligence (AI) to forecast which products clients will likely buy, allowing it to adapt its inventory and marketing methods. Also, it has a mobile app for its employees to manage inventory and customer data, resulting in a more efficient in-store experience. The corporation has also invested in supply chain management, employing solutions to improve operations and cut costs. These are the latest trends in the jewelry industry, which the organization has incorporated and has seen growth and success.
Conclusion
Digital transformation case studies show why digital transformation is essential for business growth. A jewelry firm can benefit from digital transformation in various ways. Higher efficiency, improved customer experience, expanded visibility, better data management, and competitive advantage are the benefits of digital transformation.
There is a huge impact of digital transformation on the Jewelry Industry. Jewelry businesses can use digital technologies to enhance procedures, automate regular tasks, and decrease errors, ultimately saving time and resources.
Digital Transformation can also aid in establishing an online presence, making it easier for potential clients to find the business and increasing brand awareness. By handling data more effectively, companies may make more informed decisions and uncover chances for growth.
Furthermore, it can assist in differentiating the company from competitors and providing new marketing opportunities. Jewelry businesses can benefit from digital transformation to become more efficient, lucrative, and successful.
Therefore, to survive and grow in the digital age and to leverage the benefits of digital transformation, jewelry firms must embrace technological upgrades today. Failure to do so could cause businesses to lag behind their rivals and lose market share to companies that are more technologically advanced.