In competitive e-commerce market, If you want to sell efficiently and want to secure your store against hacking and fraud, then you need to migrate your store to the latest version of your existing framework. Most of the people think setting up a store is enough for selling things online, Well actually they are wrong.
In this 8 years, I come across many cases from different countries that store owners faced security consequences and payment fraud by not migrating the store to the latest version. If your store is built with Magento 1x then you definitely need to migrate to the Magento 2.2, which is highly robust and secure.
There are different extensions are available in the market through which you can able to migrate your store to the latest version and be assured about security and high scalability.
In this article, we will go to see the Top 4 Magento migration which actually you can use to migrate your store.
Mageworx
Mageworx is one the oldest and reputed company that provides migration extensions. They are offering different migration solutions and tailored which could fit the needs of their clients.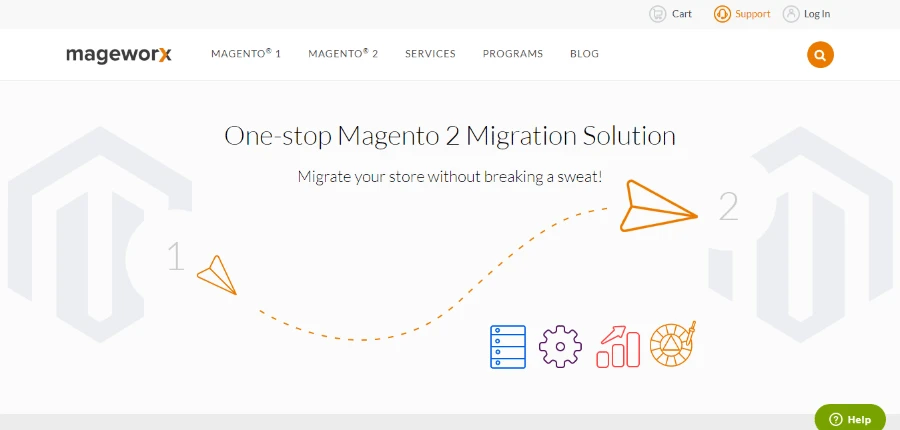 1. Database Migration
One of the most crucial parts of the migration process is transferring the store data. This is why I always advised my client that you should choose the Magento developers which can develop a database in such a way that it could be easily migrated to the latest version. Data migration includes moving the store configuration, list of all products, Website content, customers data, sales data and SEO setup.
Here the list of the components that will be transferred with this tool
Website and localized store
Store configuration settings
Product data (Including all product attributes, categories, manufacturers, rating, and reviews etc.)
Customer database with all settings
Sales data
CMS content
Basic SEO setup
Taxes
Other crucial store data
2. Migrating custom-built functionality
You might be knowing that Magento 1 extensions and code customization are not transferable to Magento 2. So if your store is Magento 1 version and having a multiple custom built functionality then you need to redevelop all the for Magento 2 version.
Extension Migration: If an extension has a Magento 2 version, then they will configure and install it in the store.
Code Customizations: They will recreate custom built functionality on your Magento 2 store.
They will optimize built solutions to make them better run on the new version of the platform.
They will enhance custom-built solutions with new features and ability to add more advanced functionality.

3. Design Migration
The theme of Magento version 1 is migratable to the Magento 2. Therefore there is need to find a new store theme, recreate the old one or design a new custom theme from the scratch.
They will find, install and customize any ready to apply the theme.
Completely recreate the Magento 1 theme, so nobody can spot the difference.
Developing a new and fresh design of your Magento 2 store.
4. Migrating Advanced SEO settings
In case if the client is using third-party SEO solutions, migration might witness some serious SEO risks.
They will help to recreate advanced SEO settings.
Optimize the current SEO setup for better results.
Litextension
If you want to migrate your store to Magento 2 quickly without taking too much headache then LitExtension is all you need. LitExtnesions is Magento to Magento migration module which ensures to get the job done quickly with ensuring the security. With this module allows migrating products, customers, orders and other data from Magento to Magento within 3 simple steps.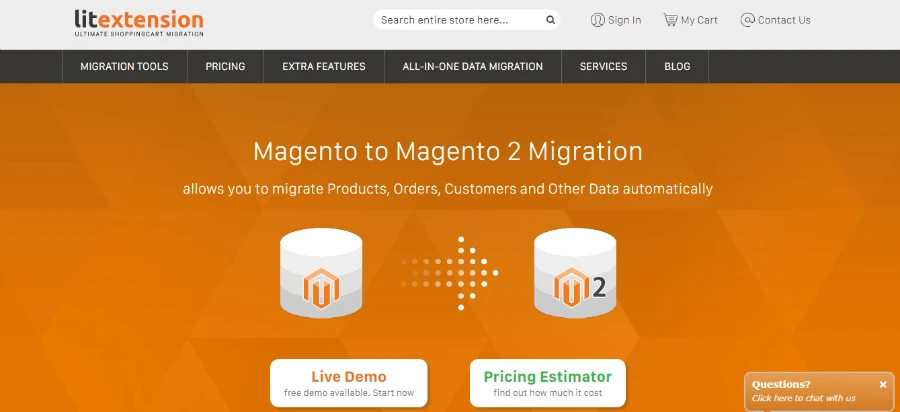 One of the hurdle people faces while migrating the store is with long downtime. Generally, migration takes a significant amount of time and during that period store is down, which kind of create a bad impression and negatively impact your brand. But with LitExtension your Magento store will work normally during migration.
ADDITIONAL FEATURES OF LITEXTENSION
No Downtime: During the migration process, the website will not be going to face the downtimes.
Work Online Or Offline: Migration Process can be run Online or Offline development environment.
Preserve Ids: By this option, you will able to preserve IDs included Order IDs, Customer IDs on the Target store after the migration.
Select Data Migration: This option will let you select the types of data that suits your need. There are 7 types of data including taxes, manufactures, categories, products, reviews, customers and orders.
Migrate Recent Data: After completing the process, Magento (old) is still live and continue getting new data, and you want to get your Magento (new) updated with the new data, this feature to avoid starting over again.
Clear Data Before Migration: LitExtension also allows deleting current data (products, customers, orders etc) from the Magento before migration
Fail-Safe Migration: During the process, if migration suddenly stops due to server shutdown, network down or any other cause. The module provides resume functionality to continue on the last point of previous migration, so there will be no need to restart it again.
Data Security: It enables direct data transfer, which means no third party will be involved. Direct data transfer from Magento to Magento, NO third party involved
Product Variants: Allow creating product variants based on the available combinations of attribute values.
Product Inventory: It avoids product inventory for out of stock products
Installation: Free Installation
Ubertheme
If you looking for an effective module which can help you to migrate your store from Magento 1.x to Magento 2 then UB Data Migration tool is best option.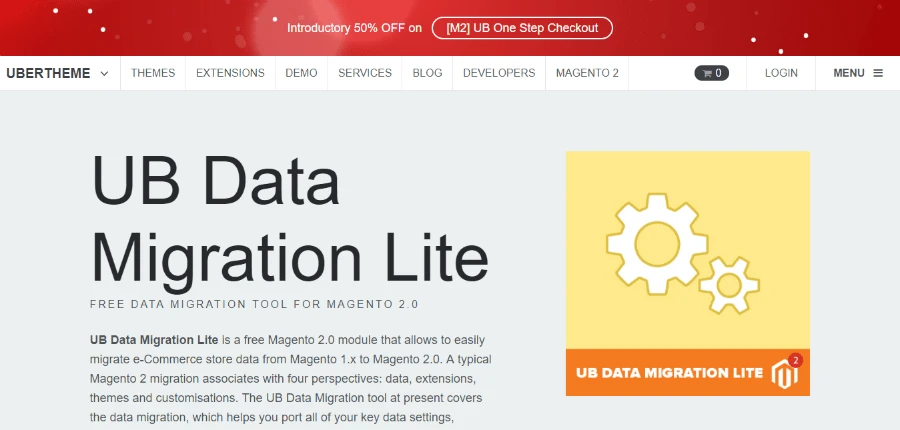 It provides the ability to transfer all products, order data, store configurations to Magento 2.
UB data migration deals with a direct database to database migration only, other aspects like extensions, themes or customization would be separated and handled by theme providers.


Main Features of UB Migration tool
It Supports Command-Line Interface (CLI) commands: Allows to proceed migration steps using the command lines in CLI mode, after completing all pre-migration setting steps.
It also Supports Delta Migration
You can able to migrate multiple times
It also support the PHP Memcached (a high-performance object caching system)
Migrate websites, stores, store views (Allow to merge default Magento 1 website – including default store of default website & default store view of default store – into existing default Magento 2 website)
Migrate product attribute sets, product attribute groups, product attributes
Migrate Product Categories recursively (full category trees)
Migrate Products (Simple Products, Configurable Products, Grouped Products, Virtual Products, Bundle Products and Downloadable Products)
Migrate Customer Groups and Customers
Migrate Sales Data: Sales Orders, Sales Quote, Sales Payments, Sales Invoices, Sales Shipments, Sales Credit Memo, Sales Rules & Coupons
Migrate Product Reviews, Rating data
Automatically convert Product Group Prices to Product Tier Prices
Purchased Downloadable Product Links
Migrate Tax rules, Tax Zones, and Tax Rates Catalog rules.
Email Templates and Newsletter Data: Email Templates, Newsletter Templates, Newsletter Queue, Newsletter Subscribers, Newsletter Problem Reports
Migrate System Increment IDs.
Port important fields in Categories and Products, including meta description, page title, Url key, Url Rewrites. So your category and product pages SEO optimization remains reserved in Magento 2 once the migration process completes.
It Works efficiently in both Nginx and Apache web servers.
Magento Data migration tool
Data migration tool by Magento is an efficient way of moving all your products, customers, order data, promotions, store configurations and more to Magento 2.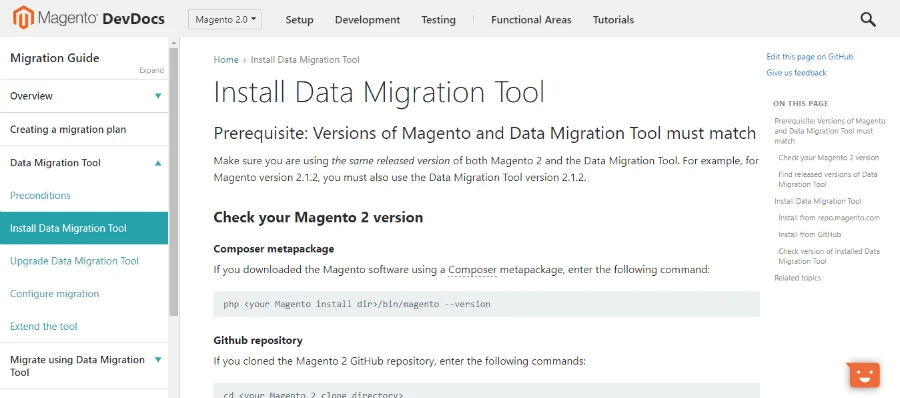 It is a command line interface used for transferring data from Magento 1 to Magento 2. By this tools, it also verifies consistency between magento1 and 2 database structures and tracks the data transfer progress and able to run verification tests.
Operation goes in three steps:
Settings
Data
Delta
Each phase consists of several other tasks specific to the particular mode/phase.
Settings: In Setting, It migrates the configurations setting of the store.
Data:In this phase/mode, it migrates the main data in the database.
Delta: In this phase, it transfer incremental data updates, added to Magento 1 storefront and admin panel while running previous migration nodes
Conclusion:
If you are an eCommerce owner then you need to understand that for selling online effectively you need to keep your website updated with the latest version which not only enhances your store security but much more SEO friendly and intuitive which can drive higher traffic to your store and boost your conversion rates and that is Magento 2.2
Let us know in the comments which one of the extension has helped you to migrate your store to Magento 2.2
If you looking for any help regarding Magento migration services then you can contact us.