The Magento eCommerce software remains one of the most widely used because of the amazing functionalities that it offers to merchants. That status is also likely not to end in 2021, especially following the release of the Magento 2.2.8 in March.
However, any successful Magento eCommerce owner will readily tell you that the software is like a car engine and body while extensions are the other parts of the car that you need if you are ever to ride it.
Well, let's quickly go over what a Magento extension is and also some things that they can help you do on your eCommerce store.
Jump to your favourite topic
What is a Magento Extension?
A Magento extension is a block of PHP code embedding additional functions that are not provided by the Magento eCommerce software. If the last sentence line is difficult for you to grasp, then you may be better off with our car illustration mentioned earlier.
What a Magento extension does for your eCommerce store is what you car tires, brakes, mirror and every other thing you can think of aside from the engine and body.
Magento extensions allow you to add extended functionalities to your store's front-end and backend without you needed a developer to alter your site's code. They allow you to maintain your stores the way you want and make changes with more flexibility than usually should be possible.
What Are Some Things You Can Do With A Magento Extension?
Well, there are so many functionalities embedded within Magento extensions, meaning that there are also so many things you can do with them. Precisely, here are some of the most common things people need a Magento Extension for:
Tax Calculation
Since eCommerce stores are fast turning in higher revenue than brick and mortar stores, calculating taxes can be a headache for merchants especially if sales run into thousands daily. Happily, though, some Magento extensions offer to take this load off the merchant by calculating taxes using sales figures generated by the store.
Some popular Magento tax calculation extensions included AvaTax and Sovox Sales Tax Calculator.
Customer Support
Managing customers' inquiries and complaints can turn into a heck of a job if there is no streamlined dashboard on the backend to know which ones you've attended to and does that you have not.
Magento extensions offer you the ability to do this and even goes one step ahead by adding live chat functionalities to provide support to customers in real-time.
Popular Magento customer support extensions include eDesk Helpdesk, Livechat and HelpDesk Ultimate.
Marketing
Since you already know that eCommerce is all about marketing, there is a need for additional functionalities to help your store record more sales over time.
Therefore, whether you're thinking of improving social media marketing, email marketing, affiliate marketing or search engine rankings, there are Magento extensions that will help you do that.
Popular Magento marketing extensions include Advanced Newsletter, Abandoned Cart Email and Yotpo Reviews.

Payments
Aside from PayPal, there are several other payment solution companies that your visitors may feel comfortable to use while shopping on your eCommerce store.
These payment companies often offer a Magento extension to make it easier for merchants to integrate their platform on their eCommerce store, without going through the long channel of editing codes.
Popular Magento payment extensions include BrainTree Payments, Extra Fees and Skrill Hosted Payment Solution.
Search Engine Optimization
With the eCommerce industry growing more competitive every day, you need the best SEO practice if you're to ever grab your share of traffic on the search engine result pages.
With the right Magento SEO extensions, you can automate some segments of your SEO efforts and avoid wasting time on customizing each product page to meet Google and Yahoo search standards.
Popular Magento SEO extensions include SEO Suite Ultimate, Landing Pages, Extended Rich Snippets, and Cross-Linking.
Social Media
Unless you're new to eCommerce, you already understand that your store could attract a lot of potential customers by posting on social media pages on Facebook. Instagram, Pinterest and the likes.
You could also make it easy for customers to checkout after loading their carts by allowing them to use a social media login option, instead of supplying their details.
Popular Magento Social Media extensions like Social Login, Facebook Chatbot for Magento 2 and YouTube Channel Feeds can streamline your social media marketing efforts and improve your results.
Now that you know some of the things you can do with a wide variety of Magento extensions, you may be confused about whether the Magento eCommerce software company is responsible for these extensions.
Is it the Magento Company That Develops Magento Extensions?
No. Magento extensions are developed by a broad network of developers who partner with the Magento software company to improve their platform. For this reason, you're likely to find many free as well as paid Magento extensions available.
Also, even though Magento itself lists some extensions on the Magento MarketPlace, there are several Magento extension providers on the web offering both free and paid Magento extensions.
That brings us to the major purpose of this article, which is fishing out the top Magento extension providers from the pool of sources out there. We're sure you don't want to install an extension that crashes your site or slows down its performance.
Top 17 Magento Extension Providers 2021
1. Amasty
The Amasty Magento marketplace hosts 128 Magento 1 extensions and 117 Magento 2 extensions, meaning that they have a variety of add-ons that can improve your store's performance straight out the door.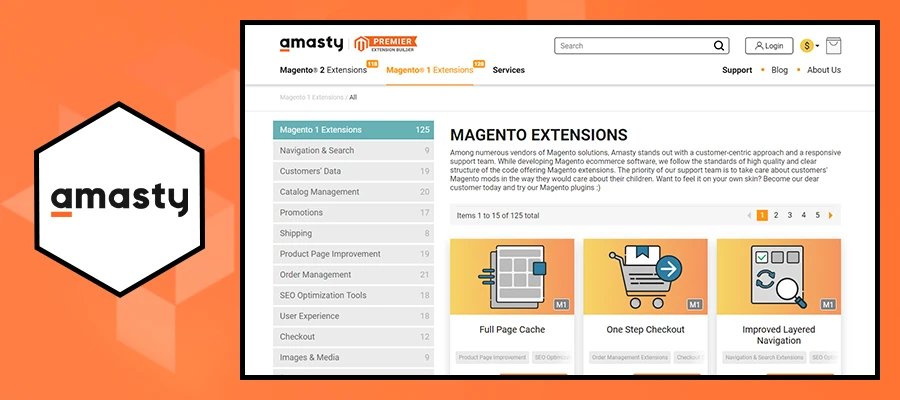 You can also expect to find these categories of Magento extensions on Amasty, namely: Navigation and Search, Catalog Management, Customers' data, Promotions, Product Page Improvement, Order Management, SEO, User Experience, Checkout, and media.
Only four free Magento extensions are available on Amasty namely Google Map, Wishlist, Promotions Manager and Facebook Comments while premium extensions fall within the price range of $39-$349.
Interestingly, Amasty brands its marketplace as having one of the fastest customer support team and proves this to an extent by integrating live chat option on their website, a feature that is lacking from some of the extension providers we've reviewed so far.
Website: https://amasty.com/
2. WebKul
Awarded as the provider of the top-selling Magento extension in 2017, WebKul is one of the top-ranked providers on the web and offers a range of Magento extensions that can improve your eCommerce store.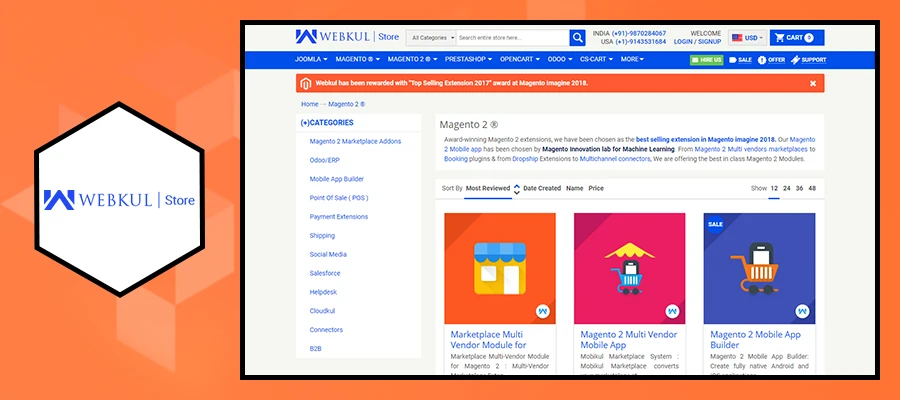 However, one of the firm's best Magento extensions is the Magento 2 Mobile App Builder that allows merchants to provide an app experience to their customers without going through the lengthy process of building one from scratch.
Other categories of extensions that you can expect to find on WebKul include add-ons for Social Media, Point of Sale, Payments, Sales Force, Shipping, HelpDesk, B2B and Connectors.
Although you'll also find some free Magento extensions on WebKul, most items listed on the market place go for a fee with the lowest being the Custom Product Labels for Magento 2 starting at $29.
Website: https://webkul.com/
3. FmExtensions
Pakistani-based FmeExtensions offers a variety of Magento 1 and 2 extensions divided into categories such as Catalog, Administration, Images and Media, CMS, Check, User Experience, Product Pricing, Shopping Cart, SEO, Security, and much more.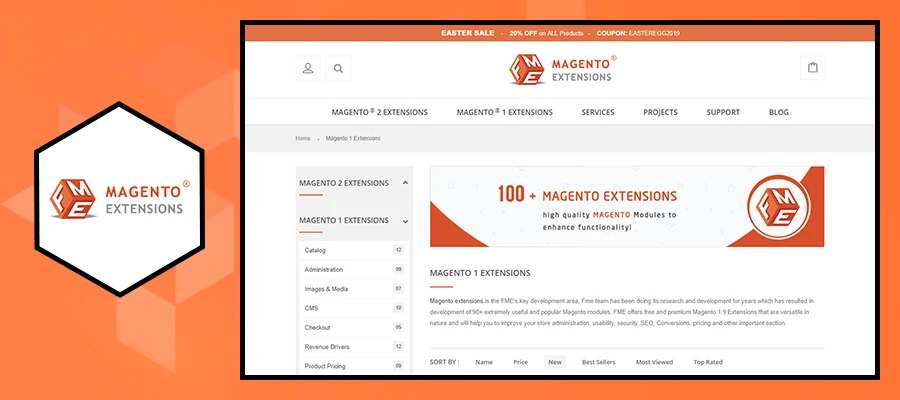 While you can also expect to find at least eight free Magento extensions on their marketplace, pricing for Premium extensions starts at $20 for their FAQ Management Extension while the Custom Options Extension is the most expensive with the cost of $449.99
Other features you can expect to find on FmeExtensions include live chat support and 15% discount on purchases of at least 3 Premium Magento extensions.
Website: https://www.fmeextensions.com/
4. Elsner
Elsner technologies principal aim is to provide the best services to the users. When it comes to delivering a smooth user experience, all you need is the right Magento 2 Extensions.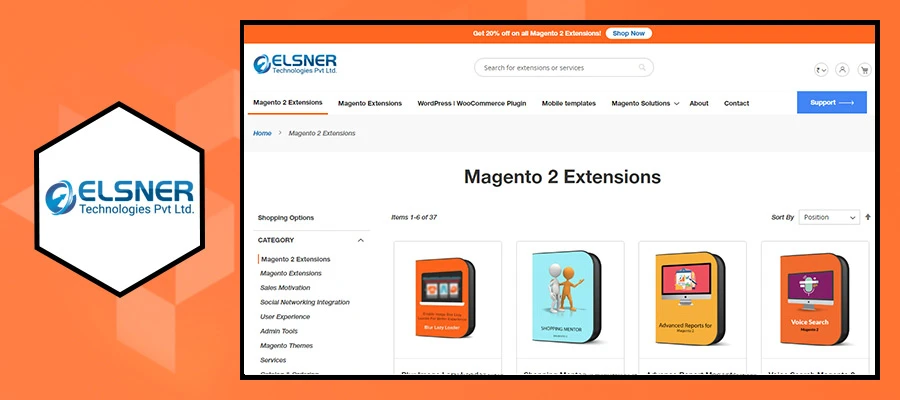 Well, Elsner has one of the best collections of Magento 2 Extensions in the marketplace. Be it catalogue management, ease of checkout process, payment gateways, store management, or promotions, and they have an extension for each.
At Elsner, they have a support team of experts that won't leave you in the midst of the crowd. Instead, they believe in growing together. Unlike some organizations, they will guarantee to give the best services and help you provide the best solution in the market.
Website: https://www.elsner.com/
5. Aheadworks
Aheadworks is a U.S based Magento extension provider offering add-ons for both Magento 1 and the latest versions of Magento 2.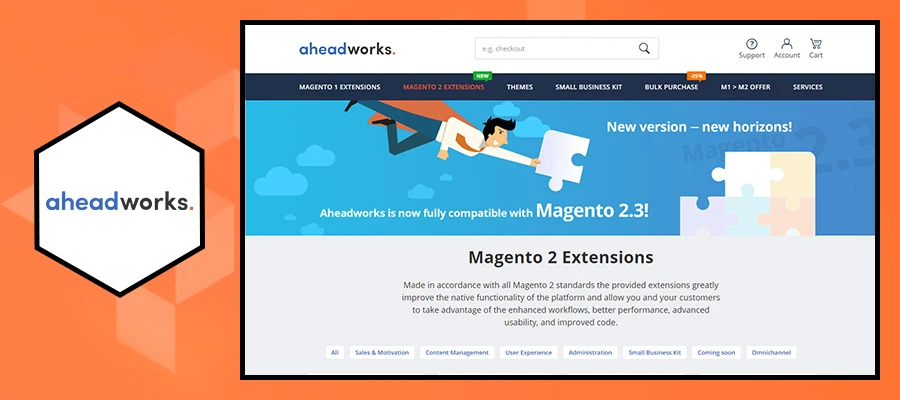 Magento extensions on Aheadworks are classified into different categories such as Sales and Motivation, Content Management, User Experience, Administration and Small Business Kit.
However, these extensions are a little pricey and fall within the range of $79 to as high as $799. If you're looking for free Magento extensions, don't bother about going to Aheadworks, you wouldn't find any as all add-ons on the website at the time of writing this article, were premium.
Aside from Magento extensions, Aheadworks also offer Magento themes and usually give discounts between 10% to 25% for bulk purchases.
Website: https://www.aheadworks.com/
6. MageWorx
MageWorx is an ideal Magento extension provider since they offer educational resources as we as add-ons both for merchants still using Magento 1.0 and those who have migrated to Magento 2.0.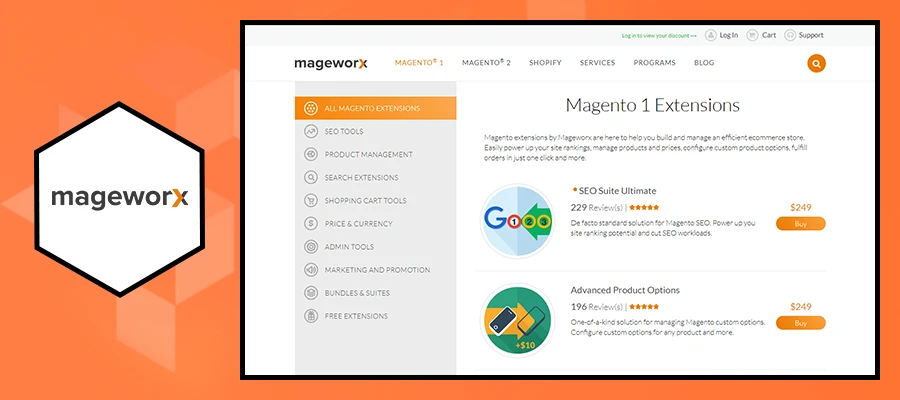 These extensions are classified such as SEO, Product Management, Order Management, Prices and Currencies, Promotion and Motivation, User Experience and Store Administration.
The best-selling Magento extensions on MageWorx include SEO Suite Ultimate, Advanced Product Options Suite and Shipping Suite, all for $299 each.
MageWorx also offers five free extensions which notably includes the Wave Crypto Payments extension that allows merchants to collect cryptocurrency payments on their eCommerce store directly.
Website: https://www.mageworx.com/
7. MageBees
Like MageWorx, MageBees also offers Magento 1.0 and Magento 2 extensions. However, you're more likely to find more affordable and free extensions for both versions of Magento on MageBees.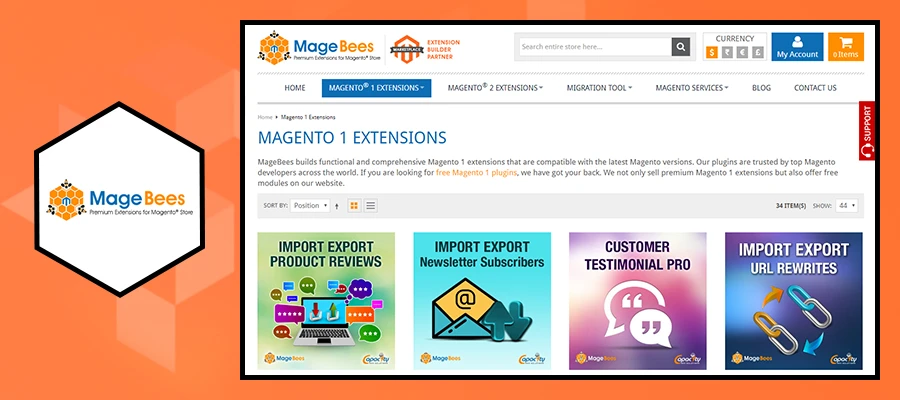 MageBees classifies its Magento extensions into Import/Export tools, Navigation, Sales Motivation and Cart tools with prices usually falling between $39.99 and $149, except for a few extensions like the Quotation Manager Pro which goes for $199.
At the time of writing this article, MageBee is offering a 10% discount on a purchase of two extensions, 15% off on three and 20% off for those who order up to four extensions or more at the same time.
Website: https://www.magebees.com/
8. Wyomind
Wyomind is a Europe-based Magento Extension Provider. So If you're in Europe and planning to shop closer to home, albeit doing so online, then Wyomind may be your one-stop shop for top Magento extensions.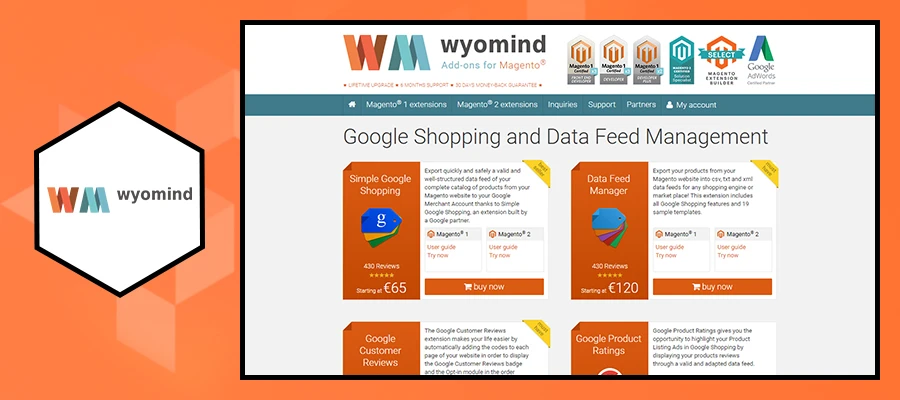 The firm offers both Magento 1 and Magento 2 extensions and classifies these add-ons into categories such as Google Shopping and Data Feed Management, ElasticSearch, Stocks Management, Security Enhancements, Orders Management, Checkout Enhancement, Backend Enhancement and Customer Experience Enhancement.
There are a couple of free Magento extensions on Wyomind with premium add-ons starting prices at €65.
Wyoming claims to offer 6-months support on extensions purchased from them as 30-day money back guarantee. However, unlike some of the extension providers we've reviewed so far, Wyomind does not have live chat support, meaning that any inquiries you have must be sent to them via email using the contact form on their website.
Website: https://www.wyomind.com/
9. MagePlaza
Out of the Magento extension providers we've reviewed so far, MagePlaza offers the highest number of free add-ons.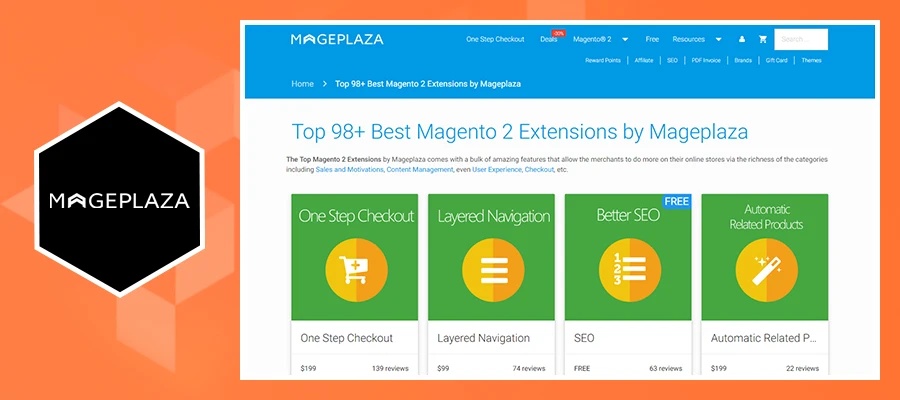 Therefore, if you're just getting started with your Magento store and need some free extensions before you can go premium, then you may want to check out their site.
Some of these free Magento extensions could help you improve SEO, Create a blog for your store, improve security, introduce newsletter pop-ups and Google ReCaptcha, offer multiple flat rate shipping to shoppers and much more.
Premium Magento extensions on MagePlaza fall within the price range of $49-$199 while in total, you can find up to 98+ extensions on their marketplace. MagePlaza also has an affiliate program extension, in case you're looking to set up such a marketing system for your eCommerce store.
Website: https://www.mageplaza.com/
10. MageHit
MageHit offers moderately prices Magento 1 and Magento 2 Extensions that can help you introduce a suite of new functionalities to your eCommerce store right away.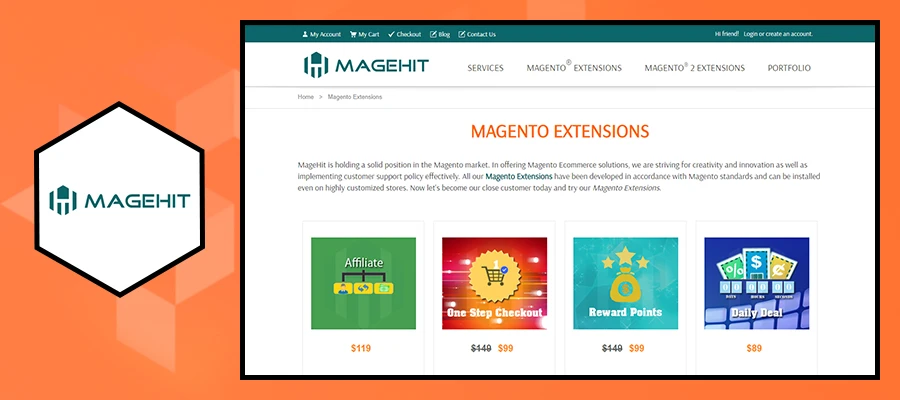 These extensions fall within the price range of $29-$199 and are subdivided into categories such as Advanced Search, Affiliate, Checkout, Social Media, FAQ Management, Product Labels, Banner Sliders and much more.
Are you Searching for free Magento extensions? Well, there are five free Magento 1 extension on MageHit and four free extensions for Magento 2 merchants. These extensions, however, focus on Product display management, Custom Login redirect and Delete orders.
Website: https://magehit.com/
11. Landofcoder
Landofcoder likely got its name from the company coding Magento extensions and themes that can improve your site's display and functionality.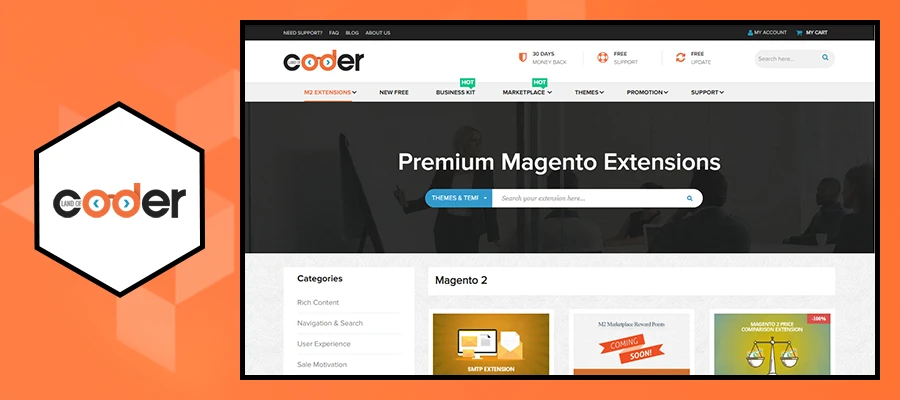 Their marketplace features several Magento 2 extensions divided into categories such as Sales and Motivation, Rich Content, Site Management, User Experience, Conversion Rate, Customer Support, Order and Shipping, Search and Navigation, etc.
The price for Magento extensions of Landofcoder falls within $0 to $399 meaning that you can expect to find a handful of free extensions on the market place. Landofcoder also claims to offer a 30-day money back guarantee, free support and free updates items you purchase from their site.
There is also live chat support enabled on the website, in case you're having a hard time finding what you want, even though the site's interactive interface means there's very little chance of that happening.
Website: https://landofcoder.com/
12. Mirasvit
Mirasvit's marketplace puts on sale Premium Magento 1 and Magento 2 extensions even though they have limited stock when compared to other provider's we've discussed so far.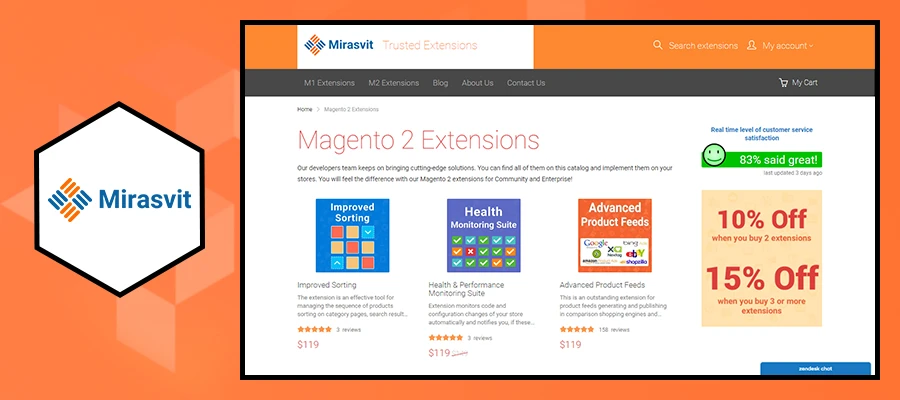 With Mirasvit, you're likely not going to have a hard time finding the extensions since all of them are arranged on a single page and fall within the price range of $49 to $249 (for Magento 1) and $69 to $349 (for Magento 2). There are no free extensions available on their site.
The company also offers incentives such as 30-day money back guarantee on a purchase, free lifetime updates and 90-day support after installation. It is also important to note that the overall price of extensions on Mirasvit included the cost of installation by their team. Therefore, you could get these extensions for a lower fee if you can install them yourself.
Mirasvit also has an affiliate marketing program in case you're looking for where to make extra cash by recommending extensions that you've used to other Magento merchants.
Website: https://mirasvit.com
13. MageComp
MageComp is an India-based Magento extensions provider with moderately priced add-ons for both Magento 1 and 2 eCommerce platforms.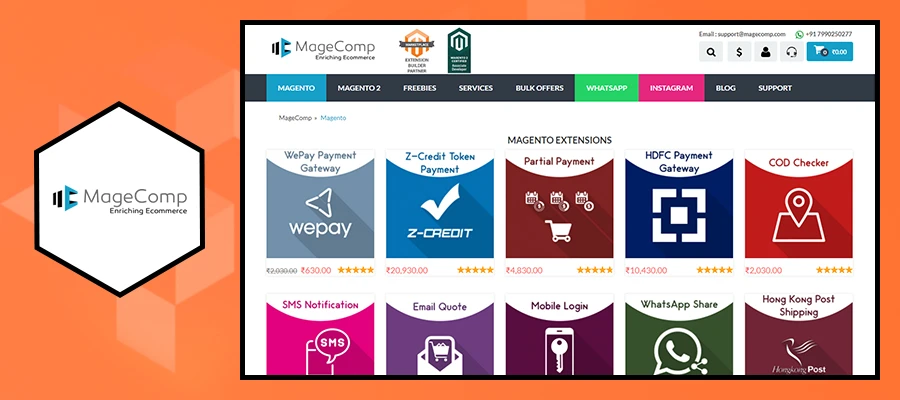 Pricing for Magento 1 extensions starts from as low as $9 for the WePay Payment Gateway add-on but could go as high as $299 for the eWay Recurring and Subscription payment extension.
For Magento 2 extensions, some extensions go for as low as $29.99 or as high as $169.
MageComp divides other extensions on its platforms based on their purposes such as Catalog, User Experience, Social, Payment Gateways, Administrations, Sales Motivation, Shipping, and Security.
However, just like Mirasvit, MageComp does not have a lot of Magento extensions on sale. There are 37 Magento 1 extensions, 46 Magento 2 extensions and 16 free Magento extensions available on MageComp.
MageComp offers live chat function on its website in case you struggle to find what you're searching for.
Website: https://magecomp.com/

14. Plumrocket
Extensions fall under different classes such as Marketing and Sales Motivation, Product Page Improvement, User Experience, Social Network Integration, Rich Content, Admin tools, and Search and navigation.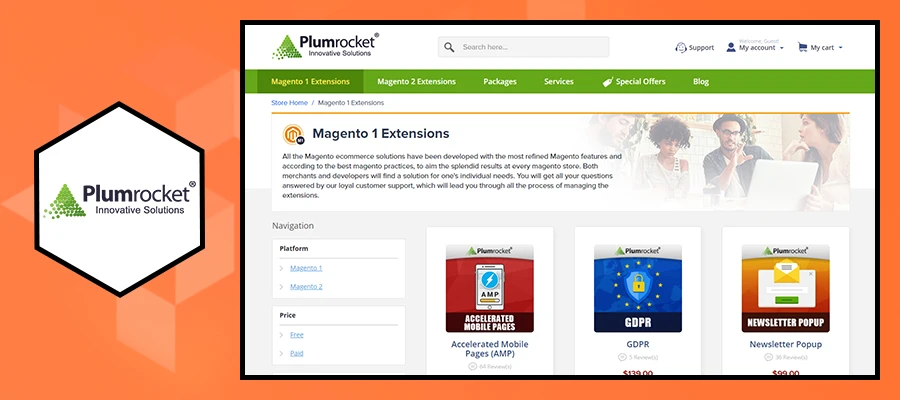 Plumrocket's price list shows that premium extensions have value usually between $47 to $199.20 while there are five free extensions available namely, Twitter and Facebook Login, Advanced Promotions, Order Status and Tracking, Auto Invoice, and Print Order Confirmation as Guest.
Plumrocket, unlike other extension providers, has a special offer page where it lists add-ons that they sell for 20% less than the original price.
Website: https://www.plumrocket.com/
15. MageBay
MageBay is a fairly new Magento extension provider and as such have limited stock when compared to their counterparts.
There are only 13 Premium extensions on sale (10 for Magento 2 and 6 for Magento 1, some are compatible across both platforms hence the total number of 13) with prices falling between $65 to $399.
There is only one free Magento extension on MageBay, that is, the Magento Products Slider Extension. MageBay's website features live chat support for visitors and should add a suite of newer Magento extensions soon.
Website: https://www.magebay.com/
16. MageAnts
Mageant is another Magento extension provider that offers only add-ons for the Magento 2 platform, so you need to upgrade your Magento store to the latest version to get the best out of their marketplace.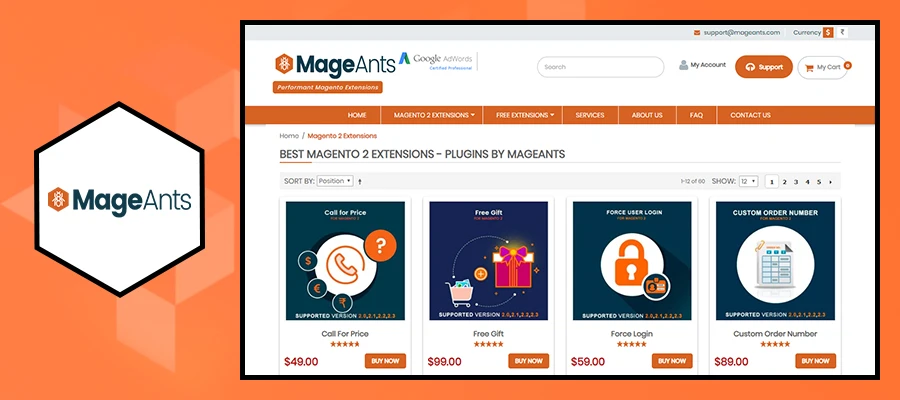 They divide their Premium extensions into five main categories including Marketing, Ease of Use, Catalog, Shipping and Reach to Customer. Generally, there are 60 Magento extensions available on their marketplace with prices falling between $39-$149.
Are you searching for free extensions? MageAnt lists eight free Magento extensions; namely Custom Message, Order Comment, Change Attribute Set, Contact Form, Wishlist Notification, Product Slider, Delete Order and EU Cookie Law.
There is live chat support on their website as well as a FAQ section that addresses most of your questions about the MageAnts marketplace.
Website: https://www.mageants.com/
17. MageDelight
MageDelight only offers 50 premia Magento 2 extensions and 16 Magento 1 extensions on its marketplace, so if you're looking for freebies, you have to use other providers we've listed before now.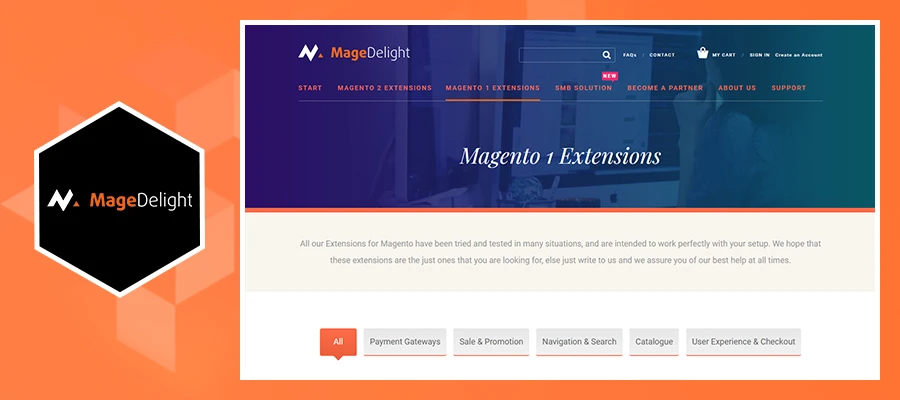 Pricing for MageDelight's premium extensions starts from $39 for the Smart Search add-on and could go as high as $699 for the Subscribe Now add-on. Their extensions fall into five main categories namely, Payment Gateways, Sale & Promotion, Navigation & Search, Catalogue User Experience, and Checkout.
The site also features live chat support and a FAQ section.
Website: https://www.magedelight.com/
18. ExtensionHut
ExtensionHut offers 17 Magento 1 extensions and 18 Magento 2 extensions, perhaps fulfilling it hut-like status amongst other premium extension providers.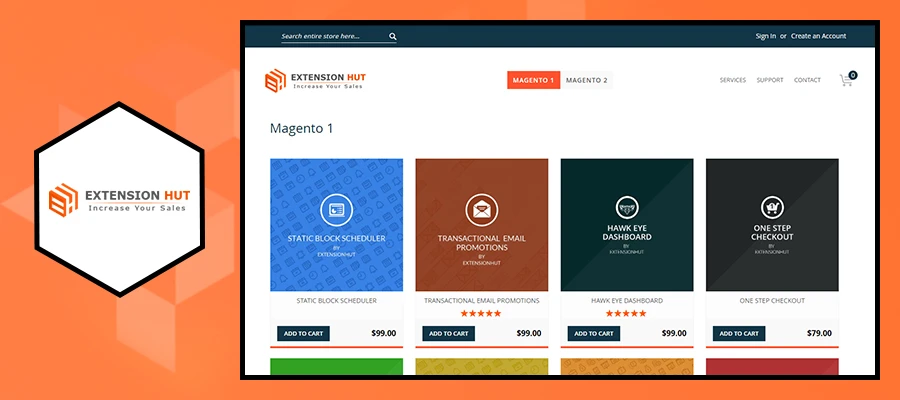 Pricing for the Magento 1 extensions falls between $25 and $199 while for Magento 2, the lowest priced extension is the Category Custom URL for $29 and the most expensive being the Product Scheduler extension for $149.
Their website features live chat and ticketing support meaning that you can expect to receive assistance if you encounter any issues.
Website: https://www.extensionhut.com/
19. Shop AAlogics
Shop Aalogics offers the best range of Magento extensions & professional ecommerce services at the best price.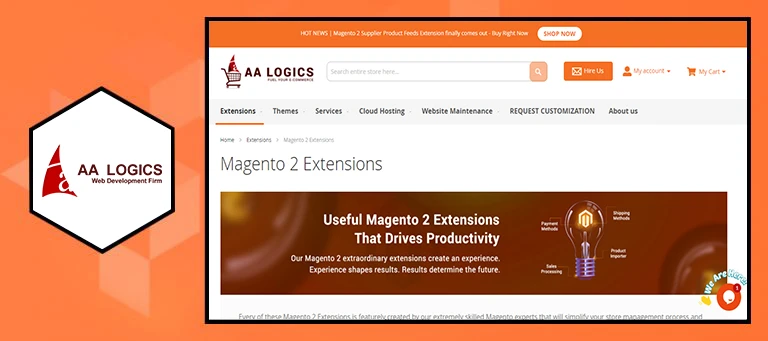 If you are looking for a magento extension you can visit their online store. Shop AAlogics also has a live chat feature where you can ask your questions anytime.
Website: https://shop.aalogics.com/
Final Words
If you're developing a new Magento store or need to upgrade your current version to the latest Magento 2, then you need the right Magento extensions so that you can get the best out of your eCommerce website.
So far, we've outlined the top 17 Magento extension providers to use in 2021, so you shouldn't have a hard time choosing where to get the add-ons you need to build a highly profitable eCommerce business.