Mark runs a real estate firm. He recently attended a business conference where he learned that he could close deals faster by creating a mobile application that lets potential clients browse through his property gallery without visiting the office.
He was excited about the possibilities that creating a mobile application could open for his business, but lost all that zeal when a friend told him that the cost of developing an app is high.
Without asking further questions or at least using a mobile app development cost calculator, Mark gave up his dream of creating an application for his real estate firm.
Well, many people are like Mark in the story above, they know that mobile applications can be an essential asset to their business but are put off by the belief that they would have to break a bank before hiring a mobile app developer.



They fail to ask the question — how much does it cost to make an app?
In this article, we will go over the basic cost of developing an app for iOS and Android mobile platforms.
[contact-form-7 id="22366″ title="App Cost Calculator"]
In the end, you'll likely find out that hiring a developer for your mobile app development is not beyond your reach or at least you could customize your app demands to suit your budget.
How Much Does It Cost To Make an App?
The most straightforward answer to the question is that there is no definite amount to make an app. Project demands, talent hired, features of the intended mobile app and tons of other factors make it practically impossible to estimate how much it costs to create an app.
However, we have observed that the average cost of developing an Android app is $12,500, the iOS app is $16,000, Windows OS is $10,000.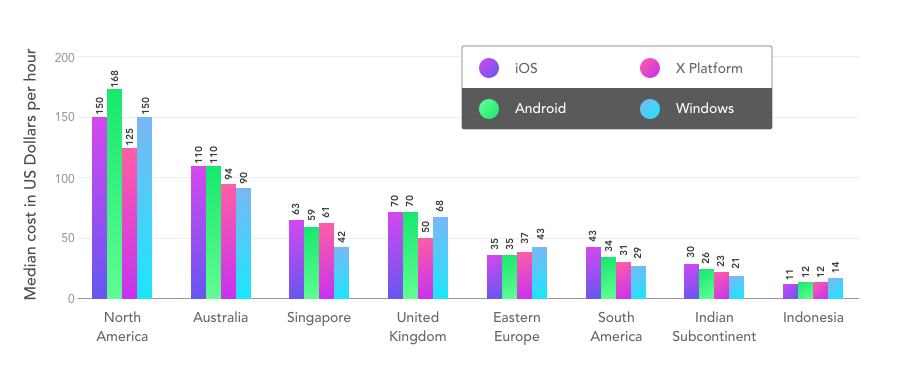 However, note that the above figures are an average, meaning that some apps will cost lower while another cost higher. With that in mind, you will like to know more about the factors that affect the cost of making an Android or iOS application.


Key Factors That Affect The Cost Of Developing an Application
1.Operating System
As vividly shown in the graph above, one of the major factors that determine the cost of making an app is the operating system which hosts the mobile application. In descending order, this is how much it costs to build on each of the four most widely used operating systems:
iOS – $16,000
Android – $12,500
Windows OS – $10,000
*In some cases, the cost of android app development may also be higher than for iOS. However, iOS would top the list primarily because of the following reasons.
Why is iOS App Development Cost Higher Than Android App Development Cost?
Developing an app for the Android platform usually takes a lot of time, but the iOS app development cost is high because of the complexity of writing codes that match Apple's high app standards.
Also, why developers could code for Android with any quality PC, the expensive MAC system is a compulsory item for iOS development. The devices needed for IOS App testing are pretty expensive iPhones and Ipads which in turn if compared with Android phones and tablets are much cheaper. Thus, the overall infrastructure cost for IOS App development is higher than the Android App development.
A third reason is that listing a developed application on the Google Play Store requires the only a one time fee of $25 while keeping your app on Apple Store means you must pay $99 annually or risk having it thrown off.
So, if you're preparing to develop an iOS app, bear in mind that the cost is slightly higher than it would be for an Android application of the same features.
Again, a major factor being that the IOS developers are highly paid as compared to their Android counterparts which make the IOS App development expensive too.
2. Cost Effectiveness
Another key determinant of the cost of making an app is how well the app development budget is managed.
A good app developer or development agency will try as much as possible to not overrun a client's budget. They would try to save money for startups initially by identifying the core features of the Application and delivering an MVP (Minimum Viable Product) which will save time and money for the beta launch and then following the iterative approach to launch new features over time.
The good news is that all these can be done without compromising on the quality of the app, which means subsidized development costs for your business.
To achieve this, however, excellent communication is important. The extent to which you convey your app idea to a mobile app developer or agency has a significant effect on your budget as well as the final product rolled out to your audience.
3. Industry
Without a doubt, mobile applications are already finding use across several industries including gaming, rideshare, health, e-commerce, education, business, lifestyle, social, real estate and so on.
On this basis, it would be wrong to assume that the cost of making a game app would be the same as that of making a health app or even a social app. These diverse ranges of application would require different expertise and team to work towards its development.
In the case of e-commerce applications, the cost of integrating a payment gateway would be adding to the overall expense while for a health app, the cost of hiring health personnel to aid with creating app content would mean extra costs.
Also, the period of testing the application could last longer for a health app since it would have to meet the standards predefined by health agencies in the region of its potential end users.
In summary, it is difficult to tell exactly how much it costs to develop an app for the numerous industries that exist. For the sake of numbers, though, the cost of developing apps for different industries could fall within this price range:
Gaming Apps — $10,000 — $250,000
Rideshare Apps like Uber — $20,000 – $100,000
E-learning App — $10,000 — $30,000
Medical and Health Apps — $10,000 — $100,000
Real Estate App — $10,000 — $60,000
Social Media App — $10,000 — $250,000
E-commerce App — $10,000 — $100,000
*The above prices are only app development cost estimates and could vary comparatively depending on the complexity of your desired end product.
4.Features of Intended Mobile Application
Most times, the number of features that you would want to add in your mobile app will directly affect the cost of making an app.
For instance, apps that work in both online and offline version costs fairly more to develop than developing an online version only for the same App. Also, an advanced e-commerce marketplace App would cost much higher than a simple e-commerce store App with lesser number of features.
While an App development company would charge you extra for a location tracking feature in your App compared to the ones that don't have this feature. There are numerous features that add up to the overall cost of the project like push-notifications, payment gateway integration, CRM integration, Analytics integration, Google API integration and so on.
As shown in the image below, apps are rated as simple, moderate and complex while prices vary for each category.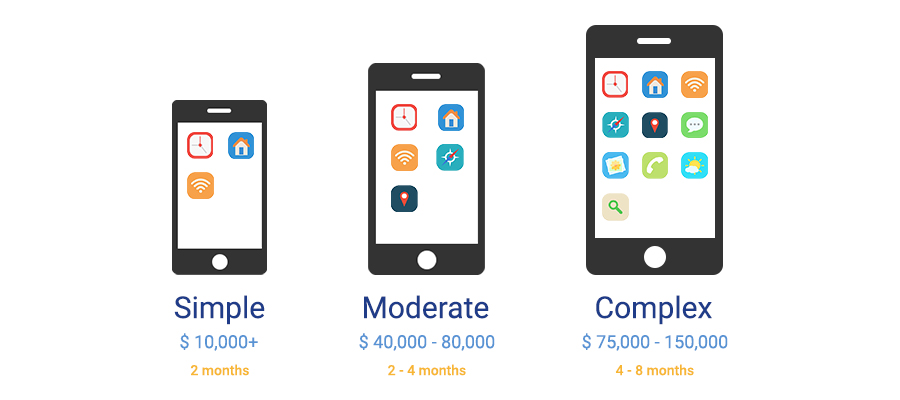 The primary thing to bear in mind is that you will spend more money to develop an app with multiple features than one that has basic functionalities.
If possible, we recommend that you make a list of every feature you need on your app or hire only developers that has experience in developing similar kind of apps. This measure will ensure that your app is streamlined to meet the needs of your potential audience without too many features.



5. Talent Hired
The cost of developing an application is also affected by the quality of programming talent(s) that you hire to bring your app to life.
Since it costs a lot of money and time to learn how to develop Android and iOS apps or even any software, developers earn more money than most jobbers in the tech space. The chart below shows the average annual salary range for mobile app developers in different regions.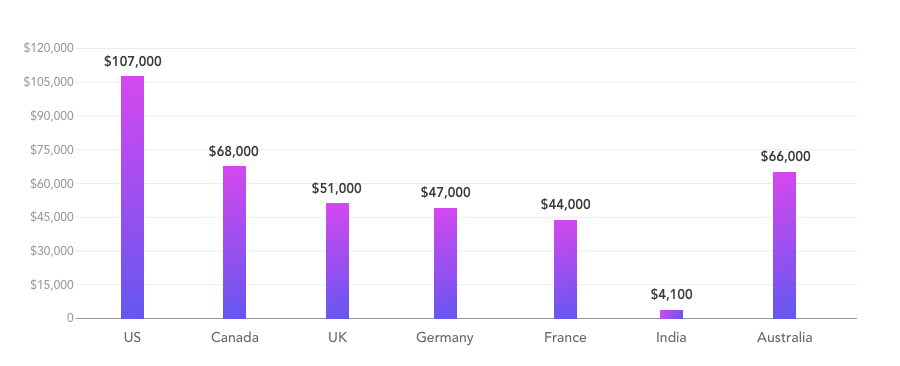 Hourly rates for top-talent developers could be anywhere between $15 -$210 per hour while there is no fixed time for finishing the project due to differences in complexity. The hourly rates vary from one country to another country depending on the talent pool they possess. The countries with larger talent pool have much lower hourly rates compared to countries with lesser talent pools having similar kind of skill sets. India, for example, has the lowest hourly rates for highly skilled developers compared to other countries which charge more than twice the rate for similar kind of developers.
The wealth of experience that an iOS or Android app developer has will also determine how much you pay to have them develop your app. Developers with more experience from working across several projects will charge more than new developers.
Well, although it is really crucial that you find a developer or development agency whose salary range fits your budget, it is essential to understand that the overall quality of your app will depend on who you bring on board.
Most times, hiring cheaper lesser skilled developers or freelancers could become expensive since there will likely be deficiencies in the final product. Such a situation would delay product launch, cost more money and be a total waste of time of time and energy.
Other business owners have discovered that working with a mobile app development agency has yielded better results than hiring individual developers. An agency would usually have a fleet of experienced developers on their team, meaning that more expert input will go into the development of your app.


Other Hidden App Development Costs
Aside from the top determinants of the cost of making an app mentioned so far, there are some hidden app development costs that you should know about,
Server and Content Delivery Network (CDN) management
Annual charges for server and CDN maintenance could range from $5,000 – $12,000 annually.
In practical terms, the perfect app doesn't exist. Bugs will be discovered along the way, and you'll have to pay for fixes or risk losing a lot of users.
The ability to send push notification is one of the reasons why businesses consider making an application. However, the annual costs of using this service could be up to $2400 depending on the frequency.
Rolling out new features on your mobile app requires the release of an updated version. These updates mean more developer hours and of course more money although some mobile development agencies like Magneto offer subsidized costs for app upgrades through their AMC (Annual Maintenance Contract).
Although a skilled developer would do their best to ensure maximum inbuilt security for app users, hackers are always targeting apps that have a sizeable number of users. So, you could spend extra to carry out routine security check on your mobile app annually.
Should The Cost of Making An App Stop Anyone?
Whether you're an individual or business, the cost of making an app should not hinder you from executing your app idea, especially if it has huge profit potential.
Several records exist of app startups who get funding in millions of dollars and companies that double their earnings by rolling out an app to its user base. The benefits of developing a mobile app for your business is too many to mention, and adoption is expected to continue on the upward curve.
According to Statista, the number of mobile phone users is expected to hit 4.68 billion by 2021, and it would be a cause for concern if your business is not tapping into this revenue source.
Final Words
Remember Mark from our opening paragraph; he turned down the chance of developing an app for his real estate firm without asking for a guide on how much it costs to develop a mobile application.
However, you now have the edge over Mark since you've read this guide on how much it costs to make an app. You could also go one step ahead by requesting a quotation from Magneto expert developers before deciding whether or not to give up your app dream. Let's help you bring it to life!