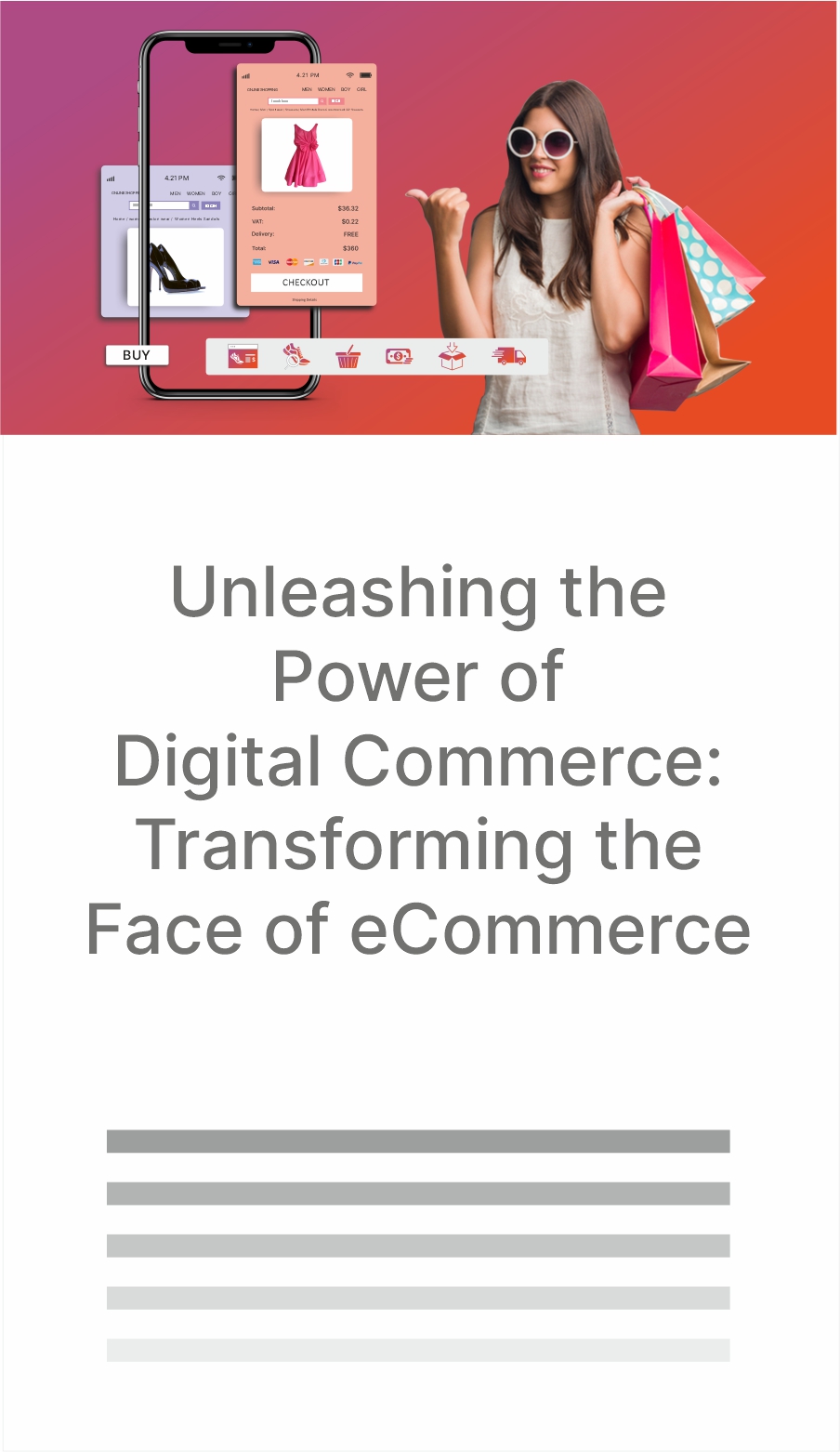 Get The Print Version
Download a PDF version for easier offline reading and sharing with coworkers
The emergence of digital commerce as a subset of eCommerce has brought about significant changes in how businesses operate and interact with customers. While traditional eCommerce primarily focuses on selling goods online, digital commerce goes beyond that by prioritizing customer experience and measuring success based on customer lifetime value.
One of the critical differences between digital commerce and eCommerce is the emphasis on engaging customers through content and mobile devices. Digital commerce leverages technologies such as AI, augmented reality (AR), and virtual shopping assistants to enhance the customer journey and provide a more personalized experience.
It goes beyond the transactional aspect of purchasing goods online and aims to create a seamless and enjoyable customer experience. A great buyer experience is highly valued, as evidenced by 92% of buyers who are willing to pay extra for it.
Digital commerce enables various advancements that enhance the consumer experience. Technological advances allow for more accessible purchasing options, making the shopping experience more convenient.
Furthermore, digital commerce has expanded beyond traditional online eCommerce. It now encompasses platforms such as social media, mobile apps, and voice-activated devices, which have become vital channels for communication and transactions. This expansion provides customers with greater convenience and accessibility, allowing them to shop anytime and anywhere.
This blog explores how digital commerce has revolutionized eCommerce by focusing on enhancing the customer experience and employing advanced technologies, strategies, and implementation procedures.
How digital commerce is different from traditional e-commerce
In traditional eCommerce platforms, all components are closely connected, making it difficult to modify or scale. Digital composable commerce seeks to create more flexible systems. It allows businesses to create unique eCommerce experiences by combining pre-built services and functionalities known as "commerce bricks" through APIs.
This approach is a significant part of digital commerce because it emphasizes modularity and flexibility. These days, digital commerce is essential because it allows businesses to be flexible, adaptable, and innovative. By separating different commerce functions, companies can change or update individual parts without affecting the whole system. This makes development faster, integration with other services more accessible, and experimentation with new technologies and features possible.
It also helps companies quickly adjust to market and customer-changing requirements, giving them an advantage in the ever-changing eCommerce world. Digital commerce provides an adaptable approach to architecture that allows businesses to create customized user experiences, speed up development, and remain competitive in the constantly evolving digital market.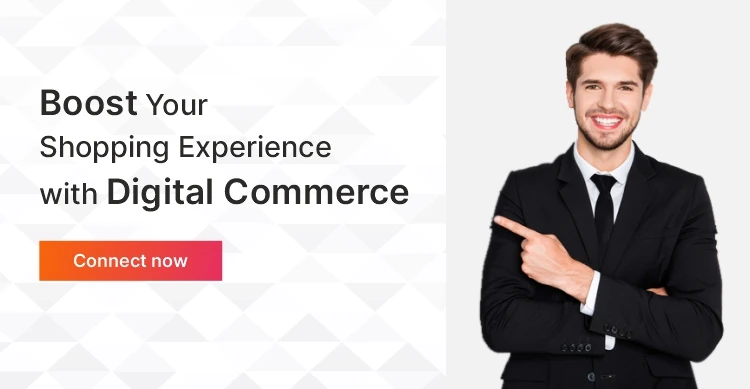 Key important systems for end to end Digital Commerce Transformation
Experience Management System
An Experience Management System (EMS) is a software solution that aims to improve the overall customer experience in eCommerce by collecting and analyzing customer feedback and data to create personalized and engaging shopping experiences.
It comprises tools and features like data analysis, customer feedback collection, and sentiment analysis. These can help businesses understand customer behavior, preferences, and issues. Using an EMS, eCommerce businesses can customize their products, website, marketing, and support services to fit individual customers' preferences.
This personalization can increase customer satisfaction, loyalty, and ultimately revenue. An EMS allows businesses to pinpoint and resolve any problems or obstacles customers may encounter while shopping online, resulting in a smooth and effortless experience.
Product Information System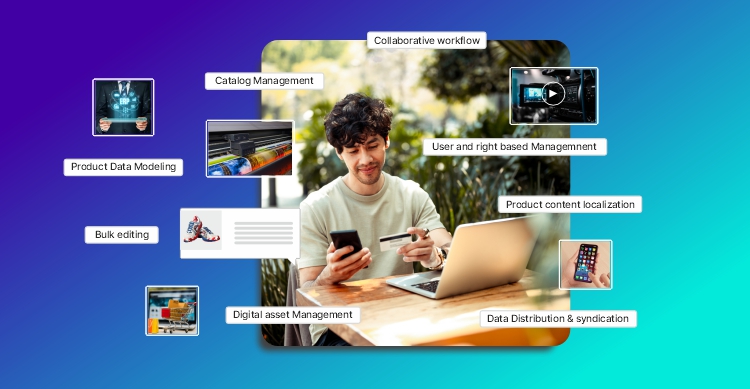 A Product Information System (PIS) is crucial for managing and distributing product information through various online channels. It is a central hub where businesses can store and modify comprehensive product or service details. This service assists businesses in merging with eCommerce platforms by providing accurate and consistent product information for customers.
It provides a catalog of products that includes comprehensive details such as descriptions, prices, availability, and images. It also helps businesses manage inventory by tracking stock levels and automatically updating product availability on eCommerce platforms.
An eCommerce PIS ensures that customers can quickly access information and reduces the chances of unavailable products, improving their shopping experience. It also helps businesses organize their products and improve efficiency, increasing sales and revenue.
Digital Asset Management
Digital Asset Management (DAM) is a system businesses use to manage their digital assets, like product images, videos, logos, etc., in an organized manner to facilitate their use in eCommerce activities.
This platform helps businesses control their digital assets under a single roof. It has various characteristics, such as metadata labeling, which enables assets to be tagged with essential details like product names, categories, and descriptions. It simplifies the process of finding and recovering assets when required.
This system can optimize images and videos for eCommerce by adjusting their size, format, and performance for the web, which can improve the appearance of product listings and website loading speed. It allows businesses to regulate access to digital assets, ensuring that only authorized personnel or teams can manage and distribute them.
It promotes brand consistency and guarantees that precise and current assets are utilized across multiple eCommerce platforms. Integrating DAM into eCommerce can simplify the management of digital assets, encourage teamwork, and enhance the visual experience for customers.
Order Management System
An Order Management System (OMS) in eCommerce is an independent solution that helps businesses manage their order processing workflows from start to finish. It's a centralized platform that integrates different aspects of order management, such as creating orders, managing inventory, shipping, and communicating with customers.
This system automates the handling of customer orders, making it possible to capture and process orders in real time. It can collect orders from various sales channels, like online marketplaces and websites, and manage them all in one place for smoother operations.
It allows businesses to improve the customer experience by providing real-time updates on order status, tracking information, and accessible communication. This ensures transparency and responsiveness, which builds trust and loyalty.
It helps collect essential information about orders, inventory, and customer behavior. This data can be analyzed to understand sales patterns, customer likes and dislikes, and operations' efficiency. It simplifies eCommerce business by streamlining orders, managing inventory, improving order fulfillment, enhancing the customer experience, and offering valuable data insights.
Customer data platform
A customer data platform (CDP) is an essential tool for eCommerce businesses seeking to gain a comprehensive understanding of their customers and deliver personalized experiences. A CDP consolidates customer data from various sources, such as websites, mobile apps, and online purchases, into a unified profile.
By harnessing the power of data, a CDP enables eCommerce businesses to segment customers based on behavior, preferences, and demographics. This segmentation allows for targeted marketing campaigns and personalized recommendations, ultimately enhancing customer engagement and driving conversions.
Additionally, it provides real-time data insights, enabling businesses to track customer journeys, analyze purchasing patterns, and identify opportunities for upselling or cross-selling. It also helps optimize customer support by providing agents with relevant customer information, leading to more efficient and personalized interactions.
Marketing Automation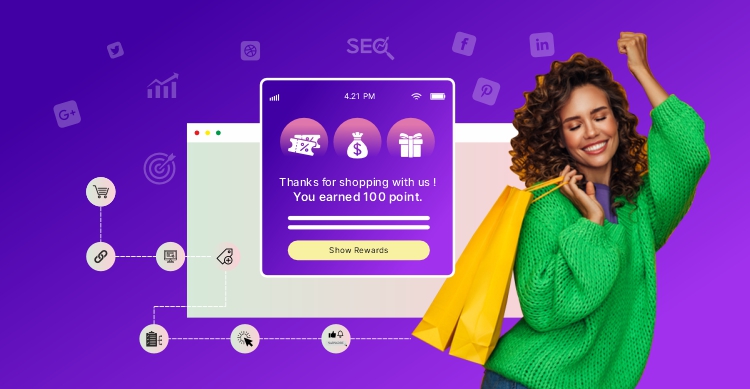 Marketing automation is crucial for eCommerce as it allows businesses to manage their marketing efforts efficiently, streamline processes, and promote growth.
It allows eCommerce businesses to provide personalized experiences to many customers by using their data and behavior to create targeted messages, offers, and recommendations.
This approach boosts customer engagement, raises conversion rates, and encourages loyalty over the long term. It enables businesses to create a seamless experience for customers through various touchpoints.
It ensures consistent support from the first interaction to post-purchase interactions, which builds trust, increases conversions, and drives repeat business. Automation allows businesses to create triggers based on customer behavior, such as reminders for abandoned carts, product suggestions, or campaigns to re-engage customers.
These triggers use up-to-date data, allowing businesses to seize opportunities and regain lost sales. These tools offer detailed analysis and reporting, providing companies with data-driven insights into campaign performance, customer behavior, and ROI, allowing businesses to identify successful strategies, optimize campaigns, and allocate resources efficiently.
Price optimization system
A crucial element for any eCommerce business is a price optimization system. This system employs advanced algorithms and data analysis to establish a product' or service's optimal pricing approach, considering customer patterns, rival prices, market demand, and sales records.
With a price optimization system, eCommerce enterprises can alter prices based on current market conditions, changing supply and demand, and customer preferences. This tool allows companies to boost their earnings, enhance their financial viability, and keep up with an ever-changing marketplace.
A price optimization system helps businesses analyze pricing trends, find opportunities for adjusting prices, and set prices that appeal to customers while also making a profit. This system allows companies to find a balance between maximizing sales and profits, leading to growth and success in eCommerce.
AI-powered tool
AI-based tools are highly significant in eCommerce, as they utilize artificial intelligence and machine learning to improve different aspects of online retail operations. AI-powered tools analyze customer data to provide personalized shopping experiences. These tools can increase customer satisfaction and conversions by suggesting items based on preferences, browsing history, and purchase history.
It can streamline inventory management and supply chain operations by automating processes, predicting demand, detecting patterns, and optimizing inventory levels. This results in lower expenses and enhanced productivity. AI is crucial to improving customer service through chatbots that can quickly and accurately answer inquiries.
Additionally, it can help prevent fraud by analyzing patterns and anomalies to safeguard customer information. Eventually, eCommerce businesses can simplify their operations, personalize experiences, improve inventory, and provide efficient customer service. These tools enable companies to remain competitive, grow, and meet the changing needs of the online market.
How Digital Commerce is the new face of eCommerce?
Improve customer experience
Digital commerce is critical to improving the customer experience by offering convenience, personalization, and seamless interactions. Customers can shop for any product or service from anywhere using the system.
With personalized recommendations and targeted marketing campaigns, digital commerce caters to individual preferences. Features like smooth checkout processes, multiple payment options, and efficient customer support enhance customer satisfaction.
Digital commerce provides a user-friendly and tailored experience that fosters customer loyalty and drives business growth.
Personalization
Personalization in eCommerce through digital commerce is a game-changer for businesses. According to a survey, 70% of people who shop online think that it is simpler to discover more captivating items on customized e-commerce websites. By leveraging customer data and technology, eCommerce platforms can deliver tailored experiences that resonate with individual preferences and behaviors.
It allows businesses to use information about customers and technology to make their shopping experience unique and tailored to their preferences. It can include suggesting products based on their preferences, customizing the website or app they shop on, and offering personalized promotions.
By doing this, businesses can build stronger customer relationships and increase their chances of making sales.
Omnichannel
Omnichannel in eCommerce using digital commerce is a strategic approach that integrates various channels and touchpoints to provide customers with a seamless and consistent shopping experience. PWC found that the number of companies investing in the omni-channel experience jumped by 80%.
Omnichannel allows customers to buy products and services from a business in many ways, like on a website, an app, social media, or a physical store. The company makes sure that all these ways work together smoothly.
It makes it easy for customers to buy things how they want, and they can even switch between different ways. It also helps businesses give customers good recommendations and promotions and ensure a good experience.
Streamline Customer data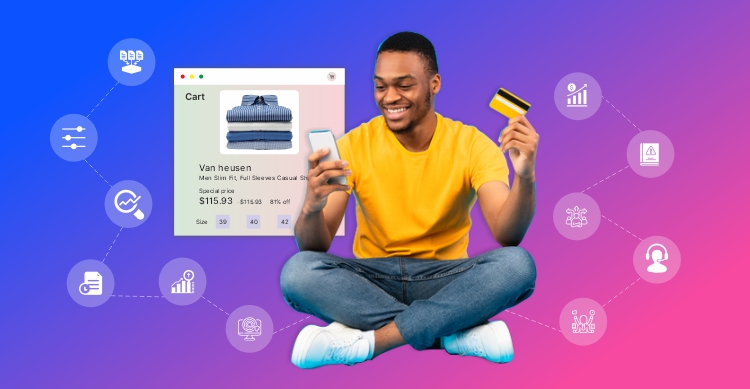 Digital commerce simplifies customer data collection, storage, and analysis in ecommerce. It allows businesses to gain valuable insights into customers' behavior, preferences, and histories.
As a result, they can create customized marketing strategies, targeted promotions, and better customer service. Through centralizing customer data, digital commerce enhances productivity, minimizes manual processes, and empowers businesses to use data for informed decision-making. This results in better customer experiences and improved sales.
Targeted marketing promotions
Digital commerce employs customer data and cultivated analytics to develop customized advertising strategies for distinct customer groups, leading to focused promotions and higher customer involvement, sales, and profits.
By leveraging customer preferences, purchase history, and browsing behavior, businesses can deliver relevant and personalized offers to foster long-term customer loyalty for eCommerce customers.
Easy expansion
Digital commerce helps businesses sell things online to people all over the world without having to worry about where they are. It also helps companies grow by making adding new products more accessible and changing things around to make customers happy.
It saves businesses money and makes it easier for them to get bigger. Overall, digital commerce helps businesses reach more customers and make more money.
Extremely Convenient
Digital commerce provides a very convenient online shopping method where customers can easily browse, choose, and purchase products from their homes without visiting a physical store.
It saves time and allows quick transactions while offering additional features such as personalized recommendations, easy price comparisons, and secure online payments for a better shopping experience.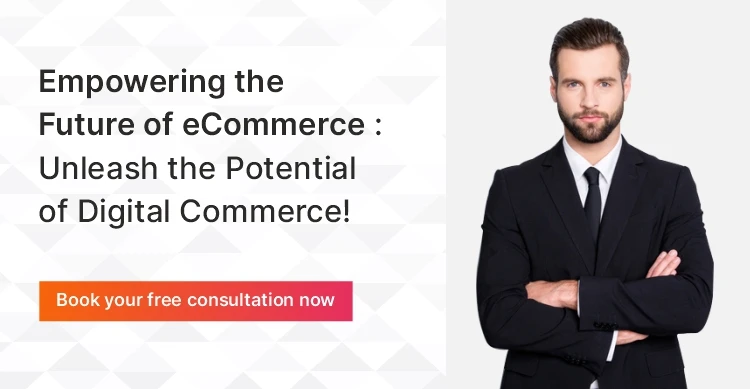 How to Implement Digital Commerce for your business
Identify the gap
Before implementing digital commerce in your eCommerce business, you must identify the gaps and challenges your business faces. Assess your organization's existing infrastructure, customer experience, payment systems, logistics, data analytics capabilities, and skills gap.
Know more about digital commerce
Educate yourself and your team about digital commerce's fundamentals and best practices. Understand the technologies, platforms, and digital commerce trends relevant to eCommerce. Stay updated with the latest advancements in digital commerce to make informed decisions.
Take experts to help
Engage with industry experts, consultants, or digital commerce solution providers to gain insights and guidance. They can help you assess your eCommerce business needs, recommend suitable platforms, and provide expertise in implementing digital commerce effectively in your business.
Assign a team
Formulate a dedicated team responsible for driving the digital commerce implementation. This team should include individuals with technology, marketing, operations, and data analytics expertise. Assign specific tasks and duties to each team member to ensure effective implementation.
Get started with digitization
Begin the digitization process by selecting an appropriate digital commerce platform or solution. Consider scalability, customization options, integration capabilities, and user experience. Implement the necessary changes to your technological infrastructure to support digital commerce.
Monitor and Adapt
Keep a close eye on your digital commerce activities by regularly tracking conversion rates, customer loyalty, and satisfaction metrics. Be adaptable and adjust your strategy based on customer feedback and data to improve your eCommerce business.
Success Stories
Let's explore some crucial examples of digital commerce.
Chewy
Chewy, a Florida pet food and product retailer, has improved its services and operations through digital commerce. They have implemented digital workflow solutions to streamline entire processes, which include human resources, security operations, facilities, and IT service management.
Chewy has also launched a telehealth service called "Connect with a Vet" to provide pet owners with direct access to veterinarians. It helps them to provide excellent customer service and convenience. They intend to invest in automation, technology, and innovation to improve their platform and boost growth.
The company seeks to expand operations and maintain excellent customer experiences by concentrating on these aspects. Chewy's strategic initiatives demonstrate their proactive stance in the eCommerce pet industry, intending to stay ahead by using digital solutions, expanding services, and investing in technological advancements.
Rothy
Rothy's, a brand from San Francisco, offers eco-friendly shoes and accessories for daily use. They have implemented a digital commerce strategy to enhance the overall customer experience. They have taken an omnichannel approach to improve customer support and establish a sustainable returns and exchange system.
They aim to combine all customer interactions on one platform to provide a seamless experience across all channels. Previously, Rothy's used to store and organize their active customer conversations in a separate ticket, delaying customer support.
Rothy's agents can access a single timeline containing the entire customer history through omnichannel. It allows customers to receive help through any channel without repeating their concerns, improving customer service.
Final Words
Digital commerce is changing eCommerce by allowing businesses to offer tailored recommendations, interesting features, and effortless checkout processes. It creates more exciting and immersive consumer shopping experiences, increasing loyalty and revenue.
It goes beyond the standard online store experience by utilizing social media, mobile apps, customized search features, personalization, and omnichannel integration to make purchasing more accessible and convenient for customers, no matter where they are.
The use of technology in eCommerce is increasing. Businesses can now improve customer experiences using innovative solutions such as virtual reality for product demos, voice assistants for easy shopping, and data analytics to understand customer preferences and actions.
Businesses must adopt these digital commerce tools to thrive in the competitive eCommerce industry. Seeking guidance from a digital commerce consultant can provide expertise and enable businesses to effectively implement strategies that enhance customer experiences, boost sales, and prepare for future expansion.