Businesses are transforming nowadays, and companies are struggling to make an impact on their clients as they want something unique to sustain in this cut-throat business environment. Moreover, with the rapid evolution of personalized eCommerce stores, B2B eCommerce platforms are also changing their module and focusing on the same.
B2B eCommerce platforms are helping businesses in every way possible, allowing companies to make websites the way they want. It also offers multiple benefits businesses can use while developing a website that users will enjoy.
An eCommerce platform provides features that allow merchants to sell online, and some platforms also enable merchants to create branded online storefronts. In addition, these platforms also offer services such as customer support, shipping, and payment processing.
Best B2B eCommerce platforms offer an easy way for businesses of all sizes to sell online. They come with a wide range of features and customization options, making it easy for companies of all experience levels to get started. Essential features of a good eCommerce platform include:
Good search engine optimization (SEO) strategy helps your online store appear at the top of the Search engine result pages (SERPs) when customers search for your service or product. E-commerce SEO (search engine optimization) is the procedure of enhancing the performance of your eCommerce store in online search results to lure more visitors & that too in an organic way.
Proper shipping options at the right times can help decrease cart abandonment and boost revenue. In addition, suggesting reasonable shipping rates and choices to your consumers is critical to long-term success as a retailer.
A user-friendly checkout process guarantees more conversions while also keeping you ahead of your competition. The whole checkout process needs to be smooth and convenient. This will decrease the cart abandonment rate and give customers the benefit of easy shopping.
Product information is a key component of any successful eCommerce platform. This includes features like product descriptions, images, and prices. Online businesses need to provide accurate product information to attract potential buyers. In addition, product information should be easy to find and navigate.
User-friendly interfaces allow shoppers to find the necessary information and complete the purchase process. Entrepreneurs can build a site on an eCommerce platform and customize it to meet their needs. Site-building tools make creating a site that looks professional and attracts customers easy. Great eCommerce platforms offer additional functions like email marketing and social media integration.
Many entrepreneurs choose to build their eCommerce platforms. WordPress is a well-known platform and is easy to use. Supplemental income strategies can be built on top of WordPress. For example, blog websites can be built on WordPress or any other platform. Digital downloads can be sold through an eCommerce site. ECommerce stores can be created on any platform.
Some platforms offer a wide range of features, making them ideal for businesses of all sizes. They also offer accessible platforms, meaning they're easy to use for novice and experienced entrepreneurs.
Popular shopping carts are platforms that allow merchants to sell products and services online. These platforms often feature branded designs and layouts, as well as user-generated ratings and reviews. Cart platforms are platforms that allow merchants to manage their sales and inventory. These platforms often feature many features and options, including CRM (customer relationship management) software, enabling merchants to track and manage their customer data.
Many people use cart platforms to sell online. These platforms make it easy for merchants to create a website, add products, and manage sales. In addition, many web designers choose to use WordPress as their platform for eCommerce websites. WordPress is a popular web platform that is easy to use and features a wide range of features and options.
Social media platforms like Facebook, Twitter, and LinkedIn can be used to promote and sell products. Marketplaces like Amazon and eBay can be used to buy and sell products. Some eCommerce websites use different platforms to sell products.
Why Is A B2B Ecommerce Platform Important For Modern-Day Business?
B2B Ecommerce platforms allow businesses to sell products or services to a wide audience through an online storefront. By setting up an eCommerce platform, businesses can increase their reach and visibility, giving them an essential requirement for modern-day retail businesses.
Ecommerce platforms provide retailers with an essential way to reach a large number of consumers, making them an essential tool for modern-day businesses. In addition, they enable startups to expand quickly and scale businesses to new heights while providing great opportunities for revenue growth. In addition, clients can access products and services from a large variety of retailers.
B2B Ecommerce platforms also offer many opportunities for revenue growth. For example, enterprises can use eCommerce platforms to build new habits and audiences, a marketing strategy can be tailored to reach specific shopping habits, and businesses can explore new strategies for growing their businesses.
Large businesses can use B2B eCommerce platforms to attract new customers and expand their market. Businesses can use eCommerce platforms to find new and innovative products and to offer them to customers online. In addition, businesses can use eCommerce platforms to develop their online stores and to sell products and services to a global customer base.
According to Statista, forecasts for 2022 suggest that marketplaces will be more relevant in B2B e-commerce. By the end of the year, the worth of transactions achieved via marketplaces will amount to 130 billion U.S. dollars. In 2020, the amount did not reach 25 billion U.S. dollars.
B2B Ecommerce platforms are important for modern-day businesses for a variety of reasons. First, it offers businesses a minimal operating cost structure. Businesses can operate an online store without expensive technology or infrastructure. In addition, eCommerce platforms offer businesses a convenient service. Businesses can easily manage their online stores and respond to customer feedback.
Holistic journeys are important for businesses because they offer valuable insights that can be used to improve service and improve business operations. B2B eCommerce platforms allow businesses to gather data about customer preferences and behavior. This data can be used to improve the customer experience also. Improved service is important for businesses because it allows them to provide better products or services to their customers.
Different customers have different needs and expectations. Using an eCommerce platform, businesses can better understand their customers and provide them with the best possible customer experience. This includes providing customized content, responding to customer inquiries quickly, and providing a positive shopping experience.
Local offerings are important for businesses that serve local customers. eCommerce platforms allow businesses to find and sell products specific to the local market easily. This is important for businesses to stay competitive and attract new customers. Specialty accessories are another product that can benefit from an eCommerce platform. eCommerce sites are an important part of the modern-day business landscape.
What Is The Future Of B2B Ecommerce?
According to eCommerce predictions made by industry experts, the future B2B of eCommerce looks very bright. With the growing popularity of online shopping, the industry has numerous possibilities for growth. Some key trends expected to continue driving growth in the eCommerce sector include the increasing use of mobile devices and social media and the growth of hybrid eCommerce platforms that combine online and offline sales.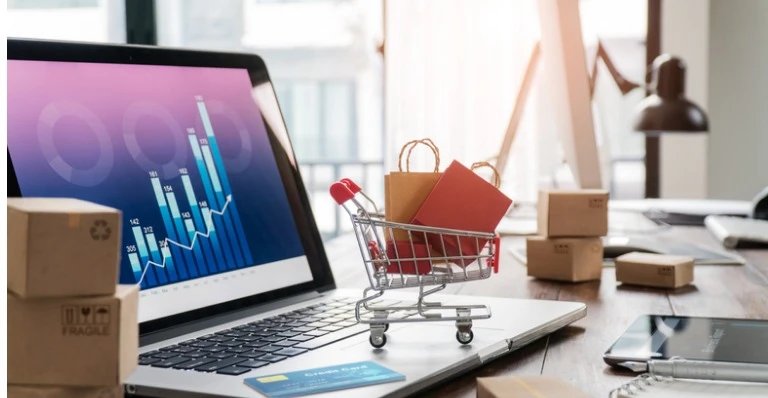 As mobile usage continues to increase, so does the number of shoppers using their devices to search for and purchase items online. Important mobile shopping trends include the growing use of mobile apps and the increasing popularity of eCommerce platforms explicitly designed for mobile devices. As a result, companies in the eCommerce sector are expected to continue growing in popularity and influence.
The future of eCommerce is looking very bright. According to a recent report by Statista, In 2021, retail e-commerce sales amounted to approximately 5.2 trillion U.S. dollars worldwide. This figure is forecast to grow by 56 percent over the next years, reaching about 8.1 trillion dollars by 2026. This growth is partly due to the rapid growth of mobile commerce.

Business owners should be optimistic about the future of eCommerce. The growth of mobile commerce means that more and more people are shopping online, and there is much opportunity to market and sell your products and services online. There are a lot of exciting developments in the world of eCommerce, and the future looks very promising.
Here are some of the most exciting trends in the eCommerce world:
More and more people are using mobile devices to shop online.
Digital shoppers are increasingly looking for convenience and speed when they shop online.
Companies are developing innovative ways to sell their products and services online.
More and more people are starting online businesses.
eCommerce is becoming more comprehensive and inclusive, with businesses of all sizes and shapes using it to reach their target markets.
The latest eCommerce trends include mobile shopping, social media marketing, and e-commerce solutions that cater to specific needs.
Business practices include developing an eCommerce strategy, setting up an eCommerce store, and marketing your store. The massive market base includes people of all ages, income levels, and cultural backgrounds. The difficult process includes creating a successful eCommerce business, and eCommerce companies are constantly developing new ways to help businesses succeed.
B2B ECommerce solutions include eCommerce platforms, B2B eCommerce software solutions, and eCommerce consulting. B2B eCommerce solutions are constantly being developed to make online selling easier for businesses of all sizes.
Mobile purchasing is another new strategy that is making online selling more accessible. Consumers can now purchase products and services on their smartphones. This is a friendly way to sell products and services. The large impact of eCommerce is that it is changing how people shop. Shopping experiences are being changed across all channels. This includes online, in brick-and-mortar stores, and through social media.
According to Statista, In 2021, 72.9 percent of all retail e-commerce is expected to be generated via m-commerce, up from 58.9 percent in 2017.
What Are Some of The Promising eCommerce Platforms To Look Out For?
Many eCommerce platforms are emerging and offering multiple benefits to lure businesses, but only some seem promising that can make an impact. We have mentioned some of the most advanced eCommerce platforms that are making an impact and gaining popularity among businesses as well.
OroCommerce
Orocommerce is a good option for B2B companies looking for a simple platform to build and manage their online business. It offers an easy-to-use and flexible platform that can be customized to meet the needs of your business. Orocommerce also makes it easy to make purchases and manage your orders. It's also the first choice for B2B firms.
Customized Orocommerce solutions are a good source of eCommerce for businesses of all sizes. It offers an easy-to-use platform with a variety of customizable features. The source platform also offers a wide range of products and services, making it a good fit for businesses of all types. The leadership team at Orocommerce is experienced and committed to providing quality products and services.
Orocommerce offers a robust API that can be used to create custom applications. The API coverage is extensive, and the extensions store offers a variety of add-ons and tools to help businesses improve their eCommerce solutions. The eCommerce solution is also sophisticated and offers a wide range of features and tools to help businesses of all sizes improve their online sales. As a result, B2B buyers find the Orocommerce platform easy to use and navigate, while businesses benefit from the sophisticated marketplace ecosystems that Orocommerce offers.
Orocommerce provides a quote system to manage prices and a section to track income and customer activity. In addition, Orocommerce allows users to manage their accounts, view orders, and track shipping progress.
Commercetools
Commercetools can help you build powerful APIs, microservice architecture, and basic building blocks for digital commerce. The commercetools platform provides powerful APIs and a framework for developing new projects. In contrast, the Commercetools development solutions provide a common set of components and standards that make building digital commerce applications easier.
Mailchimp is a powerful marketing platform that provides a single platform for building marketing campaigns, managing data, and syncing marketing data with your commerce website. You can use Mailchimp to manage your email marketing, social media marketing, and landing page design. Mailchimp also offers many features for tracking conversions and analyzing your marketing data.
Enterprise commerce transforms an organization's business model from a traditional transactional to a digital omnichannel. In an enterprise context, commercetools can help you design and manage digital marketing campaigns, track customer data, and build an optimized eCommerce strategy.
API stands for an application programming interface. For example, a digital transformation company can use an API to connect to commercetools and access its powerful marketing tools. Digital transformation transforms an organization's technology infrastructure to enable new business models and growth.
PimCore
Pimcore is an eCommerce platform that is popular for its simplicity. It is a source platform that allows businesses to build their online store. It has various features, including an answer engine, many assets, and a popular choice among businesses. In addition, PimCore management is easy to use and allows businesses to manage their assets and online stores.
Centralized Data Repository:
Pimcore stores businesses' data in a centralized location. This makes it easy for businesses to access and manage their data.
Digital Assets:
Pimcore offers a variety of digital assets, including images, videos, and eCommerce products. This makes it easy for businesses to create engaging content and market their products.
Marketers:
Pimcore development solutions allow businesses to hire and manage a team of marketing professionals easily. This makes it easy for businesses to create and market their products.
Pimcore is a comprehensive eCommerce platform that provides customers with a personalized customer experience. In addition, the platform is easy to use and allows businesses to develop and manage their eCommerce websites.
An administrator can manage a production environment and an environment online. Users can access the platform and create and manage their eCommerce websites. A test environment allows businesses to test their B2B eCommerce website development without affecting the production environment.
Fabric
Fabric inc is a complete eCommerce platform with powerful business and commerce APIs, microservices, and CMS. It is possible to create a customer touchpoint for each stage of the buying process, including pre-purchase research, buying, post-purchase support, and repeat purchase opportunities. There is also a sales opportunity for merchants to sell their products and services through the platform.
These channels include a web storefront, an eCommerce store, and an app store. In addition, merchants can create custom designs and layouts for their storefronts and use different endpoints to interact with their customers. Fabric inc also offers end design, which allows merchants to create beautiful, customized pages for their products.
Fabric eCommerce platform offers merchants a suite of software offers that they can use to target their customers.
Scenes Technology:
Fabric inc uses scene technology to create beautiful, customized product pages. Merchants can use scenes to create product pages, order pages, and checkout pages.
Business Brands:
Fabric inc offers merchants the ability to create business brands. Business brands allow merchants to create a unique identity for their businesses, and they also allow merchants to promote their businesses uniquely.
Inventory Management:
Fabric inc allows merchants to manage their inventory and shipping policies.
The upfront investment required to use Fabric inc is modest, and the platform offers a good idea for small businesses.
Conclusion
A complete guide on the B2B eCommerce platform would include information on how to set up the platform, attract buyers, create an overall digital customer experience, market the platform to retailers, code & engineer the platform, & what types of sellers and sales personnel to employ.
The future of B2B eCommerce development services is bright, and some eCommerce platforms are making it more with their customized and cutting-edge technologies, which customers and businesses both appreciate. The way mobile commerce is rapidly increasing, there is no way that B2B eCommerce is going to slow down. Shopping for products or services online is a new trend and will stay as long as a new trend emerges.