Just before you put your money into any sort of investment, you definitely will want to know why you have to do so and what you stand to gain at the end of the day.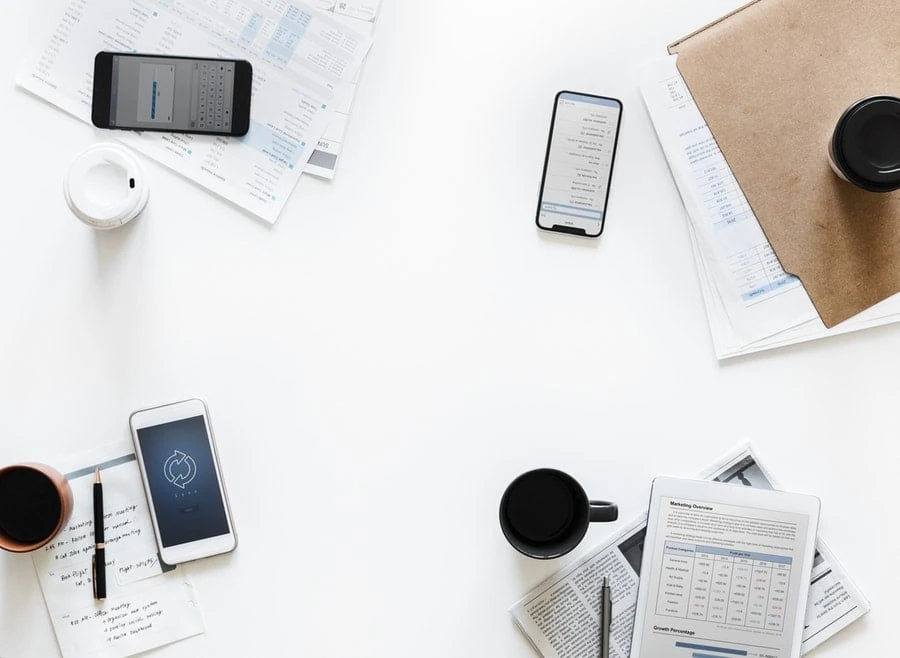 If you have a friend who does not do some research before they make a business move, then maybe they are pretty damn rich or do not know one or two things about business.
When you invest without getting adequate knowledge about something, this is what could happen.
Loss of investment
Bankruptcy
Business collapse
I forgot to add 'heartache to that list, so we'll leave it and move on. It is not good for anybody.
If you are reading this post, then you may have thought about hiring an iPhone app development company to build an app for your business, or simply want to have this information because you may need it anytime.
Okay. That is not a bad idea.
This post will let you know the amazing benefits that your business is already missing out on by not developing an iPhone app and you will likely want to get one when we are done.
Let's roll!
Here are the 10 reasons for having an iPhone app for your Business.



1. A New Audience
Do you know the number of iPhone users globally?
Statista reports that over 1 billion iPhones have been sold since the inception of the innovative operating system in 2007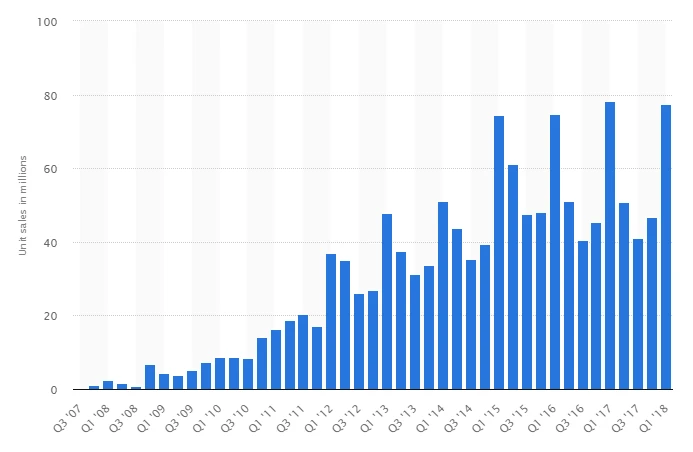 Source: statista
That is not all!
United States, Europe, Japan and China counts for the highest number of iPhone users while India and Vietnam are rapidly growing as well.
Oh!
I believe your business has clients or prospects in one, two or more of these regions. So, with the numbers continuing to grow, I can assure you that getting on Apple store is a nice step to take if you are planning an expansion.
Hence, you desperately need an iPhone app right now or risk losing all these prospects to your competitors.
Please hire an app developer, build your app and be where customers are.
2. Increased Engagement
We do not know any better way to keep your iPhone customer base engaged with your business, other than an app.
Building an app for this unique audience will always draw users back to your service when they want to drift away. This move can also get you more clients.
An app is also a convenient way to gather customer feedback, send push notifications about latest developments, offer discounts, coupon codes and lots more.
Everyone knows that staying close to clients is healthy for every business and creating an app is a simple way of creeping into their pockets and popping up each time they open their phone.
It is not stalking. It is a real business model that works so well.
3. More Revenue
Unless you are an NGO (Non-governmental organization) or NPO (Non-profit organization), your business needs more revenue and building an app for iPhone users is an important way to grow your revenue.
The stats definitely agree with this claim!
Apple iOS app store users spent $11.5 billion in the fourth quarter of 2017. This is 95% more profit than the giant Google Play Store which has almost ten times more app.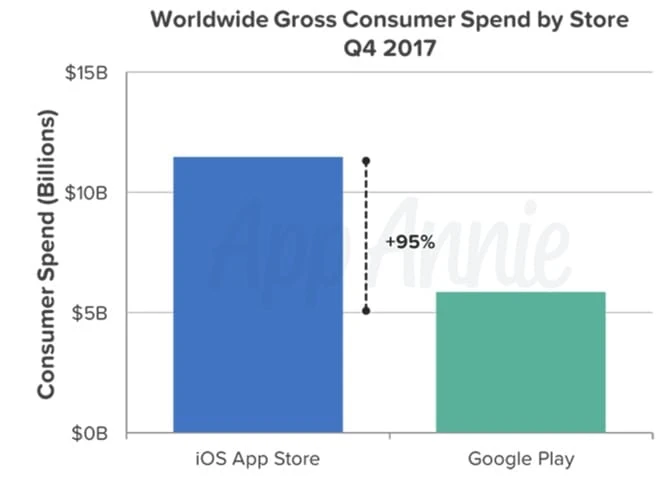 Source: App Annie
This means that iPhone users spend more money on Apple store than any other set of mobile users, perhaps because of a super iPhone support service that guarantees a refund for apps that were flagged off after purchase.
What does this mean for your business?
You can generate far more profit than you'll ever spend on hiring an iPhone app development company simply by selling your app on Apple Store and including the in-app purchase feature to users interface.
According to fueled.com, 25% of iOS app developers earn over $5000 each month and you can join these numbers if you hire an iPhone app developer for your business.
A lot of emphases is also placed on a free app when it comes to the Google Play Store, so if your goal for building an app is to maximize revenue, then you must settle for an iPhone app and nothing less.
4. Increased Brand Recognition
You may wonder why every reason I have mentioned up to this point has been about an increase in your business. Well, that is because an iPhone app does exactly that for your business and even more for your brand.


With the world swiftly migrating to digital, an absence on the second leading app store globally (Google Play Store leads the way) according to Statista, might begin to raise doubts about your credibility in the mind of your customers.
Some might even stop patronizing you simply because they have alternative sources that are in their pockets and more readily available.
I will not spend the whole day going to the grocery shop and returning with those really heavy bags when I can simply order online through a mobile app and have it delivered at my doorstep.
What Happens When You Do The Opposite?
Clients and prospects will recognize that you are moving with the times and are a really big brand. This is what you want for your brand and is what an iPhone app offers.
5. Less Fuss About Software Update
If you already have an app on Google Play Store, then you will, without doubt, agree with the huge challenge that comes with an update to the operating system.
This is exactly what happens
With any new update to an operating system comes the need to quickly fix bugs, crashes and optimize user experience on the new version.
Now, this job is made very difficult and time-consuming by Android because its users take a longer time to get over older versions and install new ones. In fact, Android 8, Oreo, was running on just 0.2 % of devices more than eight weeks after it was launched.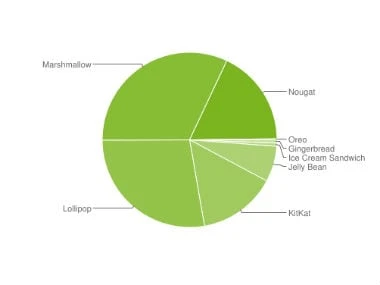 Source: FirstPost
Your developer would now spend a lot of time on reinforcing apps for the new operating system since some users are on it while also keeping tabs on new migrations. They also can never stay in full control because it is the Android users that choose whether or not to upgrade to a newer version of the operating system.
This will hurt your business and potential income in the long run.
Building an iPhone app for your business makes the job of moving to a new version of the operating system a lot easier because Apple users take less time to migrate to the newer version. The iPhone support service makes this process even faster.
IOS 11 was installed on over 66% of devices just six weeks after it was launched. This means that your iPhone app development company can quickly fix your app to suit the new operating system and not disrupt user's experience.
Your time is saved and potential income over this period is also kept intact.



6. Saves Time
With an iPhone app, you do not need to worry anymore about the region where your prospects and real clients are and how long it would take to get a message across to them.
Are they over 100,000?
Just send the word out by building an iPhone app and getting it Apple Store. When users download your app, you can send them instant push notifications seamlessly.
Related Article: 10 Reasons Why Mobile Apps Are Better Than Mobile Websites
As long as they have internet access, your message is almost the same as a word spoken to someone sitting right beside you.
It is that simple and time-saving!
7. Marketing at A Reduced Cost
Now, building an iPhone app is not only about making more money for your business but also achieving marketing objectives at a super reduced cost.
Some may argue that it is expensive to hire an iPhone app developer, but I think the end product ( an app) is a very cheaper way to simultaneously reach out to your customer base.
Facebook ads, Google AdWords, Bulk Sms Services or any other digital marketing procedure that you can think of, would largely cost more than simply sending a push notification to all app users.
You can also do this as many times as you want and not bother about the money to be spent. Also, since they are already your clients, the conversion rate is literally higher than when you are targeting new prospects.
8. Great Product Launches
If you're planning to bring a new product or service to the mobile or online market, then hiring an iPhone app development company to build your app, is one strategy that can shape the future of that product.
This is why.
Your new app will have the power to effectively introduce your new product to users and make them feel at home about it, without you having to meet them one on one or spending so much on ads.
In the end, you can rapidly grow a new client base without bothering so much about whether people will be impressed about your new product or not. Your app gives the perfect explanation, allowing you to focus your attention on other business issues.
9. Easy Fragmentation
If you already have an Android App for your business and wonder what the iPhone experience brings, then this point will explain.
With Android apps, the major difficulty is in developing apps for so many different brands of phone. We do not have only one brand of Android phone. Samsung, Gionee, Techno, Infinix, Motorola, Huawei and even Google develop Android mobiles with different functionalities.
Developers, therefore, struggle to build apps for the numerous Android devices used by your business audience.
Did you know?
The developers of the popular Temple Run Game revealed that early in their android experience that nearly all of their support emails had to do with unsupported devices. Did you also know that their app supported over 700 phones at that time?
Related Article: Top 9 Android App Development Trends Likely To Dominate In 2018
That required spending more time and money to develop the app for several uncountable numbers of devices.
You don't want that! Neither do I!
Now, iPhone apps solve this problem because there is only one brand –Apple. You do not have to spend so much to get your desired result.
That explains why social media kingpin 'Instagram' and other giant apps launch out on iOS before thinking about the Android experience.
You'll get more value by building an iPhone app.


10. Building Trust
We saved the best for the last!
Maybe you do not know but building an iPhone app for your business may just be enough to get clients to trust you- especially if you are a start-up firm.
This is what we mean
iPhone users place just almost the same trust that they place on Apple products to whatever they find in the app store. This trust is somehow tied to the incredible iPhone support service provided by Apple.
So, users generally care less about whether you are new to the business or not. As long as Apple thinks you're good, then you are good.
Please note that this does not mean you should come up with an inferior app or service for your clients, Apple won't let you in. They already kicked 700,000 apps out just in 2017 (Please link to old post) and you are just one.
Garner all the resources that you can and put up an iPhone app that clearly serves your audience, and then you can compete with the big guys without worrying about what customers think about your product or service
Rounding Up
I'll give you a medal for reading down to the end and being very different from that friend who never makes an inquiry before making an investment.
I told you that you'll definitely love to hire an iPhone App development company to build your app when we are done with this blog post.
We do not want your business to continue missing out on all these awesome benefits listed already. That is letting so much down the drain.
Your business really needs an iPhone app to get by. Do not deny it this opportunity, Click Here.