In 2017, about 64% of the Earth's population owned a mobile phone, and according to Statista, this percentage will continue to increase. In fact, Statista suggests that by 2019 the number of mobile phone users worldwide will reach 5.07 billion. That's a pretty broad audience, isn't it?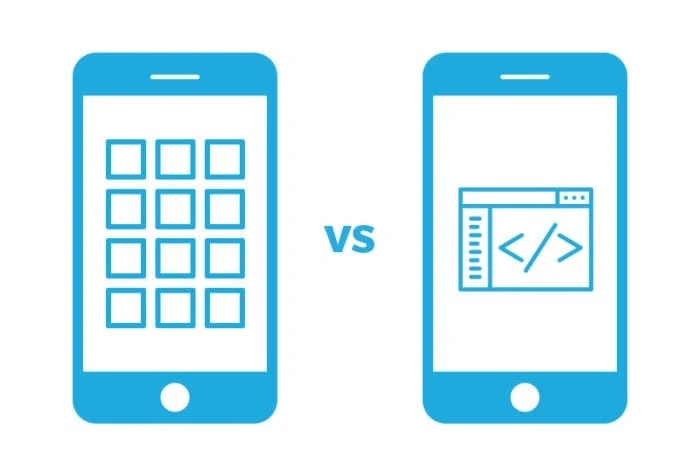 Image Source: huddled.tech
It is evident that companies are becoming increasingly aware of the fact that they need to embrace a mobile strategy. Not only has the number of mobile-only internet users overtaken desktop-only, but mobile usage has also surpassed desktop usage. As a result of this shift, companies are rethinking their mobile strategies.
Successful businesses are those who are where customers are and we know you understand this simple trick.
The major question, though, that you may be grappling with is, whether a mobile app or a mobile website is the right way to go.
Well, while we do not say that it is not right to hire a mobile web developer for your business, let's look at whether a mobile app or a mobile website is better for your business.



10 Reasons Why Mobile Apps Are Better Than Mobile Websites
1. Mobile Apps are pretty faster than websites
Since you definitely want your customers to complete tasks faster, a mobile app is a way to go.
Mobile apps whether on iOS, Android or Windows have been declared 1.5 times faster than websites, because of these reasons –
Apps store user data on local storage devices and as such, fetching and loading this data onto mobile is a lot faster. For mobile websites, data has to be fetched from a web server and the speed at which this is completed relies heavily on the internet network and packet sizes.
Apps run on frameworks that are five times faster when compared to the JavaScript function on which mobile websites are developed.
But you do not see all of these, right? So, does it really matter?
It absolutely does!
When you hire a mobile app development company to build your app, your customers get to enjoy a swift interaction with your business and this improved speed will be the reason why completing purchases are faster and business engagements will rapidly increase.
If you run an e-commerce, you perfectly understand that customers can change their mind the next minute and decide to not check out their cart. Hiring the right mobile app design services, allows you to steal in at this time to improve your ROI.
2. Mobile Apps Offer Better Personalization
To close sales a lot faster, offering personalized content is the key and this is where mobile apps have a great edge over mobile websites.
Websites are built for everyone while mobile apps allow communications between your business and the customer to be largely influenced by their preferences and browsing behavior.
Because users have to sign in to use your business app, the app has to ability to track where users go on your app and next, offer filtered recommendations on new products or services that the user may need at that moment in real-time.


This generally improves conversion rate and is way better than showing off on your website, every single thing on your store and thus, leaving your clients confused on making a final choice.
Also, apps can seamlessly identify the location of a user in real time. Armed with this information, you can send custom made push notifications that will help you rack up more sales.
In simpler terms, ditching a mobile website for a mobile application offers you an opportunity to greatly influence your customers' purchase decision and you definitely want to wield this power anytime.
3. Ability to Work Offline
We really think that this is the best reason to hire a mobile app development company over a website development company.
All mobile apps can be accessed with a simple tap, no mobile website can.
Related Artice: 8 Most Common Mistakes To Avoid While Outsourcing To Mobile App Development Company In 2018
Mobile websites rely so heavily on internet availability and caching while Mobile apps, on the other hand, can offer basic content and functionality to users in the absence of network access –offline mood. This is not to say that mobile apps do not need the network in other to carry out advanced features even though a lot of utility apps can work fully in an offline mode.
For an e-commerce app, offline functions can include viewing your store, checking previous purchases, in-app call, loading products onto a cart and calculating costs. Now, that's so much to do before internet availability is employed to help complete the payment process.
With this offline ability that is never available on a mobile website, a user can still engage with your business even right on an airplane!
4. Push Notifications and Instant Updates
While it is the customers that have to reach out to mobile websites, the push notification feature on a mobile app offers a channel for your business to reach out to its customers.
As long as they have your business app installed on their device, you can effortlessly send them notifications and instant updates on latest offers, discount or maybe a business event in their locality. You know this means improved conversation rates, right?
About websites, even though, new mobile website functionality allows sending push notifications through a web browser, this feature is not supported by all web browsers and the user can simply put it off the moment they land on your website.
The downline
With the right mobile app design services, the push notifications feature is more immersive because your mobile app has the ability to schedule and send out these instant updates to a segment of your customer base selected by you or the app.
5. Users Spend More Time on Apps
For a business to thrive and yield a massive ROI, it needs to be where customers love to be and that is on a mobile app.
According to data from SmartInsights, mobile app usage times hover between 80-90% while users devote a mere 20-10% time on browsing the internet. This graph says so too.
Also the average mobile user spends time on at least nine apps daily.
What do these stats mean for your mobile strategy?
To succeed in this mobile-first word, your business needs the right mobile app design services in order to create more convenience for your existing and new customers. If your business app slots in seamlessly on their mobile home screen, then this simply implies that you have increased the chances of them wanting to do business with you through the mobile app.
6. App Store Presence
Only mobile apps qualify for a spot on Google Play Store or Apple Store, mobile websites don't.
So you can also think of mobile apps as a ticket for a free appearance on any of the world's two largest app store according to Statista. You don't want to miss out on this opportunity by settling for only mobile websites which have limited chances of getting the word out for your business (guest posting and a lot of ads)
With an app store presence, your brand gets more exposure and can attract clients from sources other than your traditional sales channels.
How?
These app stores get millions of searches from different users (your potential customers too) on daily basis, so with the right metadata on your app page, there is the possibility of a new user finding your app, downloading it and thus engaging with your business, without you running a single ad.
Related Article: Chatbots Trends 2018 – 8 Areas To Keep An Eye On
One more reason to hire a mobile app development company.
The biggest brands have apps in these stores, so you need to get to the store in order establish yourself as a popular brand. You don't want clients to go to the store in search of your app and see – 'no results' or worse download app from your competitors.



7. Productivity Improvement and Cost reduction
You can save more time and money by building a mobile app.
Unlike a website, a mobile app provides an avenue to increase communication between your employees, vendors, and customers. Your app can be used by –
customers to place orders
employees to give replies
And vendors to train users about your products.
That is a huge package packed into a single tool for your business and eventually increases productivity by 20-40%. Apps also provide real-time charts and reporting tools that would take more time to generate on a mobile website through analytics tool.
Because an app provides a means of direct communication between your business and customers, your marketing and advertisement costs will be far reduced.
8. Interactive Engagement
Aside, creating an immersive two-way experience, an app can also be designed to deal more effectively with customers' inquiry through the sales and after sales process.
For instance, queries not covered in the FAQs section can be swiftly attended to without the customer abandoning the purchase by utilizing the in-app call feature. Reasons for order cancellation or delayed delivery can also be communicated to the user without fuss through a direct messaging feature integrated with the mobile application.
These can improve customer purchase experience With social media integration, using features such as one-click buy and sharing, customers can spread the word about your business with friends on their social media profiles, thus increasing visibility for your business.
9. Brand Presence
With the best mobile app design services, you can create a customized app that serves as a mini-brand ambassador.
Because of the extensive design features that can be incorporated into a mobile app, it can fully speak the language of your brand. The icon, layout, colors and other designs can be combined to give the perfect fit.
This differs from websites which rely heavily on browser functionalities and device in order to give the perfect experience on a mobile screen.
Now here's the real deal.
Users spend a lot of time on installed apps and a regular engagement with your app provides a strong channel for you to send your brand message across. By providing a great user experience through your app, customers get more attached to your business and this improves trust.
Also, because your app icon can be creatively designed to reflect your brand, users still encounter your brand all the time and are reminded of it anytime they launch their mobile app screen. Your presence on their screen subconsciously shapes their perception of your brand.


10. New Stream of Conversions
If a major part of your mobile goals includes increasing conversions then you need a mobile app. A website is designed for a broad audience and because of this can struggle to push users down the conversion funnel.
With a mobile app, it is easier to acquire top of the funnel users (those who have an interest in your business) and bottom of the funnel users (those who are ready to make a purchase).
Let's explain
A utility app can be used to draw in Tofu users at the initial stage, after which they turn into strong prospects that can be converted through in-app purchases. For an e-commerce, it is certain that there are a lot of Tofu users and a mobile app increases the possibility of converting them into paying customers.
Another bonus that you get with an app Because the contents and utilities on a mobile app are personalized, it is possible to target specific users in your sales funnel and send them offers that they can't resist.
Conclusion
Now that more and more users are spending more time on their mobile and an even greater time on mobile apps, it is time to rethink your mobile business strategy to include mobile apps.
To improve your ROI as latest researchers have suggested, a business should be present where its customers are.
A mobile app can help you do these and even more in a limited time! Speak to an experienced mobile app developer now
So, now is the best time to build mobile applications for businesses to fully harness the 'First Movers Advantage' to sell your products and services before your competitors do.