A physical storefront was all that was required a few years ago. Then, an online jewelry shop appeared as a luxury option, but the tables have now been turned. Prospects nowadays only visit physical stores after performing online research.
Furthermore, the revolutionary COVID-19 pandemic has wholly altered people's purchasing habits. Therefore, this is the crucial time to start or expand an online jewelry store.
The Pandora Jewellery Interim Financial Report for Q1 2020 noted, "Online performance continues to be strong. The channel appears highly resilient during market lockdowns, with sales increasing by 29% over the first three months of the year despite disruptions in China."
This blog post will inform you of the aspects to consider when developing an E-commerce website for the jewelry business. We have also emphasized the significance of having a jewelry E-commerce store in this technologically advanced day.
Why do Jewelry Businesses Need an Online Store?
According to Statista, worldwide e-commerce sales are estimated to reach $5.2 trillion in 2021, expected to rise in the future. An online store enables a jewelry business to contact customers worldwide by expanding its reach beyond its physical location.
Customers may view and shop for jewelry products online at any time and from any location, eliminating the need to visit a store physically. Because of this, overhead costs for rent, utilities, and staffing can be reduced.
An E-commerce website for jewelry enables manufacturers to sell their items to new clients through social media, email campaigns, and search engine optimization (SEO).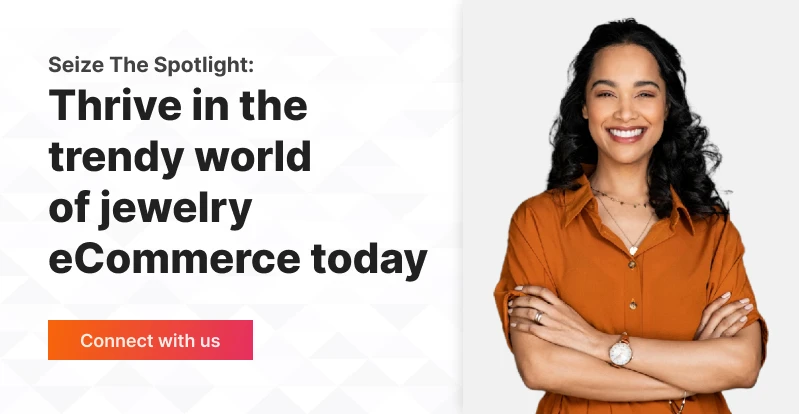 An online business can offer clients individualized purchasing experiences, such as personalized recommendations and exclusive discounts.
Analytical insights from an online jewelry store can provide helpful details into customer behavior and preferences, helping businesses to make data-driven decisions.
With Jewelry website monitoring options, you can assess the performance of your online store, determine which techniques are working for you and which are not, and make modifications appropriately.
A website for jewelry design provides you with a digital storefront where you may display HD-quality 360-degree views of your jewelry products and 3D printing choices. It helps to provide a convenient experience to the end-users that motivates shopping online.
Using AI tech integration in your online jewelry store, you can distinguish between convertible and nonconvertible customers based on their shopping behaviors.
Essential Features Your Ecommerce Jewelry Store Must Have
Create Unique Jewelry that Reflects Your Style with Ease
Jewelry Customization technology enables customers to create jewelry from scratch. This category includes pendants, necklaces, earrings, and rings. The most significant advantage of this tool is that it allows the consumer to virtually see the finished product before actually seeing it. Only websites for Jewelry design provide this level of simplicity. This feature applies to both B2B and B2C jewelry stores.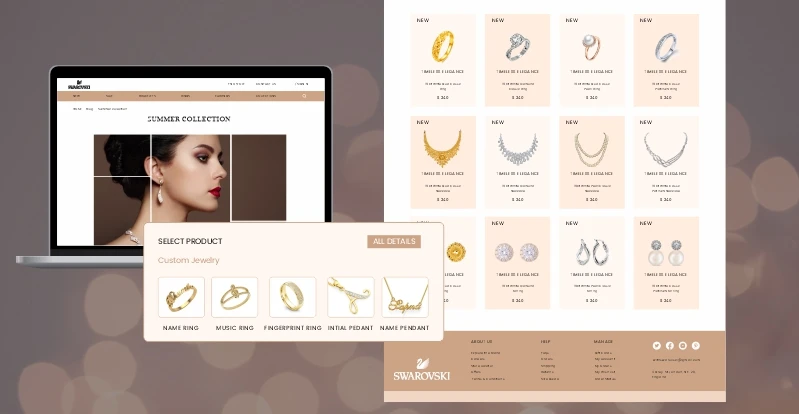 Explore the World of Customization with Our Digital Catalog
A Jewelry Product Catalog is necessary to present potential clients with the product line. Previously, it was customary to distribute a printed catalog to customers to take orders.
With the help of this digitized technology, the sales staff, without the involvement of creative teams, may now generate the jewelry catalog design. In addition, the digital catalog may be effortlessly shared with clients in any location with a simple click.
Experience Transparent Pricing Like Never Before
Dynamic pricing is essential for having an online jewelry store. It will aid in matching pricing to all products available in-store. However, it is tough to adjust the prices of particular products continually.
As a result, using the Custom Pricing Feature, you may change the pricing for bulk products with only a few clicks. In addition, this feature assists you in engaging with B2B customers.
Manage Your Orders with Ease
The primary problem of the jewelry sector is maintaining prices. Because metal prices fluctuate daily, dynamic pricing remains an essential factor. You may easily keep track of the price quotation situations with the Quote Order Management tool. At the order confirmation moment, the system will verify that all the conditions specified in the 'Quotation' have been met.
Keep Your Design Library Organized with Digital Asset Management (DAM)
Digital Asset Management is a system for storing, organizing, and retrieving digital assets such as photographs, movies, and other creative materials. You can improve the overall efficiency of your operations and easily search and identify specific files in your design library by integrating DAM into your ecommerce jewelry store design library.
It also helps you keep your visual branding consistent by ensuring your photos and other materials are always on-brand. It can also improve teamwork by granting different team members access to specific files and folders, allowing them to work on projects simultaneously.
Connect Seamlessly with Third-Party Systems
Third-party integrations include payment gateway integration, shipping and logistics, social media platforms, email marketing, product reviews and ratings, chatbots, and analytics tools.
These integrations can improve functionality, increase consumer engagement, and boost sales. Selecting the proper services and verifying compatibility with the website and business requirements is crucial.
Get Real-time Reviews & Feedback On Your Designs
This feature allows eCommerce jewelry stores to develop projects based on consumer needs. In addition, the "Review and Feedback" option connects the creators or owners of jewelry brands with their customers, making communication between them more accessible and faster. With this function, customers can easily submit digital feedback in real-time on designs they have ordered from the company.
Understand Your Price Breakups With Clarity
The price breakup feature allows you to evaluate your jewelry pricing based on the current value of that particular metal item. It gives a price breakup of the cost of the jewels, the amount of gold/diamond/other metals used, waste charges, insurance claims, etc.
You can also add the weight, purity, and markup of each piece of jewelry. These price breakdowns can help you establish yourself as a trustworthy brand.
Enjoy A Seamless Checkout Process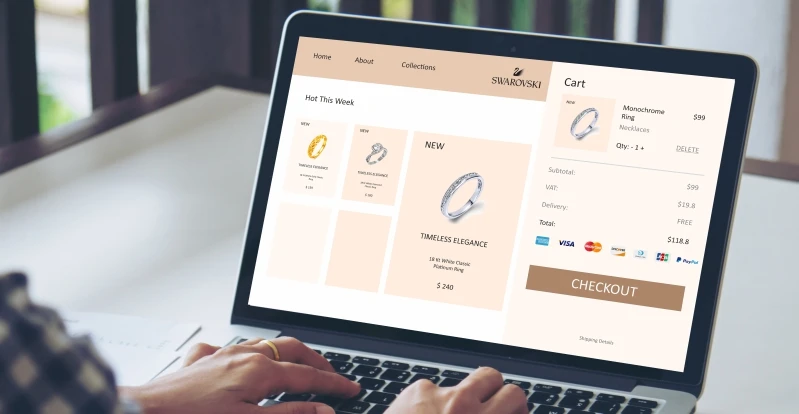 Customers need more patience to wait in the fast-paced world; they want everything to be at their leisure and comfort. So, there should be a smooth checkout process, which will directly lead to the customer's destination address and payment process so that customers do not have to wait and get inconvenienced.
Steps to Build an E-commerce Jewelry Store
Conduct Market Research
Before starting an online jewelry store, you must conduct market research and identify your target audience. It aids in evaluating the competition, determining the target audience's age range, gender, interests, and spending habits, guiding product creation, setting competitive pricing, and developing an efficient marketing strategy to attract visitors to your e-commerce business and produce sales.
Choose the Right E-commerce Platform
Numerous e-commerce platforms exist, including Shopify, Magento, and WooCommerce. Choose a scalable, safe platform that includes all the functionality required for your e-commerce website.
Having an E-commerce consultant on hand is always better than putting in the work yourself and being dissatisfied. Hire a trained e-commerce consultant who better understands the industry and market trends, can create strategy and plans, analyze the platform, and improve outcomes.
Design and Develop Your E-commerce Jewelry Store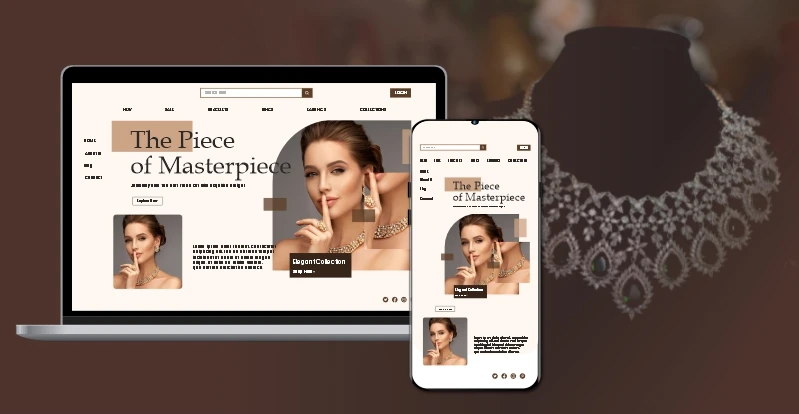 Ensuring your jewelry-selling website has an easy-to-use navigation system, a user-friendly interface, and an appealing design matching your corporate identity is essential. According to a study by Adobe, 38% of website visitors will only engage with a website if the content or layout is attractive.
You can begin creating your website once the design has been finalized. Make sure your website is mobile-friendly, fast to load, and secure.
Integrate Multiple Payment Gateways
A payment gateway is required for every ecommerce jewelry website. Choose a payment gateway that is dependable, secure, and accepts a wide range of payment methods. For example, you can accept credit cards, PayPal, and Apple Pay as payment methods.
Upload Products
According to a Square survey, 90% of shoppers consider the quality of product photographs essential in their purchasing decision. Add high-quality product photos and thorough product descriptions to your Jewelry selling website.
Ensure your product descriptions are SEO-friendly, informative, and add value to the buyer. Also, add a 3D jewelry feature so users can view their favorite items from all sides.
Implement SEO
SEO is critical for increasing the exposure of your ecommerce jewelry website. According to a study by Advanced Web Ranking, the first five organic search results on Google account for 67.6% of all clicks.
Make sure your website is search engine optimized and has relevant keywords in your product descriptions and Meta descriptions, and adheres to SEO-recommended practices.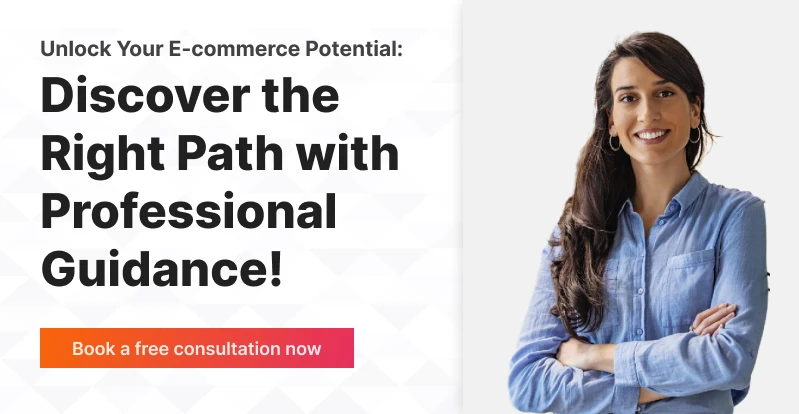 Implement Marketing Strategies
To boost the visibility and reach of your jewelry website, use marketing tactics such as social media marketing, email marketing, and influencer marketing.
Email Marketing
Email marketing may help an e-commerce jewelry company grow by reaching out to potential clients directly in their inboxes, delivering personalized deals, presenting new products, and increasing brand awareness.
According to a HubSpot study, email marketing offers a $36 ROI for every $1 spent. It can also assist in promoting consumer loyalty and repeat purchases through targeted advertising and automatic follow-up emails.
Social Media Marketing
Social media marketing aids in developing an e-commerce jewelry business by giving a platform for displaying products, engaging with potential clients, and increasing brand exposure. Through targeted campaigns, influencer partnerships, and user-generated content, it can also help increase website traffic, boost sales, and build customer loyalty. It also enables direct communication with customers, providing helpful feedback and insights.
Jewelry E-Commerce Store Costing
The cost of developing a jewelry e-commerce store can vary significantly based on the e-commerce platform, website design and development, web hosting, payment gateway, and marketing charges.
The following is a rough breakdown of some of the costs:
1. E-commerce platform: From free to $2000 or more each month
2. Website design and development costs $15,000 to $80,000 or more.
3. Web hosting: $200 – $1000 or more every month
4. Payment gateway: $0.10 – $0.50 or more per transaction
5. Marketing expenses vary depending on the marketing channels and methods employed.
A modest website for jewelry design can be built for a few thousand dollars, while a more comprehensive and feature-rich store can cost tens of thousands. To develop a profitable and lasting e-commerce business, it is critical first to determine your budget and needs and then collaborate with skilled people.
B2B & B2C Companies Case Study
Stuller
Stuller, situated in Lafayette, Louisiana, is a B2B jewelry producer and wholesaler. The company, founded in 1970, provides a wide range of items to jewelry stores, independent jewelers, and other businesses. In addition, it sells loose diamonds, gemstones, bridal jewelry, findings, and other accessories.
It created Stuller.com, a new B2B e-commerce Jewelry selling website, in 2015. Customers may easily explore and purchase products on the platform, which includes personalized pricing, real-time inventory availability, and connectivity with Stuller's other tools and services.
The "My Account" interface on Stuller's e-commerce platform is a crucial element that offers clients a personalized experience. For example, customers can access marketing materials and product information, examine their order history, and track shipments.
Using the platform's robust search engine, customers can rapidly find products by keyword, SKU number, or product category. As a result, customers may know whether a product is in stock in real-time before placing an order.
Stuller's e-commerce jewelry store also provides a variety of payment alternatives, such as credit cards, wire transfers, and finance. In addition, the company has collaborated with numerous shipping companies to give customers real-time shipping pricing and tracking information.
By incorporating all these features, Stuller's e-commerce website for jewelry has enabled the company to improve customer service and streamline processes. In addition, it has enhanced client happiness and loyalty by providing a personalized and simple-to-use platform.
Mejuri
Mejuri is a B2C jewelry brand created in 2015. The company sells various high-quality, ethically sourced jewelry at reasonable costs. In addition, earrings, necklaces, bracelets, rings, and other accessories are available at Mejuri.
It has created a highly successful e-commerce jewelry store, which has aided the company's rapid growth. Customers may quickly find and purchase products because of the company's website's beautiful product photography, straightforward navigation, and simple checkout.
Mejuri's online jewelry store emphasizes providing clients with a seamless and personalized purchasing experience. The website for jewelry design employs data analytics and machine learning algorithms to deliver customized product recommendations to users based on their browsing and purchase history.
It has also actively engaged in social media and influencer marketing to raise brand recognition and attract new clients. The brand has a strong presence on Instagram and has worked with various influencers and celebrities to promote its products.
It also has an emphasis on transparency and sustainability. The company gives thorough information about the materials and manufacturing procedures used in its goods, and it works with suppliers who follow ethical and ecologically friendly practices.
Mejuri's ecommerce jewelry store has significantly contributed to the company's growth and has created a strong brand identity by focusing on providing all these features.
Conclusion
To summarize, creating an e-commerce jewelry store is a complicated process. Therefore, it is usually better to have an E-commerce adviser on hand. Find the right company that can guide you and has years of experience in consulting services and prior experience in developing an e-commerce website for the jewelry business.
The organization must be able to analyze and comprehend the current trends. It should identify and prioritize business needs and select the optimal digital strategy for profitable and long-term growth.
It should also streamline all aspects of the e-commerce firm, such as marketing, sales, logistics and inventory management, customer relationship management, etc. To speed the progression of e-commerce, it should apply growth accelerator technology.
Therefore, work with an e-commerce growth specialist to begin a lucrative digital transformation journey in this digitized world. The E-commerce advisor should conduct extensive research on your target markets, competitors, and marketing strategies before providing a concise, effective report that may be useful to build your online jewelry store.