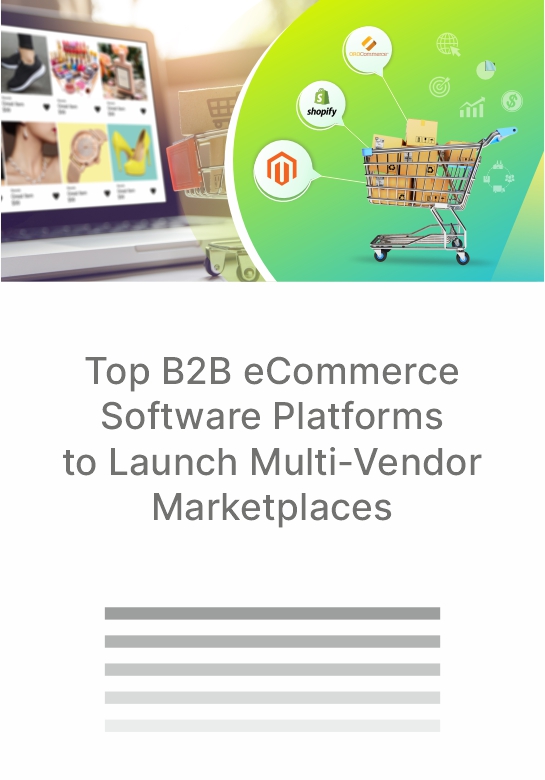 Get The Print Version
Download a PDF version for easier offline reading and sharing with coworkers
Multi-vendor marketplaces are crucial for today's B2B eCommerce business. The core benefit is the availability of board selection of products and services from different vendors on one platform. This variety makes it easy for B2B buyers to find and access a diverse range of products without searching multiple sources.
Multi-vendor marketplaces promote competition among vendors, which results in lower prices for buyers. The competitive environment incentivizes vendors to offer better deals and value for money, ultimately benefiting the buyers.
B2B buyers can simplify their procurement process by using marketplaces that allow them to manage orders, track shipments, and process payments in one platform instead of doing it separately for each vendor. This centralized approach led to increased efficiency and reduced administrative work.
Therefore,the majority of business owners are leaning more towards developing realistic and reasonable multi-vendor marketplaces for customers to buy their regular goods and services. Unlike any traditional brick-and-mortar, the online marketplace is considered a cost-effective solution.
A B2B e-commerce platform plays a crucial role by providing a centralized system for businesses to buy and sell products or services. In addition, it allows firms from anywhere in the world to connect and engage in trade.
This blog will guide you on how B2B ecommerce software platforms are more beneficial than the traditional approach, top multi-vendor marketplace e-commerce platforms to launch Multi-vendor marketplaces, and success stories of businesses who adopted B2B ecommerce platforms to launch multi-vendor marketplace.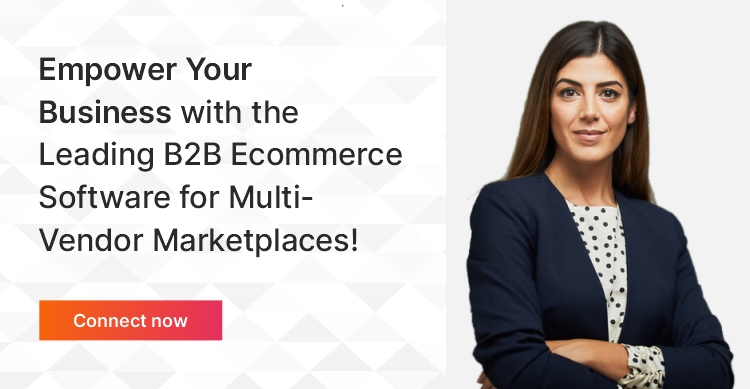 Why choose a B2B eCommerce platform over a traditional approach
Easy vendor management
Using a software platform, you can provide specialized dashboards to your vendors to manage their items, inventories, prices, and orders. This self-service strategy simplifies vendor management, product listings, inventory management, lightens your load, and gives you the power to run your company in the market.
Integrated Payment system
Software platforms typically offer built-in payment gateways or seamless integration with popular payment providers. This clarifies vendors benefit from streamlined payment handling, as the platform automatically calculates and disburses payments, reducing administrative tasks.
In addition, the payment process for vendors and customers ensures secure transactions and timely payouts. Ultimately, an integrated payment system fosters trust, convenience, and efficiency for vendors and consumers in the marketplace.
Enhanced customer experience
A software platform can offer advanced features such as personalized product recommendations, consumer reviews and ratings, search filters, and streamlined checkout processes.
These features enhance the overall shopping experience, improving user satisfaction and increasing the likelihood of repeat business. By prioritizing buyers' experience, you can increase end-user satisfaction, encourage repeat purchases, and foster positive word-of-mouth, which leads to higher customer retention rates and sustained business growth.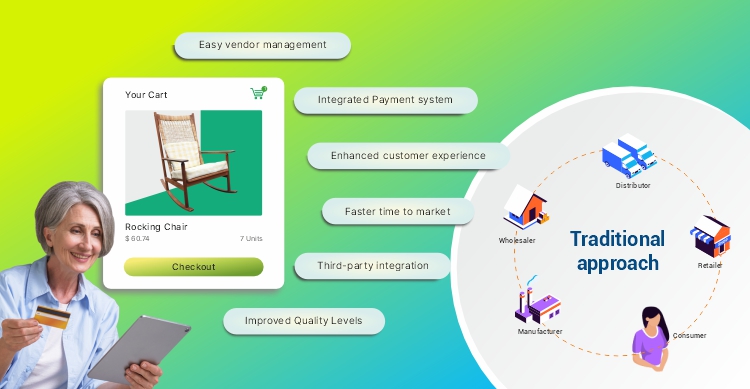 Faster time to market
You can launch your marketplace relatively quickly with a multi-vendor marketplace platform, and it provides pre-built features and templates that can be easily configured and customized to match your branding and requirements.
Launching faster can attract vendors and customers sooner, generating revenue and establishing your marketplace's presence. In addition, it enables you to adapt to market trends, and customer demands more efficiently, ensuring your platform remains relevant and responsive to evolving needs.
Third-party integration
Third-party integrations are usually integrations with other services such as shipping providers, marketing tools, and customer support systems. These integrations enable you to leverage additional functionalities and streamline various operational aspects of your marketplace.
It allows for seamless order fulfillment and shipping, automating processes and reducing manual effort. Integration with marketing tools enables targeted campaigns, personalized promotions, and better customer segmentation.
Improved Quality Levels
Because the sellers on b2b marketplaces provide goods of different quality, the marketplace operator must maintain a quality check on each item. The reputation of the market may suffer if a vendor offers dishonest goods. By establishing a scoring system for each seller in a multi-vendor B2B marketplace, quality-related issues are frequently managed to some extent.
Top B2B ecommerce software platforms to launch multi-vendor marketplaces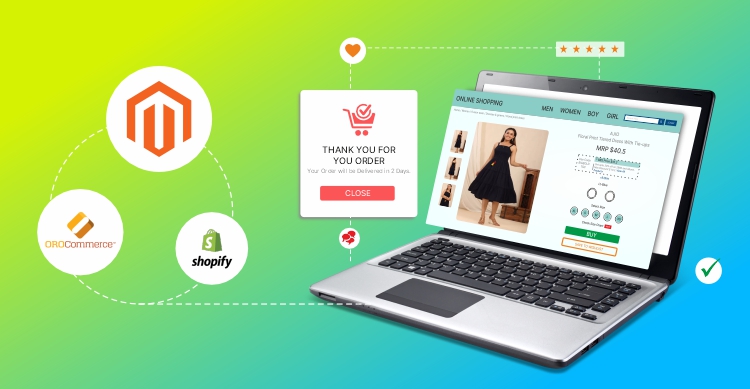 Magento
Magento is the Open source multi-vendor marketplace platform founded nearly 12 years ago in 2008; it is designed for large and small organizations. It enables you to develop, update, and administer eCommerce websites that provide a customized user experience.
The platform enables smooth third-party integrations and is easily customizable. Magento's built-in SEO features help improve the visibility of the multi-vendor marketplace in search engine results, driving organic traffic and increasing brand exposure.

OroCommerce
The OroCommerce multi-vendor marketplace platform is a powerful tool that can turn your OroCommerce store into a thriving marketplace with multiple sellers and their associated products.
The module gives the admin complete control over various aspects, such as seller management, inventory management, product management, order processing, and seller profile pages. The admin can efficiently handle seller information to enhance visibility and attract customers. These features have made OroCommerce a highly adaptable store for multi-vendor modules.
The module also empowers the admin to review and approve sellers and their products, ensuring quality control and a positive user experience. The OroCommerce multi-vendor module is a flexible solution for businesses looking to establish and manage a booming multi-vendor marketplace within their OroCommerce store.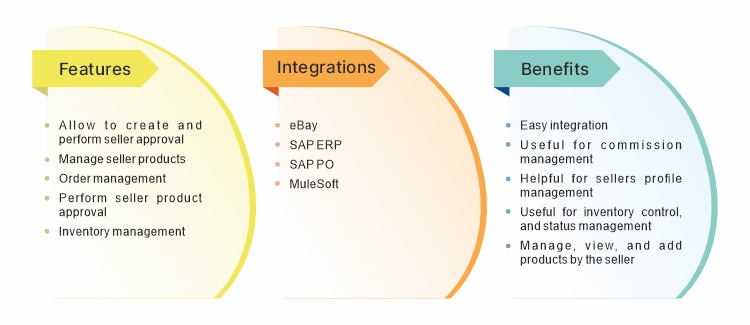 Shopify Plus
It is a successful B2B e-commerce platform that performs well for organizations and creates the best client experience. The platform offers enhanced functionality, assures increased revenue, and gives an exceptional user experience.
Shopify Plus offers dedicated storefronts, 20 sales channels, fast performance,one-click checkout, and wholesale selling for B2B organizations. In addition, it is scalable as it allows businesses to grow their services, payment options, and app integrations.
The platform offers integration with various shipping carriers, making it convenient for vendors to handle their shipping needs. It also provides an extensive app store with a wide range of plugins and extensions. For B2B buyers, the customized dashboard simplifies order management.

Success stories
Packhelp
Packhelp is a specialized marketplace that assists SMEs in developing customized packaging designs for labels, designs, bags, etc. Printing businesses often only handle large orders from clients that want more than 1,000 items. Smaller companies, however, only require so many units.
Packhelp was a Polish startup; over the years, it has found a place in the hearts of investors. The platform had 138 workers in 2020, which was 27% more than the previous year, and it connected with more than 1,000 printing product providers, which was good progress in a short time.
The USP of Packhelp is that it enables SMEs to aggregate several small orders for packaging designs and submit them to vendors. This approach allows small enterprises to obtain the amount and quality of packaging they want.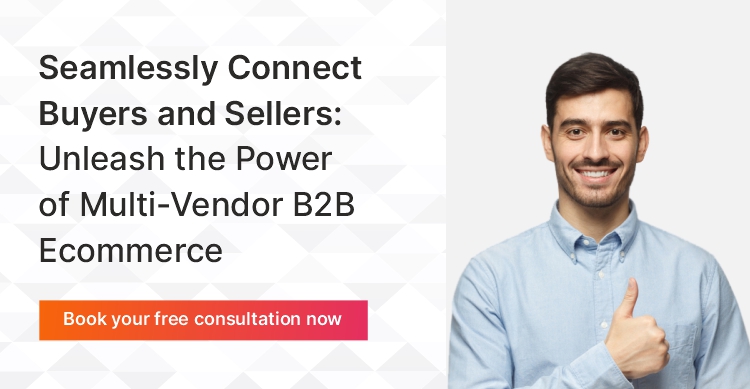 Zagneno
Zageno is a niche B2B marketplace.The online store specializes in test supplies and lab equipment for performing medical analysis. Zageno rose to become the world's largest market for life science goods in just one year.
It has acquired a network of 2,000 vendors that offer more than 1.8 million medical laboratory items in just five years of its existence. Convenient search and quick selection of lab supplies are Zageno's USPs for its clients.
ZAGENO contains features including Spend Analytics, which records information about past purchases; Scientific Score, which uses a peer review rating system to assess items; and PunchOuts, which works with almost any procurement program.
Zageno gathers information on past purchases, analyzes it, and uses the results to provide personalized offers with suggestions and quicken the shopping process.
Conclusion
The rise of B2B e-commerce multi-vendor marketplaces has allowed several market-leading B2B eCommerce platforms to establish themselves in the specialized sector.
However, the platform to choose depends on the specific requirements of the B2B project. Therefore, you should create a list of the most crucial characteristics before you start looking for eCommerce website builders.
By choosing a perfect marketplace e-commerce platform, you can easily manage vendors, enter the market faster, integrate payment systems, have third-party integration, and provide an enhanced experience to customers.
The Future of Multi-Vendor is commendable. Businesses like Packhelp and Zagneno grew successfully by launching a multi-vendor marketplace. However, to thrive in this competing world, you must launch a multi-vendor market with an appropriate B2B ecommerce software platform and achieve the best results.